By Matt Weber
Each year, professional remodelers and building-product suppliers put their heads together at the Remodeling Show/Deck Expo, where new tools and materials get a showcase and the craftsman that use them get a chance to offer face-to-face feedback. The Extreme How-To staff will be exhibiting at the convention this year in Nashville, TN, so if you make the trip, stop by booth 525 and say hello. In the meantime, here's a preview of products that will be on display.
Deckorators Heritage Decking
Two new Deckorators Heritage deck boards bring interior design to outdoor living. Heritage Riverhouse and Heritage Smokehouse composite decking feature detailed embossing that offers the rustic look and feel of distressed wood flooring. The innovative embossing process creates a pattern that does not repeat for at least 12 feet, meaning boards are not only full of rich character, they are also unique. Riverhouse (brown) and Smokehouse (gray) are available in 12-, 16- and 20-ft. solid and slotted-edge profiles, along with fascia. The durable, ultra low-maintenance boards are covered by the Deckorators 25-year structural, 25-year stain-and-fade and 25-year removal-and-replacement limited warranty. Visit www.deckorators.com or booth 1100.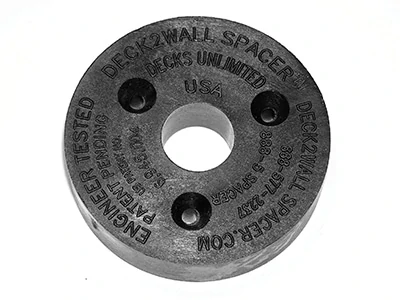 Deck2wall Spacers
Prevent rot at deck ledgers with Deck2wall Spacers. Deck ledger designs must incorporate water-management practices, because preventing rot at ledger connections is critical to maintaining a safe deck. Deck2wall Spacers provide a space between the deck ledger and house, allowing water and debris to flow through which promotes circulation and drying. Compare this method to typical flashing details that can trap water and debris between the first deck board and the house. The Deck2wall Spacers work like stacked washers but are noncorrosive, easier to waterproof, and have a larger diameter for better load distribution. They make stronger connections, tested with bolts and lags, and are much easier to install. Made in the USA, these polypropylene spacers are available in two sizes and they also work well on many other applications including shade structures and posts. Visit www.deck2wallspacer.com or booth 854.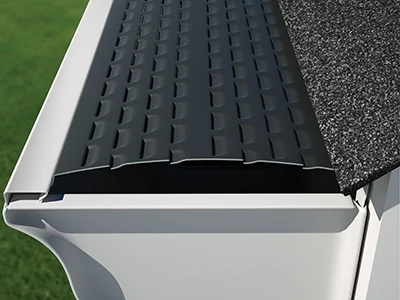 E-Z Gutter Guards  
E-Z Gutter has developed a series of three distinctly different gutter guards all engineered for fast installation—with no fasteners needed. They're all designed to allow rainwater to rush though while keeping debris out of the gutters, and to stay put during rough weather but snap out for maintenance. E-Z Quick is made of durable, expanded aluminum, with a tight mesh that is engineered to keep debris out while letting rainwater rush through. E-Z Zip is a heavy-duty mesh, made of powder-coated expanded steel. The top of the line is E-Z Shield, which is built out of heavy-duty painted aluminum with reverse louvers allowing water to rush through, while keeping the maximum debris out. The black color blends into the roofline and heats up fast in the winter months to melt ice and snow. All three products install by placing the back of the screen on the gutter hangers, and pushing the front of screen back and down until it locks into the gutter. They are designed for 5-in. gutters. Each section is 4 feet long and notched for 3/4-in. in overlap. When installed, each box will cover 98.5 ft. Visit www.e-zgutter.com or booth 1045.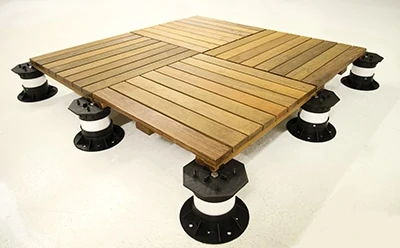 Deckwise
In the last three years, DeckWise has expanded its decking products with flashing tape, stainless steel cable railing and an ever-expanding line of decking screws. The DeckWise lineup also includes hidden deck fasteners, hardwood siding clips and oil finish products that helps builders to build stronger, longer-lasting hardwood decks. The new Deckwise deck tile pedestal levels and elevates deck tiles over any uneven surface such as rooftops. Four years in the making and countless patents have made this product one of the best on the market. Visit www.deckwise.com or booth 952.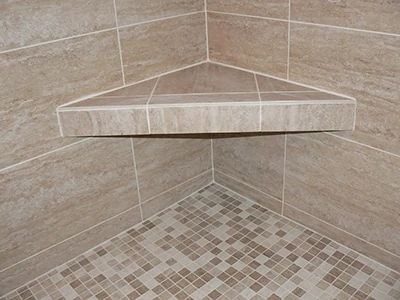 Goof Proof Showers
For shower floor drainage, the floor must be properly sloped, and that's what Mark E. Industries' Goof Proof products provide. They have a system of screeding guide sticks that will aid the user in getting the pitch right on all shower floors. No more puddles or kicking water to the drain. Capable of extending up to 6 feet out from the drain in any direction, you can achieve a perfectly sloped floor. The system works with the existing plumbing, regardless of wherever the drain may be located in the floor. Pre-Pitch is for subfloor sloping using membranes to waterproof, and Quick-Pitch is for the thicker mud-bed applications that get tiled. Kirb-Perfect is a cage that wraps the curb, easily filled with mud, which preserves the waterproofing liner integrity in addition to constructing a solid curb for attaching tile or stone. The company also has another curb, Handi-Kirb for solving wheelchair accessibility obstacles.
The Goof Proof Shower Seat is a ready-to-tile corner seat with the choice of two sizes in one. It includes all the hardware needed for installation in new construction as well as for retrofitting in existing showers (and is able to support 400 lbs.).
The Goof Proof Corner Shelf is also a ready-to-tile corner shelf that attaches to existing tiled walls and can be tiled before or after installation. It will support 100 lbs. All Mark E. Industries products come with thorough easy-to-follow instructions, and the website has instructional videos. Visit www.markeindustries.com or booth 1908.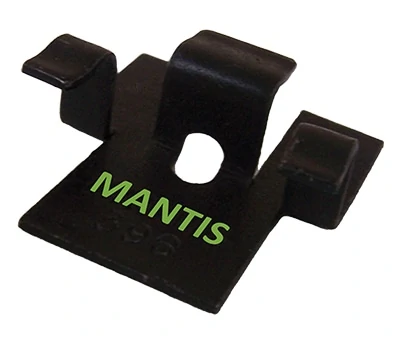 Mantis Hidden Deck Fastener
Sure Drive USA manufacturers a wide variety of deck fastening solutions. Our hidden deck fastener line includes The Mantis Clip for grooved boards. Voted as the easiest hidden deck fastener to install, it has been a favorite with decking contractors as well as DIY homeowners. For easy installation, the Senco Eliminator RCS with E-Z Slide attachment is a pneumatic tool for installing Mantis using Ballistic Nail Screws to fasten grooved decking up to 70-percent faster than conventional methods. The Mantis clip is recommended by top decking manufacturers like MoistureShield, Trex, Gossen, ChoiceDek and more. The Mantis is different than the other "generic" clips on the market because it is built with a base that promotes airflow to ensure the joist structure remains protected. The Mantis clip is available in four profiles to precisely fit specific boards and is backed by a 30-year warranty against loose deck boards (unmatched in the industry).
Additional Sure Drive hidden deck-fastening options include the Hidden Link for solid edge decking (available in two varieties), and the ShadoeTrack metal channels which are available in 4- and 8-ft. lengths and can be used for all types of decking. Visit www.suredrive.com or booth 941.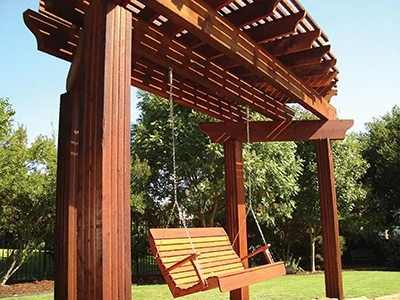 Ready Seal
A one-step product like Ready Seal allows you to stain and seal wood in a single process. Traditional products require using back-brushing techniques to cover brush strokes and to make overlapping stain blend properly, but not Ready Seal. Ready Seal is a penetrating stain that absorbs into the wood fibers rather than just leaving a surface film which will crack, flake and peel off as wood expands and contracts. Its deep penetration moisturizes wood with waterproofing oils and creates ultimate UV protection in a flexible barrier that keeps out moisture, mold and fungi. It contains no linseed or vegetable oils that promote algae and fungus growth in wood. Ready Seal can be easily applied with a sprayer, roller or brush.
It will not lap, run or streak, and no back-brushing is necessary. It can be applied in any temperature, and no sanding or stripping is required for reapplication. It can also withstand rain within minutes of application, and Ready Seal is VOC compliant in all 50 states. Visit booth 1153 or ReadySeal.com.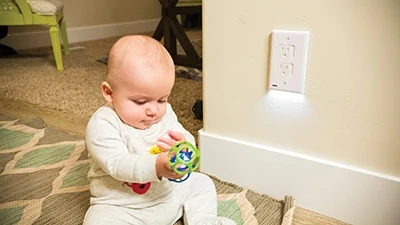 SnapPower SafeLight
The easy-to-install, SnapPower SafeLight (starting at $17), safely transforms any outlet into a child friendly night-light with a built-in sensor that automatically turns on and off based on the lighting in the area. The SafeLight is equipped with sliding outlet covers which helps prevent children from electrical shocks and hazards. Visit www.snappower.com or booth 602.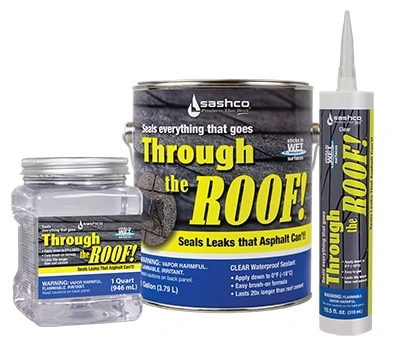 Through the ROOF!
From the makers of Lexel and Big Stretch, Sashco touts Through the ROOF! as the fix-it-even-when-wet roof sealant. It's easy to gun out or brush onto roofing surfaces, even when the outside temperature is zero degrees. Best of all, it's immediately water resistant and sticks to most any surface—wet or dry, hot or cold, even in standing water! It won't crack or dry hard, and it expands and contracts with temperature changes. The product is great for shingles, vents, flashing, gutters, and sealing up leaky chimneys. The best time to fix a leak is when it's leaking; no need to wait for it to dry. Through the ROOF! sticks to most roofing surfaces and stays clear, meaning it will not yellow over time, and it won't cause discoloration to metals or tiles. This ultra-clear roof, gutter and flashing caulk goes on easy and remains elastic year after year to permanently seal those nagging leaks. It's proven to last 20 times longer than roof cement, it's paintable, made in the USA, and backed by a limited lifetime warranty. Visit www.sashco.com or booth 1918.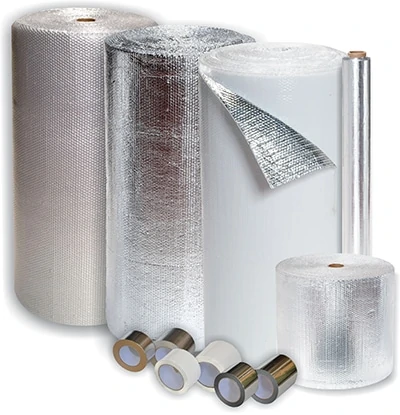 rFOIL Reflective Insulation
rFOIL Reflective Insulation is a patented technology manufactured by Covertech. It is designed to reduce the radiant heat gain/loss in residential, commercial and HVAC applications. Residential applications include walls, ceilings, crawl space, floors, between joist, ductwork, under vinyl siding, attics, roofs and many other applications. rFOIL will not rot, degrade, compress or breakdown over time. Adding rFOIL to your construction project will improve the insulation value and significantly increase its energy efficiency.  rFOIL is also lightweight, clean and fiber-free. It will not promote mold, mildew or fungi, and its thermal value is unaffected by moisture or humidity. Easy to handle and install, rFOIL refelects 96 percent of radiant heat. Visit rfoil.com or booth 1916.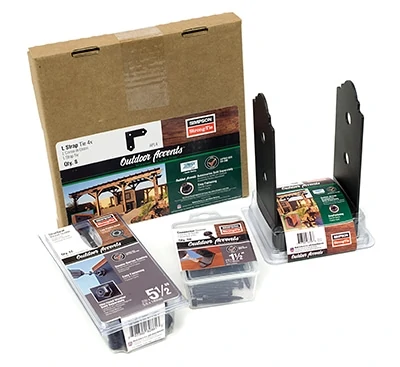 Simpson Strong-Tie Outdoor Accents Decorative Hardware
No matter what you plan to build in your backyard retreat, Simpson Strong-Tie has the outdoor hardware to help you complete all your projects. For a pergola, outdoor bench, or even a custom grill table that makes a statement, Outdoor Accents hardware is made with ZMAX hot-dip galvanized steel for corrosion resistance and features a black powder-coat finish. The hardware provides the structural strength needed for outdoor projects and showcases the beauty of the wood. Visit diydoneright.com booth 1319.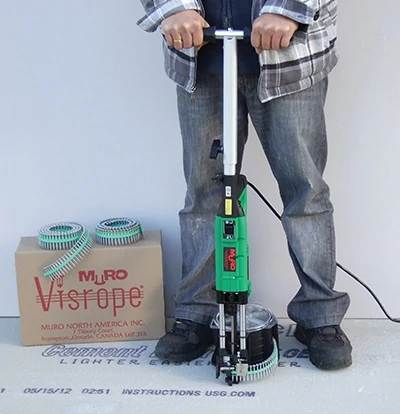 Muro
Screw It!… Muro Auto Feed Screw Driving Technology provides great solutions for driving screws, helping save you time, energy and effort on every job, all while completely eliminating those hated sore backs and knees normally associated with these tasks. Whenever your job involves subfloor, drywall, roofing, decking or dock-building, there's a Muro system for you. Muro also has fasteners for these and other specialty applications, including wood to steel or aluminum and exotic hardwoods with no pre-drilling required on any job. Muro tools boast 150 screws per coil (the highest payload in the industry) and have a telescopic handle that adjusts to your specific working height—key features that no one else offers. Visit www.muro.com or booth W648.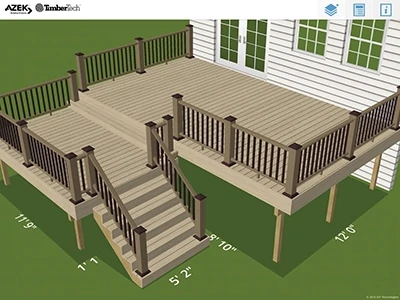 Azek Deck Designer App
AZEK's new app has been updated to give customers the opportunity to bring their dream outdoor living spaces to life. It features the web-based Deck Designer tool that allows consumers to create virtual deck designs on the AZEK website. The Snapshot Mode allows consumers to upload or snap a photo of their own outdoor space before attaching their virtual deck to the image. The app also comes with template decks to help customers get their designs started, as well as customized collections of user saved deck designs. The new app makes it easy to lay out unique, 3D designs using 140-plus product options that include premium AZEK and TimberTech decking, railing, lighting and accessories. When those custom designs are complete, consumers can then download a list of materials that they'll need during the construction process. The app also helps locate local contractors and dealers. Visit azek.com or booth 1251.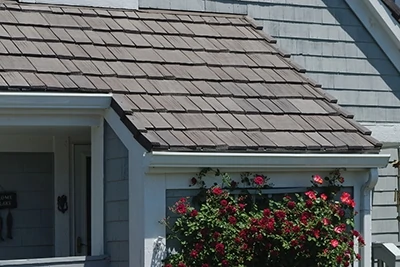 DaVinci Roofscapes Bellaforté Shake
Bellaforte Shake tiles from DaVinci Roofscapes provide a cost-effective alternative to real wood shingles. The authentic-looking 12-in. wide synthetic tile has multiple profiles to simulate a staggered, rough-hewn real wood shake roof. Leading edge tabs drastically improve wind performance, and the snap-fit tiles create a built-in rain gutter. Resistant to fire, impact, insect, curling, fungus and algae, Bellaforté Shake tiles have a 1-in. average thickness and come in dozens of colors. Visit davinciroofscapes.com or booth 1848.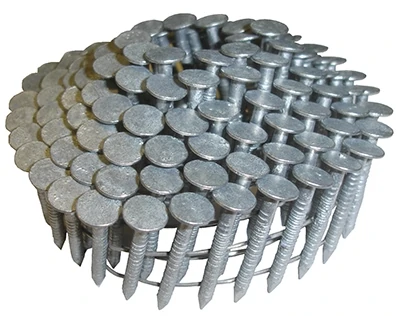 Maze Nails
Maze manufactures quality double hot-dipped nails for fiber cement siding, cedar and redwood siding, roofing, cedar shakes and shingles, PVC trim products, decking, fencing and post frame building construction. The Maze Double Hot Dipped Galvanized Ring-shank Roofing Nails are Miami Dade County Approved. All Maze Nails are 100-percent Made in the USA from recycled re-melted steel, making them eco-friendly for sustainable building practices. Visit www.mazenails.com or booth 1347.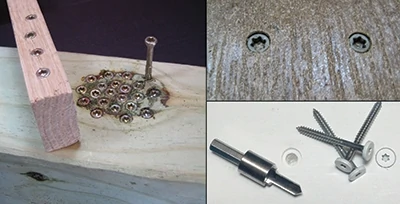 Titan Metal Werks offers SplitStop High Performance Screws for natural wood and composite decking applications, as well as most other wood-to-wood and composite-to-wood applications. Titan's patented design eliminates splits and the need to predrill, even in dense hardwoods like ipe. Drive-torque is thereby diminished, resulting in less screw breakage, reduced user fatigue and longer cordless-drill battery life. Wood screws are available in both square and star-drive recess types. A variety of quality finishes are available, including interior yellow-zinc, Lifetime Warranted exterior ACQ-rated finishes, and stainless steel. Similar patented SplitStop features also enhance the performance of the non-mushrooming Titan III composite decking screws. SplitStop T3 composite screws comes in three sizes and five colors, and are available collated as well as in a 1.5-in. length developed for composite fence builders. Visit www.splitstop.com or booth 740.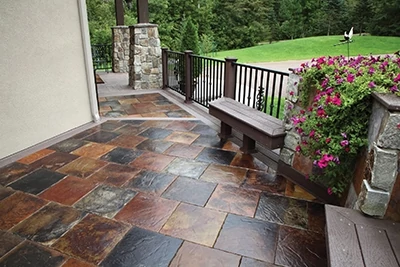 DekTek Tile
DekTek Tile is a new concrete decking material that provides a perfect way to add class to outdoor living areas: porches, patios, concrete-slabs, balconies, outdoor kitchens, three-season porches, fire pits, concrete steps and ground pavers. No expensive substrates or heavy-duty framing are needed. Standard framing is usually sufficient, with only minor modifications. DekTek Tile is designed to be the same 1-in. thickness as traditional wood/composite decking to make beautiful accent decks, edge trims, or for mixing and matching. It's building-code approved and structurally engineered to hold over 1,000 lbs. per tile. Homeowners will also have more time to enjoy their deck rather than maintaining it, which means no more mold, rotting wood, chipping and peeling, or the upkeep of cleaning, scrubbing and staining the deck. And unlike wood and composite decking, DekTek keeps its beautiful look without fading. Visit dektektile.com or booth 1038.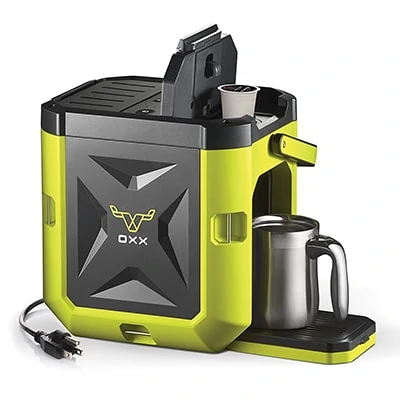 CoffeeBoxx Jobsite Coffee Maker
The single-serve (K-cup) coffee maker is billed as "the world's toughest," built with an impact-resitant polymer shell and a "crush-proof" chassis up to 1,500 lbs. The CoffeeBoxx has a removable spill-proof water tank, rubberized carrying handle and a 3-ft. retractable power cord. It works with all K-Cup compatible pods. Enjoy a hot cup of your favorite coffee, cocoa, tea or other hot beverage. Choose from 8-, 10-, and 12-oz. cup sizes. Just 30 seconds to pre-heat and 70 seconds to brew a cup. Visit booth 1728.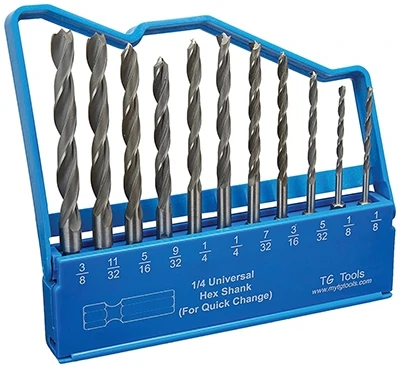 KIK HS Brad Point Bits
The KIK HS Brad Point Bit has a unique tip design allowing it to bore wood, plastics and sheet metals exceptionally fast, clean and easy. The tip contains 20 percent more cutting surface. To accommodate the speed with which this bit drills, the flutes have an additional extraction ridge to clear the bore continuously and efficiently. The tip design permits plastics, laminates and even acrylic sheet to be drilled without melting, clogging or melting. Sheet metals are drilled with no burr left behind. KIK HS Brad Point Bits are available in standard jobber lengths and 8-1/4-in. extended length. The extended lengths have a hole near the tip for pulling wires through the hole with the bit that made the hole. Visit www.mytgtools.com or booth 525.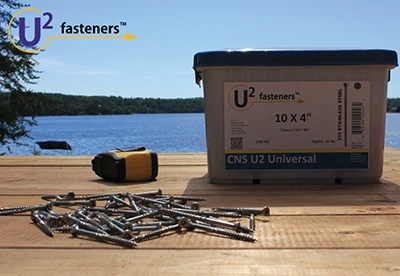 U2 Fasteners
U2 fasteners has raised the bar for quality in the fastener industry, having released its IAPMO (ER 454) evaluation to become one of few fastener companies that are evaluated and comply with the International Building Code and Residential Building Code for corrosion resistance (AC233) and structural strength (AC257). U2 fasteners' coating was one of the first, if not the only one, which has passed the 2015 requirements, with ground contact at 0.6pcf ACQ treated lumber (ER 454). U2 fasteners is also the first fastener company that offers a chrome 6-free coating, reducing the risk for end users developing skin cancer through constant use of fasteners with coatings containing chromium 6.
U2 fasteners offers five product lines for residential construction, including the Construction Screw and Universal Screw. The U2 Construction Screw, also known as CS Screw, is the next generation of construction screws that are replacing lag screws. The Universal Screw is just that—universal for many projects and ideal for replacing old deck screws. Features like Tight Star Recess, Reamer Thread, Talon Grip, Tapper Point, and Burrow Pockets set U2 fasteners apart from the rest of the fasteners out there. Visit u2fasteners.com or booth 409.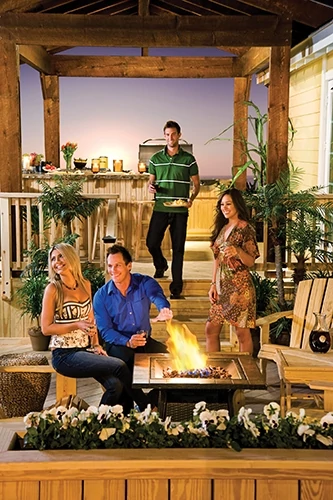 EcoLife Treated Wood
Now available at 84 Lumber Co., EcoLife Stabilized Weather-Resistant Wood (EL2) from Viance is a non-metallic wood stabilizing preservative system offering advanced weathering protection with improved dimensional stability to make every outdoor living project look better for longer. EcoLife's built-in wood stabilizer repels water on all surfaces, which reduces cracking and checking by up to 50 percent compared to traditional treated wood. EcoLife also minimizes the warping and twisting that occurs in deck frame structures, creating less waves in composite decking products. Visit www.treatedwood.com or booth 546.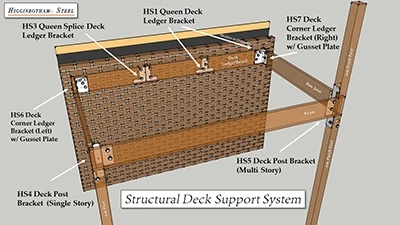 Higginbotham Steel's Structural Deck Bracket
The HS Deck Ledger Brackets (#HS1-HS3) are structurally designed to securely attach decks to building frames. Exceeding code requirements, this unique system strengthens and reinforces wood deck and porch framing components. The brackets connect the deck structure to the adjacent building's floor structure. It reinforces 4×4 handrail post connections, and is offered for multistory applications as well. Higginbotham Steel's HS brackets can also be applied for energy Foam/Siding Deck Ledger Board attachment applications. Depending on the size and design of the deck, 2×4 knee bracing may be eliminated. American-made (designed, engineered and fabricated in USA), the Steel Bracket Components are laser cut from 12 Gauge steel plate and are available in multiple coatings. Visit www.higginbothamsteel.com or booth 1919.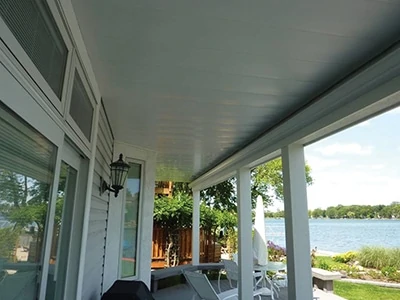 Zip-UP UnderDeck
Transform the underutilized area beneath a raised deck into dry outdoor living and storage space while maintaining maximum headroom and accessibility to the underside of the deck. Available in three finishes and backed by a 25-year warranty, Zip-UP UnderDeck is made from durable interlocking PVC components engineered to fit together easily. Creating a watertight barrier that channels water for effective drainage, the system provides a flat, grid-free, non-corrugated, washable and paintable "ceiling" surface that is mold- and mildew-resistant. The panels do not kink like aluminum, they look nicer, are easier to work with and unzip for quick access to the bottom of the deck. Suitable for both residential and commercial installations, Zip-UP UnderDeck meets Class A Fire Rating and has passed Dade County, FL, standards for hurricane testing, which is the "gold" standard around the country. This screw-in/zip-in-place system installs with five components: wall trim that attaches to walls or joists around the perimeter, main rail that runs the length of the deck, 1-ft. wide panels that are the visible surface of the system, and pitching rails that drain water. The main rails and panels come in 12- and 16-ft. lengths, and an average size deck can easily be completed in one day. Visit www.zipupceilings.com or booth 1316.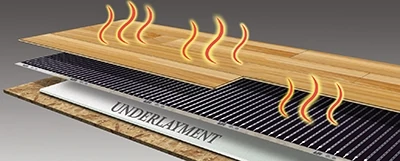 QuietWarmth—Hot Trend under New Floors
Installing QuietWarmth in-floor electric radiant heat beneath new floors provides evenly consistent supplemental warmth for individual rooms in homes, offices and cubicles. A programmable thermostat in each room can preset times and temperature of operation. The lightweight, roll-out, line-voltage system employs low-wattage resistance heating of flexible radiant heat film, using just 12 watts per sq ft. The conductive ink technology produces an even, gentle heat that is safe and maintenance-free. Featuring an ultra-thin mat thinner than a credit card, QuietWarmth installs quickly without messy mortar or glue. QuietWarmth systems are available in two applications; mats designed for floating floors and for traditional tile. Radiant Heat Film is engineered for floating floors, including laminate, engineered wood, hardwood and luxury vinyl. For traditional tile, the conductive ink film is embedded in a peel-and-stick mat that is easy to install, requiring no messy self-levelers or glue; simply roll it out, cut it to fit with a pair of scissors, and run wires to a thermostat for control. Visit www.quietwarmth.com or booth 1316.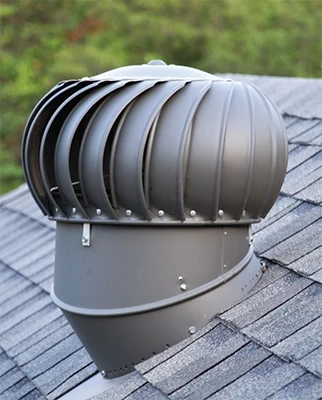 Lomanco Attic Ventilation
Since 1946, Lomanco has been the choice for attic ventilation, manufacuturing top-quality ventilation products with an emphasis on Net Free Area, weather protection and longevity. By ensuring every product reflects each factor, the company achieves "The Lomanco Balance." Whether you're a homeowner or homebuilder, the best return on investment for protecting the longevity of your home is the proper installation of a balanced ventilation system, with the proven performance and quality of Lomanco Vents. Come see the Lomanco Team at booth 2011 for live product demonstrations featuring the Lomanco Smokehouse, or visit www.lomanco.com.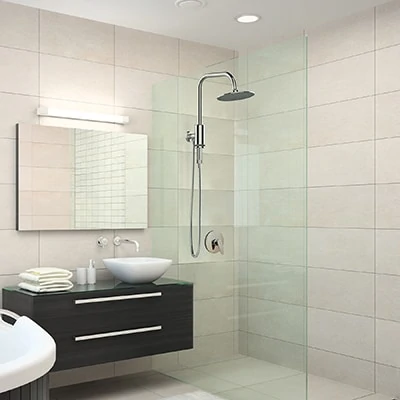 Aquarius Shower System
PULSE ShowerSpas introduces the new Aquarius Shower System, an innovative retro-fit shower that replaces your old shower with a chrome 8-in. "rain style" showerhead and handheld. The pivoting showerhead allows you to move it left or right for personal adjustment. The handheld is conveniently attached to its holder with magnetic technology and features a soft grip that easily twists the water on and off.
This easy-to-install shower utilizes your existing valve and has a diverter that makes it easy to switch the showerhead from on to off position. Visit www.PulseShowerSpas.com or booth 2022.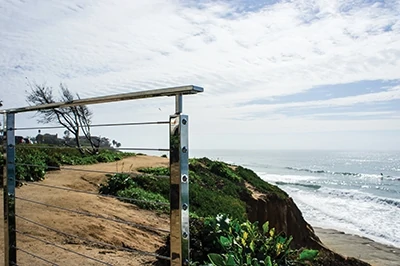 AGS Stainless Railing with High-Polish Finish
AGS Stainless announces the availability of a new high-polish finish option across their entire product line-up of custom-made, prefabricated stainless steel railing systems suitable for residential or commercial. AGS Stainless provides beautiful interior and exterior stainless steel railing systems that have long been well-revered throughout the industry.
This new product is made from the same A316 marine-grade stainless steel as all the other high-quality AGS Stainless products, but in addition to its gorgeous finish it provides additional corrosion protection for projects located within harsh coastal environments. With the usage of stainless steel exploding in popularity as a high-quality material for railing systems, this new high-polish finish offers another option for architects and designers wanting a unique look when it comes to railing systems adorning outdoor living spaces, common areas, rooftop decks and more. Visit www.AGSstainless.com or booth 1909.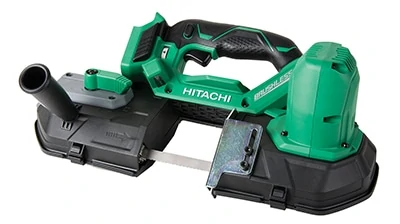 Hitachi CB18DBLP4 Cordless Band Saw
Covered by Hitachi's Lifetime Lithium Ion tool warranty and equipped with a brushless motor technology, the CB18DBLP4 is a cordless band saw with a 3-1/4-in. cut capacity. It is designed to cut in place, overhead or in hard-to-reach spaces.
It cuts materials such as conduit pipes, steel pipes, power cables, aluminum window frames and various plastics. Impressively lightweight at 6.45 lbs. (without battery), this cordless band saw features an on-tool battery charge indicator, an auto-mode function to automatically adjust the blade speed to the application, and it has a convenient tool-free blade change to reduce user downtime. This brushless band saw is compatible with all Hitachi 18V Lithium Ion slide-type batteries. Visit hitachipowertools.com or booth 1822.