Each year the Extreme How-To staff spends a few days at the Remodeling Show/Deck Expo. The 2013 show is to be held in October in Chicago, Illinois. Launched in 1991 by National Association of Home Builders, the Remodeling Show brings together the entire remodeling industry face-to-face annually. The event has expanded to represent all facets of the remodeling community—kitchen and bath; home improvement; aging-in-place; sustainable remodeling and more. The show is held in conjunction with the DeckExpo, the only trade event focusing exclusively on the deck, dock, porch and railing industry. Here's a preview of some the products to be exhibited at the show.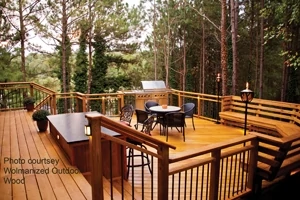 BARamnine Technology for Copper Azole-treated Wood
Lonza Wood Protection is developing an additive for treated wood that provides enhanced defense against common fungi, as well as against certain aggressive rogue fungi that can tolerate commonly used preservative systems on the market. The BARamine additive, for which a worldwide patent is pending, is being incorporated into the treatment of Wolmanized Outdoor Wood, the production of which is licensed by Lonza Wood Protection. It will be officially introduced to contractors and consumers at this year's DeckExpo. The standards of the American Wood Protection Association for treated wood require testing against damage from common fungi. These criteria do not include fungi in the genus Antrodia or Serpula, which we have seen more prevalently and are capable of destroying wood. These fungi are copper tolerant and resist control by many systems; however, with the addition of BARamine technology, Wolmanized Outdoor Wood delivers a knockout punch. It works with both micronized and dissolved copper and increases the protection against the more common forms of fungi. Plus, it results in a fresher wood appearance due to improved mold protection. Visit booth 2628 or www.wolmanizedwood.com.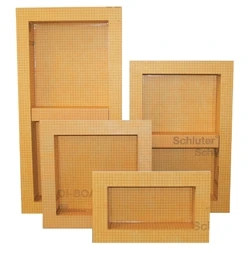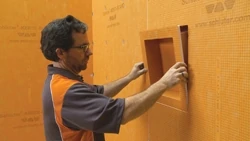 Prefabricated Shower Niche Improves Tile Installation
A shower niche is an ideal spot to keep shampoos and soaps in a tiled shower. But building a fully waterproof, properly sealed tiled shower niche has traditionally been a detailed and time-consuming task.  Schluter-Systems has developed four prefabricated and completely waterproof shower niches that are ready to tile. Made of Schluter-Kerdi-Board, the shower niches are completely compatible with surface applied waterproofing systems, such as the Schluter-Kerdi shower assemblies. All four shower niches feature a 1/2-in.thick by 2-in.-wide integrated bonding flange that sits perfectly flush with the surrounding wall area. The larger sizes include an optional prefabricated shelf that can be installed at any height to create separate compartments within the shower niche. Visit booth 1427 or www.schluter.com.

R4 Multipurpose Screw
The EHT staff has used GRK Fasteners for a wide range of projects over the past several years, and we've never had a screw break or cam-out.
One of our stand-bys, the company's R4 screw, has a new under-head with saw-like teeth and six self-contained cutting pockets for steadfast holding power. Together these features act like a circular saw blade, transporting the "drill dust" away from the edge of the screw while cutting a perfectly clean hole into even the most brittle materials without cracking any surface treatment.
Plus, the enhanced design gives the R4 the ability to self-countersink into even the hardest woods, so you can ditch that extra drill bit. The screw head closes off the hole with precision, leaving no damaged fibers around the head. R4 screws, which are 2 in. and longer, also have a CEE thread that enlarges the screw hole for the non-threaded portion of the fastener. This technological advancement allows the wood to settle easily and increases the screw's drawing strength, reducing the friction on the screw shank and lowering the driving torque. The R4 is a multipurpose screw that can be used in all woodworking and plastic applications. Visit booth 2234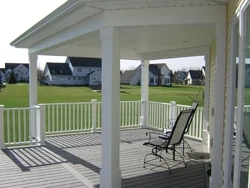 Outdoor Living with Berger Building Products
Improving outdoor living spaces is currently one of the hottest trends in home improvement. Accentuate your existing outdoor areas or create an outdoor paradise with ProDeck Vinyl Railing System and DrySnap Under Deck Rain Carrying System from Berger Building Products. The ProDeck railings provides a low-maintenance alternative to pressure-treated wood. It provides an economical solution for home-owners tired of yearly upkeep. With three color options, two different styles and an optional continuous handrail system, it is easy to customize a rail that's perfect for any project.
The DrySnap Under Deck Rain Carrying System is more than a ceiling that channels water away from a structure. It is a revolutionary system that allows you to take advantage of usable space under your deck, creating an outdoor living area to be enjoyed for years to come, without the high cost of enclosing a patio. Visit booth 1539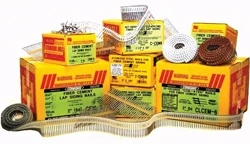 Maze Nails Celebrates 165 Years
This year Maze Nails is cele-brating 165 years in business. The company began in 1848 and is now in its 6th generation of family ownership, proudly engineering and manufacturing a line of specialty nails that's 100-percent Made in the USA. Maze StormGuard double hot-dipped galvanized nails (HDG) meet and exceed the ASTM A-153 Class D specification for hot-dipped galvanizing. StormGuard Nails are recommended for the new lumber treatment formulations. Plus, as an environmentally conscious company, the nails are made from the highest quality domestic recycled steel, packaged in cardboard boxes made from recycled paper products, and the waste zinc is recycled into useful materials used in paint pigments, car tires, etc. Visit booth 2028 or www.mazenails.com.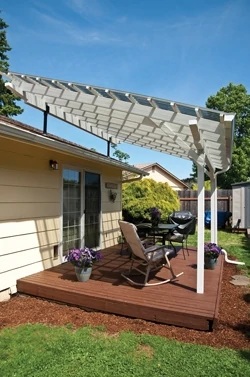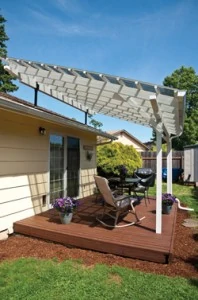 SkyLift Roof Riser Hardware
The SkyLift Roof Riser Hardware is an innovative and elegant solution to the problems caused by low-pitch flat patio covers. The hardware is designed to elevate a patio roof above an existing structure's roof. Engineered to hold the weight of standard beam construction, the brackets are cut through the existing roof, bolted to a structure's exterior weight-bearing walls, and sealed with a standard pipe jack waterproof flashing to form the roof support system.
The elevated roof increases pitch that helps water flow and discourages debris accumulation, solving most of the leakage and rot problems of low-pitch or flat covers. The higher roof also provides the patio with an airier feel and opens up the view. The brackets create a gap between the two roofs, allowing natural light to spill in and releasing trapped heat. Weather protection is not compromised because the roofs overlap. Visit www.skylifthardware.com or stop by booth 2339.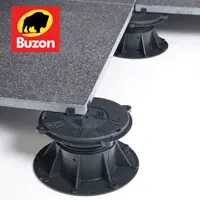 Buzon Pedestal
Buzon pedestals are used for the construction of roof terraces, pedestrian areas, walkways, roof gardens, pool decks, green roofs, and can be used with any type of decking material, such as natural stone, concrete slabs, wooden tiles or slates, and industrial gratings. To support all sorts of raised flooring applications, the Buzon pedestals are adjustable in height from 3/4 to 42 in. and can support 2,200 pounds. In addition, they're provided with a unique slope corrector that adjusts up to a 10-degree slope to create a level surface while the roof slopes below. The original brand of pedestal created 26 years ago, the Buzon product is made of high-strength recycled polypropylene to exact specifications that satisfy the precision requested by architects, specifiers and contractors. Learn more at www.buzon-world.com or booth 2133.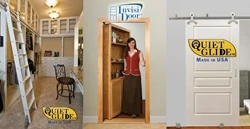 Quiet Glide Hardware Products
Quiet Glide products from Custom Service Hardware have taken the remodeling and DIY industry by storm. The company's Rolling Barn Door hardware comes in traditional spade or fleur-de-lis styles, as well as many modern traditional styles and colors. The Rolling Library Ladder is sold as a complete kit or simply the hardware—and you build your own ladder. The patented rolling system makes the ladder roll smoothly and quietly across any type of floor. The InvisiDoor, a book case that opens up into a room, is the company's hottest new product. Built for a standard 32- or 36-in. opening, the InvisiDoor is the first high-quality, production secret door system. Since 1977, Custom Service Hardware products have been proudly made in America. Visit www.cshardware.com or booth 1839.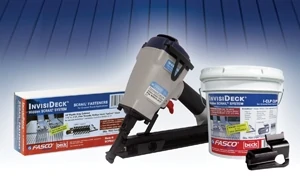 InvisiDeck Fasteners
The InvisiDeck Hidden Scrail Fastening System can dramatically save you time and reduce costs. The threaded fasteners drive in with a pneumatic nail gun but back out like a screw. All work can be done from the top of the deck boards, significantly reducing labor installation time. The company's I-CLP hidden fastener clips can be installed much faster than conventional installation and provide outstanding hold down power. Available for synthetic, hard, and soft wood decking, as well as for grooved and non-grooved board applications, InvisiDeck fasteners greatly improve a deck's appearance and value. Constructed from heavy gauge stainless steel for strength and durability, the beauty of decks is preserved while splitting, splintering, cupping and rotting are eliminated. The EHT staff built a 12-by-40-ft. deck with Scrail fasteners and stand by their reliability. Visit booth 2511 or www.fascoamerica.com.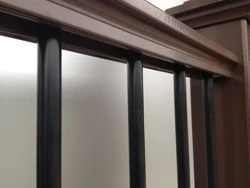 AZEK Rail Metal Balusters
The new AZEK Rail Metal Balusters are available in round and square styles and come in four lengths (29, 31, 35 and 37 in.) as well as stair balusters in two lengths (31 and 37 in.). These popular lengths are designed to meet rail building codes in all areas. The new metal balusters are uniquely designed to include an extruded screw "chase" or channel to allow a direct screw attachment to the railing. This design allows for a stronger baluster connection as the baluster is connected directly to the railing. It also eliminates unattractive plastic connectors to give the railing a clean, uncluttered look. All balusters, straight and stair, come ready to install with no cutting required on the jobsite which ensures there is no bare aluminum exposed after installation. The stair balusters are pre-cut to a typical 35-deg. angle to accommodate the majority of stair designs. Both metal baluster styles are available in black with an aluminum powder coating certified by the American Architectural Manufacturing Association (AAMA).  The coating certification ensures successful endurance of 3,000 hours of salt spray and humidity. Visit the AZEK at booth 2611 or www.azek.com.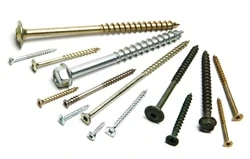 SPAX Construction Screws & PowerLags
For both professional contractors and weekend do-it-yourselfers, the German-engineered/American-made SPAX Construction Screws and PowerLags offer a wide selection of premium quality fastening solutions to help ensure professional results in less time. The unique patented features of SPAX fasteners reflect nearly two centuries of cold-forming fastener innovation. See the complete SPAX product line—multi-material screws, cabinet screws, deck screws, and PowerLags for structural wood connections—including hands-on demonstrations, in booth 1439. Learn more online at www.spax.us.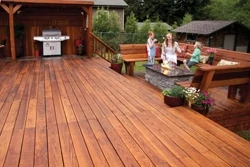 The California Redwood Company
FSC-certified redwood from The California Redwood Company is a great choice for your outdoor living and home improvement needs. Not only is redwood beautiful, it is undoubtedly strong, easy to work with and eco-friendly. It is naturally resistant to insects, rot and decay and can withstand high heat and pressure. It reassuringly shrinks and swells less than other woods when exposed to water, which means that it's less likely to warp, split or check, making it one of the most durable building materials available. Redwood also meets California's strict fire codes. Because redwood is one of the most pliable softwood species available, it is easy to saw, nail and drill. Redwood also has little to no pitch or resins. It is lightweight but extremely strong and durable and is easy to customize as styles change and new trends evolve. It is extremely easy to paint, stain and glue. In fact, a redwood deck can be restored repeatedly with minimal effort and cost. Redwood is also one of the greenest building materials available. It stores more carbon than it emits over its entire lifecycle, and is renewable and completely recyclable. Visit booth 2623 or www.californiaredwoodco.com.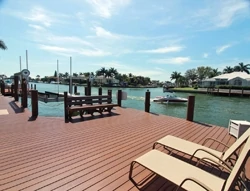 NyloDeck
Made with a patented process using 100-percent recycled carpet fiber instead of wood or PVC, eco-friendly NyloDeck combines the best properties of today's decking materials into one product. The result is a deck board that's beautiful, strong and high-performing. NyloDeck's unique composition means it is completely impervious to water, mold, mildew, termites and swelling so it's even more reliable than wood-plastic composites, while stronger than PVC and other leading composites. NyloDeck not only looks great, it's also incredibly durable. Backed by extensive testing and a 25-Year Limited Fade and Stain Warranty, NyloDeck creates the ideal, worry-free deck for both contractors and homeowners. Visit www.nyloboard.com or see NyloDeck in Chicago at booth 2615.


Sure Drive Deck Fasteners
Sure Drive USA manufacturers a wide variety of deck fastening solutions. The hidden deck fastener line includes the Mantis clip for grooved boards, one of the easiest hidden fasteners to install for both contractors and DIY homeowners. The Mantis clips can be installed with the Eliminator RCS with E-Z Slide attachment, a pneumatic installation tool that uses Ballistic Nail Screws to fasten grooved decking up to 70 percent faster than conventional methods.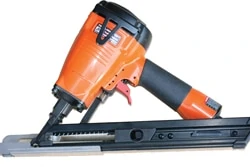 The Hidden Link fastener for solid edge decking is available in two varieties: One offers 1/8-in. deck board spacing while the other provides 1/4-in. spacing. ShadoeTrack, one of the original hidden deck fastening systems on the market, is available in 4-ft. and 8-ft. lengths and can be used for all types of decking. Sure Drive USA / Pan American Screw also manufactures a wide variety of specialty deck screws and made-to-order specials. The company is also a sponsor of the Deck Workshop Clinic at Deck Expo 2013. Visit booth 2533 or www.suredrive.com.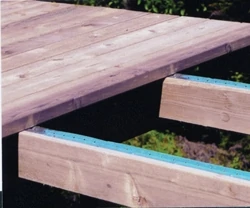 Side Note
Sharing with Simonton Windows
At this year's Remodeling Show, the EHT staff will share an exhibition booth with our friends from Simonton Windows. Simonton will showcase a Simonton Reflections 5500 window with a driftwood exterior and an interior woodgrain. The Reflections 5500 series is highlighted by a classic frame design, the most popular designer options and high-performance glass packages for maximum energy efficiency. This replacement window product line also comes with Decorum® exterior colors of brick, bronze, chocolate, cream, driftwood, pine and tan. On the interior, woodgrain options include antique cherry, contemporary oak and maple. And, for added style, premium metal hardware finishes are available in brushed nickel, oil-rubbed bronze, dark bronze, polished brass and pine. Come visit EHT and Simonton at booth 627 or check out Simonton online at www.simonton.com.