Moulding and trim are what give the walls of a room its character and appeal. Whereas some DIY homeowners find this type of finish carpentry to be a rewarding challenge, others consider it a big pain in the neck. Here are a few pro-grade tips and tricks to help you succeed if you decide to tackle it yourself.
Choice of Material
Consider the different material options for your interior trim application. Solid wood trim can be milled with crisp angled profiles, and the natural wood grain can be beautifully stained. Wood trim is readily available and competitively priced, but the material can shrink and swell with changes in temperature and moisture content. Stained wood installation also requires considerable carpentry skill to cut and install, because gaps and nail holes in the joints can't easily be disguised with caulk and paint.
For painted trim, consider medium-density fiberboard (MDF), which is a composite material made from sawdust and resins. It's an ultralight, low-cost alternative to solid wood that is more dimensionally stable and comes in a wide range of stock profiles. MDF is easier to dent or nick than real wood, but minor gaps and defects in the installation can be caulked and painted.
Another paint-grade alternative, polyurethane trim is more stable and lightweight than wood, but it mills, cuts and fastens in much the same way. It is slightly softer than wood, but this enables it to be manufactured in elaborate, plaster-like profiles. The joints of polyurethane trim also require polyurethane adhesive in addition to nails.
For bathrooms or anywhere moisture is a concern and a simple profile is appropriate, PVC trim won't warp, swell or rot, no matter how wet it gets. However, PVC trim is limited to a few simple profiles, and its slick surface can be difficult to paint.
If you're trimming out arched windows or curved walls, flexible moulding is a rubbery material that comes in a variety of profiles that can bend around a curve without the need for relief cuts. Although installing flexible moulding is cheaper than paying a professional carpenter, it must be special-ordered and can be expensive.
Size Matters
Trimwork that is not sized correctly in proportion to a wall's height can have a negative effect on the overall decor. For example, crown moulding that is too thin can make the room feel top-heavy, whereas moulding that is too large can make the ceiling look like it's encroaching down into the living space. Here are the suggested optimal sizes for the crown moulding drop (distance from the ceiling to the lower edge of the crown) on various wall heights:
8-ft. ceiling: 3- to 5-in. drop
9-ft. ceiling: 5- to 10-in. drop
10- to 12-ft. ceiling: 10-to 20-in. drop
16-ft. ceiling: 18- to 25-in. drop
For baseboards, use the 7-percent Rule as a guideline. In a traditional-style home, a good starting point is to use 7 percent of the ceiling height. So, if your ceiling height is 8 feet high, try a baseboard that's about 7inches tall (96" x .07 = 6.72"). The baseboard size should also work visually with the size of door casing and other associated trim throughout the room. Note that these size suggestions are generally accepted guidelines for interior trim, but the final decision is up to you.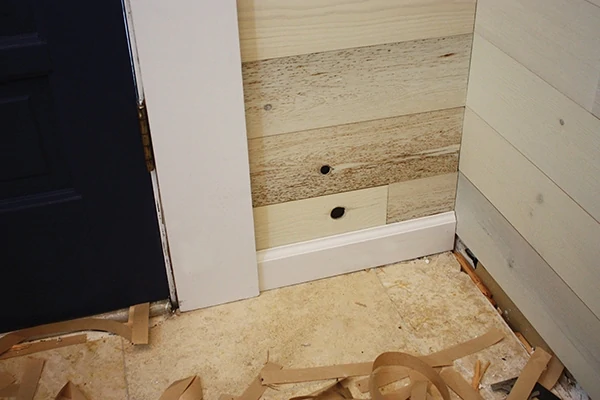 Use the Right Blade
One aspect of trim work that DIY installers sometimes overlook is the type of saw blade they're using on their circular saws. The quantity of teeth plays a significant role in the blade's performance. For example, blades best suited for rough work like ripping 2-by stock along the grain typically have fewer teeth with large gullets for easy chip removal. Blades meant for crosscutting across the grain have more teeth, usually 48 or more, with a smaller gullet for a smoother cut.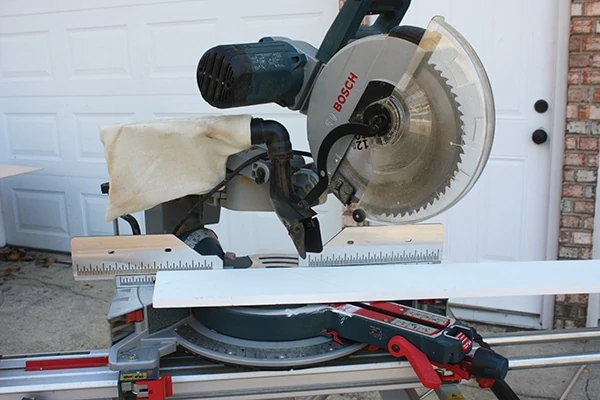 When cutting trim, a higher number of teeth generally translates into smoother cuts for finish applications. The type of material is also a factor; for cutting PVC product we recommend using a carbide toothed blade with 80 teeth or more to prevent chipping. A blade designed specifically for the application can increase the accuracy of your trim cuts, which helps when mating the joints. A rough cut might require you to sand the cut smooth, but the act of sanding can alter the shape of the cut, so it may no longer fit perfectly during assembly. Spare yourself the frustration on trim projects and use fine-toothed blade intended for trim.
Stop, Calibrate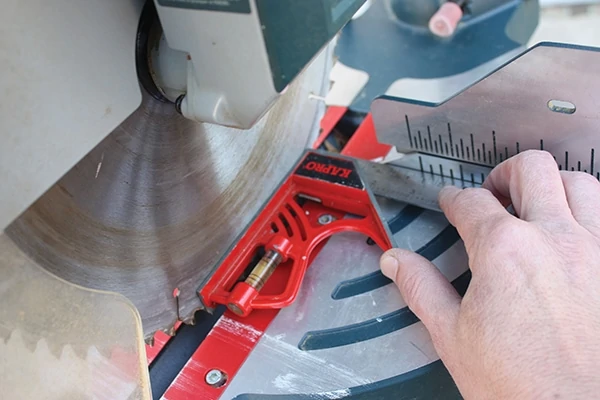 If you're using a Power Miter Saw it is important that the saw is calibrated (checked for accuracy) before you start cutting. This is an important step because a 1° difference over a 1-in. span will result in a 1/32-in. gap in the finished miter joint. (3° over 5-in. span gives you a 3/8-in. gap.) Use a combination square to confirm the blade's miter and bevel alignment, adjusting if necessary.  Check your saw manual for specific instructions on how to adjust the blade, which may involve loosening/tightening a series of set screws or bolts.
Cut Tighter Miters with Angle Calculator
Trim installers quickly learn that not all corners are truly square. it is not uncommon for the wall angles of a house to be off as much as 3°, which can result in a gap in the miter joint. To solve this problem when cutting Vertical Position Miters (base board, chair rail, quarter round, etc.), you should measure the angle then refer to an Angle Calculator to determine the two complementary angles needed to close the joint. (See "Miter Angle Calculator Chart.") For example, an Inside Corner with an angle of 87 degrees will require two intersecting 46.5-degree miter cuts to close the joint.
Splice Miters in a Long Run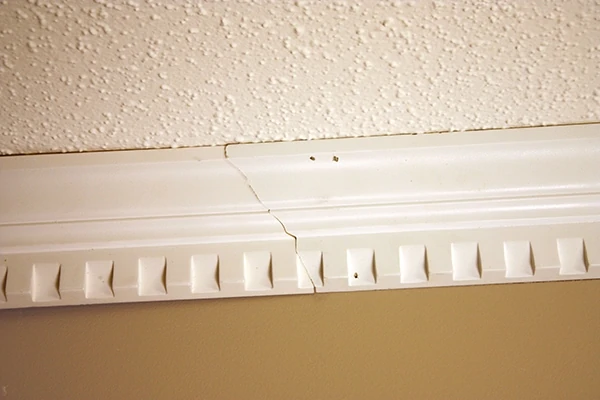 When a wall is longer than the trim boards you are installing, you'll need to join two boards along the straight run with a splice miter. A splice miter (also called a scarf joint) is superior to a butt joint (two 90° angles), because it's more visually appealing and creates more surface area for glue or adhesive to make a stronger joint. A splicing miter is usually put in the vertical position at 45°. Place the trim on the saw table in the vertical left-hand position and make a 45° cut. Then, place the mating trim on the saw in the vertical right-hand position and (without changing the angle) make the cut. Fitting the joint on the wall is difficult, so assemble and glue these splice joints and then fasten to the wall as a single piece of trim.
Cut Corners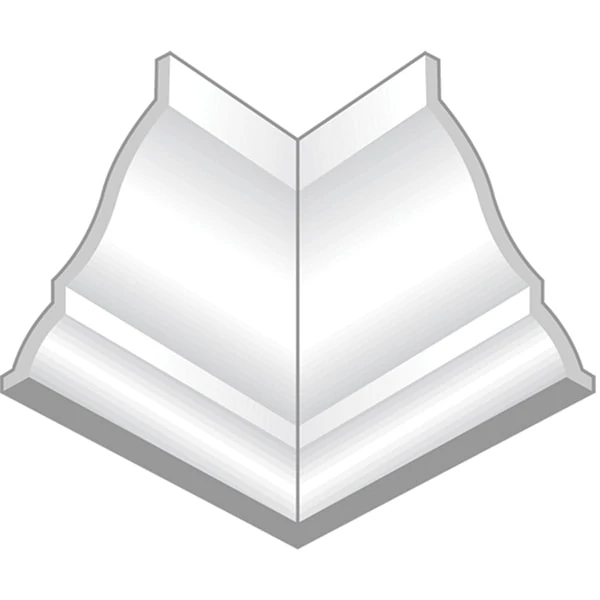 If assembling mitered corners absolutely gives you the fits, look for pre-made corner blocks to take the guess work out of cutting, coping and mitering the crown. The corner blocks are designed to match specific moulding profiles, and once they're installed, the moulding slides behind the block. Both inside and outside corners are available, which save time and effort by eliminating the complicated coped cuts or miter saw settings required for traditional installation. The corner blocks serve as accent pieces that add an extra dimension to the crown moulding project.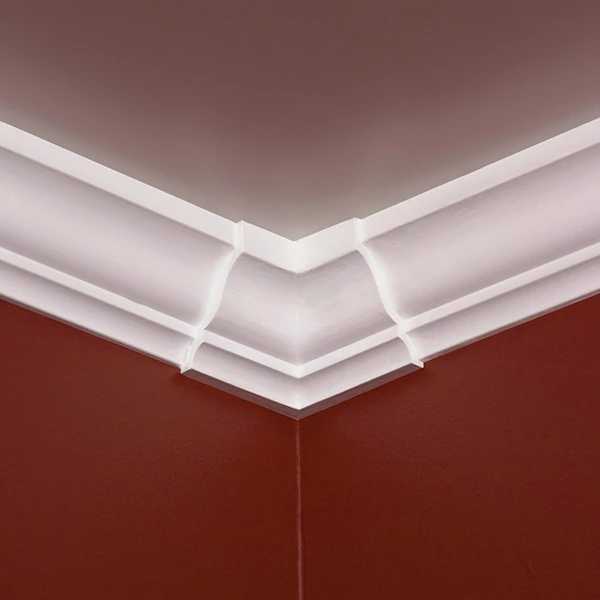 DIY-friendly Wainscoting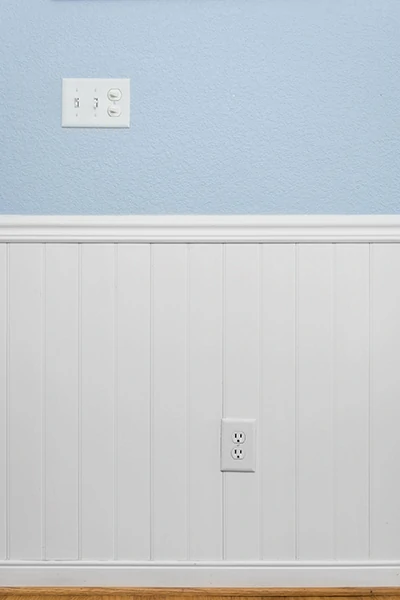 Although installing a raised-panel wainscoting pattern can be quite a challenge for a DIY'er, using a repeating pattern of vertical boards makes the job much easier. Wall panels with vertical board patterns (i.e., bead-board) can be cut vertically to fit the room without disrupting the visual wainscoting pattern, which makes them easy to fit into any size room. To install this style of wainscoting, apply the wall panels over the lower portion of the wall using a combination of brad nails and construction adhesive, then cover the lower edge with baseboard and cap the upper edge with a chair rail or similar moulding.
Trick the Eye with Paint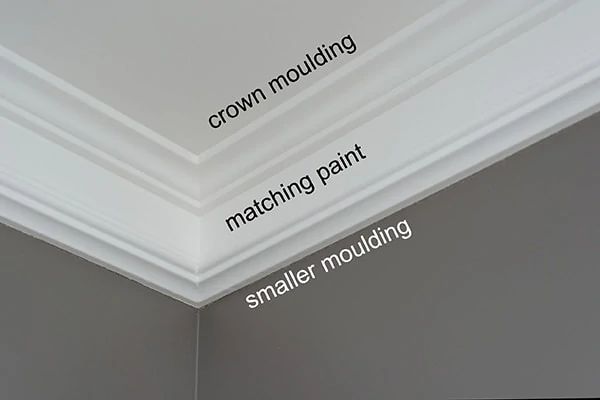 If you're installing built-up crown in a room with a tall ceiling, you can use a strip of color-matched paint between two moulding profiles to give the illusion of a more elaborate moulding installation. Use the larger crown profile along the ceiling, paint a parallel stripe beneath it, then use a smaller profile as border moulding along the bottom.
Save Your Moulding to Save Time & Money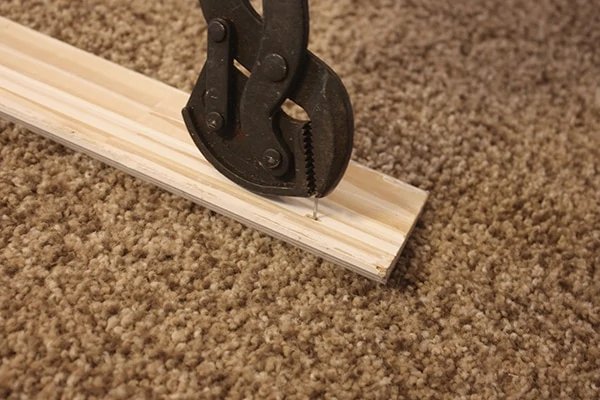 On some projects (such as installing a new floor), you'll be removing trim because it's in your way, only to have to reinstall it afterward. If this is the case, carefully pry off the casing, baseboard, etc. to keep it intact. To do so, first cut the caulk joints with a utility knife. Then, slip the blade of a putty knife behind the trim to pry open a gap against the wall. When the gap is wide enough, slip the tongue of a flat pry-bar behind the moulding and pry it off while leveraging the blade against solid framing, such as the floor plate, top plate or a stud. (Avoid prying against unsupported wallboard, which can break). Work toward the fastener locations, extracting them from the wall framing.
Once you've pulled the entire trim board free, you can use nail-pulling pliers to remove all fasteners then fill the holes with putty or spackling. Prime the trim and add fresh paint for reinstallation. Reusing the trim reduces waste and saves money. Plus, if you label the boards as you remove them, they will be nicely pre-cut and ready to assemble without the hassle of measuring and cutting new pieces.
Side Note 1
Exterior Trim: Get Every Detail Right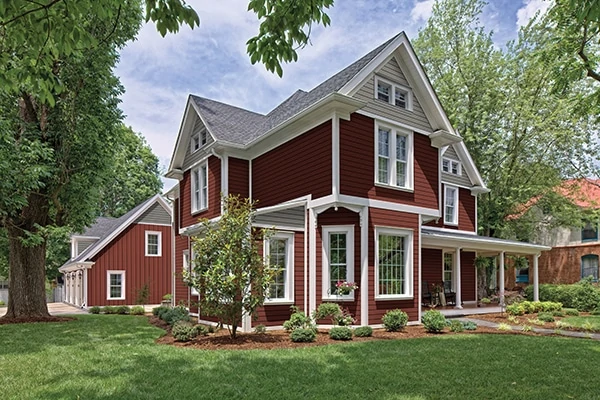 Royal 100% Cellular PVC Trim
The most stunning homes in the neighborhood have one trait in common: the perfect finishing touch to complete their curb appeal. Royal Building Products' trim and moulding options provide every option you need to fully express your home, no matter what architectural style you're working with. Maximum charisma and minimal maintenance go hand in hand—whether you live in a Cape Cod, Contemporary, Victorian, Colonial, Craftsman, Ranch or anything in between.
Royal S4S Trimboard
The S4S Trimboard is beautiful and versatile enough to highlight the look of any home style and is far more durable than wood. Its value reveals itself in generous curb appeal and years of worry-free low maintenance.
Royal Conceal Trim System
Royal Building Products' Conceal Trim complements virtually every kind of home style and material, makes a long-lasting design statement, and comes with very little maintenance. There's no rotting, warping or splitting, plus it's backed by a Limited 25-Year Warranty.
Decorative Mouldings
RBP's decorative mouldings add the visual power of perfectly placed, complementary detail. And because they're moisture- and termite-proof, mold- and mildew-resistant, and virtually maintenance-free, they eliminate any worry of deterioration and time-consuming upkeep. Learn more about this vast collection of trim at TrimAppeal.com.
Side Note 2
Pac Trim Interior Mouldings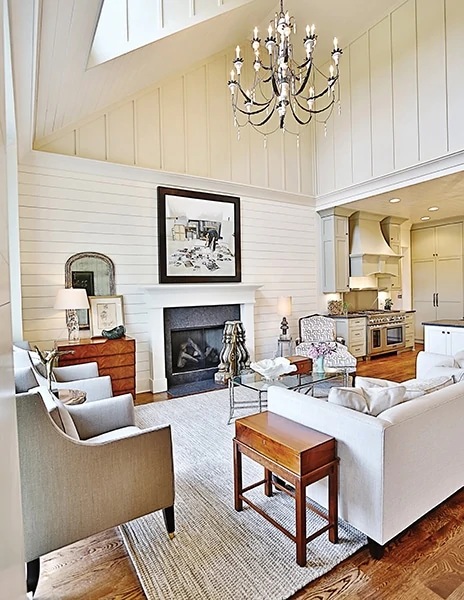 Regardless of the design style, the addition of interior mouldings and wall treatments add depth and character, and can turn a simple room into an inviting, beautiful space. So, if you're just dreaming, are in the design stage, or ready to install, look for Pac Trim® products to set your home apart.
Manufactured in the United States and Canada, Pac Trim is a pre-primed MDF product. The high-quality primer and consistency of product have customers calling Pac Trim the highest quality and most desired primed MDF mouldings and shiplap in the industry.
The Pac Trim product line includes over 500 profiles of base, casing and crown, as well as MDF boards and shiplap wall panels for interior use. In addition, the PacFit accessory line has corner pieces for bases and crowns, eliminating the need for mitering. So, whether your style is modern farmhouse, contemporary, craftsman or colonial, let Pac Trim help create the space of your dreams.
The company has partnered with some of the best distributors in the industry who understand the importance of excellence in customer service. They are as dedicate to the customer as much as Pac Trim is dedicated to product quality. Visit www.pactrim.com.
Side Note 3
Cedarsafe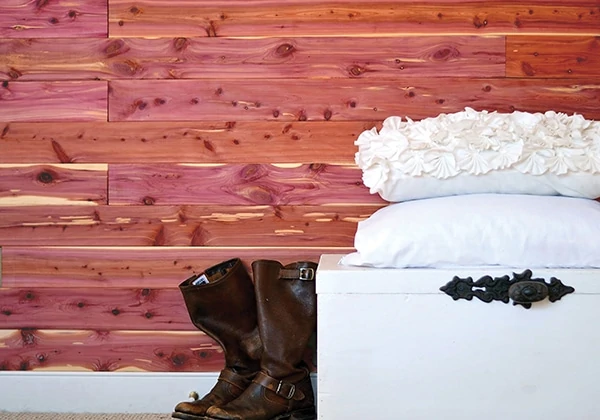 Since 1939, Giles and Kendall, the manufacturer of CedarSafe, has concentrated on making fine products from 100-percent Aromatic Eastern Red Cedar using sustainable processes that minimally impact the environment. Cedar Mouldings create a professional finish to any cedar closet, including two styles for use in corners (as crown or base moulding) and around doors and windows. Not only are the Aromatic Eastern Red Cedar trees sourced domestically and harvested from the wild, but Giles and Kendall strives to eliminate waste and fully utilize the entire tree to make cedar planks, flakeboard, accessories, mulch and pure cedar oil. CedarSafe is 100-percent Green, produced and manufactured in the USA, and is proven to repel and resist moths, cockroaches, silverfish and other household pests. Cedar is mildew-resistant and a natural odor absorber, which makes it perfect for high-moisture areas like bathrooms, laundry rooms, garages, sheds, barns, closets, mudrooms and all around the home. Learn more at cedasafe.com.