Spruce it up for springtime.
By Mark Clement
No matter the material, all decks and porches require some maintenance. The good news is that regular upkeep is an easy way to preserve your wood deck's beauty for years to come. Since wood comes from nature, it's naturally at home in the outdoors. When properly finished and maintained, many wood varieties will last for decades, even in harsh environments.
To get the most out of your deck, once a year, take the following steps:
1. Inspect the boards for damage such as splitting, warping and major checking ('checking' is cracking parallel to the grain, i.e. "the long way"). An important step here is to check each fastener to be sure none are coming loose. This may require walking the deck back and forth along the joists, to sense any weakness or instability. This also presents an opportunity to check railings and bannisters by pushing them to make sure there is no give.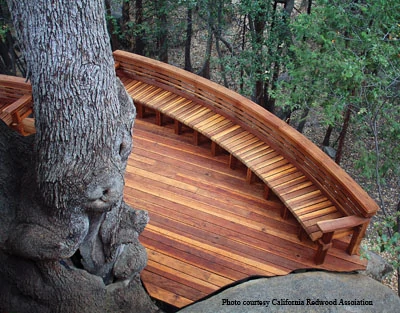 2. Check that the flashing is still sound and be prepared to replace this essential component if necessary. Flashing is a metal or plastic guard that directs water out and away from sensitive areas (areas prone to hold moisture and thus weaken). Properly installed deck flashing should be roughly "L"-shaped. One leg of the L runs up behind the siding. The other over the top of the board that connects to the house (this is called the 'ledger board').

Remember, flashing is often installed where the deck and house come together, and its purpose to keep moisture and debris from collecting between the house and the deck's ledger board. Pay special attention to any areas that tend to remain damp, are regularly exposed to water (like exposed end-grain on post tops), or are in contact with fasteners. These are areas of stress that need to be carefully examined. Even if no signs of deterioration are present, you still may want to consider proactively adding or replacing flashing if you notice areas in which a significant amount of water is collecting.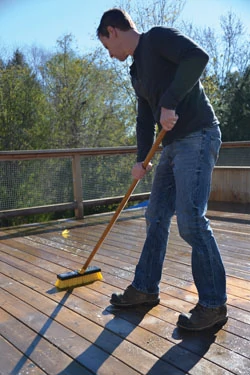 3. Check the framing connections. Where the joists meet the ledger board, there should be metal hardware (joist hangers). Nails driven at an angle ('toe-nails') are not a sufficient structural connection. Bolts in post and beam connections should be 1/2-in. diameter and galvanized.
Check that stairs are of proper rise and run. The combined rise and run of a code-approved stair should be no more than 17-inches: ideally 7-in. rise, 10-in. run (tread depth). Check that they're properly connected to the deck framing and that stair nosings are intact.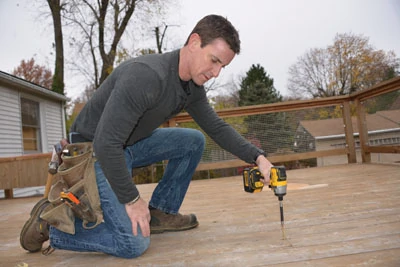 Posts, beams and angle bracing should be of appropriate size and spacing. Your local building inspector will be able to tell you what's expected where you live. Generally speaking, however, deck posts should be a minimum 6×6 spaced 6 feet on center.
If you can get under the deck and inspect the ledger, check that proper fasteners—bolts, 1/2-in. galvanized lag screws or structural screws like the RSS screws from GRK Fasteners—not nails—have been used where the deck attaches to the house, since this is a common source of deck failure.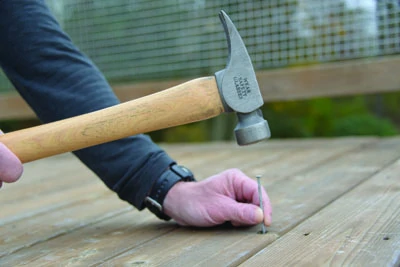 You will need to replace fasteners that show any signs of significant rusting or corrosion. This is because a corroded fastener can cause deterioration in surrounding wood. Check for nails that have lifted and for screws that show signs of significant deterioration, and replace as needed.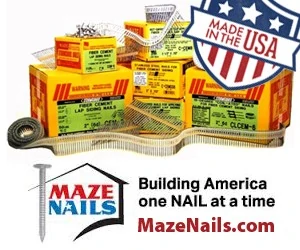 4. Every deck should have an annual cleaning. With regular maintenance, the weathered look of decks usually can be revived with the application of the right deck cleaner. Even if your deck is several years old and showing signs of natural weathering, it's easy to restore the original color and beauty of the wood by applying a cleaning solution and wood brightener. (As with all products, be sure to follow the manufacturer's guidelines for proper use and to make sure you are using the right product for your deck's wood species.)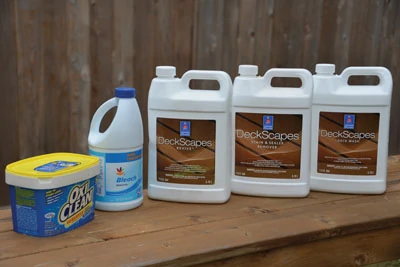 Deck cleaners and restorers generally fall into one of three categories—chlorine bleaches, oxygen bleaches, or oxalic acid-based formulas. Chlorine bleaches are especially effective for killing mold and mildew spores, a common cause of stains and discoloration. Oxygen bleaches are effective at removing mildew stains and weathered gray residue from sunlight-degraded wood decks. Oxalic acid products are useful brighteners for a wood deck, but not effective for removing mildew.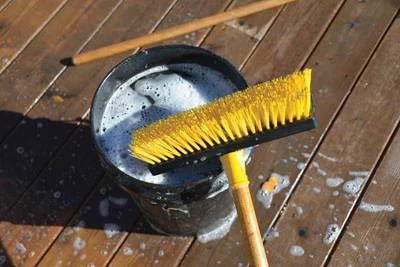 If you have a mildew problem, treat your deck with an oxygen or chlorine bleach and water solution (typically 1:3, bleach to water) first and follow it up with an oxalic acid-based product to brighten the wood color. Products with oxalic acid and bleach are also available. They will work on deep stains, mold and mildew but these are commercial-grade products and should be handled very carefully. Plants should be pre-rinsed and/or covered. And siding or doors at the house may need to be shielded so as not to remove or damage their finish. Mold and mildew may require an additional round of scrubbing and application of both Oxalic acid and household bleach/water solution.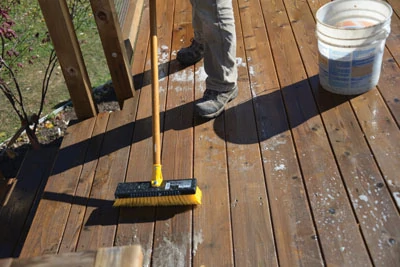 For some decks, you might decide to use a powerwasher.  However, it is a good idea to check the industry association website of the wood species (pine, redwood, cedar) you are working with to determine if powerwashing is recommended for your deck. If you are powerwashing, always use as low a pressure as possible—between 500 to 600 psi. As a rule of thumb, try to never get closer than 12 inches to the wood deck.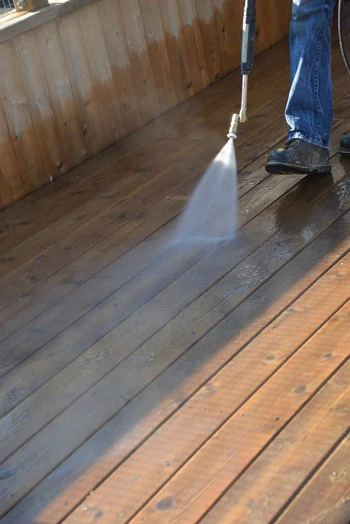 Some powerwashers have detergent reservoirs and are good for applying lots of mild detergent. You can get more control using a simple garden sprayer, especially with the stronger detergents.
You'll get slow, even coverage that's easy to apply.
Let the detergent sit on the deck the manufacturer-recommended period of time. This gives the detergent time to break down the stain. It's kind of like soaking dirty pans in the sink before scrubbing them. Use a synthetic bristle—never steel or wire—brush to agitate the solution. Keep a 5-gallon bucket of straight water handy to rinse the debris from the brush bristles as needed. Work up and down the length of the deck boards instead of across them, and don't apply more detergent than you can remove in the recommended period of time.
When it comes to verticals—anything from guardrail posts to privacy screens—check the detergent you're working with for the recommend application direction. Some will recommend applying from the bottom up. Others, the top down. The reason for this is to prevent streaking, which once it's started, you can't stop it.
You won't need to do this every year but you'll want to keep an eye on your deck's finish and refinish it as needed. A simple test to see if it needs refinishing is to pour a cup of water on the deck surface. If water droplets form, your finish is still performing well. However, if the water sinks in quickly, it's probably time to reapply a sealant. If a treatment is needed, the best time of year is generally during the spring and fall when temperatures are more mild and consistent.
If you determine that you need to refinish your deck, it's always a good idea to remove any dirt or debris before applying a finish (just follow the cleaning steps above).  You'll want to allow several days for the deck to dry completely before refinishing.
Make these steps a routine part of your spring or fall clean up and you'll enjoy your deck for years to come.
Editor's Note: Mark Clement is a tool and how-to expert, regular contributor to DIY magazines and TV, a contributing editor to Extreme How-to and spokesperson for the Softwood Lumber Board.
Side Note
Eliminate Dents & Dings
Shown here are two simple methods to protect the surface when maintaining your deck. When driving down loose nails, an old circular saw blade can provide a shield around the fastener to prevent damage from hammer blows.

When you need to pry out an old fastener, a scrap of aluminum flashing protects the wood-grain from being crushed by pressure from the hammer.
Other Decking Articles