Deck construction is an evolving art. Every year new materials are introduced, technology advances, tools are innovated, and building codes get updated. In this issue, EHT offers an update for the deck builder, to keep both professionals and DIY'ers abreast of what's now required, what's now available, and how to get the project completed successfully.
New 2012 Code Changes for Deck Construction
If you're planning to build a deck near a pool or spa, then you should be aware of some new building code changes from the International Code Council. The 2012 International Swimming Pool and Spa Code stipulates new rules for deck surfaces adjacent to "adequate vessels", which the code defines as any vessel that holds more than 12 inches of water and is used for recreation. According to section 306 of the new code, decks around water must be designed to reduce the hazard of slip-and-fall accidents due to standing water on the walking surface. Here's a quick look at the details.
Slip resistance. According to section 306 of the code, the walking surface of decks built adjacent to water vessels must be slip-resistant. Unfortunately, the code fails to provide a test standard, which makes this a confusing requirement for the installer. The deck surface must be "treated or constructed to significantly reduce slipping," which sounds as if unaltered wood would no longer be accepted. Some manufactured texturing product may be required, such as a coating or as an integral feature of the decking material.
Deck slope. Section 306.4 requires a deck pitch that drains water. The code states that standing water on the deck cannot exceed 1/8 inch in depth 20 minutes after rain ceases to fall. To meet the standard, the code now requires that deck surfaces around pools and spas be sloped at least 1/8 inch—but no more than 1/4 inch—for every 1 foot.
Gaps between deck boards. In section 306.5 you'll find new spacing requirements for decks installed around pools and spas. "Gaps shall be provided between deck boards in wood decks." This requirement allows drainage between the boards and may eliminate the use of tongue-and-groove decking products for such applications. Tripping hazards must also be avoided: "The difference in vertical elevation between the pool deck and the adjoining sidewalk shall be not greater than 1/4 inch."
Blunt edges. On top of these new slip-prevention measures, the ICC also requires constructing the edges of the structure so they're as safe as possible if someone were still to lose their footing on the deck. Section 306.7 requires: "The edges of all decks shall be radiused, tapered, or otherwise designed to eliminate sharp corners."
These are brand-new code changes, and most local authorities have not yet adopted the new requirements. However, the ICC is a model for most building ordinances, so expect your local inspector to eventually follow suit. In the meantime, always consult with local authorities to determine what is currently required in your area.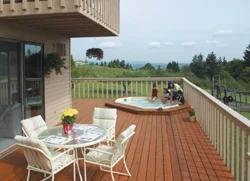 New Decking Products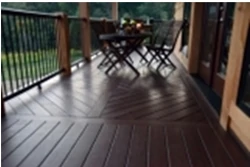 NyloDeck
NyloBoard is a manufacturer of building products that uses recycled carpet fiber to create exceptionally strong, durable and eco-friendly composite building materials that contain no wood or PVCs. All NyloBoard products are impervious to moisture, rotting, termites, mold and mildew and possess excellent strength, durability and performance qualities. NyloDeck is the company's new decking and dock material for contractors, remodelers and builders. The deck boards are strong, lightweight, UV-protected and impervious to water, mold and termites. Plus, a proprietary embossing process creates natural looking, unique woodgrain patterns on every board. According to the manufacturer, the material offers the best expansion and contraction rating of all composites, and the boards' strength and rigidity enable joist spans up to 24″ O.C. Visit www.nyloboard.com.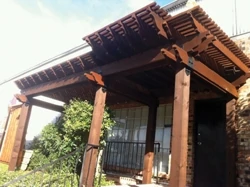 Ornamental Wood Ties
Ornamental Wood Ties are essentially decorative structural wood connectors for decks, pergolas, sun shades, pavilions and more. Ornamental Wood Ties hardware produces strong connections and enhances your project design. With a wide range of connectors and components, you can use your imagination to build a project that is uniquely your own. All the hardware products are made of heavy gauge steel that is hot-dipped galvanized after fabrication. The parts are then finished with an exterior-grade powder coating for the ultimate protection in harsh environments and suitable for contact with ACQ-treated lumber. The decorative wood ties have been engineered to make installation faster and easier with industry-leading features and attachment techniques. Visit www.OZCOBuildingProducts.com.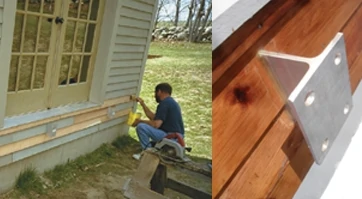 Maine Deck Bracket
The Maine Deck Bracket is a long-lasting and reliable method of attaching decks, stairs, signs and other appendages to buildings. Maine Deck Brackets are rugged aluminum extrusions that allow structural attachments without creating openings or pockets for water or debris to collect, or insects to infest. The unique bracket system is protected by two patents to provide high strength, easy installation and excellent load distribution. Plus, it helps prevent moisture from penetrating buildings at the attachment points, which is a common weak spot for decks with standard ledger systems. Made in the USA with custom-designed monolithic extrusion, the bracket's T6 aluminum construction will maintain rigidity and will not rust. Visit www.deckbracket.com.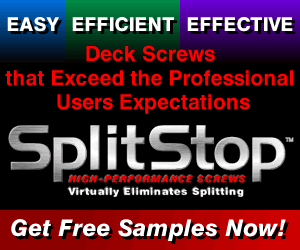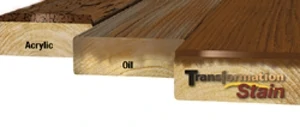 Transformation Deck & Fence
Benefits of both oil and acrylic
Newly launched in 2012, Transformation Stain Deck & Fence combines the benefits of both oil and acrylic deck stain technologies into one stain. Acrylic deck stains provide great wood surface protection but do not penetrate the wood surface. Eventually, acrylic stains will peel from the surface in patches, making re-staining difficult. Oil deck stains penetrate well into the wood but do not always leave adequate protection at the wood surface. Transformation Deck & Fence penetrates into the wood for great adhesion but also leaves protection at the surface to battle the sun, moisture and foot traffic.
The stain erodes instead of peels and wears evenly across your deck for easy maintenance. Combine that with water clean-up and it is among the easiest stains to maintain. Visit www.sashco.com.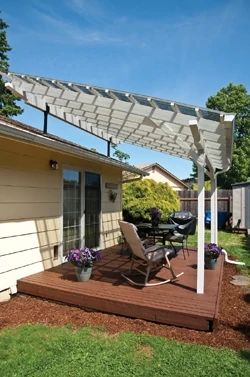 SkyLift Roof Riser Hardware
The SkyLift Roof Riser Hardware is an innovative and elegant solution to the problems caused by low-pitch flat patio covers. The hardware is designed to elevate a patio roof above an existing structure's roof. Engineered to hold the weight of standard beam construction, the brackets are cut through the existing roof, bolted to a structure's exterior weight-bearing walls, and sealed with a standard pipe jack waterproof flashing to form the roof support system. The elevated roof increases pitch that helps water flow and discourages debris accumulation, solving most of the leakage and rot problems of low-pitch or flat covers. The higher roof also provides the patio with an airier feel and opens up the view. The brackets create a gap between the two roofs, allowing natural light to spill in and releasing trapped heat. Weather protection is not compromised because the roofs overlap. Visit www.skylifthardware.com.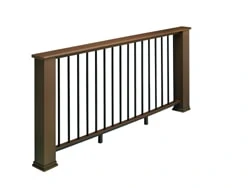 TimberTech Evolutions Rail
TimberTech's Evolutions Rail for decks and patios features a sleek, flat, continuous top rail, uninterrupted by posts and a flat surface suitable for holding drinks or small plates. The railing system accommodates the choice of three infill options: metal balusters, composite balusters or stainless steel cable. Evolutions Rail is made from precision-engineered composite with a durable polymer cap that gives it the structural feeling of wood, but with low-maintenance properties and superior moisture resistance. Evolutions Rail kits are available in standard 6- and 8-ft. sections with 36- or 42-in. rail heights and include top rail, bottom rail and mounting hardware. The rail system is currently available in Brick, Traditional Walnut and Classic Black color options and is compatible with TimberTech's DeckLites low-voltage lighting system. Visit www.timbertech.com.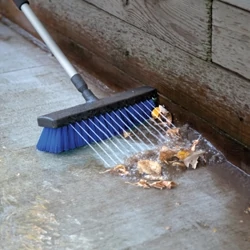 Deck Washer
The new Deck Washer from HomeRight is the first scrubbing broom with water-jet nozzles to pressure-clean while you sweep. This new deck and patio cleaning tool is a scrubbing broom with water nozzles that connects to a garden hose. The Deck Washer loosens and pushes debris simultaneously. A row of 14 powerful water nozzles multiply water pressure for deep cleaning. Combine that with specially-designed scrubbing bristles, and dirt, grime and debris don't stand a chance. Simply screw the three-piece handle and brush head together, attach a standard garden hose and get to cleaning. The Deck Washer includes an on/off valve attachment to standard garden hoses. It is sold with a 54-in. long extension handle. The high-quality bristles are ideal for scrubbing away grass clippings, leaves, dirt, mold and mildew. Visit www.homeright.com.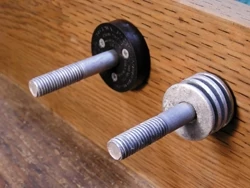 Deck2wall Spacers
Deck2wall Spacers help prevent rot from occurring at deck-ledger connections. The spacers separate the ledger from the supporting structure, providing a path for water and debris to flow harmlessly through the assembly, while promoting circulation and drying. Stacked washers have often been used as spacers but Deck2wall Spacers have many advantages over standard washers. The Deck2Wall Spacers have attachment holes to keep spacers in perfect alignment for a faster and easier installation. They offer more bearing surface for better load distribution, and the plastic spacers are non-corrosive. Plus, the one-piece design and installation method provides superior waterproofing. The Deck2Wall Spacers also provide a long-lasting solution for attaching shade structures, posts, stair stringers, landings, built-up beams or mechanical equipment. Made in the USA, the spacers are injection-molded, fiberglass-reinforced polypropylene, 5/8-in. thick with a 2-1/2-in. diameter and a 11/16-in. bolt hole (use #6-8 corrosion resistant screws in attachment holes). Visit www.deck2wallspacer.com.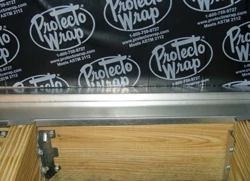 EverFlashing
Developed and patented by a carpenter with 28 years of experience, EverFlashing is a new type of ledger flashing. When attaching a deck to a house, building code requires house wrap as well as flashing a deck's ledger board. This is required to stop the rim joist from rotting and the deck pulling away from the structure. Everflashing has a siding flange to minimize water and dirt intrusion between the deck boards and the siding. The siding flange gives a clean, finished look to the decking where it meets the house. This also allows for the ledger board to be installed and the project sided long before the deck is built. Everflashing also has a 1/2-in. drip flange down the face of the ledger board to further ensure water protection. Everflashing comes in two sizes: 1-1/2-in. for standard ledger installations and 2-1/8-in. for deck-to-wall spacers. Available in 8- and 10-ft. lengths, the flashing is available in heavy gauge metals, stainless steel, G-185 galvanized and pre-painted aluminum.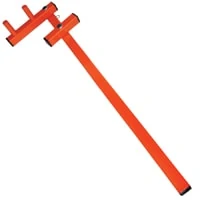 Cepco BoWrench
We admit it: The Cepco BoWrench is no longer "new", but the EHT staff is a fan of the tool and we feel it deserves a little more publicity. The BoWrench is a time-saver for both professional and do-it-yourselfer deck builders. Made with heavy-gauge steel, the BoWrench provides a fast, one-person method to straighten deck boards, which are often warped. To operate the BoWrench, simply fit the tool on a joist and swing the lever arm to pull or push the boards into alignment. When the handle is perpendicular, the tool locks in place, holding the board securely and leaving your hands free to drive in nails or screws. With the BoWrench, you'll save time, create a long-lasting surface and maximize your materials. Visit www.cepcotool.com.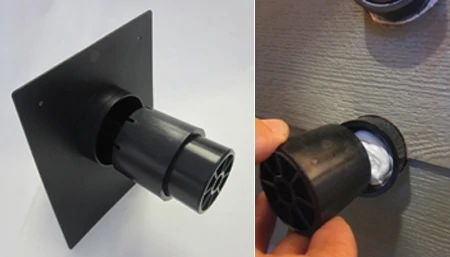 Attach-a-Deck
The Attach-a-Deck device along with the Stucco Boot mounting platform are tested structural deck-ledger spacing systems designed to help prevent water from seeping into the building envelope. There is no need to remove siding from the home with the use of Attach-a-Deck devices. The deck ledger serves as the custom template for laying out the holes that are drilled through the siding down to the structural rim/band joist of the house. The mounting holes are drilled through the siding, and the Attach-a-Deck cups are then mounted and sealed to the house prior to installing the ledger board. Attach-a-Deck can be used on all wood siding, existing stucco, Hardiplank, vinyl and log construction. The Stucco Boots are used along with the Attach-a-Deck devices for new construction stucco and in stucco remodeling projects when the sheeting has been exposed during the remodeling process. The Stucco Boot acts as a waterproof platform to mount the Attach-a-Deck device, ensuring an almost 100-percent waterproof attachment. The Stucco Boot allows for an uninterrupted application of synthetic and concrete-based stucco with no flashing break at the deck's intersection to the home, where leakage is most common.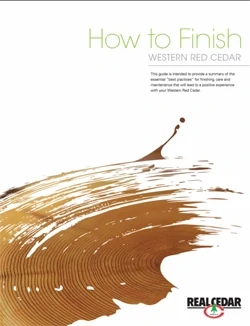 WRCLA Guide to Finishing Cedar
Western Red Cedar is a popular decking material because it is easy to work with, and the natural preservatives in the wood fiber help it withstand insects and harsh weather conditions. When properly installed under normal conditions, cedar deck boards lie flat and straight and resist splintering. And in the era of "green" building, Western Red Cedar is a carbon neutral material, while non-wood materials produce considerable amounts of carbon during their extraction and production. If you're considering building a cedar deck or other outdoor structure, you can now visit the Western Red Cedar Lumber Association (WRCLA) website for the free guide, "How to Finish Western Red Cedar." Simply go to www.wrcla.org and download the instructions as a PDF.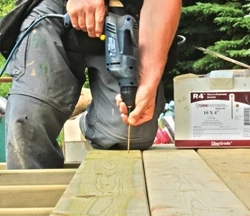 R4 Self-countersinking Screws
GRK Deck Fasteners lead the pack when it comes to quality fasteners for everything inside and outside of the house. The EHT staff has used the GRK product line extensively for a wide range of projects, and we've never had a fastener break or cam-out. For wooden decks, the company's R4 Self-countersinking Screw has a new under-head with saw-like teeth and six self-contained cutting pockets for steadfast holding power. Together these features act like a circular saw blade, transporting the "drill dust" away from the edge of the screw hole while cutting a perfectly clean hole into even the most brittle materials without cracking any surface treatment. This design enhances the R4's versatility by allowing the fastener to countersink into even the hardest woods. The screw head closes off the hole with precision, leaving no damaged fibers around the head. R4 screws, which are 2 in. and longer, have a CEE thread that enlarges the screw hole for the non-threaded portion of the fastener. This technological advancement allows the wood to settle easily and increases the screw's drawing strength, reducing the friction on the screw shank and lowering the driving torque. The R4 is a multi-purpose screw that can be used in all woodworking and plastic applications.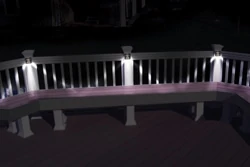 i-lighting
i-lighting has upgraded its "Easy Plug Installation System" with new wiring that virtually eliminates installation miscues. Designed with the proprietary "Lighting Simplified" harness technology, each Stair, Deck and Landscape Lighting Kit can be installed separately or in conjunction through a series of connections that easily plug together using either end of the i-lighting extension cables. The new generation wiring system eliminates the A and B connectors and simply plugs together, taking nearly half the time of traditional outdoor lighting systems to install. All of i-lighting's LED lighting systems are developed to provide contractors and homeowners with an all-in-one kit, offering a complete set of fixtures with unique LED spotlights, wiring harnesses and the fasteners needed for quick and easy installations. Furthermore, each LED light uses approximately 80 percent less energy than incandescent bulbs and is rated for 50,000 hours of operation. Photocell technology senses ambient light and automatically turns lights on and off, and a remote-control dimmer option can be integrated into the power supply. Visit www.i-lightingonline.com.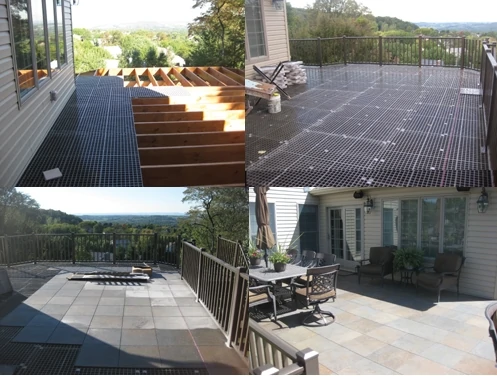 DexSystems Outdoor Floor System
DexSystems' Outdoor Floor System is an excellent choice for surfacing the walking surface of your outdoor rooms in any climate and application condition, and all without the use of traditional cement-based mortars, grouts or adhesives. This outdoor flooring system converts traditional decks to a stone deck or terrace with your selection of gauged stone or tile. Or, surface the DexSystems' underlayment system with brick, concrete or stone pavers without traditional sand beds. Construct a rooftop patio or outdoor floor with removable panels. The lightweight engineered components of the Outdoor Floor System make outdoor living practically a maintenance-free reality. The standard application condition is to fasten the GratedeX underlayment panel directly over joist framing members at 16- or 24-in. on-center. The open-celled structural panel is rock solid, and because it's lightweight, no framing modification is required.
Side Note 
DIY Deck Renewal
Many old and worn wooden decks can be revived by flipping the decking and staining the opposite sides of the boards. This was the approach taken by homeowner Gary Huston of Basking Ridge, New Jersey. His 20-year old, 720-sq. ft. pressure-treated deck had splintered badly over the years. He reversed the boards, replacing a couple that were badly cupped, and added new top rails. He cleaned the deck with sodium percarbonate, sanded the entire surface and applied a deck brightener. He then applied a single coat of Armstrong Clark Semi-Cedar oil-based wood stain (9 gallons). The pictures show the striking results, and Huston plans to add a following coat after winter.
Refinishing your existing deck boards is not only an economical way to rejuvenate an old deck, but it's an environmentally friendly choice as well. It keeps the existing wood out of a landfill, and saves those replacement boards for someone else's brand new deck. Learn more about Armstrong-Clark wood stains at www.armclark.com.