Handy Tips for Spring Lawn Care
By Mark Clement
If you're a lawn-a-holic like me and relish having a luscious and low-weed lawn throughout the warm weather seasons, then you'll want to get out of the gates early this spring. With a total turf takeover, you can give your grass the fightin'-est chance to win the green gold from spring to fall, so you can mow, stripe and show off while others are battling brown spots.
For much of the US, grass thrives in cool weather. It likes dewy mornings, warm days, enough sun and cool nights. Spring and fall are when grass grows most vibrantly and is the perfect time to jump-start it.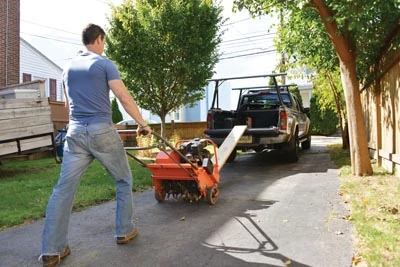 One magic element of cool weather is dew. It practically, but not entirely, waters your lawn for you, making spring an opportune time to get new seeds in the ground and growing. For the many lawns I've repaired and rescued in my part of the country (northern half), getting new grass to take hold is the weed-beating lifeblood of healthy turf. But just because spring hands us primo conditions for getting the new seed to take, it's not enough for many lawns. To be a weed-beater I prepare my lawn by thatching, core aerating and mowing before dropping new seed.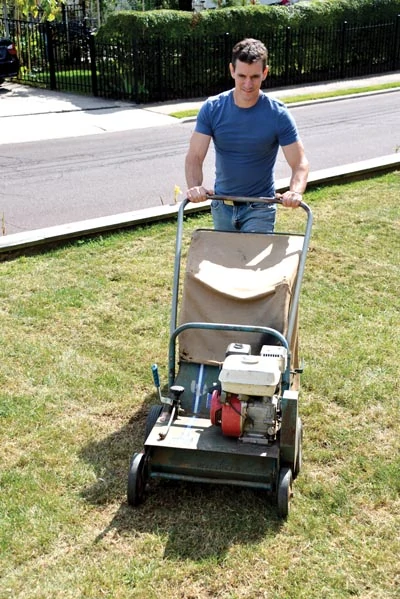 Mowing, Phase 1. I mow my lawn at or near the mower's highest setting during the summer. This keeps my grass healthy, green and growing, while helping to choke out weeds. In the spring, however, I cut it shorter because after the next few steps I won't be mowing for a few weeks. This also helps with spring cleanup by sucking up leaves and twigs in the process.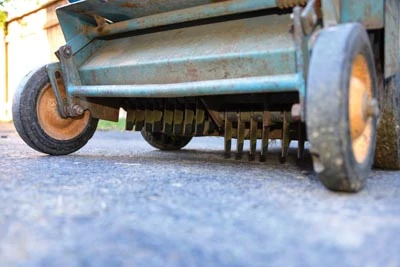 Thatch Removal. Over time, lawns where I live get choked with broadleaf weeds like violet and clover and/or a net of dead grass clippings, unwanted grass species, pine needles and other debris (mostly thanks to my non-lawn loving neighbors). My grass roots are trapped, and the soil is sealed off from new seed.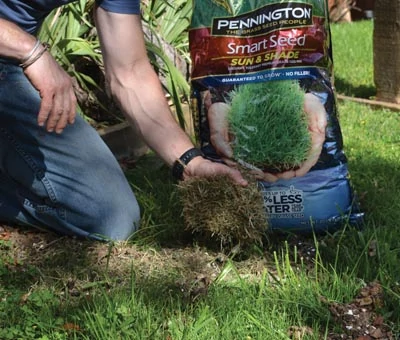 While I try to manage weeds throughout the season with various weed control fertilizers, mechanically removing them is pretty much unavoidable if the weeds take hold. I rent a thatching machine called a power-rake. This mini-monster de-populates the turf of many broadleaf weeds without de-populating it of all the dead grass. A power-rake's vertical, rotating tines pulverizes and bags broadleaf weeds (not their roots). It also pulls up thatched grass and opens the base of the grass plants to let air, water and new seed get in there. It gets some grass, too, but that's no problem. To gain an optimum angle of attack on randomly intermingled weeds, I run the machine over the lawn twice—north-south and east-west—otherwise the machine leaves material behind.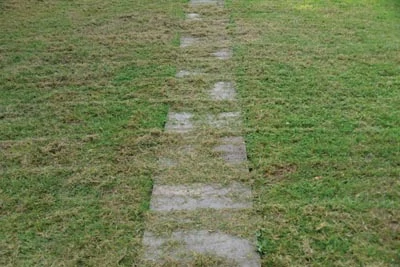 Mowing Phase 2. I pick up the loose material and tufted, twisted grass left by the power-rake with my lawnmower and collection bag. I also have a plan for dealing with the volume of thatch the yard produces—several contractor bags worth of waste in my case. I put some in my compost bin. The rest I set out for collection.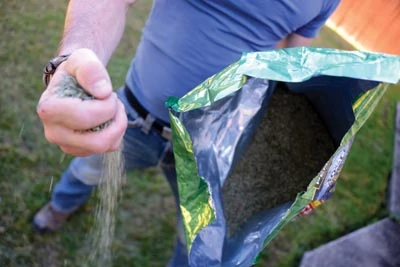 Core Aeration. Sometimes called "plugging", aerating the grass does two major things for me in a turf takeover: The plugs pulled from the ground by the machine soften the soil and allow air and water to gain greater access to the grass plant's roots. But maybe even more important for germinating new seed is that it increases the dirt's surface area by orders of magnitude, creating thousands of holes and ridges for individual seeds to catch on, in and underneath.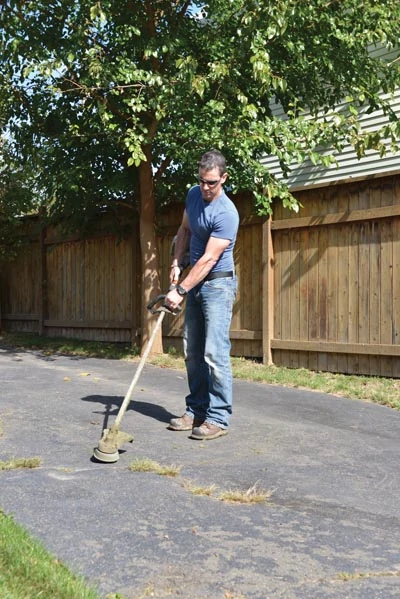 This is of particular value when watering because it minimizes run-off, which is key for getting the seed to set where I sow it and to germinate evenly across the yard.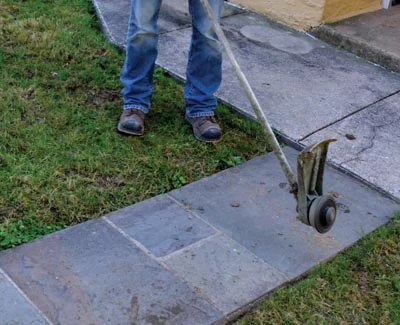 Sowing. I use a high-quality seed suitable for my area and light conditions—a blend of sun and shade—and one that'll grow a deep green grass blade that I like. And because I can get it growing when the grass is at its strongest, and most of the weed leaves are in a bag by the curb, a healthy lawn will help curb weed growth during the season.
Also, I try and stay away from 'contractor mix' types of grass. They typically have a rye grass or perennial rye grass in the blend. This rye pops up fast, which is great in some circumstances, but the blades are lighter green than other seed blends and can make the lawn look spotty. And even though it says 'perennial' it doesn't mean forever. What's worse, as these grass plants fail, it sets the stage for weed takeover.
Thatching. Ironically, there's one place thatch is great: bare spots. For places where the machines have left bare dirt, I want to make sure the seed can hold. So after seeding, I drop a thin layer of thatch over the bare spot. The thatch will compost while the seeds grow through it. Plus, it keeps the seeds from washing away when I water the lawn.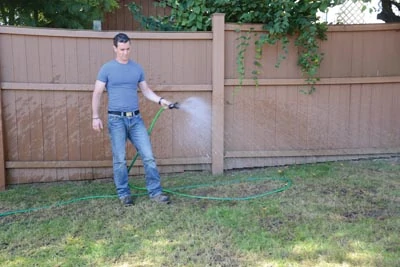 Watering. Water is the secret of grass growth, and skipping or skimping will almost surely minimize growth and cause you extra work. I water gently the first two days to soften and open the dirt so the seed can sink into the ground a little where I sowed it. After that I increase the watering to 20-30 minutes at a time. Depending on soil type and geographic area, applying a starter fertilizer or low-level organic fertilizer (like Milorganite) may help get the seed germinated. This will get your grass on a path to a healthy season.
Editor's Note: Mark Clement is a home improvement expert and co-host of the MyFixitUpLife show. Visit www.myfixituplife.com.
New Lawn and Landscape Gear

DR Field & Brush Mower
DR Power offers a new way to reclaim your overgrown fields and meadows. The DR Field & Brush Mower mows down saplings up to 3-inches thick, grass up to 6 feet high, and brush up to 8 feet high. Blaze trails through wooded areas, clean up overgrown roadsides, and maintain picturesque meadows with ease. Self-propelled and tow-behind models are available. For even more versatility, DR offers four optional attachments. Simply slide off the brush deck and slide on the 42-in. Lawn Deck, Chipper, Grader/Snow Blade, or Snow Thrower. The attachments make your Field & Brush Mower a year 'round workhorse for your landscaping needs. Visit www.drpower.com.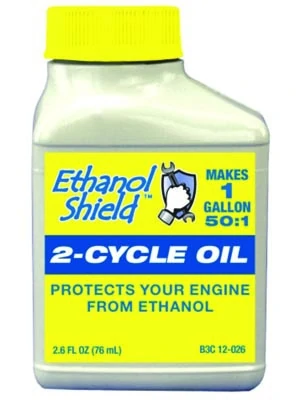 Ethanol Shield 2-Cycle Oil
Two-cycle oil is a must when running fuel in 2-cycle equipment, but standard 2-cycle oils come with problems. First, all fuel containing ethanol contains water bound to the ethanol. Ethanol is also hygroscopic, and it continues to attract unbound water (e.g. in fuel, atmosphere). Phase separation is the point this ethanol/water mixture reaches saturation and "falls out," settling on the bottom of a tank. This leads to issues like corrosion, varnish, rust, brittle rubber/plastics and more. Oil and water don't mix, so when 2-cycle oil is added to fuel, it weakens the ethanol/water/gasoline bond, accelerating phase separation. Second, 2-cycle oils contain detergents that are not capable of mixing with ethanol, leading to excess deposits, adding to fuel problems and engine issues. Ethanol Shield 2-Cycle Oil is the "bridge" that bonds fuel, ethanol and water, preventing phase separation and the associated problems. This award-winning 1-gallon, 50:1 mix ensures maximum protection for any 2-cycle engine, including those found on string trimmers, blowers, snowmobiles, chainsaws and more. Visit www.B3CFuel.com.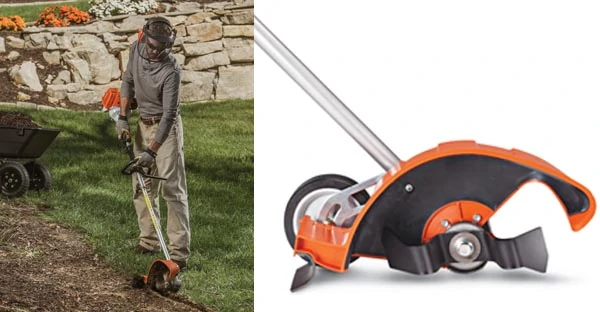 Stihl FBD-KM Bed Redefiner
The Stihl FBD-KM bed redefiner is the latest attachment to join the versatile gas-powered Stihl KombiSystem. When combined with the Stihl 130 R KombiMotor, the FBD-KM bed redefiner enables pro landscapers to maintain existing mulch and flowerbed edges up to seven times faster than manually with a shovel. "The STIHL FBD-KM bed redefiner's open deflector design minimizes clogging for smooth, efficient operation, and the solid drive shaft increases torque and durability," says Marv Mathwig, Stihl product manager. "The attachment's easily adjustable depth wheel and 'line of sight' indicator provide more precise control, offering cuts with depths up to 2.6 inches." An affordable alternative to a dedicated bed redefiner, the FBD-KM attachment is recommended for use with the KM 130 R, STIHL's most powerful KombiMotor, and also works well with the KM 90 R and KM 110 R. Each of these KombiMotors is part of the Caring for Nature product line that features reduced exhaust emissions and improved fuel efficiency over traditional 2-cycle engines.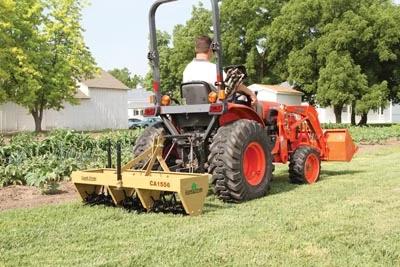 Land Pride CA15 Core Aerators
The Land Pride CA15 Series Core Aerators relieve soil compaction and allow air circulation in grassy surfaces such as lawns, soccer fields, football fields, baseball fields, municipal parks and golf course fairways. They utilize replaceable hardened spring steel spoons mounted on rotating discs. The pulled soil cores are deposited on the surface for subsequent drying, pulverization or removal. Weight can be added to the weight tray to help achieve maximum spoon penetration. When your turf begins to suffer the effects of compaction and wear, such as shallow root zones, thatch buildup, worn pathways, compacted soil, poor surface percolation or standing water, a Land Pride CA15 Series Aerator can provide immediate seasonal relief. Visit www.landpride.com.

Echo CS-590 Timber Wolf Chainsaw
The new CS-590 Timber Wolf chainsaw from Echo is built to withstand the roughest ranch and farm environments. It's equipped with a 59.8-cc 2-stroke engine that delivers 3.89 horsepower—more than the leading competitor models in the same size class. The saw features a decompression valve and a digital ignition system for easy starting. The G-force Engine Air Pre-cleaner is engineered for top performance and reduced air filter maintenance. Available with 18- and 20-in. bar lengths, the CS-590 has a handy side-access chain tensioner, a clutch-driven oiler and a dual-post chain brake system. The saw's housing features a spring anti-vibration system for comfortable extended use with less physical fatigue on the user. Echo backs this tough-as-nails chainsaw with a 5-year consumer warranty. Visit www.echo-usa.com.
Side Note
Renting
If you have a lawn tractor with a tow hitch—and a big yard and garage—it may make sense to buy and own the thatcher and aerator attachments. Used annually, they're sure to pay for themselves in short order. But for smaller yards, renting may be the best course. If you do rent and you do the picking up and dropping off, then plan ahead. The rental company guys will help you lift the gear onto your rig when you leave the shop, but at home you're on your own. A beefy plank like a 2×10 or 2×12 and maybe someone to help guide the machine are the better part of safety.
Other Lawn Care Articles