By Matt Weber
When it's time to give your lawn its first summer haircut, be sure to keep the edges neat. Grass and weeds that grow next to driveways and sidewalks slowly begin to creep over the edges and encroach on the paved surface. A powered edger neatly cuts this organic material to leave a well-defined edge for a clean-cut lawn.
A powered lawn edger provides a dramatic step up in cutting power from a string trimmer, utilizing a rigid steel blade to cut through tough grass roots, thatch and soil. Although some string trimmers come with an "edging guide" for edging applications, the string is not as aggressive as an edging blade and must be used frequently to keep the cutting chore to a manageable level. String trimmers also are not designed as ergonomically for comfortable edging since edging is a secondary application, plus the string-line of a trimmer wears away quickly when contacting concrete. On the other hand, the vertical metal blade of an edger can cut several inches below the surface of the ground to rip through the roots of vegetation and trench a distinct separation between the lawn and hardscape features.
Edgers come in a variety of configurations; some with a single guide wheel, others with multiple wheels. The wheel rides along the edge of a sidewalk, patio, border or driveway as the offset blade cuts along the concrete or masonry. Some units start with a pull-cord, while others utilize a push-button electric start that eliminates the cord. Also, edgers are available with either electric or gas-powered motors.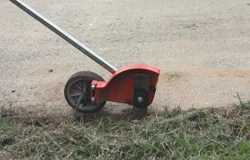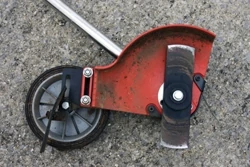 The purpose-built design and ergonomic advantage of a dedicated edger make it a must-have tool for landscape professionals. Homeowners who are serious about lawn care will also appreciate the cutting advantage of a powered edger and the "manicured" look it achieves. The unit shown in this article is the Husqvarna 326ES, a reliable unit for both the pro and discerning DIY'er. Equipped with the company's E-TECH II engine for power and fuel economy, the 326ES is lightweight, easy to use and quick to start. The front handle can quickly be adjusted using the thumb screw to suit the user's height and posture.
When selecting an edger, try carrying it in various working positions to make sure you choose a unit that feels comfortable to operate. If possible, test the model's start-up performance and cutting action at the dealership.
When using an edger, bring the blade to full speed before engaging the turf. You'll get the best results by setting the blade's cutting depth for a shallow pass when making your initial cut. Make progressively deeper cuts with successive passes until you're satisfied with the grooming.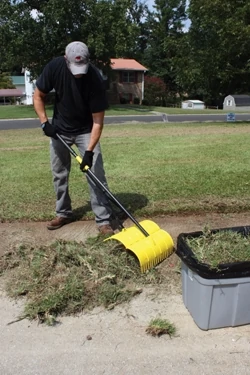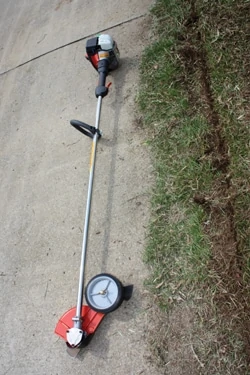 Tip: When operating a single-wheel edger, slightly tilt the cutting head so the top of the blade leans away from the hardscape. Doing so prevents damage to the upper, most visible edge of the concrete while the bottom of the blade guides the cutting action through the thatch and roots.

For lawns with a lot of perimeter or several landscape features, a dedicated gas-driven edger can be a sound investment for a professional-looking lawn. For small yards, if you don't mind the hassle of an extension cord, then you might check into an electrical edger, which typically sells for less than the gas-driven counterparts. Your lawn will love you for it.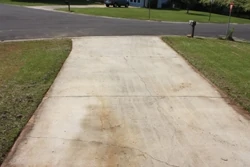 Side Note
Pay attention at the Gas Pump!
Leading engine manufacturers are warning users of all gasoline-powered lawnmowers and other outdoor power equipment to be vigilant when fueling their equipment. Gasoline blends containing more than 10 percent ethanol—such as E15 and E85—should not be used. These blends, which are already available in several U.S. states, can cause permanent and irreversible damage that is not covered under warranty.
The Environmental Protection Agency (EPA) recently gave approval for gas stations to start selling 15-percent ethanol-blended fuel. However, E15 is not approved for off-road engines. This includes engines found in edgers, lawnmowers, riding mowers, power washers, portable generators, weed trimmers, leaf blowers and other commonly used outdoor power equipment.
The Outdoor Power Equipment Institute (OPEI) has released the following tips to help consumers properly fuel their mowers and other equipment:
Check your owner's manual, which will clearly explain what fuels can be used to ensure a properly functioning product. Don't put any fuel containing more than 10 percent ethanol (E10) into small engine products, unless otherwise stated.
Check the gas pump to be sure that it is dispensing E10. Some pumps at local gas stations may offer both E10 and E15, or have blender pumps that dispense mid-level ethanol fuels for "flex-fuel" automobiles.
Don't be tempted by price. Higher ethanol fuel (E15) may be less expensive than regular (E10) fuel, but putting E15 into an E10-approved product could cause your equipment to fail and void its warranty.
Other Landscaping Articles