In the era of global warming, many consumers are focusing on new ways to accomplish yard work while lowering its impact on the environment. According to the U.S. Environmental Protecton Agency, a gas-powered lawnmower pollutes as much in one hour as driving an automobile for more than 20 miles. With more than 30 million lawnmowers in the United States, that can accumulate into a great amount of pollution. As a matter of fact, gasoline-powered landscape equipment (mowers, trimmers, blowers, chainsaws) account for more than 5 percent of our urban air pollution.
However, battery-powered equipment generates none of the carbon dioxide or other emissions associated with gas. Plus, aside from the environmental benefits, electric equipment of all types has a lot to offer. You'll be troubled with much less maintenance from electric units, and you can say goodbye to those stubborn pull-start cords that never seem to cooperate. Plus, electric equipment is quiet; the mowers are usually 75-percent quieter than gas units. And thanks to some major strides in engineering and battery technology, a few of the latest tools to hit the stores are boasting enough power to rival their gas-driven counterparts. In fact, one Colorado-based lawn care service is applying the environmentally friendly "green" initiative to its business model. Clean Air Lawn Care, Inc., provides lawn services that are entirely carbon neutral. Clean Air Lawn Care actually uses biodiesel in all its riding mowers, but the rest of its lawn equipment is electric and manufactured by Black and Decker. "We use their lawnmowers, string trimmers, hedge trimmers and edgers for their strong environmental performance," says company founder, Kelly Giard, of the Black and Decker equipment. "There are no pull cords. No trips to the gas station. No gas or oil to mix. No gas to store or spill. No fumes. No tune-ups or maintenance. And more importantly—no emissions in your yard."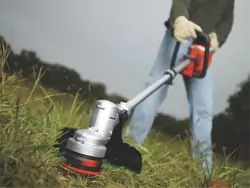 (photo courtesy Black & Decker)
Mowing with Battery Power Of course, protecting the environment is great, but we all want performance from our tools as well. There's no argument that a gas-powered lawnmower can outperform batteried unit, but are the units even comparable? Because nobody wants a gross sacrifice in performance. The truth is that battery-powered lawnmowers are only appropriate for yards less than 1/3 acre. It takes a lot of power to run a mower, and the batteries simply don't have the stamina for larger yards. Also, the cutting swaths of most of these units are narrow, which reduces the rate of cutting production when compared to the larger gas units. You can also expect to mow more frequently, as most eletcric mowers struggle with very tall grass, so the lawn must be kept to a manageable height. Battery-powered lawn mowers are available from a variety of manufacturers. Black and Decker currently offers a 24-volt cordless mulching mower. DR Power Equipment will soon introduce two new 36-volt models, with a 14- and 19-inch cutting swath, respectively. DR's new Neuton mowers can be charged on less than 10 cents worth of electricity, and a single charge can cut one third of an acre.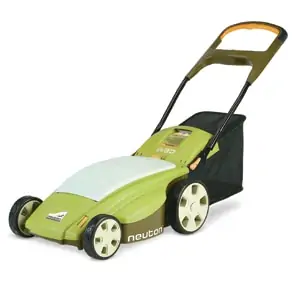 According to the manufacturer, DR's new Neuton Mowers can be charged on less than 10 cents worth of electricity. For this article, the EHT staff tested the new Craftsman 37048 Cordless Mower, a 48-volt model that can cut small yards on a single charge with a run time of about 45 minutes. The mower has a 19-inch deck with three-in-one functionality, meaning it can bag, discharge or mulch the grass clippings. The large 7-inch front and 8-inch rear wheels make the mower easy to maneuver over the lawn, and you can easily adjust the cutting height with a single lever. The mower has a fold-down handle for easy storage, and an accessory grass-collection bag is included in the box.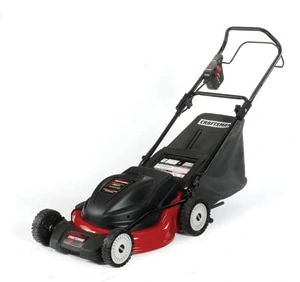 Craftsman's new 48V mower is available at Sears.
The mower's 48-volt battery generates plenty of power for the blades to slice through the grass of the soccer field that served as our testing grounds. It may not have quite enough muscle for bush-hogging, but lawns appear to be no problem, and the new Craftsman performed very well in power and maneuverability. When shopping for your next mower, consider one more advantage of electrical units—they're very economical to use. Electric mowers cost less to purchase than high-end gas mowers, and they cost only pennies to use each time. The typical electric mower uses about $3 in electricity each year.
Can Battery Rival Gas? At this time, there are very few pieces of lawn equipment that can cut through vegetation with the vigor of a gas-driven engine. When compared to gas models, battery units have traditionally lacked power and stamina. However, in addition to the Craftsman mower, a new tool from Black and Decker impressed us, and gave renewed hope for the future of battery-powered lawn care. The most powerful battery string trimmer we've seen is easily the new Black and Decker 36-volt model. Our staff was skeptical at the company's claim that the new unit rivaled gas trimmers. But after charging it overnight, we put it to use … and this thing can really hum.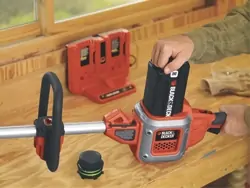 Black & Decker's 36V trimmer rivals the power of some gas trimmers. With a lot more power than any electric trimmer we've used in the past, the trimmer's large cutting head spun with enough strength and velocity to cut hungrily through clumps of vines and weeds still lingering from last fall. The large Ni-Cad battery that is housed in the upper portion nicely balances the motor and cutting head at the other end for a tool that's easy to handle. It took care of everything around the house without once struggling against thick, accumulated brush the way so many battery-op trimmers have done in the past. And it still had battery power to spare when the yard was completed. The trimmer features a long shaft, sturdy construction and an adjustable handle. We haven't had the tool long enough to see how it stands up to a full summer of usage, but our initial tests suggest the Black and Decker 36-volt trimmer is the battery-powered unit to beat this year.
More from B&D Black and Decker offers a few more notable battery-powered tools to keep your yard neat and orderly. The company's 18-volt, 22-inch HedgeHog hedge trimmer cuts branches up to 3/4-inch thick. It's designed to trim up to 1,200 square feet per charge, with run time up to 30 minutes. Black and Decker's Cordless Broom is a compact but powerful 18-volt blower that's ready to clear away leaves and debris without the hassle of dragging out an extension cord and strewing it over your driveway. It's designed to sweep hard surfaces on most 1/2-acre properties, so it's great for patios and walks.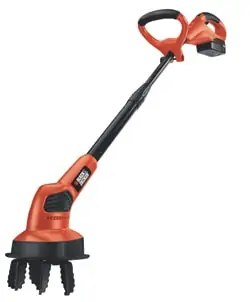 Black & Decker's 18V Cultivator features a telescoping shaft.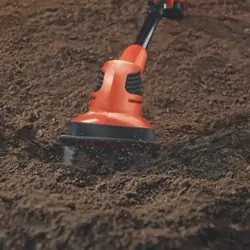 And Black and Decker's 18-volt cultivator with telescoping shaft can spare the hobby gardener some time spent bent over the flower bed. While it doesn't have quite the muscle for breaking hard, compacted ground or serious agricultural jobs, its counter-oscillating tines can effectively weed and aerate the topsoil in flower and herb gardens, and the user doesn't have to crouch over the dirt.
Robot Mowers Admittedly, when a LawnBott showed up at the EHT office for a test run, we didn't expect much. After all, it was an electric, unmanned, grass-cutting "robot," and we were partial to gas-powered riders. But we were happy to find that the LawnBott works well as a kind of maintenance drone. It requires no gas or oil, so it's eco-friendly with no emissions. The Evolution LawnBott that we tested mows with only a 12-inch cutting swath, so if you measure the lawn in acres you should look for a more high-productive mower. But for small, flat lawns, the programmable LawnBott can be set for up to three zones to mow grass up to 3 to 4 hours per session on a weekly or as-needed basis. The mower also uses a flat blade to mulch the grass clippings, which fertilizes the lawn as it cuts. And, the LawnBott is quiet enough to program cutting times for late night or early morning without disturbing the neighbors.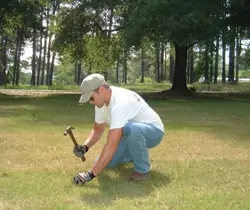 A Lawnbott automatically provides routine lawn maintenance within a wired perimeter that you stake to the ground.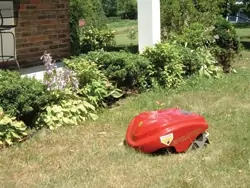 One issue of note is that the lawn must first be mowed with a regular lawnmower before using the LawnBott, which scans around the lawn to maintain the cut grass at a consistent height. When the robot detects an area of high grass, it travels in a spiral pattern to focus the cutting in that particular area.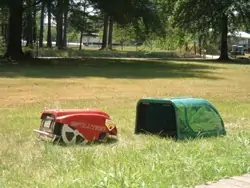 The LawnBott comes with everything you need: a docking station to be placed near an electrical outlet; a wire and plastic nails to rope off the perimeter of the mowing zone; a recharger and a transmitter. With the system in place, the LawnBott leaves its docking station at a programmed time, zigzags inside the wire perimeter in search of tall grass, and then returns to recharge either when it's done mowing or when the battery runs low. According to the manufacturer, the robot can mow 33,000 square feet and navigate slopes up to 27 degrees, and it uses only $7 to $10 worth of electricity per year.
Rediscovering the Reel Mower The first reel mowers were invented in the 19th century primarily to cut the lawn on sports grounds and expensive gardens as an alternative to the scythe. The blades were configured in a drum shape to spin along with the mower's wheels. That basic concept has been redesigned with the Mantis Razorcut 38. What looks like an old-school mower performs far and beyond the reel mowers of yesterday, and after digging around the Internet we discovered this model in particular is already popular in the United Kingdom.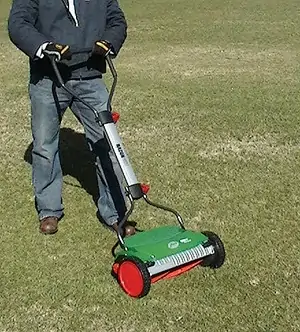 The Mantis Razorcut reel mower is easy to use and leaves a neat, finished lawn.
One key feature is the mower's contact-free blade system. The blade misses the bed knife by less than a millimeter, while still making a super-clean scissor cut. The loss of friction from the no-contact cutting makes pushing the Razorcut easier than most gas-powered walk-behinds. In fact, when you stop pushing the mower forward, the blades will still continue to spin. Plus, the clean cutting action of the five blades shears the grass rather than tearing it, which gives the lawn a clean, crisp finish in a 38-centimeter (15-inch) cutting swath. This type of sheared cut yields a greener and healthier lawn, preferred by lawn care professionals.
The Razorcut reel mower is a push-type device but it weighs less than 17 pounds—significantly lighter than gas-powered walk-behinds, and more maneuverable than many gas models. If you run into an obstruction, just lift the mower right over it … try that with a gas unit. Other features include adjustable cutting height from 14 to 45 millimeters (0.55 to 1.77 inches); flame-hardened, powder-coated steel blades; sealed ball bearings and a rear spoiler that ejects clippings from the rear. There's also an accessory grass catcher available.
One minor drawback is that when the Razorcut is pulled backward, there's no cutting action. That isn't an issue when cutting in a spiral or zigzag pattern, but it makes the back-and-forth trimming around trees a little more work. The mower is intended for lawns less than 250 square meters (820 square feet), and as with any non-gas unit, you will need to mow more frequently than with a gas unit. But if you're not afraid of a little exercise, the Razorcut mower presents a clean, "green," no-fuss way to keep small yards looking sharp.