Gardner-Gibson Premium Caulks and Sealants
Gardner-Gibson's premium caulks and sealants protect and seal surfaces from water, smoke, outside air, heat and other potentially damaging elements. You'll find interior and exterior caulks that are easy to apply and deliver long-term performance. Designed for the professional painter, Gardner caulks are known for superior gunability and paintability. Gardner A7 is a premium elastomeric acrylic all-purpose caulk for interior and exterior applications. It supports a broad range of surfaces that may experience movement and also offers good water resistance. The company also offers Gardner Construction & Roof Sealant, Flame Stopper firestop sealants and the premium silicone sealant, Eterna-Kote Silicone+ S-1. Visit www.gardner-gibson.com.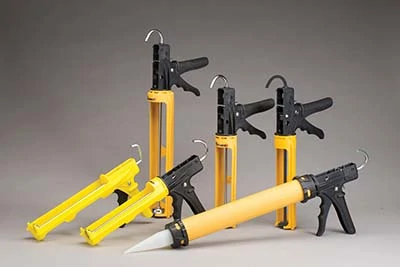 Dripless ETS Caulk Guns
The Dripless, Inc. line of Ergonomic Technology Series (ETS) caulking guns are the only guns on the market that combine cutting-edge composite technology with thoughtful design and meticulously managed manufacturing. They are strong, lightweight and less expensive than comparable metal models. Dripless, Inc. ETS guns combine strength, durability and value in a user-centric design that helps solve jobsite problems while minimizing finger/hand/forearm stress. You get a better finished job and feel better when it's done. Visit dripless.com.

StormGuard-920 by Red Devil
StormGuard-920 from Red Devil is a premium 100-percent Silicone window and door sealant that exceeds the highest test method for joint expansion. Offering superior adhesion, StormGuard-920 can be exposed to outdoor elements such as rain and in 30 minutes forms a permanent seal to weatherize your home. Suitable for use on window and door frames, skylights, gutters, trim, vents, pipes or air conditioners, the StormGuard-920 adheres to various materials such as metal, vinyl, plastic, wood, plaster, drywall, brick, glass, ceramic and concrete without leaving any corrosion. Visit www.reddevil.com.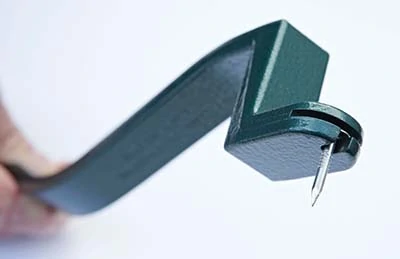 The Roof Snake
The Roof Snake makes replacing composition shingles much easier and accurate than traditional methods.  With its patented offset nail-slot feature, the Roof Snake helps you align roofing nails with the proper offset from the bottom edge of your existing course. This handy tool allows you to nail replacement three-tab style shingles into place without damaging the shingles on the row above, and it provides you with a useful tool for removing nails from roof shingles. Simply drive the claw end under the nail, and roll the nail out by twisting the Roof Snake. Visit www.pactool.us.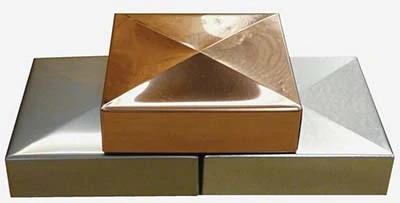 Sheet Metal Caps
Sheet Metal Caps are the premier, handcrafted post caps available in select styles, including the cross design of the popular Saltire Copper Post Caps. Inspired by Saint Andrew's Cross, which adorns many shields, family crests, and even the Scottish flag, this cap provides a refined finish to any fence or deck post. Sheet Metal Caps can be easily installed with common construction adhesive, require minimal maintenance, and no painting or staining is necessary. They are fashioned from solid, uncoated copper with hemmed sides to form a smooth edge. These post caps are durable and non-corrosive so your posts will stand tall for decades to come. Standard sizes and custom sizing are available. Visit www.sheetmetalcaps.com.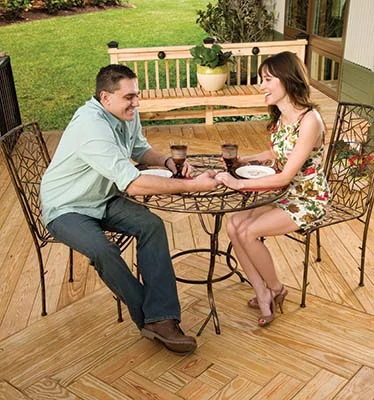 Ecolife Stabilized Wood
Real wood is the most sustainable, renewable and economical decking and fencing option you can use, and Viance offers improved wood treatment solutions that allow the beauty of real wood to shine through. Ecolife Stabilized Weather-Resistant Wood is fully protected against termite attack and decay, and the proprietary treatment also stabilizes the wood structure. Ecolife Stabilized Wood significantly reduces the problems of bending, twisting or warping that affect many other treated wood products, so Ecolife performs much better as the structural frame beneath any deck surface. Visit treatedwood.com.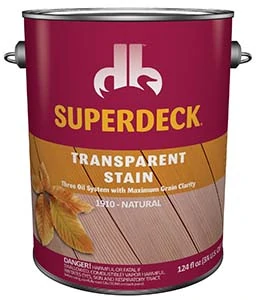 SuperDeck Transparent Wood Stain
SuperDeck Transparent Wood Stain was developed more than 20 years ago to meet the demands of the extreme climates found in California. From the highest peaks of the Sierra Nevada mountains to the low and damp northern coastlines to the dry heat of the valleys and deserts, Superdeck is a consumer and contractor favorite due to its ease of use and long-lasting results. The oil-based formula penetrates deep into wood fibers for years of enjoyment and protection against the elements in any climate. Superdeck is formulated to resist growth of mildew and algae on the coating's surface. The three-oil formula repels water, just like water off a duck's back. The easy-to-apply, one-coat coverage lubricates wood fibers to reduce cracking and checking, and the product is VOC-compliant with formulas as low as 100 VOC. The transparent finish highlights the natural wood grain, and iron-oxide pigments provide maximum UV protection. Visit www.superdeck.com.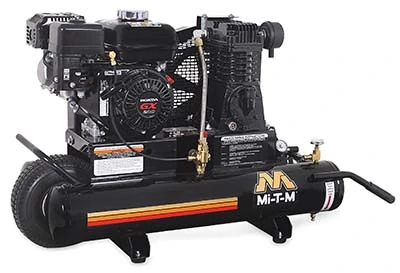 MI-T-M 8-GAL. Air compressor
Mi-T-M has the equipment for your next building or remodeling project. Designed to supply more power than what a standard tool can deliver, this Mi-T-M 8-gallon gasoline air compressor is ideal for construction applications. Features include a stainless-steel braided discharge hose, oil level sight indicator, manual drain valves for proper maintenance, 12-inch fly wheel, and quality pilot valve unloader. Designed to maximize your productivity, this portable unit is powered by a 196cc Honda OHV engine as an efficient single-stage compressor that produces 13.9 CFM at 90 PSI. Use it to power a multitude of air tools such as air hammers, nail guns and impact wrenches. This model also includes powder-coated twin tank receivers, a 16-gauge two-piece belt guard, and flat-free tires for easy mobility.
Designed with the serious contractor in mind, this durable air compressor can handle the most challenging jobs. Visit www.mitm.com or call 800.553.9053 for more information on Mi-T-M's complete line of products.