From the weekday jobsite to the weekend home-improvement project, there's a lot of work to be done, and for that we need tools. Here's a rundown of some handy new items for your toolbox and workshop.
Stanley Safety Knives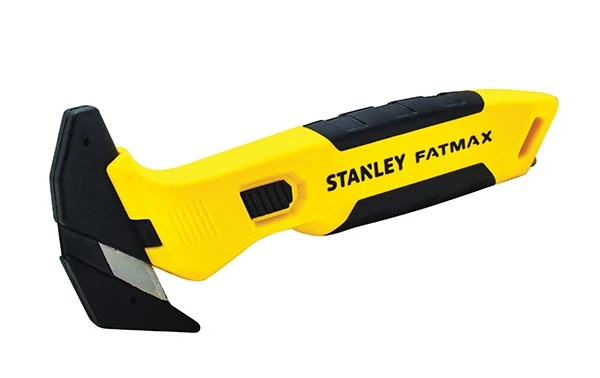 Stanley has also introduced a new line of safety knives, including the FatMax Concealed Safety Knives that feature a completely recessed blade when not in use to reduce the risk of injury on busy job sites. Also in the lineup are the FatMax Auto-Retracting Safety Knives, which offer pressure-sensitive capabilities by automatically retracting the blade once removed from the cutting surface. Plus, Stanley's Spring-Loaded Safety Knives automatically retract when pressure on the squeeze trigger or slide button is released for increased safety precautions. Visit www.stanleysafetyknives.com.
Craftsman Pro-11 25' Tape Measure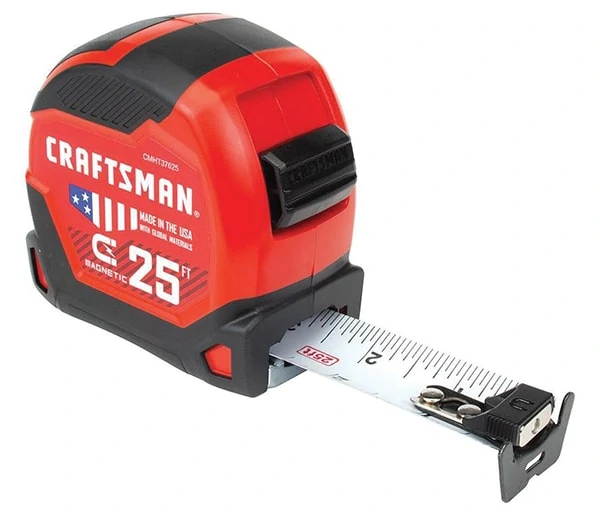 Measure twice, cut once with Craftsman's reliable new Pro-11 tape measures, which are made in the USA with global materials and designed to offer pro-grade performance. The new tape boasts an 11-ft. standout, meaning you can extend the tape in mid-air up to 11 feet before it folds. These tapes were designed with ergonomics in mind, so they can be used comfortably all day long. The smooth slide lock, extra-wide 1-1/4 in. blade, and large easy-to-read print set this model apart from its peers, making it an excellent choice for professionals and weekend warriors alike. Visit craftsman.com.
Seek Shot and Seek ShotPRO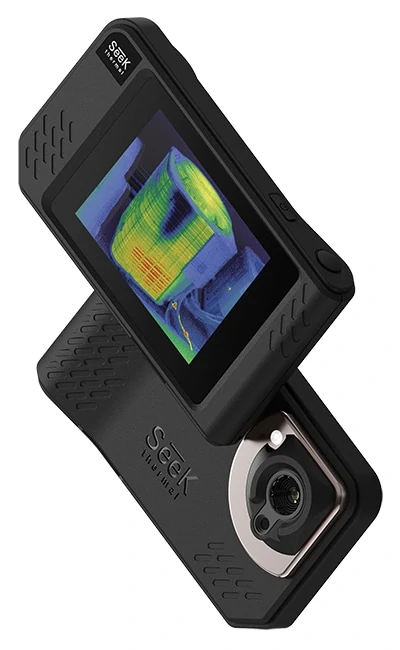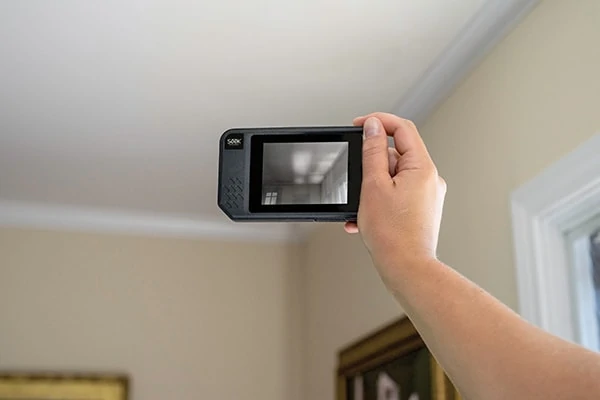 Discover, diagnose and share images of leaks and other inefficiencies in homes and buildings quickly and safely with the new Seek Shot and Seek ShotPRO, two powerful handheld thermal cameras built for trade professionals. A previously cost-prohibitive technology, thermal imaging cameras detect heat, otherwise invisible to the human eye, which can indicate serious and costly problems. The technology allows professionals to identify leaks, electrical shorts, mechanical faults and energy loss in a non-destructive manner. New SeekFusion technology combines the diagnostic power of thermal imaging with the context and detail of a visible image, which allows users to adjust the blend between thermal and visible images and quickly uncover hidden problems. After capturing photos with Seek Shot, on-device analysis features and reporting templates help complete jobs faster by utilizing professional thermography tools. Users can add spot measurements, temperature boxes, adjust the SeekFusion blend, and change color palettes right from the camera. Visit www.thermal.com.
Bessey IBEAM Clamps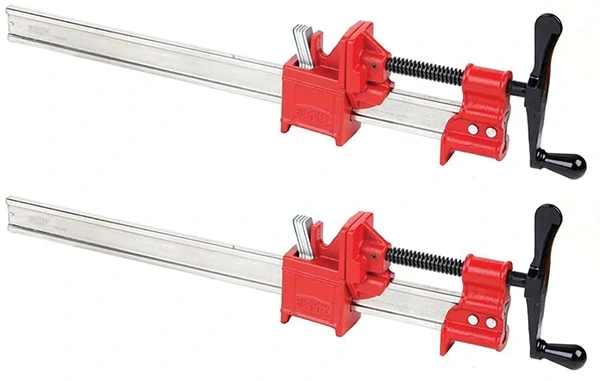 Bessey IBEAM clamps are designed for maximum load clamping capacity—up to 7,000 pounds of jaw-bone clamping pressure. Given proper care, these economically priced clamps should last a lifetime. They provide all the clamping pressure you'll ever need, without bar flexing, and the large easy-turn handle enables you to apply maximum torque. The movable head has 5 hardened steel clutch plates, so once you've positioned the head, it won't budge, yet it can be easily released. The head slides smoothly along the bar without catching, and a large ductile cast iron handle makes it easy to grasp the handle and deliver all the torque you're capable of exerting. Put as much torque on the handle as needed without worrying that the bar will deflect. Fixed-head travel is a generous 3 inches.
Bench Dog Tools No. 5-1/2 Jack Plane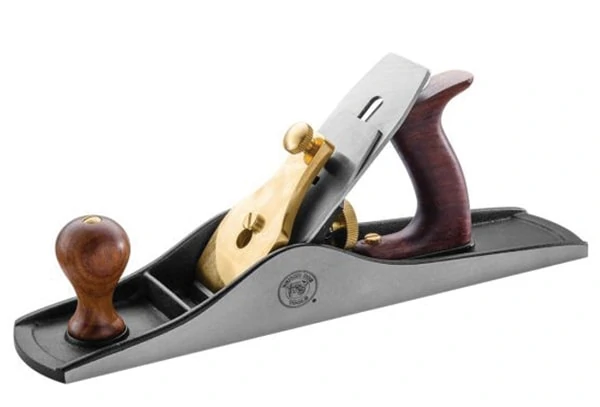 The versatile jack plane is typically the first bench plane to touch rough lumber. This is the No. 5-1/2 version, which is slightly larger and heavier than a No. 5—ideal when you need more heft to get through challenging grain, or more blade width for edge-planing thick lumber. Its uses range from flattening and squaring to preliminary smoothing. It is often called a fore plane, as it is used "before" the finer work of the jointer and smoothing planes. The sole is precision-ground flat to within a few thousandths of an inch. The blade is made from thick 1/8-in. hardened carbon steel for reduced chatter and excellent edge retention. Solid sapele is used for the comfortable tote and knob, adding a touch of elegance. Each plane includes a case, sock, manual and individual inspection report with measurements specific to your plane for sole flatness and blade hardness. Visit rockler.com.
Zircon Stud Sensor L70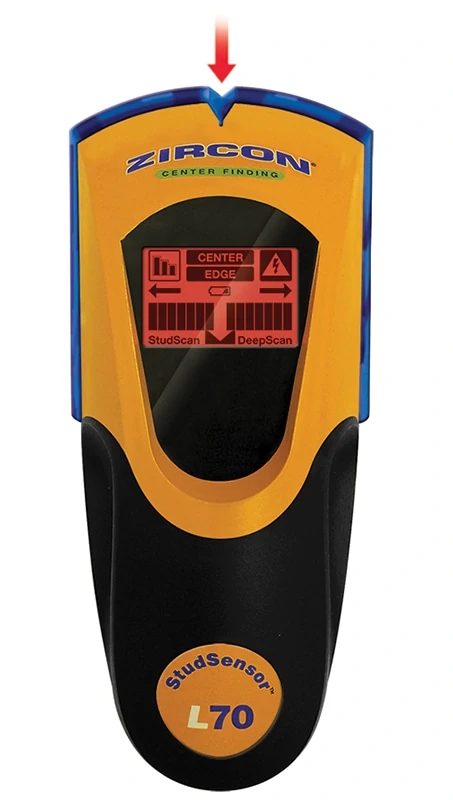 The StudSensor L70 OneStep features a features a bright, backlit LCD display and a low  battery indicator informing you when your battery should be replaced for optimum performance. StudScan mode locates the center, edges, and direction of wood or metal studs up to  3/4-in. deep. DeepScan mode  doubles the scanning depth to  1-1/2-in. WireWarning detection indicates the presence of live, unshielded electrical wiring up to 2-in. deep. The easy-to-read backlit LCD display indicates center, edge, and the direction of the approaching stud. The SpotLite pointer shines an arrow-shaped light on the wall to clearly indicate the center of the stud. And a translucent base and illuminated "V"  marker groove assists with  more accurate marking of stud edge location. A brand new 9V alkaline battery is required for proper operation. Visit zircon.com.
BORA Tool Portable Conveyor Roller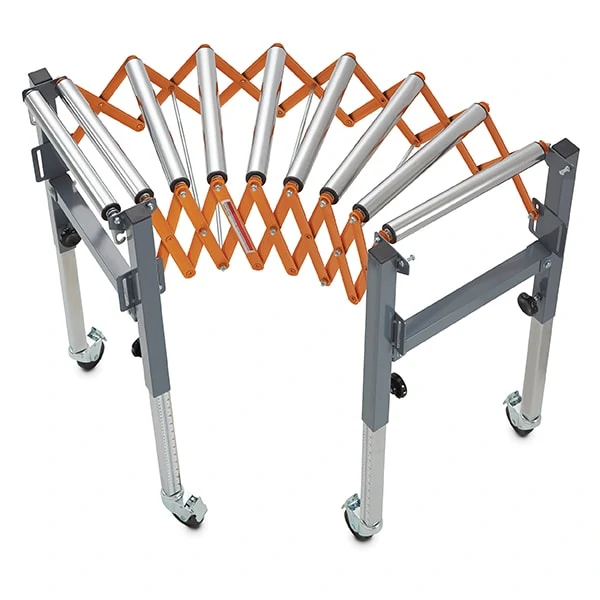 BORA Tool's new Portable Conveyor Roller (PM-2700) is a  versatile and expandable rolling system offering unparalleled  mobility and material moving  flexibility. Save valuable time  in the shop moving material,  packing, loading, with Bora Tool's handy Rolling Conveyor System and make unloading a breeze. Housed in a portable package, it can be rolled to any location, while the height and slope can be set as needed. Another key feature of the PM-2700 is its strength. It locks down to an unmovable frame, with smooth rollers that make transporting material up to 300 pounds (136kg) effortless.  In addition, multiple PM-2700s can also be linked together to create a long conveyor that covers the entire shop floor. Visit boratool.com.
Milwaukee Hickory Hammers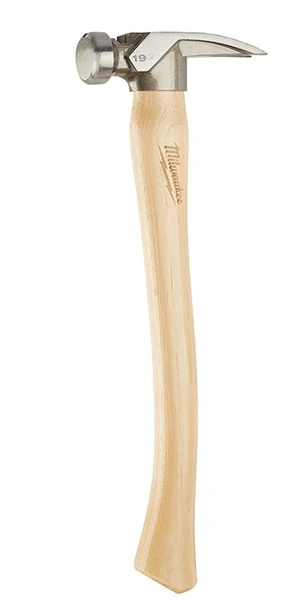 Milwaukee Tool's new lineup of hammer solutions include a 19-oz. Hickory Hammer available in both smooth face and milled face. The new hammers are constructed with shock-absorbing American hickory to prevent arm soreness and stiffness in users. Engineered with a precision balanced design, these Hickory Hammers provide a much more fluid and easy swing. The naturally dampening hickory combined with this precision balanced design offers users the best driving performance. For ease-of-use, the magnetic nail set allows users to set and drive a nail with one hand. Visit milwaukeetool.com.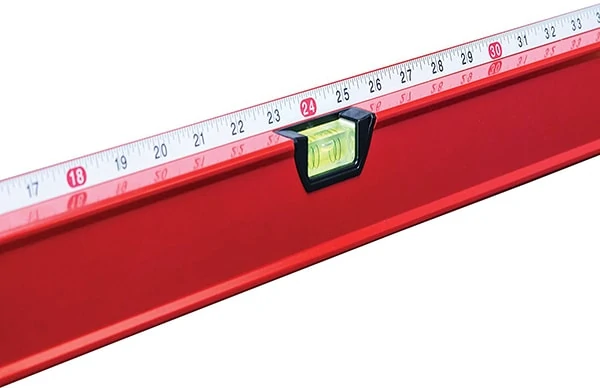 Kapro Professional Box Level & Ruler
The Kapro 770 Box Level with Ruler is a great combination tool for layout work. The 770 starts with a high-quality professional box level with a finely milled surface, shock-absorbing rubber end caps and three solid acrylic shockproof vials that come with an accuracy of .5mm/m and a Lifetime Warranty. Kapro then adds a convenient, easy-to-read ruler. Unlike other levels with a screened rule on the read surface, Kapro's 770 ruler is attached to an extension of the box beam profile, allowing you to check for level, measure, mark and cut, while looking straight at the level, increasing visibility and marking accuracy. This is a handy advantage when marking fastener locations for pictures, shelves, cabinets and more.
The precise straightedge ruler along the profile allows the user to level, measure, mark and cut at a glance without having to hold other tools at the same time. It offers three accurate level measuring options: 1 horizontal vial with gradient lines up to 2 percent, one vertical vial and one 45-deg. vial. Visit www.kapro.com.
Centurion 30-inch Double Gear Telescoping Bypass Lopper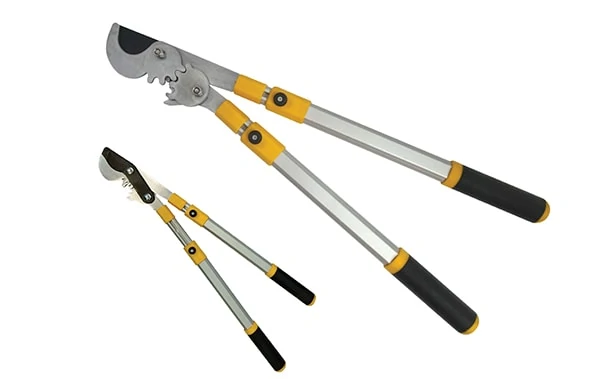 Centurion's powerful double-gear cutting design makes cutting twice as easy. The fully hardened steel blade stays sharp longer and holds branches firmly for cleaner cuts, while its non-stick low friction blade helps keep the blades from gumming up—giving you an easier, cleaner cut. The strong, lightweight aluminum alloy telescopic handles keep the weight at a minimum.
Its pin-locking button is easier and more reliable than traditional twist locking methods. The handles extend from 27 to 33-inches for extra reach and leverage.
Trade Tough Wheelbarrow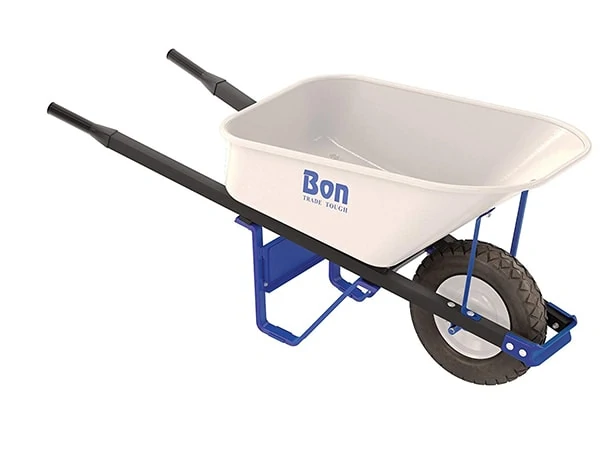 Bon Tool Co.'s popular Trade Tough Wheelbarrow is a single-wheel barrow now available in three tire types—Knobby, Ribbed or Flat Free—with either wood or steel handles. With a heavy-gauge seamless steel tray, the Trade Tough Wheelbarrow is priced at a value price point but is manufactured with high-quality, long-lasting design features. The "tough" design features include a reinforced leg brace and a four-bolt nose piece. There are currently six Trade Tough Wheelbarrow designs available from Bon. Visit www.bontool.com.
GearWrench Customizable Mobile Work Station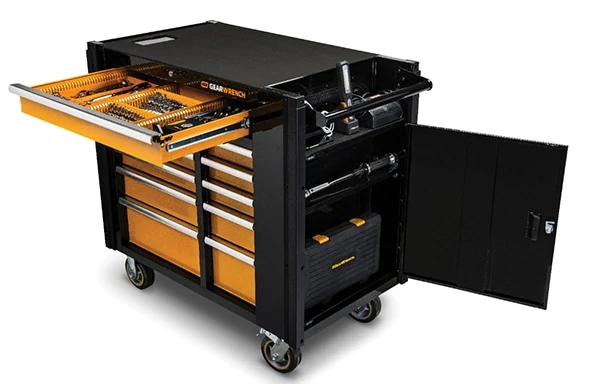 The new GearWrench Mobile Work Station glides on industrial-grade 6×2-inch-wide polyurethane locking casters that support a max capacity of 2,000 pounds. With 11 different-sized drawers—including a full-size top drawer with adjustable partitions—and a lockable side cabinet with adjustable shelf, the 19,000 cubic inches of storage space is flexible enough to fit whatever tools the job needs. The drawers boast 100-lb. capacity ball-bearing locking drawer slides. The station is large enough to function as a work space complete with vise-mounting capability, but at 42×24-1/2 inches, it's compact enough to roll through most standard work areas. With a charging tray, power strip with six 120-volt outlets and two USB ports, users can charge tools and power electronic devices that might be needed. Visit www.gearwrench.com.
Channellock Forged Wirestripper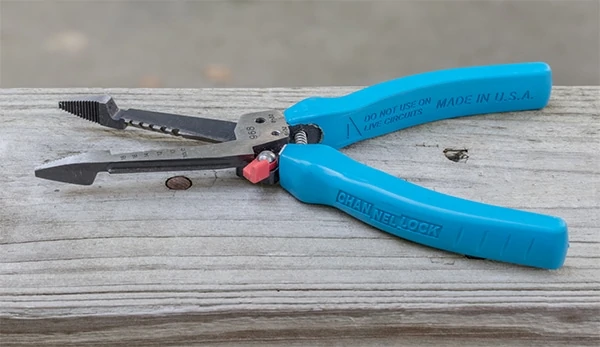 Designed for superior quality and greater ease of use than other products on the market, Channellock's new Forged Wirestripper features a curved shear uniquely shaped to contain material during handling. By incorporating XLT Xtreme Leverage Technology, it requires considerably less force to cut than traditional high-leverage designs. The 7.5-in. Forged Wirestripper is designed for durability with robust, comfortable Channellock Blue grips, a spring-loaded handle for easy, one-handed operation and a lock for safe storage. It strips 10-20 AWG solid and stranded wire, has a reaming head for up to 1-In. conduit and cuts 6-32 and 8-32 bolts. This new tool is 100-percent made in the U.S.A. Visit Channellock.com.
Speedhorse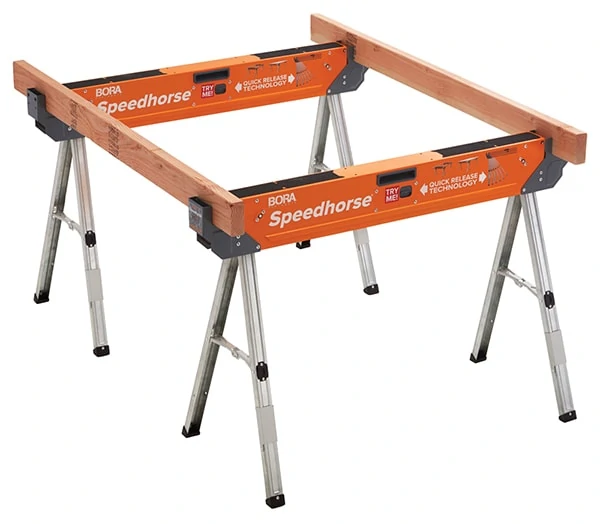 Bora Tool's new Speedhorse (PM-4500 ) is a contractor-grade sawhorse that deploys much faster than conventional saw-horses. Designed for flexibility in a wide variety of environments, this sawhorse is built tough to withstand heavy projects ranging from construction and carpentry to furniture builds. And when the job is finished, simply pull the levers and fold the legs up. The quick-deploy and quick-collapse legs allow users to set up in just seconds, and non-sequential leg folding makes worksite teardown a breeze. Just pull the levers on each end and fold up the legs, no matter which order. The Speedhorse offers best-in-class weight capacity, so each individual unit can support 1,500 lbs.—200 lbs. more than the leading competitors. A long, pre-drilled surface equates to more workspace and stability,  and the pre-drilled metal top allows users to screw in a 2×4  as a sacrificial top, saving saws and the sawhorse from damage. Visit boratool.com
Tradesman Pro Magnetic Wristband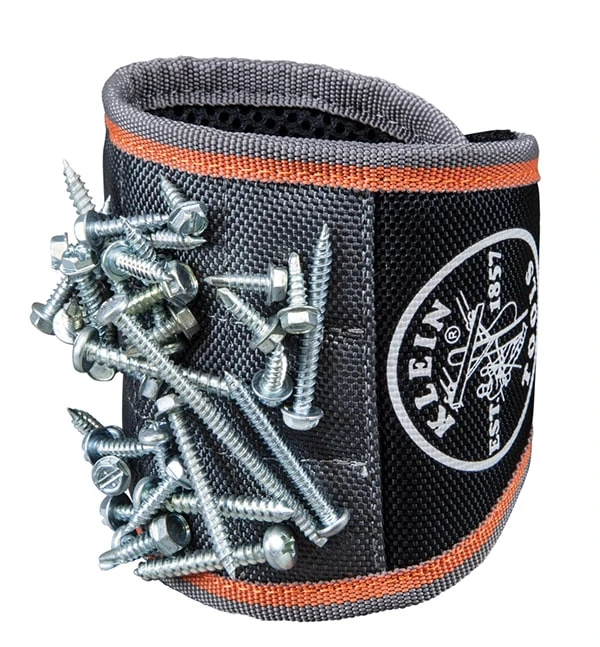 The Tradesman Pro Magnetic Wristband helps keep small pieces and parts close at hand by fitting easily around a tradesperson's wrist, tool belt or bag. Strong rare earth magnets keep small parts secure, and the breathable mesh interior and contoured shape provide a comfortable fit around the wrist for all-day use. Made of durable 1680d ballistic material, it has an adjustable hook-and-loop closure that fits most wrist sizes. Keep wire nuts, screws, bits, nails and other small parts close within easy reach. Visit www.kleintools.com/new-products.
Channellock 1000V Insulated Pliers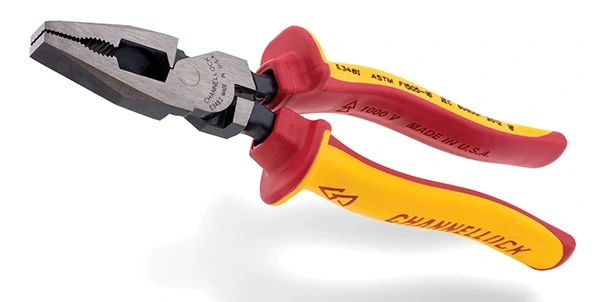 Channellock's new line of "made in the USA" Insulated Pliers are designed for electricians and other professionals who need high-quality OSHA-compliant pliers for safety on the job. The new Insulated Pliers feature precision-machined knife-and-anvil style cutting edges to ensure perfect mating and superior cutting-edge life. The cutting edges are also laser heat-treated to last longer, made with high-carbon U.S. steel for superior performance on the job, and include a rust-preventive coating. The insulation is impact resistant and flame retardant, and the entire product line complies with IEC 60900-2012, ASTM F1505-16 and NFPA 70E standards. The pliers are tested to 10,000 VAC and rated for 1,000 VAC when working on live parts. Visit Channellock.com.
Fiskars Pro Utility Knives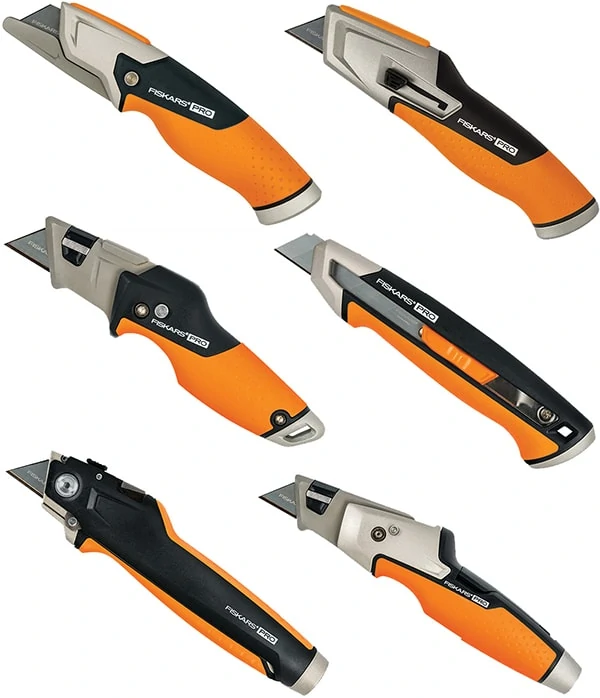 The new line of Fiskars Pro Utility Knives features a CarbonMax blade coating that keeps the blades sharp 24X longer than competitive blades. Accidental blade release is prevented by the improved locking system, audio and visual locking cues, and smarter button placement. Tabs ensure the blade won't pull out when twisted. Multiple grips provide ergonomic comfort regardless of position, and the Softgrip with strategic texturizing enhances comfort. Choose from six models for the knife that best suits your job applications. Visit Fiskars.com.