Click Here For our 2022 Holiday Gift Guide
Everybody likes gifts, both giving and receiving, and serious DIY'ers are partial to tools and gadgets. Treat the home-improver in your life with a new item for their equipment collection, and you'll be sure to put a smile on their face—and maybe reap the bonus reward of getting some work done around your house.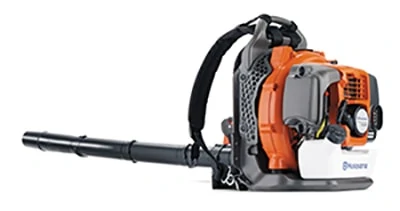 Husqvarna 150BT 50.2cc 2-Cycle Gas Backpack Blower
The Husqvarna 150BT is a commercial-grade blower in the popular 50cc mid-size range featuring the powerful X-Torq engine. The easy-to-start X-Torq engine in combination with efficient fan design delivers high air speed and airflow for increased power, better fuel economy and reduced emissions. The controls are ergonomically designed for ease of use, and the unit comes complete with a comfortable, ventilated, load-reducing harness with hip belt and wide shoulder straps. Visit www.husqvarna.com.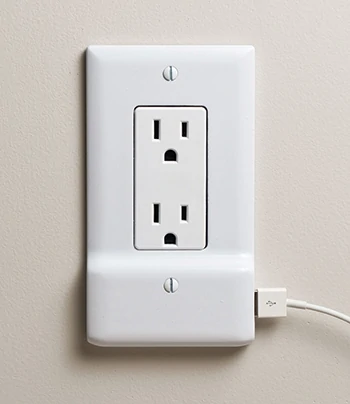 SnapPower Charger
The days of having to wire up a new outlet or use a bulky USB adapter to charge your devices are finally over. In just a couple of seconds, the new SnapPower Charger allows you to convert your current outlet to accept USB plugs. The SnapPower Charger is an outlet cover plate with a built-in USB port on the side which allows you to charge your electronics via the cover plate and leave your outlets open for other uses. Integrating USB ports within the outlet itself is nothing new—the difference is that the SnapPower Charger integrates the USB port into the face plate and not the outlet. To get its power, the face plate has two metal prongs located on the back that automatically make connection with and draw power from the sides of the existing outlet. The only installation required is removing the old cover plate and replacing it with the new one—that's it. Visit www.snappower.com.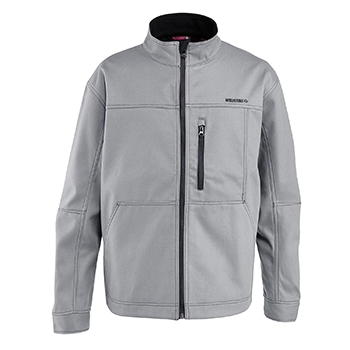 Wolverine Renegade Bonded Canvas Jacket
The Wolverine Renegade work jacket is built to last. Made with a durable cotton duck canvas shell bonded to micro fleece, this jacket provides durability and versatile warmth without the bulk. With no shoulder seams and easy-movement articulated elbows, it works with your body's natural movements for all day comfort. It includes an interior wind-flap with fabric zipper guard at the collar, convenient left chest zipper pocket, adjustable snap cuffs, and an extended tail. Available in men's sizes M-XXL and in four colors: Lead, Black, Bison and Whiskey. Visit www.wolverine.com.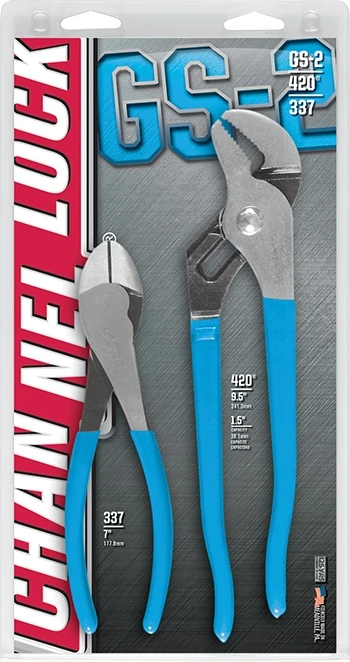 Channellock GS-2 General Plier Set
Channellock has put together the company's two most popular tools to create the perfect gift for people that know what real work is all about. The GS-2 set includes the 337 7-in. High Leverage Diagonal Lap Joint Cutting Plier and the 420 9.5-in. Straight Jaw Tongue & Groove Plier, which has right-angle, laser heat-treated teeth that last longer and grip better. Both tools are Made in the USA and use high-carbon C1080 steel specially coated for rust prevention. Visit www.channellock.com.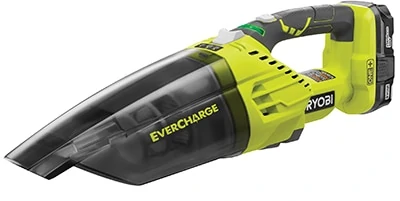 18V ONE+ EverCharge Hand Vacuum     
Ryobi introduces a new tool that defines professional features at an affordable price: the 18V ONE+ EverCharge Hand Vacuum (model P714K). It features an internal charging system that keeps the battery charged once the unit is placed on the wall-mount adaptor so it's always ready for use. The company's IntelliPort technology protects battery cells, maximizes battery life and conserves energy. This unit features 20-percent reduced sound for quieter operation when compared to the P713 and is backed by a 3-year warranty. The vacuum is also compatible with any Ryobi 18V ONE+ battery. Visit www.ryobitools.com.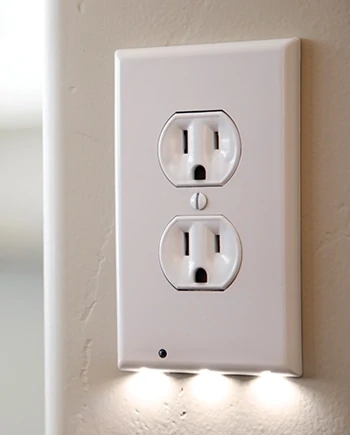 SnapPower Guidelight
The SnapPower Guidelight has all of its components built inside the cover plate so the only installation required is swapping out the old cover plate for a new one. It's disguised to look just like a standard cover plate during the day while illuminating the floors and countertops at night. With a built-in automatic light sensor and three energy-efficient LEDs, the Guidelight only uses around 10 cents of energy for the entire year. Visit www.snappower.com.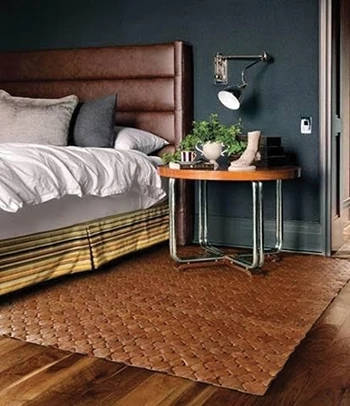 Elvis & Kresse for Flor
Flor offers a new collection of handcrafted rugs made from reclaimed leather. The rugs feature an amazing interlocking system of the finest leather, reclaimed from Britain's premiere leather craftsmen, so the rich color variation in each rug is different. The rugs will gain a gorgeous heirloom patina that will mature with time, and come in Black, Dark Brown and Caramel. Though modular in construction, each rug comes assembled. Make an appointment for complimentary customary designs today. Visit www.flor.com.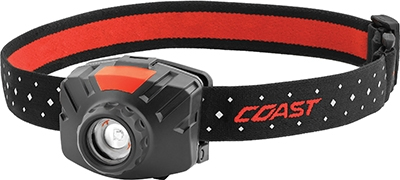 Coast FL60 Wide Angle Headlamp
The FL60 Headlamp features Coast's proprietary new design that combines both battery pack and light into one unit on the front of the headband. It also debuts the all-new Wide-Angle Flood Beam, which is ideal for shedding light on up-close work and provides a wider illumination than a long distance spot beam. FL headlamps have heavy-duty, adjustable headbands that provide ultimate comfort and include reflective material for increased visibility of the wearer. The oversized power switch and an easy-to-grip bezel are hinged to make focusing and beam positioning fast and easy, particularly for close-up tasks like cooking or reading. The FL60 has an impressive 300 lumens and a run time of up to 22 hours. Visit www.coastportland.com.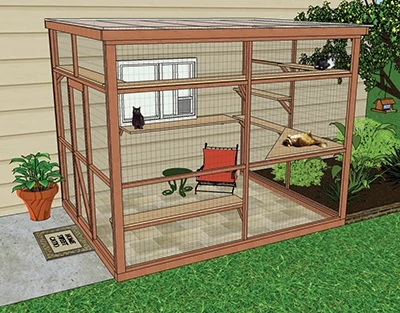 Catio Spaces DIY Plans
Cat lovers who want to include their favorite feline in the holiday festivities can treat themselves or the cat lover in their life to a DIY Catio plan or a gift certificate for a do-it-yourself plan. (Orders are fulfilled at time of purchase.) Catios are outdoor enclosures designed to keep cats safe, healthy and happy. The DIY plans include the Haven and Sanctuary designs (three-sided Catios that attach to a home) or the freestanding Oasis Catio for a yard, which includes directions for a catwalk tunnel. Cat access to the Catios is via a cat door installed in a window, door or wall. Both the Sanctuary and Oasis Catios provide space for seating to accommodate human and feline interaction. Sizes range from 3-by-6-ft. to 8-by-10-ft. Each DIY plan includes step-by-step instructions, a materials list, tool list, and more than 25 diagrams to minimize guesswork and save time. Visit catiospaces.com.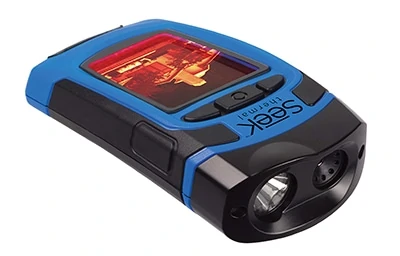 Seek Reveal Thermal Imaging Camera
Built for the realities of work and play, the Seek Reveal handheld imager combines powerful thermal insight and a high-performance light in one durable device. With a best-in-class detectable range of -40° to 626° F, the Reveal lets you pinpoint specific sources of heat—and heat loss—up to 500 feet away, all at just the touch of a button. Whether you're a plumber searching for a clog, an electrician checking for a hotspot, a hunter tracking game, or a homeowner looking for peace of mind, Reveal delivers the insight and illumination you need to find, fix and feel safe faster. The all-in-one Seek Reveal not only offers powerful thermal imaging but also a 300-lumen LED spotlight. Visit www.thermal.com.

Channellock E337 7" XLT Diagonal Lap Joint Cutting Plier
Cutting pliers are great for pulling small nails, rivets and wire ends. Side cutters, or diagonal pliers, are the most common form of cutting pliers and are used on virtually all forms of electrical wiring in the home, on the job and in automotive applications. The E337 features XLT Xtreme Leverage Technology that requires considerably less hand force to cut than traditional high-leverage pliers. The plier is made in America and includes Channellock's trademark Blue Grips for comfort. Visit www.channellock.com.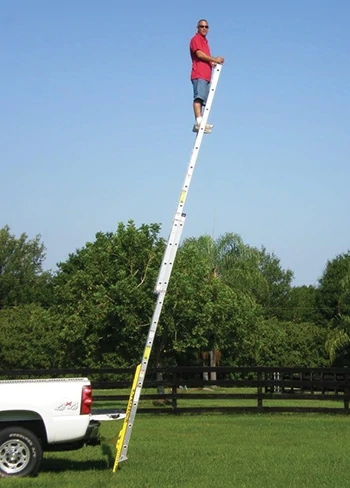 Monkeyrack Ladder Stabilization System
Since 2009, Monkeyrack Products LLC has been providing an industrial strength ladder stabilization system known for high quality, reliability and superior functionality. Specifically designed to address the critical fall-protection needs associated with improper setup and use of extension ladders, the patented Monkeyrack Ladder Stabilization System uniquely bonds a receiver hitch and an extension ladder together, to provide superior ladder safety and stability. Monkeyrack Products currently offers the Monkeyrack Contractor Kit #MCK075, which includes a safety tag that satisfies the lock-out/tag-out requirements and the newest attachment innovation, the Monkeyrack Bolt-on kit. The Monkeyrack Bolt-on kit allows the Monkeyrack to be bolted directly to the receiver hitch while also allowing the flexibility to utilize the original hitch pin attachment option. The award-winning Monkeyrack Ladder Stabilizer was recognized with the People's Choice Award for Innovation in Fall Protection at the ASSE/ISHN Safety 2014 Conference and Expo.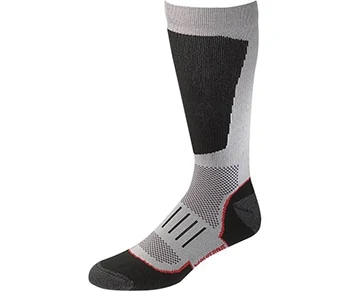 Ultimate Safety Toe Boot Sock
Wolverine's Ultimate Safety-Toe Boot Sock provides ultimate comfort with moisture-wicking materials and reinforced heel and toe protection. Made from a blend of Polypropylene, Nylon and Spandex, the sock ensures cooler, drier comfort, and an embedded arch support fights against foot fatigue. Targeted cushioning is designed for comfort and protection, and over foot ventilation panels increase breathability.
The sock is ribbed stay-up top for a secure fit, and smooth toe seams provide all day comfort. The new Wolverine Ultimate Safety-Toe Boot Sock is made in the USA and fits shoe sizes 9-12. Visit www.wolverine.com.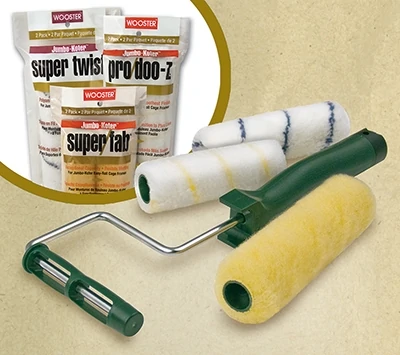 Wooster Jumbo-Koter Minirollers
Give quality tools to the professional or DIY painter in your life. The Wooster Jumbo-Koter miniroller system covers the smaller projects. Painting is smoother and faster with Jumbo-Koter frames and their exclusive easy-roll cages that spin without skidding up walls. There's a frame for any job—including the unique dual-cage Pipe Painter and the Flip Frame. Jumbo-Koter frames are made with a comfortable handgrip and reinforced threads that are compatible with all extension poles, including Wooster's Sherlock GT Convertible pole. Jumbo-Koter 4-1/2- and 6-1/2-in. minirollers work with all corresponding frames and they feature the same fabric as Wooster professional full-size covers, such as Super/Fab FTP and Pro/Doo-Z FTP. Minirollers are perfect for trim work, cutting in, cabinets, door frames and other smaller work areas. Visit woosterbrush.com.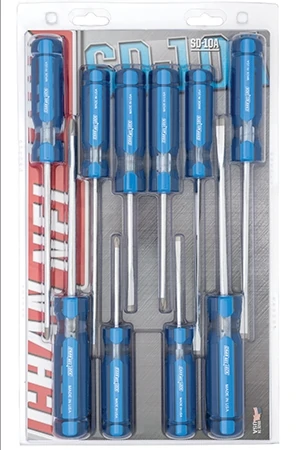 SD10-A 10-pc. Professional Screwdriver Set
American-made screwdrivers from Channellock mean business. They're the strongest, most durable screwdrivers the company makes, specifically designed to take the rigors of everyday use and keep coming back for more. Each driver has a heat-treated alloy steel blade, nickel chrome finish for exceptional corrosion resistance, and a precision-machined vapor blast tip for a precise fit. The handle is made from high-torque acetate for superior durability and solvent resistance. Visit www.channellock.com.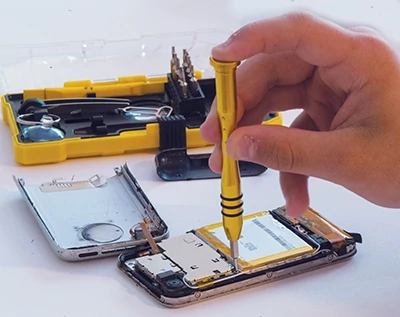 General Tools & Instruments SmartPhone Repair Kit
This kit includes all the tools needed to:
Disassemble a smartphone or tablet computer,
Replace a battery or cracked screen,
Reassemble the mobile device without leaving a mark.
Selling for less than $12 on amazon.com, it's a great bargain, considering the hourly rates charged by computer technicians. The heart of the kit is a 13-piece precision screwdriver set containing a handle and twelve bits for screws of the size and type used by most mobile devices. The star of the show is a five-point 0.8mm pentalobe (P2) bit that fits the tiny screws on the bottom of iPhones 4 through 6.
The other eleven bits (Torx T3 through T8), Phillips #0, #00 and #000, 1.5mm slotted and
Tri-Wing Y00) fit screws used by phones and tablets from Samsung, Motorola and Nokia as well as by video game consoles. The kit's supporting cast includes four general-purpose tools suitable for work on miniature devices of all kinds, including cameras and model trains. The most useful tool is a 2-1/2 in. long stainless steel fine-point tweezers attached to a 5X magnifying plastic lens by a double-hinged adjustable arm.
The other three tools are a plastic double-sided mini pry bar, a tiny pick for removing SIM and MicroSD cards, and a 1 in. diameter suction cup with a 5-lb pull—more than enough to pop off a phone's screen. The kit comes in a custom hard-plastic case with a snap-in slot for each part. Visit: http://amzn.to/1N2aWZo.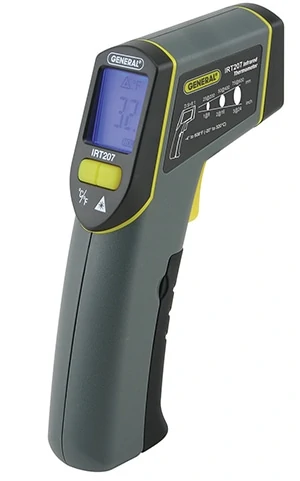 General Tools & Instruments Laser Thermometer (IRT207)
It's hard to imagine a DIY homeowner tool as versatile as a laser thermometer.
By measuring the infrared energy emitted by an object or a surface, an infrared laser thermometer (or IRT) can take its temperature from a distance. That neat trick makes IRTs indispensable for a wide range of tasks, including;
Energy auditing (detecting heat losses around doors and windows),
Troubleshooting HVAC and automotive systems,
Checking that foods and beverages in the kitchen and on the table are sufficiently hot or cold.
General's IRT207 is one of the simplest and most affordable (under $20 on amazon.com) IRTs on the market. One of its two key specifications—a measurement range of -4 to 608 degrees F—suits it for most DIY applications, including those "under the hood". Its other key spec—a distance-to-spot ratio of 8:1—means that the IRT207 has the optics needed to measure the temperature of a 1 in. diameter spot from 8 inches away (or a 1 ft. diameter spot from 8 feet away) with 2% accuracy and 0.1 degree resolution.
Using the gun-style IRT207 is as simple as pulling the trigger, aiming the low-power laser at a target, and reading the 1.5 in. diagonal backlit LCD display. There are only two buttons on the front panel. One toggles readings between degrees F and C, and the other turns the sighting laser on and off. The IRT207 is ruggedly built and comes with a "9V" battery and a 1-year limited warranty. Visit: http://amzn.to/1kuuqJD