Who needs shopping malls? Extreme How-To has got you covered for the holidays. We've collected a list of cool gift ideas for virtually every member of your family. Give your wife some drill bits. Give your husband a Tire Plugger. You know what your mother-in-law would love to own? A new forestry axe. Get the ribbons and the wrapping paper, because your holiday wish list starts and ends here.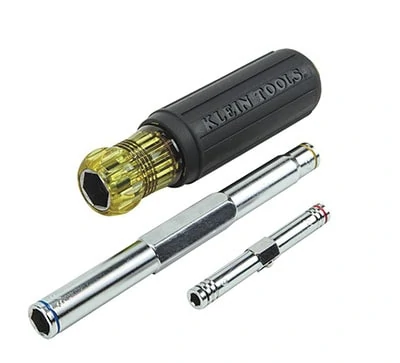 Klein 5-in-1 Heavy Duty Multi-Nut Driver
Reduce the number of individual nut drivers in your toolbox with this multi-nut driver featuring multiple sizes in one tool. The sizes are interchangeable ensuring you have the size you need when you need it. It includes 3/16, 1/4, 5/16, 3/8 and 9/16 in. size drives. The nut driver features a 4-in. shaft and a wrench-assist feature for added torque. The color-coded shaft ends make it easy to identify the size, and a cushion grip handle ensures maximum torque and comfort. Visit kleintools.com.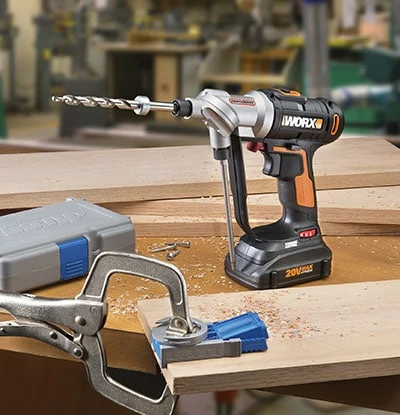 Worx 20V Switchdriver
The Worx 20V Switchdriver 2-in-1 Drill and Driver has won a Gold award in the International Design Excellence Awards (IDEA) 2017, hosted by the Industrial Designers Society of America (IDSA). The Switchdriver won in the Home & Bath category. It has a rotating head equipped with two 1/4-in. chucks that can be loaded with different combinations of drill or driver bits. This allows the user to drill a pilot hole, for example, and then quickly rotate the head to switch chucks and sink the screw with a driver bit. Both chucks rotate clockwise or counterclockwise with the push of a red button located above the trigger. These quick-release chucks are easy to load and accept standard hex-shaped bits, which are widely available at hardware stores and home centers. The tool has plenty of power and torque to handle a wide range of projects. Visit www.worx.com.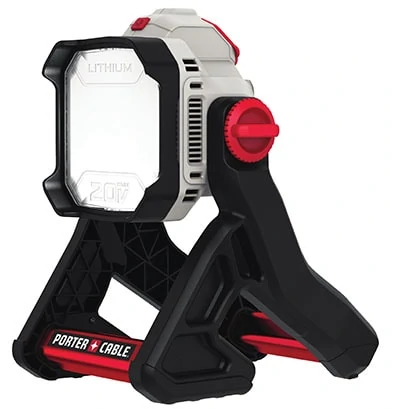 Porter-Cable 20V MAX Corded/Cordless LED Task Light
Porter-Cable's new 20V MAX Corded/Cordless LED Task Light (PCCL500B) illuminates work spaces with up to 1900 lumens to keep projects going in dark environments. The Task Light offers 10 hours of runtime when used with a Porter-Cable 4.0Ah battery (PCC685L). Features include adjustable brightness, corded and cordless power options, and a 1/4-in. diameter screw thread for tripod mounting. Visit portercable.com.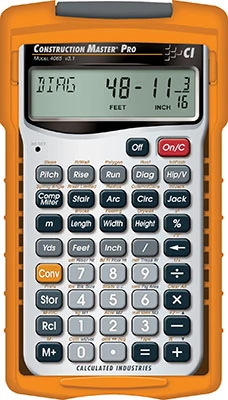 Construction Master Pro
The Construction Master Pro provides construction professionals with quick and easy solutions to complex construction-math problems. It is an award-winning Advanced Construction-Math Calculator from Calculated Industries that has been helping builders, carpenters, remodelers and skilled DIY'ers get it right the first time, every time for more than 30 years. This powerful calculator has built-in solutions perfect for completing layouts, plans, bids and estimates. To use, you enter measurements in feet-inches and fractions just like your tape measure reads and instantly calculate complex construction challenges for framing, stairs, decks, roofs and more. Its built-in functions include roof, rafter and framing solutions. You can also determine stair calculations like treads, risers, stringers and stairwell opening.  It will also determine circular calculations including arches, area, circumference, segments, pillars, columns and cones. It calculates area, volume and perimeter. Plus, it has a built-in right-angle function along with an arched rake-wall function, and it can calculate compound miter angles for miter cuts. More than just angles, you can use this calculator to estimate drywall, siding and paneling for 4×8, 4×9 or 4×12 sheets to cover an area. Additionally, you can determine roofing materials like bundles, squares and 4×8 sheathing for flat or pitched roofs. Of course, it estimates board-feet lumber as well. This is the one calculator you need to answer your construction math problems, so you can build with confidence. Visit calculated.com.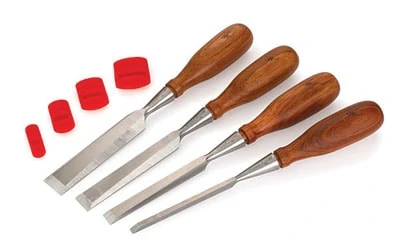 New Bevel Edge Socket Chisels from Woodcraft
For the woodworker in your life, bevel edge chisels are necessary for detailed dovetail or other work in tight areas because the geometry of the grind sweeps back and out of the way when cutting in corners. The new WoodRiver eight-chisel series from Woodcraft was designed so the flatness of the back is quality-controlled to specific tolerances for less preparation to sharpen "out of the box," and the gradual slope to the socket prevents the back from abruptly lifting during longer paring operations. To allow the chisel access to tight corners, the side bevels sweep back towards the centerline. And the resulting flat area or "land" is a consistent 0.7mm – narrow enough for tight access but wide enough to prevent an uncomfortable sharp edge. Handle construction, inspired by the traditional Stanley 720 and 750 series chisels, is another differentiating feature of the new chisels. The durable tropical hardwood handle's tapered cone is wedge-fit into the corresponding cone at the base of the chisel. This design allows the handle to be removed easily, which contributes to long chisel life. Visit www.woodcraft.com.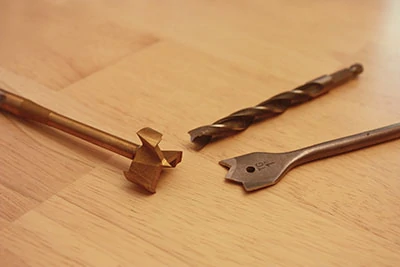 TG Tools Kik Bits
Favorites of the EHT staff, the TG Tools Kik drill bits offer something their competitors don't: more cutting edges. The Kik brad-point bits are tipped with six cutting edges to provide 20-percent more cutting surface when compared to standard brad-points. This means the Kik bits bore faster, cleaner and last longer due to decreased wear. In fact, the tip cuts so aggressively the bit requires an extraction ridge inside the flutes that removes material quickly to prevent heat buildup.
Kik Forstner bits are the best choice for drilling precise, flatbottomed holes in wood. The radial cutting edges shear wood fibers at the edge and bottom of the hole, creating a smooth bore with an exact diameter. The Kik Forstner bits actually have nine cutting edges, which permit cutting curved paths, channels, routing and milling in wood and plastics.
Like the Kik Forstners, the Kik spade bits can also cut a curved path. The spade bits from TG Tools are engineered with 30 percent more cutting surface, resulting in faster boring and longer life. Plus, the Kik bits eliminate the spur commonly found on similar bits, which allows these spade bits to drill curved holes for plumbing and electrical installations. Visit www.mytgtools.com.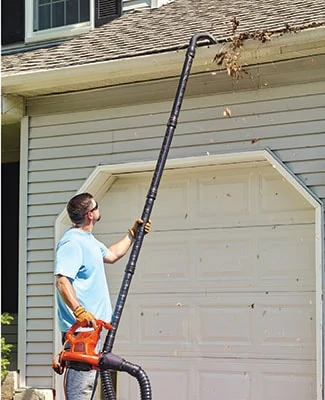 Black+Decker Gutter Cleaner Attachment
Black+Decker's new Gutter Cleaner Attachment helps homeowners clear hard-to-reach gutters of debris—a crucial task before winter weather hits. Best of all, this system lets you clean most gutters without climbing a ladder. The Gutter Cleaner Attachment connects to most blower models, including the recently launched 3-in-1 VACPACK (sold separately). The attachment extends up to 12 feet using the four quick-connect tube sections, and the flexible tube provides maneuverability to help make the job easier. During fall cleanup, homeowners can also use the new Black+Decker Leaf Collection Bin to hold a 39-gallon disposable bag upright for easy filling. Visit blackanddecker.com.

Scale Master Pro XE
For professional builders, the Scale Master Pro XE makes digitizing architectural and engineering plans and doing takeoffs for estimating, bidding or planning easy. Specifically designed to simplify getting linear, area and volume takeoffs from blueprint drawings, the Scale Master Pro XE finds linear measurements, rectangular areas and volumes—and it converts between scales and dimensions. It has 91 built-in scales—50 U.S. (feet-inch) and 41 metric—for maximum versatility in architectural, engineering and civil/map scaling.
It features ten custom scales enabling you to calibrate to any scale, even from plans that have been reduced, enlarged, or are just out of scale. You can store new scales permanently into the device for future use. Other features include two built-in memories; dedicated length, width, and height keys; push-button counter to keep track of items while rolling; switch for locking in mode, scale and units while rolling; and a subtract key that allows you to deduct rolled distances. You can also connect it to your PC with an optional interface cable to transfer rolled values directly into commonly used spreadsheets or estimating programs to create a permanent record of dimensions and values. The easy-to-learn and use Scale Master Pro XE has dual LCD displays, which show more information that will save professionals time and reduce errors on estimates and bids. Visit calculated.com.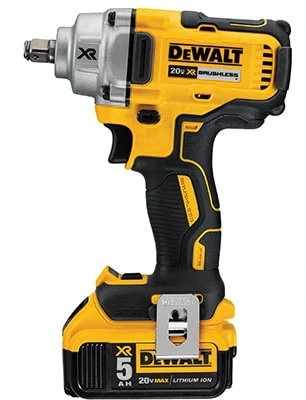 DeWalt 20V MAX Mid-Range Impact Wrenches
DeWalt announces two new 20V MAX 1/2-in. Mid-Range Impact Wrenches (DCF894 and DCF894H). They are available in detent pin-style for users who need maximum socket retention and hog-ring style, for users who value quickly being able to change sockets. Each tool is ideal for use overhead or when space is constrained in applications that require high torque, including plumbing, mechanical, concrete and masonry, automotive, steel erection and elevator repair. At 3.48 lbs. (tool only) and 6.95 in. to the front of the anvil, the 20V MAX Mid-Range Impact Wrenches are compact yet deliver high-power and torque. Each tool achieves 330 ft.-lbs. of maximum torque, 0-3,100 impacts per minute, and no-load speeds from 0-900 and 0-2,000 RPM in two mode settings (low and high) designed for use in a wide variety of applications. These applications include threaded couplings, pipe flanges, wheel lugs, concrete anchor setting and more. Visit dewalt.com.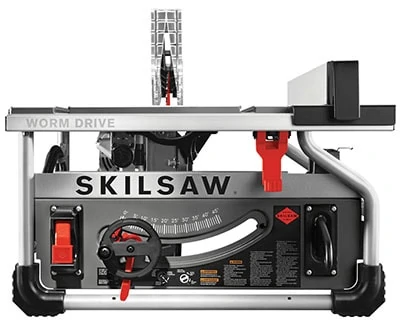 Skilsaw Portable Worm Drive Table Saw
Built with worm-drive gearing for maximum torque and power, the SPT70WT-22 features a best-in-class Dual Field motor to increase cutting speed and keep the motor cool, extending the overall motor life. Large cuts can be managed more easily with the saw's ability to rip full sheets of plywood in half with more than 24 in. of cutting capacity. And with a cut depth of 3-1/2 in., cutting 4x material is quicker than ever. The SPT70WT-22's all-metal roll cage design and a die cast aluminum table top add to the saw's durability while staying lightweight, making for quick and easy setup and transportation. Included with the SPT70WT-22 is a 10 in. Diablo carbide blade, a miter gauge, self-aligning fence blade, an insert plate, push stick and one blade wrench. Visit www.skilsaw.com.
Envi Wall-Mounted Room Heater
The Envi Heater is designed to squeeze every last drop of heating power from a low-wattage design using a patented process called "Stack Convection Technology" that boosts airflow without the need of a fan. It works by drawing cold air into the heater and then rapidly heating and circulating warmth around a room. The result is a very efficient heater, which costs as little as 4 cents/hour to operate. Customers who turn down their central heating and heat individual rooms with the Envi have reported savings of up to 50 percent or more on their heating bills. Built with fire-retardant materials, the Envi Heater is cool to the touch, has a thermal cut-off switch, and an additional wall-sensor that cuts power if the heater is knocked off the wall. With its fanless design, the Envi is totally silent and blows no dust or allergens into the air. It reduces the need to use ductwork plus the low-energy heating core maintains humidity and doesn't dry out the air. The Envi can be simply installed in minutes by anyone, with just a screwdriver – no drilling required. Visit www.eheat.com.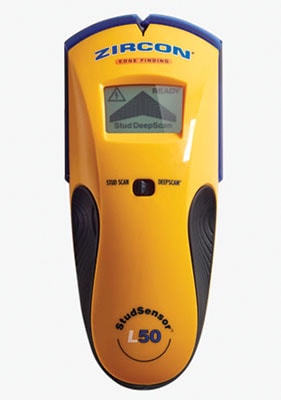 Zircon StudSensor L50
The StudSensor L50 stud finder locates the edges of wood and metal studs and joists behind walls, floors and ceilings. Its easy-to-read  LCD display screen indicates stud edges, the SpotLite Pointer shines a beam of light on the wall to clearly identify the target, and WireWarning detection indicates the presence of live AC voltage.
Its patented pivot-pinch grip and contoured shape provide an easy, secure hold in either hand, at any angle. StudScan mode locates the edges of wood or metal studs up to  3/4 in. deep. DeepScan mode doubles the scanning depth to 1-1/2 in. A READY icon displays when calibration has completed successfully, and Zircon's patented "over-the-stud" indication alerts the user to start the scan in a new location if scanning begins over a stud. Visit www.zircon.com.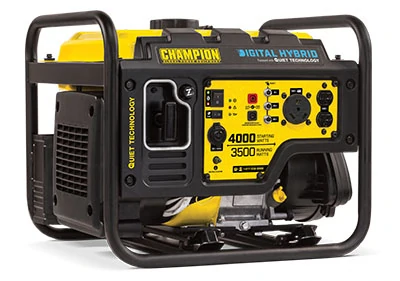 Champion 3500-Watt Digital Hybrid Generator
Champion Power Equipment's new Digital Hybrid Generator is 50 percent quieter and 20 percent lighter than a traditional 3,500-watt generator. This feature-packed power solution includes Quiet Technology, which is achieved by integrating digital components used in more advanced inverters. The Digital Hybrid also has an efficient mechanical design that decreases its overall footprint and weight. Additional features include Extended Run Time, Economy Mode and Clean Power for sensitive electronics, plus you can easily increase your power with the optional Parallel Kit. The Digital Hybrid includes some of the most important features of an inverter in an open-frame generator configuration, and delivers those benefits at a lower price point. Visit  www.championpowerequipment.com.

Channellock E458 High Leverage Center Cutting Plier
Channellock's new E458 8-in. High Leverage Center Cutting Plier features XLT Xtreme Leverage Technology, enabling cutting with considerably less force required than traditional high-leverage plier designs. A precision-machined center-cut design maximizes the cutting power of this plier. It is made in the USA with high-carbon alloy steel, and the plier's cutting edges are heat-treated for ultimate performance. The High Leverage design to makes it easier to cut deck, wood and concrete screws, various nails and even welded chain link. Visit channellock.com.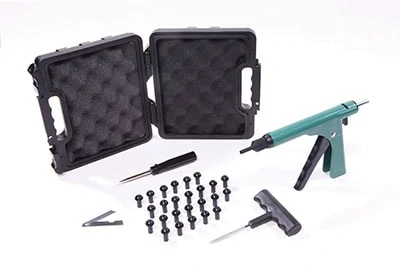 The Tire Plugger #1085
Ideally all tubeless tires should be repaired from the inside/out, but in an emergency situation that's not always possible. That's when the Stop & Go Tire Plugger can do what no other tire repair kit can. It allows for an "on the spot" and "on the wheel" repair to virtually any tubeless tire. And it seals the puncture on the inside. The Plugger is a spring-loaded gun that drives the plug into the hole. The shaft of the plug expands under pressure to fill the puncture. The mushroom head of the plug seats on the inner wall, allowing no air to escape. This ensures maximum reliability, and the tool is easy to store so you're always prepared. The hard plastic case measures 6x9x1 in. and weighs just under 2 lbs. Included is the plug gun, nozzle, probe tool, reamer/rasp tool, retractable blade, and 25 rubber mushroom plugs that measure 5/16 in. in diameter and 3/4 in. long. Visit www.stopngo.com.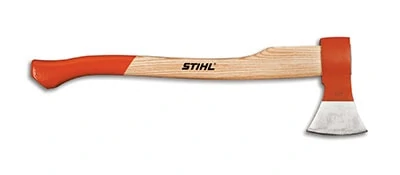 Stihl Woodcutter Universal Forestry Axe
Sometimes you just need an axe. Not a specialized felling axe, or limbing axe, or splitting maul—just a good old-fashioned swinging axe. The Stihl Woodcutter Universal Forestry Axe is excellent for felling, light-duty splitting, limbing and other forestry work. The handle is crafted from high-quality ash wood and the head is well balanced for a variety of cutting applications. It's the axe of all trades you've been looking for. Visit www.stihlusa.com.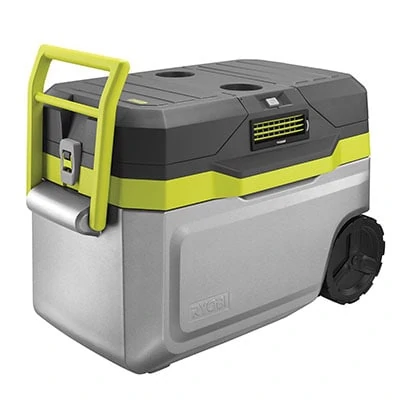 RYOBI 18V Cooling Cooler
Ryobi's new and improved RYOBI 18V Cooling Cooler Model P3370 is unique in that it can act as a 50 quart cooler, or can double as an air cooling unit.
The cordless convenience makes this an awesome option for keeping cool on the jobsite or at any outside event. The 18-Volt ONE+ Cooling Cooler is sold as a kit with the P102 battery and P119 charger. Best of all, like every 18-Volt ONE+ blue or green tool, this cooler works with any 18-Volt ONE+ battery.
Upgrade to LITHIUM+ batteries for better performance. Visit ryobitools.com.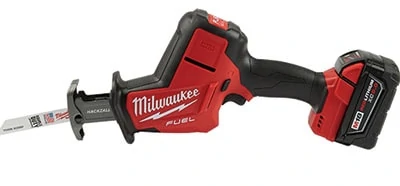 Milwaukee M18 Fuel Hackzall Kit
The new M18 Fuel Hackzall cordless mini reciprocating saw features a patent-pending dual gear antivibration system for up to four times lower vibration, granting the user greater comfort and control of the cut compared to previous Hackzall models. With three times the tool life, the new Hackzall make fast, precise cuts through a wide range of materials, including drywall, wood and PVC. The new M18 Hackzall is sold as tool only or in a kit that includes one M18 XC5.0 RedLithium Battery Pack, charger, one general purpose Sawzall blade, and a contractor's bag. Visit milwaukeetool.com.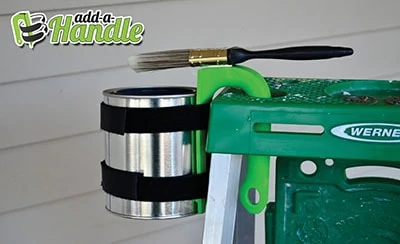 Add-a-Handle
Add-a-Handle is a new multi-use tool for carrying, pouring, holding or hanging anything up to 30 lbs. with comfort and ease. Originally designed for attaching to quart-size paint cans, its uses are practically limitless. Add-a-Handle is comprised of one strong lightweight plastic handle with two 18-in. Velcro buckle straps and a magnet placed on top for resting a paint brush. The straps are removable and adjustable with easy-pull tabs, making it handy for anyone to adjust them individually for size or height to fit any project. Add-a-Handle is simple, easy to use, and saves time on every project, be it carrying a ladder or a wine bottle. Add-a-Handle is made in the USA with genuine Velcro brand straps. See why it won the NRHA 2015 Retailer's Choice Award at Add-a-Handle.com.