Preparation, coordination and communication are your keys to success.
By Rob Robillard
Many people do not know how to plan a bathroom remodel. As a restoration contractor I've seen many situations where homeowners have spent thousands of dollars in restorations that commence with no planning, no idea of a budget and with unrealistic expectations. Whether you're a contractor or a homeowner doing the work, the planning process is the same. The premise of this article is to explain the process and help you develop a detailed scope of work that you can communicate in clear and concise terms.
Educate Yourself
Ask questions, look at other projects and research your products and materials before starting. There is a ton of "product" at supply stores and on the internet to compare and contrast. Consider using a checklist for manufacturers of fixtures, appliances, hardware, etc. I always suggest using products from quality manufacturers with a proven track record.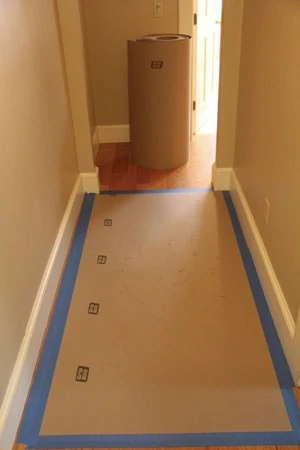 This is also the time to reach out for help on your design, if needed. For example, if you're moving walls, do you need an architect to prepare detailed drawings? Having a drawing helps folks visualize the final product.
For the contractor, the goal of detailed drawings is to work out spatial issues, to anticipate design issues and to eliminate surprises. This also provides a picture for you and the contractor of what the finished product will look like.
Decisions are better streamlined with a drawing, which helps prevent subcontractors and workers from being hit with unexpected decisions or products requiring additional labor and/or materials to install.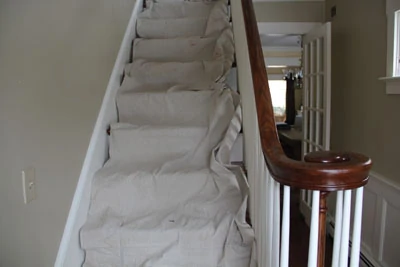 Plan Your Remodel before Starting
Having a plan doesn't mean picking out tile and paint colors and then smashing out the walls. It means thinking through the whole process, writing it down and trying to anticipate problems, time sinks and construction roadblocks.
Prior to starting the project, take the time and effort to thoroughly inspect the home and come up with a plan of approach.  Hire an architect or general contractor to inspect and work up a scope of work. Plan so that one phase of the project transitions logically to the "next step."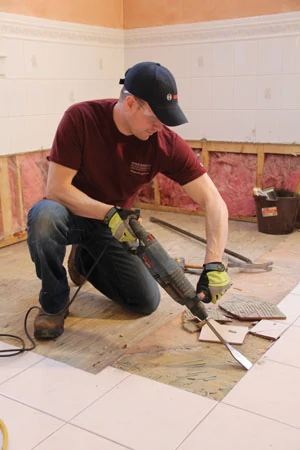 Many people assume that the contractor will make logical decisions in scheduling and planning the project. The fact is that a bathroom project involves numerous different subcontractors, and every one of them has their own schedule and agenda. Getting these folks to physically see the site, submit a proposal and commit to a schedule can be quite a task, but is imperative to do.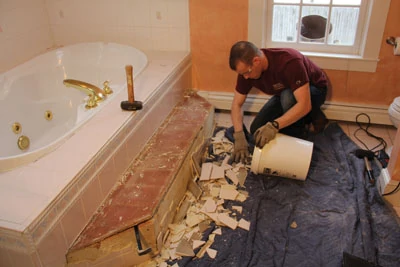 Your bathroom is about to become a construction area. Discuss and establish ground rules with your contractor, such as where lumber and materials will be stored, jobsite clean-up, dumpster location, use of the toilet and parking of vehicles. Also, discuss debris removal and dust containment.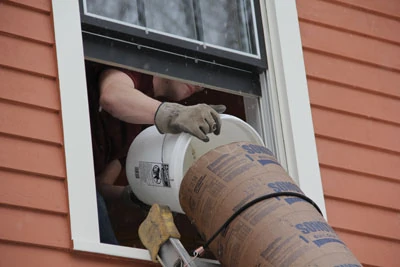 A clean job eliminates safety hazards and helps to keep the clients at ease; it also presents a more professional appearance for the contractor.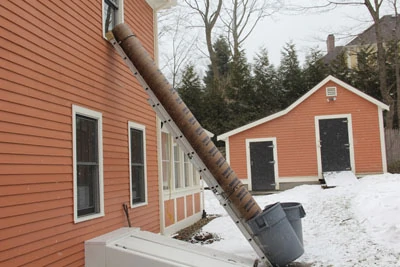 Murphy's Law: Throw in a Monkey Wrench!
When planning a bathroom remodel, prepare yourself for hidden conditions that will add more expense, more time, more disruption and problems than you planned on. Surprises of one kind or another are common and even "predictable" when remodeling a bathroom. The key is to plan for that extra time beforehand to avoid stress.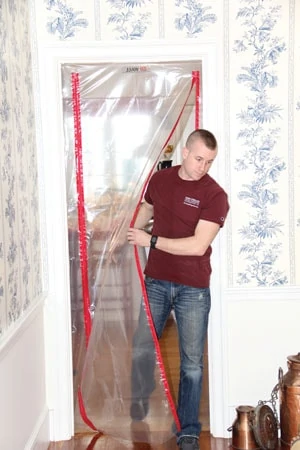 Many people have no clue about the "hidden costs" of remodeling, and a lot of contractors do not advise their clients of them. Hidden conditions include things like repairing surprise termite damage, improper wiring, outdated plumbing, abating asbestos or repairing foundation damage. Any or all of these can stop a remodel process mid-point and add time and money to the project.
Plan for these conditions by allocating 10 to 20 percent of your budget to address them. Whatever your project's estimate,
I promise that you will most likely spend additional money on hidden conditions.
Prepare your Budget
Proceeding with no budget is just plain stupid unless you have access to limitless cash. Define a scope of work with your contractor to arrive at a professional, accurate and performable budget. Unrealistic budgets are common among homeowners that have not researched costs or don't understand what is involved in a bathroom remodel.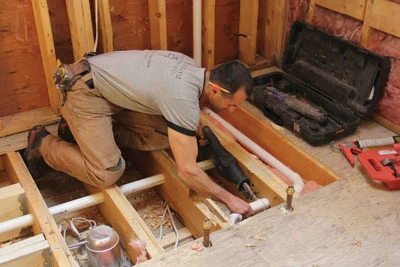 Many people try to get a contractor to make an unrealistic budget a reality, and the end result is that corners get cut.
At a minimum you will need a well-detailed proposal for your bathroom remodel.
In my opinion, vague proposals and plans encourage low bidding and invite many hidden and sometimes costly "extras" to be tacked onto the job later. Not having a detailed plan also means that two different contractors bidding on the same project will never arrive at the same conclusions and will always make assumptions to fill missing information—resulting in an "apples to oranges" comparison.
Not having a well detailed plan means the contractors bid only on what they "gleaned" from your verbal communication. Some unprofessional contractors will take this as an opportunity bid low and hit you later with extra costs.
Project Coordination
Coordination is commonly the job of a general contractor or architect. Without a schedule and proper coordination the individual tradespeople are segregated, disjointed and will not communicate.
For example: Adding a simple whirlpool tub to a bathroom remodel also means that you first need to install a 20-amp circuit. This involves installing a wire from the main electrical service to that tub—a step that can be easily overlooked by a homeowner or contractor if coordination and communication does not occur between the plumber and electrician. Everyone needs to work together.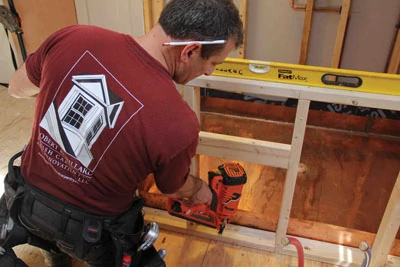 Part of this coordination is to bring in your sub-contractors early to look at the space and your fixture selection schematics and installation requirements.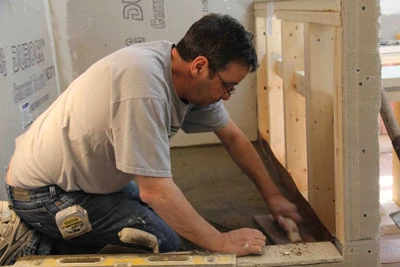 Gather your Fixtures
A bathroom remodel requires fixtures, cabinets and counters.  Prior to starting your bathroom remodel, take the time to identify manufacturers and make your selections early.
Early selection ensures that your contractors know what you want installed and can price accurately.  It also gives them the opportunity to work out any structural, electrical or plumbing issues and to determine if that fixture is going to work in the bath space or not.
Get your fixtures ordered and on site prior to starting the job. I've seen many times a special-order toilet or tub arrive damaged or lost in transit, and the entire project comes to a stop for three weeks while we waited for another one.
The best practice is to get the fixtures on site where they can be inspected and stored for the project.
By making your plumbing fixture, recessed mirrors and lighting decisions early, you're more likely to stay on schedule, save time and money.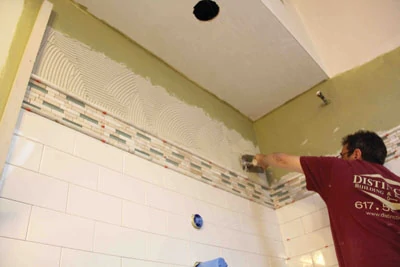 Communication is Critical
Once you start your bathroom project it is important to maintain regular communication with your contractor. That usually means a daily meeting or phone call. Avoid emails, as they can be misleading and not contain enough information. It's best to meet in person to discuss and then summarize that meeting in an email.
Good communication will allow you to handle unexpected issues quickly, make timely decisions and move forward.
Subcontractors
Good contractors hire good subcontractors.
You should have a discussion with your contractor about sub-contractor ground rules while at the work site. Discuss issues such as a smoking policy, playing of music, music volume, use of profanity and private or restricted areas.
One thing a lot of folks overlook is that subcontractors are specialists in their field and can offer a lot of industry training and experience to resolve issues and solve problems. Make sure you utilize their expertise.
BIG PICTURE
Proper planning prevents unnecessary roadblocks and helps you realize your vision by defining your space. Realistic schedules need to be produced.
A proper sequence of events should be spelled out clearly so that the necessary materials are on hand at the right time. In other words, don't gut the bathroom until the plumbing fixtures and vanity cabinet are on site and ready to install. By being informed and expecting the unexpected, you can minimize stress, costly errors and maximize your budget to arrive at a spectacular bath remodel project.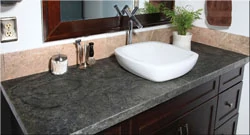 Side Note
Unique, Flexible Stone Veneer
TXTR-LITE is a natural lightweight flexible stone veneer with unlimited application possibilities. Each sheet is different because every piece consists of a thin layer of real stone, and no two stones are exactly the same. The colorful veneers are made from stone or slate slabs from which only the top layer was used. TXTR-LITE is backed by a polymer composite, which gives the sheets their flexibility and strength while keeping the weight to a minimum. TXTR-LITE is also waterproof once installed and effectively creates a tough moisture barrier. When Remodeling with TXTR-LITE, it's easy to install over existing tiles for bathroom and kitchen remodels. This means you don't have to remove existing tile while remodeling and have no demolition materials to haul away. Typical thickness is 1mm to 2mm and can be easily shipped by FedEx Ground. Discounts are available on orders for jobs over 500 square feet.  Learn more at www.txtr-lite.com.
Other Bathroom Remodeling Articles