The Big Benefits of Snow Melting Systems
By Rob Robillard
In the Northeast, winter means shoveling and salting your walkway and stairs to keep your home accessible. The common theme amongst many a Northerner is that shoveling stinks!
I recently discovered one solution is to install a snow melting system. A heated walkway or driveway is a great way to dispense with snow melt chemicals and ensure that your driveway or walkway is always clear.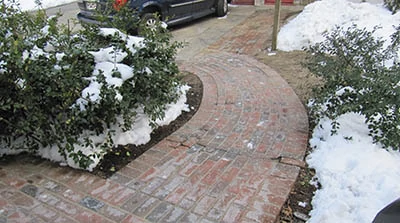 The benefits of having a heated walkway are many. Probably the greatest is the safety of family and visitors in your home. If your walkways and driveways are heated, then ice and snow will melt, reducing the danger of slips and falls. And no more shoveling!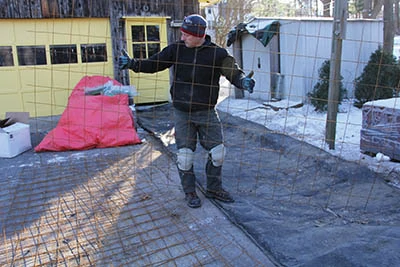 If you are considering installing a snow melting system, the best time for installation would be during a new home project or major landscaping changes to the property. If old, cracked walkways need replacing, that would also be an excellent time for this type of installation.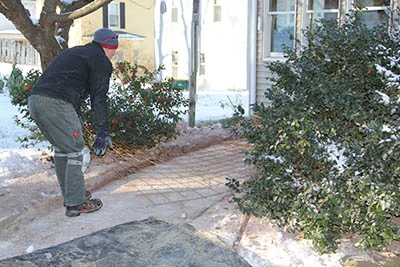 Snow Melting—Is It Worth It?
An electric snow melting system like the one featured in these photos is top-of-the-line and designed to be energy efficient. It acts fast to melt away the snow and prevent ice from forming. This system can be installed under concrete, bluestone, bricks, asphalt and in mortar underneath brick pavers.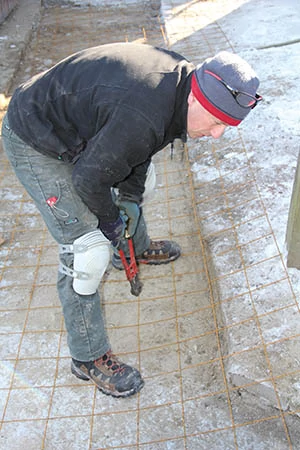 Save time and effort. By installing heated driveways and snow melting systems in your sidewalks, walkways and driveways, you can save the time and effort of having to get up early on a cold winter morning or going out late at night in the frigid temperatures to shovel snow. With snow melting products and deicing solutions, you can stay comfortable inside and let the radiant heat do the work for you.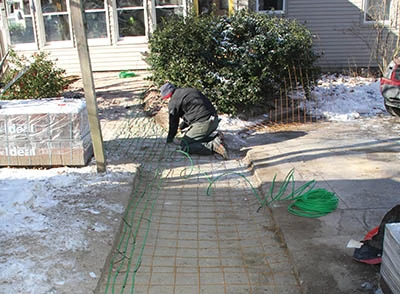 Environmentally friendly. Snow melting and deicing systems can be environmentally friendly, protecting your lawn and landscaping from damage caused by chemicals or snowplows.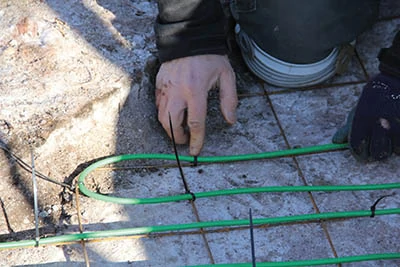 Protect your investment. Replacing or installing a new concrete, decorative concrete, asphalt, paver or stone drive-way or walkway is a substantial investment in your home. Unlike harsh snow melting chemicals or sharp plow blades, the gentle radiant heat produced by the system melts snow and ice without damaging the surface to help keep your driveway and walkways looking good for years to come.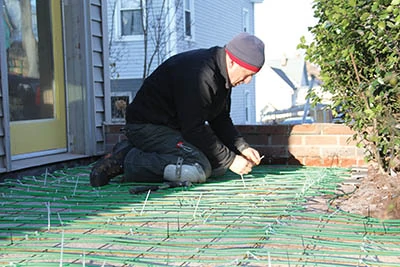 Cost Comparison. Another thing to consider is the cost comparison of how much you pay for snow removal services and chemicals versus the operational costs of a snow melting system. After the initial investment, costs of operating the system are minimal. On the average, the operating cost per snowfall event is about the same as paying someone to remove the snow. However, with a snow melting system, the pavement is left clear and dry. Removing snow with a shovel or machine can leave behind a thin layer of snow that could refreeze, resulting in hazardous conditions and the need for the additional application of salt or other snow melting chemicals.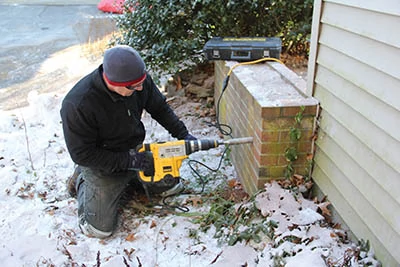 Safety. With a snow-melting system, not only can you reduce the risk of slips and falls, you can also reduce the risk of bodily injury or strain from shoveling heavy snow.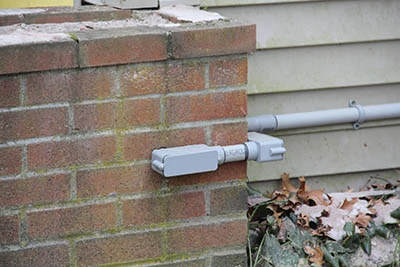 A snow melting system also gives you peace of mind, knowing that your family, friends and visitors—everyone from the mail carrier to loved ones who use wheelchairs—can safely move to and from your home.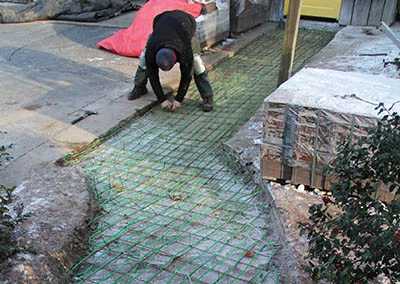 Steep driveways can also be made safe to traverse in snow and ice conditions. These systems also help protect your pets too, by safely clearing the snow and ice without harmful chemicals that can hurt their paws.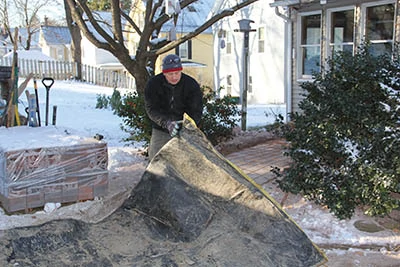 Types of Radiant Snow Melt Systems
There are two systems typically used outdoors when heating walkways and driveways: electrical heating cable; and hydronic heating piping.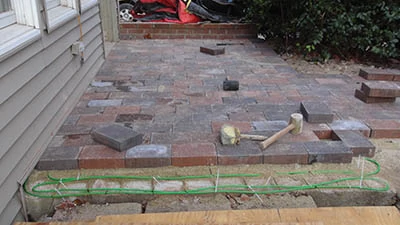 A hydronic heating system uses copper tubing or cross-linked polyethylene (PEX) with a liquid treated with antifreeze to warm the driveway or walkway. This glycol-based solution is heated with a boiler, operated with either manual or automatic controls.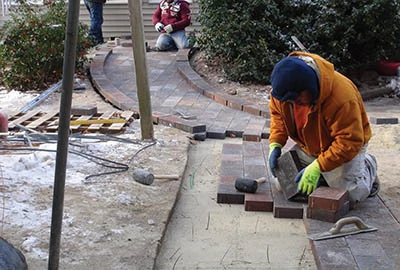 On this walkway project, electric heating was the only option and also the most cost effective to install. We chose the WarmlyYours Premium Snow Melting System. This system was custom-designed for my project and came complete with all the cable, controllers and snow sensors needed for a quality snow melting system.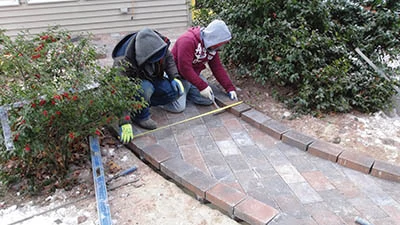 Installation under Bluestone Pavers
On this project, the home-owner had a wood stoop porch and a cobblestone front walkway, which must have been a complete nightmare to shovel. They decided to tear out the wood stoop and cobbles to replace them with a fieldstone stoop with a bluestone top and bluestone walkway—all heated.
WarmlyYours designs durable, high quality indoor heating and outdoor snow melt products. The company's heating cables are designed for concrete slab floors of new homes, outdoor driveways, walkways, stairs and patios. The product is well suited for large areas like basements, garages, additions and driveways.
Before starting my project
I gave my customer service representative the exact project dimensions, and they provided me with a custom detailed installation drawing.
The snow melt system I chose for this project comes in mats or loose cable in specific lengths tailored to an individual project.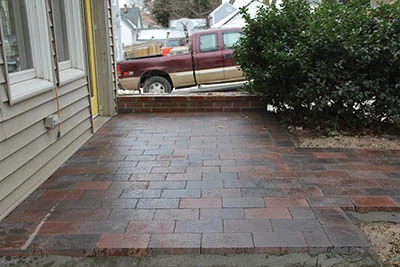 For my project I used 251 ft. of loose cable, which I looped and spaced approximately 3 inches apart. The system is CSA-Certified for outdoor use in Canada and U.S. and is offered in 120V or 240V configurations. It is rated for 3000 watts, 240 volt and 12.5 amps.
Warmly Yours sent the following as part of the premium system:
251′ of snow melt heat cable
Relay panel
Premium snow melt    control panel
Snow sensor
Temperature sensor
The Heating Cable is comprised of a dual multi-strand heating element with a primary insulation of Fluoropolymer. The insulated core is protected with a woven metal braid and an outer jacket of PVC, EPR or a Zero Halogen Polyolefin-based compound to make it sturdier and to provide corrosion protection.
These cables are terminated with 20-ft. (6.1m) long standard cold leads. The cold lead is obviously not heated and is used to enter into the building and attach to the control panel. The hot and cold junction is uniquely designed to make it 100 percent foolproof.
The accompanying project photos show the basics of installing the systems.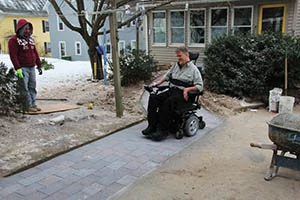 Whatever your reason, a snow melting system for your walkways or driveway can make any snowfall event, big or small, hassle-free. You can spend less time worrying about digging out and more time with friends and family doing things you enjoy.
Editor's Note: Robert Robillard is a remodeling contractor in Concord, MA, and editor of AConcordCarpenter.com.
Side Note 1
Heatizon Snow Melting Systems
Heated driveways are a great addition to increase the functionality of a home in the winter, but they aren't the only surfaces that can be heated. For example, an elevated paver walkway around a condo complex in Lake Tahoe, California, was heated with a Heatizon Tuff Cable low-voltage snow melting system.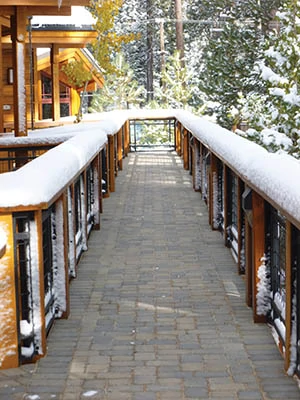 Tuff Cable was chosen because of its 25-year warranty, product longevity and design flexibility. Along with heated driveways and walkways, Tuff Cable can also be used in retrofit applications for existing concrete or asphalt. Heatizon retrofit systems are installed by saw-cutting grooves in existing asphalt or concrete, placing the heating element—whether low-voltage Tuff Cable or line-voltage
Hott-Wire—in the grooves and sealing them off with highway-grade sealants. Heatizon snow melting systems are designed to ASHRAE Standards (American Society of Heating , Refrigeration, & Air Conditioning Engineers), providing the right amount of heat for each project based on its regional weather patterns and by application, making them cost-effective and energy conscious. Another feature that sets electric systems apart from other snow melting technologies is they are solid state and have no moving parts, making them virtually maintenance-free. Learn more at www.heatizon.com.
Side Note 2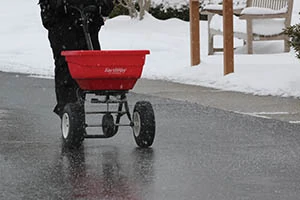 New Earthway Flex-Select Adaptable Spreaders
Are you the type of person who has a Swiss Army knife?  Well, the Flex-Select Series spreaders are what you have been waiting for! The new Flex-Select Series adds two new hopper sizes (80lb & 130lb) and three different broadcast application configurations to its line-up of Commercial & Professional spreaders. The Flex-Select models feature easily interchangeable shut-off trays (the complete bottom of the hopper including the shut-off) that can easily convert the spreader from the EarthWay  EV-N-SPRED capable of spreading all fertilizers and free-flowing granular products, to the EarthWay High-Output rock salt/pelletized high SGN material spreader, or to a new Low-Output low application rate fine chemical/fine grass seed spreader. Each application will spread evenly, accurately, and up to a 50% wider spread width than other push spreaders.
Two chassis types, two hopper sizes, and three unique application trays, make for one unbelievable spreader!