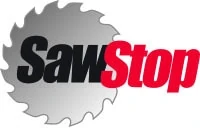 Tualatin, OR — October 1, 2014 — SawStop, LLC, the world leader in table saw safety, is celebrating 10 years of designing and manufacturing the world's safest table saws. To commemorate the anniversary, between October 1 and December 31, 2014, in the United States and Canada each customer who purchases a new Industrial Cabinet Saw will receive over $200 in free essentials (2 free SawStop Titanium Blades and 1 free SawStop Brake Cartridge).
This is the first time SawStop has offered a promotion on the Industrial Cabinet Saw. "The saw has been number one in North America for over ten years because of its safety and unparalleled quality," observed Vice-President of Marketing, Matt Howard. "Today and until the end of the year, the value is better than ever."
According to Mr. Howard, the reason for the promotion is simple. "We only turn ten once. To celebrate, we are offering this promotion and giving all those people who have been waiting for just the right time a good reason to join our family. Making the purchase now is better for their fingers, their livelihood and their peace of mind."
This promotion expires on December 31st, 2014. Promotion details are available at sawstop.com/10. The Industrial Cabinet Saw is available through authorized dealers both in stores and online. Find your retailer at sawstop.com.