It's soon to be deck-building season. Here are some new product highlights to help outfit your outdoor retreat.
By Matt Weber
Equinox XP Louvered Roof
The Equinox XP Louvered Roof system is an adjustable roof that transforms from a solid covering to an open garden trellis or pergola style covering, providing light, ventilation and views of the sky. With the touch of a button, Equinox XP can give you complete flexibility of your light and weather control needs for any outdoor living area, year round.
The system is versatile enough to accommodate any architectural style, such as existing structures with gable or pitched roofs, bay windows, doors, or an angled roof or walls. The Equinox XP can also be engineered for free-standing applications. The lightweight extruded aluminum louvers are durable and corrosion-resistant, which makes them ideal for both coastal and high elevation applications. The integrated gutter system keeps you dry and provides flexibility to be customized. Remote controls can be used to easily control multi-zone installations. Equinox XP is available in standard colors of white, tan and clay, with a 10-year warranty. Visit EquinoxRoof.com.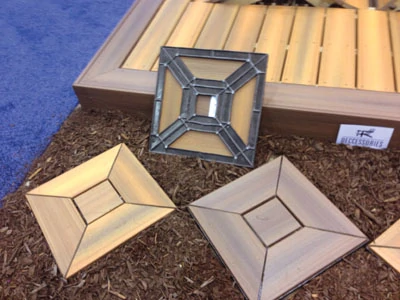 Decking Stones
On your next decking project, turn scrap deck boards into stepping stones using Decking Stones from Deccessories. Designed for years of rugged outdoor wear and tear, Decking Stones can be used over tile, pavers, concrete, rocks or soil. The stones install in minutes to provide a direct match in color and material to the deck. The polypropylene frame securely holds the decking of your choice in place. The 1/8-in. spacing throughout the framework gives the Decking Stone the appearance of a traditionally spaced deck while adding a structural ribbing to stand off the ground.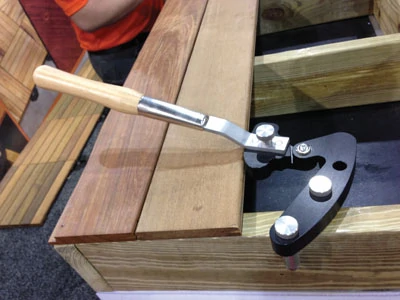 The Hardwood Wrench
The Hardwood Wrench board-straightening tool gives deck workers the freedom of installing fasteners with ease, using a tool that cam-locks into place for true "one-man installation." With a pushing force of around 1,100 lbs., the Hardwood Wrench delivers up to 8x more bending power than other deck-board straightening tools. It works with single or double joists up to 3-1/2 inches wide, and with all types of decking, including pre-grooved or standard lumber, composites and PVC. The reversible handle accommodates multi-directional use for areas with limited space, from both left or right hand direction. Visit www.deckwise.com.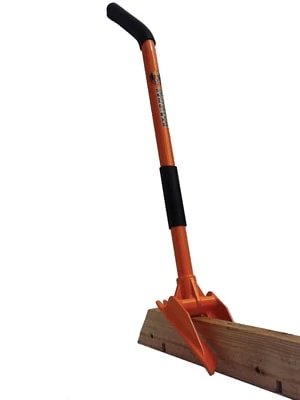 The Gutster
The Gutster demolition bar has been redesigned with an improved round steel handle and a solid cast head with extended neck, providing greater lifting and breaking power. More than a wrecking bar, the Gutster Demo-Bar is a complete demolition solution. The innovative Gutster design starts at the uniquely designed prying head. Split forks provide greater stability for heavier loads. The spacing straddles joints and studs for maximum leverage. Sharp points pierce the toughest materials effortlessly. Angled lift plates help ease the bar under materials to allow for faster prying. Conveniently built into the back of the head is a multi-nail puller. The angled bar is engineered to provide the most prying power with the least amount of stress and strain. Choose from three sizes with 40-, 48-, and 60-in. handles. Visit www.thegutster.com.

Superdeck Semi-Transparent Stain
Minimize deck maintenance and maximize the fun with a durable and beautiful finish. Superdeck's Semi-Transparent Stain features Carnauba from the "Tree of Life" to give unsurpassed durability. Carnauba blocks intense UV rays and holds up under extreme temperature changes. Superdeck Semi-Transparent Stain is formulated for any exterior wood surface including decks, fences, siding and furniture. Available in a spectacular 63-color palette, the stain's one-coat application will impart years of protection. High-quality oils keep the wood looking good, and premium pigments allow the wood grain to show while blending multi-toned woods. The EHT staff used Superdeck's semi-trans cedar tone on a recent dock project that turned out beautifully. Visit www.superdeck.com.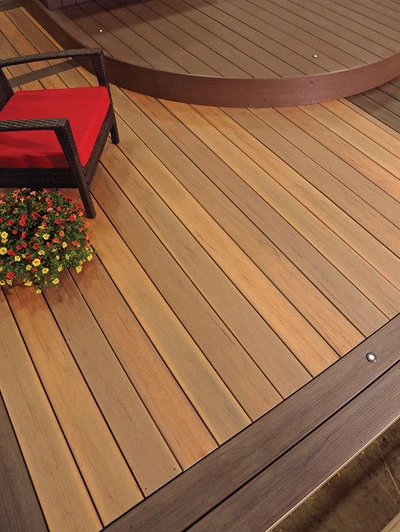 TimberTech Earthwood Evolutions Legacy Collection                        
TimberTech is the first manufacturer to bring the popular hand-scraped look of indoor wood flooring to the outdoors. The new Earthwood Evolutions' line of capped composite decking now includes the Legacy Collection, with its earthy hardwood looks and rich undulating grains, to evoke the days of hand-hewn wood. The timeless style of the Legacy Collection can take your deck from rustic and relaxed to elegant and modern with any of the three distinctive, natural colors. Mocha is a deep, rich walnut color with a subtle, streaked variegation; Pecan is a warm reddish-brown color with earthy variegation to nicely complement brick or stone; and Tigerwood has a unique look that blends light and dark shades within the same board to more closely emulate the natural tones of Ipe, a tropical rainforest hardwood. As a member of the Earthwood Evolutions decking line, the Legacy Collection delivers strong aesthetics, along with scratch, stain and fade resistance that's backed by a 25-year fade and stain warranty.  Earthwood Evolutions is the industry's only fully-capped decking line, with a protective polymer cap completely surrounding the proprietary composite core. Visit www.timbertech.com.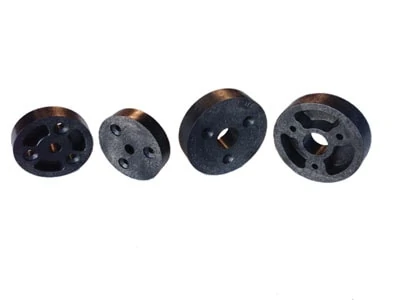 Deck2wall Spacers
Deck2wall Spacers help prevent rot from occurring at deck-ledger connections. The spacers separate the ledger from the supporting structure, providing a path for water and debris to flow harmlessly through the assembly, while promoting circulation and drying. The Deck2Wall Spacers have attachment holes to keep spacers in perfect alignment for a fast and easy installation. The non-corrosive, one-piece design provides superior waterproofing. The Deck2Wall Spacers also provide a long-lasting solution for attaching shade structures, posts, stair stringers, landings, built-up beams or mechanical equipment. Made in the USA, the spacers are injection-molded, fiberglass-reinforced polypropylene, 5/8-in. thick with a 2-1/2-in. diameter and a 11/16-in. bolt hole. Recent testing from Washington State found that the Deck2Wall connections yielded higher design loads than direct connections.
For example, 1/2-in. lags with ledger in direct contact with 1/2-in. OSB sheathing produced a design load of 451 lbs. vs. 1/2-in. lags with 5/8-in. Deck2wall Spacers between the ledger and 5/8-in. sheathing for a design load of 801 lbs. Visit www.deck2wallspacer.com.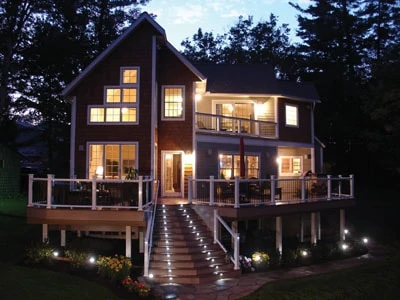 i-lighting
i-lighting focuses on maximizing the longevity and performance of LED lighting. The company's Easy Plug installation system features fixtures with Y-connectors, a regulated DC power supply and connection cables that simply plug together. No crimping, cutting or wire nutting are required. The system installs in half the time of standard indoor and outdoor systems. i-lighting has developed a complete line of deck, rail, stair, landscape, masonry and under-cabinet lighting. i-lighting is truly LED lighting simplified. Learn more at www.ilightingLED.com.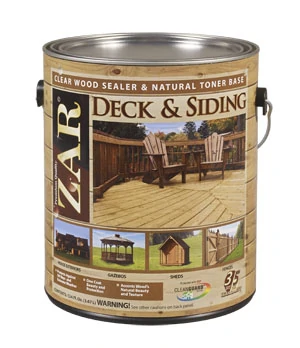 ZAR Clear Wood Sealer & Natural Toner Base
United Gilsonite Laboratories (UGL) has an extensive line of deck stains, clear sealers and deck cleaners—everything a contractor or DIY'er needs for various stages of deck care. Choose from ZAR Clear Wood Sealer, ZAR Solid Color Deck and Siding Stain, ZAR Semi-Transparent Deck & Siding Stain, and the newest product in the bunch, ZAR Clear Wood Sealer & Natural Toner Base. The new Clear Wood Sealer & Natural Toner Base is a latex base that comes with a 3-year warranty for decks and a 5-year warranty for siding. It's formulated to resist mildew growth with the incorporation of a non-hazardous biocide. This product has Green Wise certification and is winner of the Popular Mechanics Editor's Choice Award for product innovation. The new formula is perfect for accenting the natural beauty of wood decks, railings, posts, gazebos, fences, sheds and siding. Visit www.ugl.com.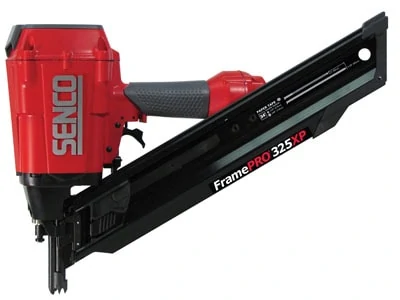 Senco FramePRO 325XP Framing Nailer
Senco has scored a design trifecta of size, weight and performance with its new FramePRO 325XP 3-1/4-in. pneumatic paper-tape framing nailer. Weighing in at 7.9 lbs. and measuring less than 12 in. tall, it is the most compact framing nailer in the category. The low-profile design makes it easy to maneuver between wall studs and floor joists. An ergonomic over-molded comfort grip dampens recoil and reduces fatigue during prolonged use. Delivering 780 in.-lbs. of impact-energy at 100 PSI, the FramePRO drives 34-degree offset round-head and clipped-head, paper-tape fasteners ranging from 2 to 3-1/4 in. long into any substrate, including engineered lumber. With its durable external aluminum housing and internal metal components (high-strength steel driver blade and aluminum firing valve), the FramePRO is built to handle the rugged demands of framing, sheathing, truss building, sub-flooring and deck building in any climate. The tool features a thumbwheel adjustable depth-of-drive and a patented tool-free selectable trigger so users can easily switch between bump-fire and single shot modes. Visit www.senco.com.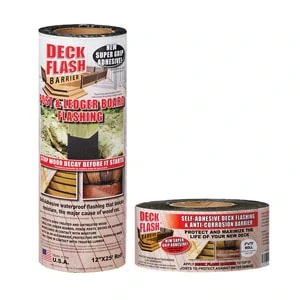 Deck Flash Barrier
Cofair Products introduces Deck Flash Barrier, a self-adhesive deck, post and ledger board flashing. When applied to the tops of joists, around posts and over ledger boards, Deck Flash Barrier creates a waterproof membrane that prevents wood rot caused by water coming in contact with wood. Deck Flash Barrier's new super-grip adhesive can be installed down to 25°F and self-seals around screws, blocking the primary pathway for water infiltration into the decking support lumber. Deck Flash Barrier is available in both 3 in. by 75-ft. and 12-in. by 25-ft. rolls. Visit www.cofair.com.
Other Decking Articles