By Brent Gwatney
Few things in life beat having a cold one on your deck while chicken wings and pork chops sizzle on the barbecue and hickory smoke fills the air. What other part of the home invites relaxation or forget-about-work partying with friends like the deck?
For many of us, the design and construction of our decks is also a source of pride—especially for do-it-yourselfers or those who had a close hand in the project with a professional contractor. But if it's a small starter deck that came with the house or is showing its age with faded and splintered boards, it may not be the outdoor retreat of your dreams.
In the past few decades, options for decking materials have exploded. Beyond redwood and pressure-treated wood, homeowners and builders can now select from a range of exotic hardwoods, plastics, metals and wood-plastic composites. Home-improvement enthusiasts seem to enjoy debating these materials' various merits almost as much as bragging about who has the most powerful lawn-mower or best tool collection.
For higher-performance decks, wood-plastic composites are often a good choice. They resist splintering, splitting, twisting and cracking, and are typically anticipated to last two to three times longer than wood decking. A wide range of colors and styles are available to help create simple patterns or complex layouts and in-lays, along with complementary railing and fascia.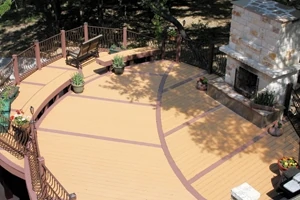 Composite decking materials machine easily, can readily be bent for curved features, and install with standard tools (See "Installing and Maintaining Composite Decking"). For die-hard wood fans, some modern composites also resemble wood decking remarkably well, with realistic grain patterns, textures and color streaking reminiscent of tropical hardwoods.
A multitude of companies manufacture composite decking with new ones coming and going all the time, so quality varies greatly. Some brands have had problems with a variety of field failures, such as excessive fading, moisture absorption or delamination, which has led some people to think twice about composites. With a little homework, though, it is simple to find high-quality composites that offer many advantages as a decking material. Factors to consider when choosing among brands include performance, looks and green features.
Performance
Manufacturers combine polyethylene plastic and wood fiber—along with pigments, stabilizers, and in some cases, mold and UV protectants—to form wood-plastic composite decking. The wood fibers provide strength and stiffness, while the plastic serves as a binding agent.
The specific mix of ingredients and manufacturing processes impact a given product's durability and resistance to the elements. A critical consideration is to choose composites in which the wood fibers are fully encapsulated in the plastic. Otherwise, the wood can absorb moisture and be susceptible to rot. Products like MoistureShield composite decking have wood fibers that are completely surrounded by plastic, which enables them to be used on the ground, in the ground or in the water, as well as resist insects. Because of their moisture resistance, such materials work well for decks in a wide range of climates, as well as for dock surfaces, hot tub and pool surrounds and complementary landscape trim.
Composite decking options also are available with fire ratings. Such a rating is important in hot, dry climates where homes are surrounded by extensive vegetation. California is a prime example, where many homes are adjacent to wild lands. The state's building codes require decking in these areas to be fire-resistive to help reduce the potential for brush fires to spread to homes.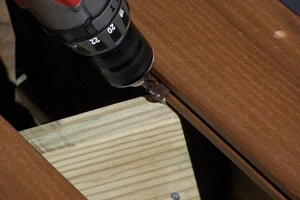 When it comes to installing composite deck boards, a variety of configurations are available. These include solid or hollow planks and engineered boards with channels on the bottom. Solid boards typically look and handle the most like wood decking, while hollow and engineered boards are generally lighter. Hollow products need end caps or trim for a finished look. Within the various types of boards, side grooves may be available for using hidden fasteners.
When selecting decking, consider the warranty carefully. Reputable manufacturers will stand behind their products, and some offer warranties up to 20 years to lifetime.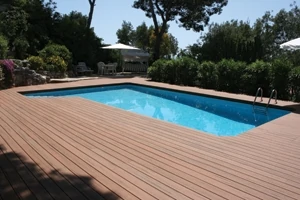 Looks
As with performance, composite decking brands vary in their appearance. Lower-end products have a plastic look, with a high shine that many people find off-putting. This was common when composite decking first became available in the 1980s.
Now, some brands have developed ways to produce composites with realistic-looking grain patterns and the coloring of various woods. This allows for decks that have the durability and moisture- and insect-resistance of composites, while providing the appearance of solid wood boards. In addition to natural wood colors, hues also include grays, earth tones, terracotta and others, which can be mixed and matched to create interesting patterns or highlights.
As with many other decking materials, composites will typically weather to a lighter shade—especially during the first six months. For this reason, some manufacturers include additional pigments so that a more natural color is achieved after this initial exposure.
An interesting feature of composites is that many can be curved more easily than lumber. Slight heating allows them to be bent for use in benches, stairs, trim and decks with rounded edges. One contractor was able to create a leaf-shaped deck that had the smooth, even curves of a leaf, complete with "veins" using a complementary color.
In addition to deck boards, composite materials include complementary posts, post caps, balusters, railing and trim. For a unique deck, varying the color of these materials can create visual focal points. For example, use balusters with a different color than the posts and rails, or post caps that differ from the other components. The trick is not to overdo it—colors should tie in with one another, and patterns should be well planned.
An easy way to help visualize your deck before construction, and to try out different colors and configurations, is to use deck design software. A wide range of deck design software is available at home-improvement stores, office supply stores or electronics shops. Some decking manufacturers also offer free online tools.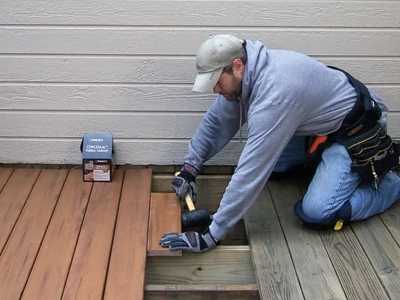 Green Features
For people interested in reducing their impact on the environment, composites can be a good choice. Some brands include up to 95 percent total recycled content (100 percent typically is not possible given added pigments, stabilizers, etc.).
Recycled plastic materials used in composites include discarded milk jugs, detergent bottles and grocery bags ("post-consumer" content) and pallet wrap and food packaging films ("pre-consumer" content). Recycled wood includes fiber from sawmills, along with waste pallets and construction debris. The benefits to the environment can be substantial: MoistureShield alone stops over 270 million pounds of trash per year from entering landfills. As recycled content differs widely among brands, check with the manufacturer for how much their decking includes.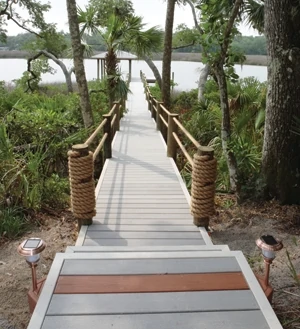 Another key green attribute of composite decking is its durability. As mentioned previously, composites are anticipated to last two to three times longer than some types of wood decking, which can greatly reduce the volume of materials needing replacement over time. In addition, some composites do not require painting or staining, so impacts are reduced by eliminating the use of these substances year-after-year.
As you get ready to enjoy the outdoors, building a new deck or upgrading an existing one is easier than ever. It's now possible to build beautiful, long-lasting decks that keep the environment in mind. To learn more about decking materials available in your area, contact a decking product manufacturer or visit a local building material dealer. Then, get ready to fire-up the barbecue and kick back on your new deck.
SIDE NOTE
Tips for Installing and Maintaining Composite Decks
In some cases, refreshing a tired deck can be as simple as removing the deck boards and installing new ones on the existing structure. This can be a straightforward way to convert from wood to composite decking. Be sure to confirm that the posts, beams, joists and all other structural elements are solid and up to code, otherwise rebuilding may be required.
Composites are typically intended only for deck surfacing and accessories, rather than as structural elements. Treated wood, steel or other materials usually make up the underlying structure.
Composite decking installs in much the same way as lumber, and no special tools are required. A hammer, power screwdriver, circular saw, level, tape measure, rasp and chalk line should be sufficient.
Check local code requirements and manufacturer recommendations for fastener types, size and spacing, especially when attaching posts and rails.
For composite deck board installation, either screws or hidden fasteners are typically used (not nails). If you don't want the screw heads to show, countersink the screw into the deck board about 1/4" and use your thumb to lightly push the displaced decking material over the hole. Tapping the material lightly with a hammer helps seat it and provide a smooth surface.
When deck boards are installed perpendicular to the joists, maximum joist spacing is typically 16" on-center. For diagonal deck boards, 12" on-center joist spacing is need to provide the required support. Because composite deck boards are typically more flexible than lumber, it is especially important to ensure that the joists are level and even. Otherwise, the completed deck may have a wavy appearance.
Depending on the brand, composite decking may not require staining, painting or sealing. As with any type of decking, though, regular cleaning is recommended to help prevent mold and mildew. Deck cleaners available at hardware stores are generally suitable, but be sure to check the decking manufacturer's instructions for any specific requirements.
Editor's Note: Brent Gwatney is vice president of sales and marketing for MoistureShield composite decking.