By Tom Mathews
Painting is the most common home-improvement project, and the tools and supplies to do the job are constantly evolving. Here's a roundup of new products to make your next color correction a rousing success.
Wooster Paint Brushes
The Wooster Brush Company has the right paint brush for the job, no matter what the job is. The company's popular Alpha brush is made with a one-of-a-kind synthetic filament blend for superior professional-grade painting. Designed to carry more paint at the end of the brush, it releases evenly to the surface for less effort while painting. The Alpha's Micro Tip technology delivers what many professionals consider to be the finest paint finish and smoothest flow on the market today.
For work in high heat or humidity, the Wooster Ultra/Pro Extra-Firm brush is made with an extra-firm filament blend to reduce flexibility, resist wear and maintain superior control. It's perfect for applying a thick coating like exterior-grade or low-VOC paint.
Chinex is known as one of the most durable and easy-to-clean paintbrush filaments, and lasts seven times longer than natural bristle. The Wooster Chinex FTP (For Today's Paints) pushes paint farther on the surface for better coverage, and the soft tips create a smooth, professional finish. Versatility and effortless finish quality make the Chinex FTP a great all-in-one paintbrush for the serious home enthusiast. Wooster paint brushes are available in a wide range of handle lengths, brush widths and sash angles. Visit www.woosterbrush.com.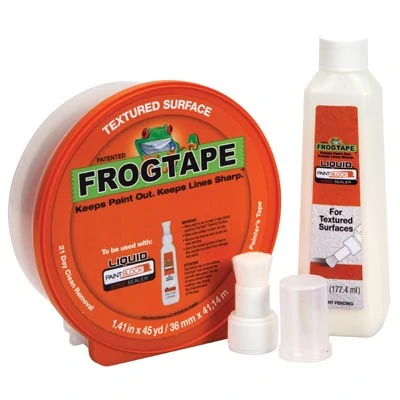 FrogTape Textured Surface
Extreme How-To's favorite painter's tape, FrogTape, is available in a new kit for use on textured surfaces. FrogTape is treated with the patented PaintBlock Technology, a super absorbent polymer that reacts with the water in latex paint and instantly gels to form a micro-barrier that seals the edges of the tape, which helps prevent paint bleed. FrogTape Textured Surface is an easy-to-use, frustration-free masking tape that now makes it easy to create stripes, patterns and designs on most common textured surfaces, including heavy knockdown, light knockdown and orange-peel finishes.
The new kit includes a patent-pending Liquid PaintBlock Edge Sealer solution, which enhances the benefits of PaintBlock for surfaces with lots of peaks and valleys. Once the FrogTape Textured Surface is in place, just apply the Liquid PaintBlock Edge Sealer with the brush applicator in a circular or back-and-forth motion and let dry for 15 minutes prior to painting. Remove the tape after the last coat of paint is dry to the touch. This two-step process is fast, easy and delivers sharp, crisp lines within minutes. Visit www.frogtape.com.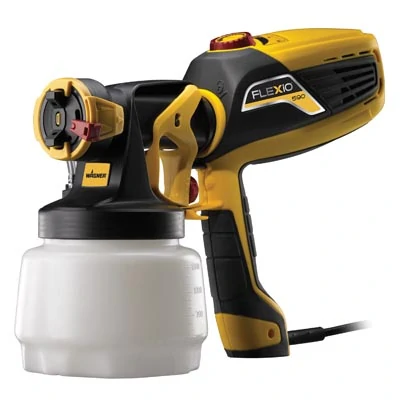 Wagner FLEXiO 590 Sprayer
The FLEXiO 590 Sprayer is an indoor/outdoor hand-held sprayer for all projects. It combines the iSpray nozzle, detail finish nozzle and the X-Boost turbine to provide a flexible and powerful painting solution. The X-Boost turbine delivers the power of 65,000 RPM's to spray most coatings with maximum control, full coverage and low overspray. Not only is it 3X more powerful, it is also 50 percent quieter and 20 percent lighter than traditional airless sprayers. The iSpray nozzle sprays un-thinned residential paints for broad surfaces both indoors and out. The detail finish nozzle is ideal for small projects and fine finishing. The FLEXiO 590 Sprayer produces a slightly stippled, roller-like finish, perfect for interior walls. Edges, corners and broad interior surfaces can now be sprayed faster for better coverage, saving time for other projects. Visit www.wagnerflexio.com.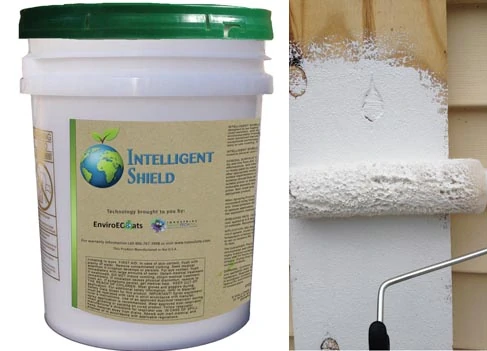 Intelligent Shield Energy-Saving Exterior Paint
Intelligent Shield by EnviroECOats is an innovative exterior coating scientifically designed to be highly reflective, self-cleaning, mold-resistant and energy efficient.
The coating is water-based, environmentally friendly, low-VOC (40 g/L), and offers several Cool Coor choices featuring technology by Industrial Nanotech, Inc. The product is designed to reduce cooling costs for homes and commercial buildings, while also reducing maintenance costs. It can be used over many types of building surfaces such as brick, drywall, vinyl siding, wood, stucco, concrete and more. This nanotech coating reflects over 82 percent of the sun's radiant heat. It is easily applied with a paint sprayer, roller or brush, and has a flat, slightly textured finish. The base color is white, which can be tinted, and also comes in eight other color choices with varying degrees of reflectivity.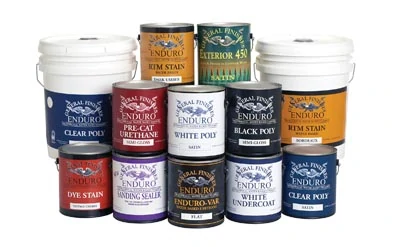 General Finishes at Woodworker's Hardware
Woodworker's Hardware has added General Finishes to the company's offering of cabinet furniture supplies. General Finishes is continually improving all of the products in their line of water-based stains, finishes and paints. General Finishes water-base stains allow you to create the truest, deepest colors possible on any wood species.
All of the brand's water-based stains, finishes and acrylic "milk paints" feature low VOC's, are non-flammable, and clean up with soap and water. The finishes are durable, easy use and they won't negatively impact your health or the environment. Visit wwhardware.com.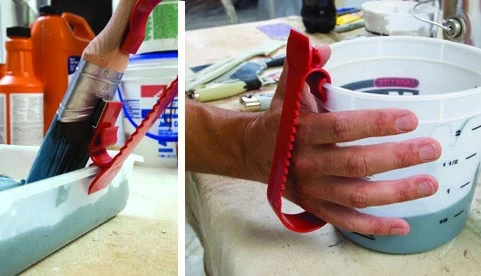 Hyde Painter's Assistant
Hyde's new Painter's Assistant is a simple multi-tool that saves time and hassle on painting projects. For both professionals and do-it-yourselfers, the Painter's Assistant works as a carrying handle for 1- and 2-quart containers, turning even simple plastic buckets into a handy carrier when you're painting trim or windows with a brush. It also clips to your roller tray, providing a magnetic brush holder right where you need it. The Painter's Assistant's built-in features include a paint can opener, a brush and roller cleaner, belt hook, putty knife/scraper, a paint-can hook for when climbing ladders, plus a garage tool hanger. Visit www.hydetools.com.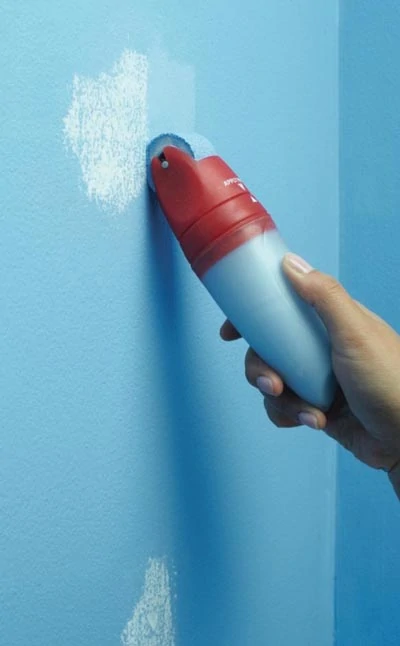 Shur-Line Touch-up Painter
"During our research, consumers expressed that touching up walls is a frustrating part of household maintenance," says Shur-Line product manager Nathalie Pimentel. "We designed a simple, time-saving solution that makes it easy to keep your walls looking freshly painted."
The Shur-Line Touch Up Painter stores your paint inside the tool so you're always ready to cover up scuffs and marks on your walls at a moment's notice. When you wrap up a paint project, simply fill the Touch Up Painter and store it for future use. Whenever you notice a scuff or mark on your walls, you'll have paint readily available to cover it up. The product eliminates the most inconvenient steps in the process and makes it as easy as fill, roll, and store. The roller on the Touch Up Painter imitates the finish that is already on your walls, so you don't have to worry about leaving brush marks behind. The roller applicator is also disposable, eliminating the time-consuming cleanup. Just snap in a clean roller for a fresh start the next time scuffs happen. Visit www.shurline.com.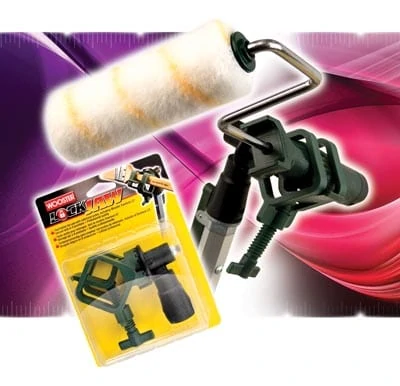 Wooster Lock Jaw
Approaching any job from the best possible angle can make a world of difference. Wooster's new Lock Jaw tool holder gives painters a chance to do just that. It has a patent-pending design that allows even non-threaded tools to be extension-pole compatible. Made from engineering-grade plastics, the "jaws" of this tool open and close to securely hold any item up to 1-3/8-in. in diameter, including brushes, trim rollers, flashlights, scrapers and more. Its nine different positions give the Lock Jaw a range of 160 degrees. To adjust, just pull the gears to separate, turn to the next desired position and engage. It's designed to work with standard threaded as well as no-twist Wooster Sherlock GT extension poles. Visit www.woosterbrush.com.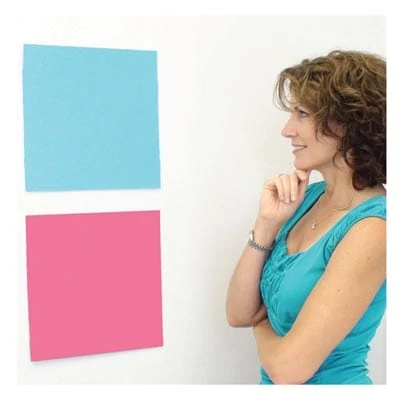 Small Wall
Small Wall is a patented sample board system that takes the guesswork out of choosing paint colors. End users simply paint the boards with their desired color, peel off the adhesive strip on the back and place the boards on the walls they wish to paint. The no-mark adhesive backing allows Small Wall sample boards to be positioned and repositioned so that they can be seen on various walls, in different lights and in the context of other colors within a room. Small Wall can be found at more than 3,500 Sherwin-Williams stores nationwide as well as Amazon.com. Visit www.mysmallwall.com.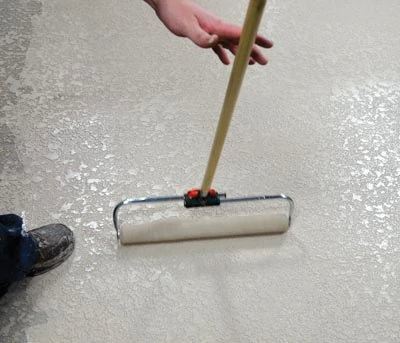 Cool-It Concrete Stain & Sealer
Rhino Linings Corporation has released Concrete Solutions Cool-It, a heat-reflective concrete stain and sealer. Cool-It is designed to reduce the temperature of outdoor surfaces while also providing a uniform, protective, colored finish. It's ideal for pool decks, sidewalks, patios and benches and is available in nine colors. The company claims Cool-It has good color retention, even after several years of exposure to the sun. This all-in-one stain and sealer can be painted on with brush, roller or by using an airless sprayer. Cool-It can be applied over concrete, polymer concrete, asphalt, masonry walls and even on previously painted surfaces. It's a single-component product that provides a flexible, tough seal that is resistant to staining, wear and even abrasion.

Purdy Marathon Roller Cover
The new Marathon roller cover from Purdy is a premium professional cover that delivers durability, longevity and consistent performance over long periods of time. Made with a proprietary blend of nylon and polyester exclusive to Purdy, the roller cover can be used with all latex- and oil-based paints.
"The exclusive fabric blend of Marathon provides superior paint pick-up and greater paint release, resulting in fewer trips to the paint bucket," says Andrew Marsden, Purdy Product Manager. "We have built and designed a durable product to maintain performance over time and provide a smoother finish with less lint." Marathon is currently available in 9- and 18-in. lengths. Visit www.purdy.com.
Other Painting Articles