There's nothing like a breath of fresh air or the feeling of sunshine on your face. Whether it's summer, winter, fall or spring, most homeowners want a relaxing spot to enjoy the outdoors—and one that's not too far from home. Today's decks and patios can provide that sought-after restful retreat. According to the American Institute of Architects, almost two-thirds of architects reported an increase in outdoor living spaces. Architects saw significant increases in patios and outdoor kitchens and also in upscale landscaping and outdoor features. Modern materials and amenities can transform those outdoor areas into year-round, multi-functional living spaces perfect for dining and entertaining.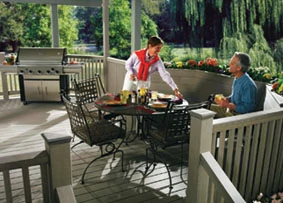 Deck Specs
Decks are among the most popular outdoor features, and rank high on the "to do" list of many DIY'ers. The straightforward method of construction, from the support frame to the decking boards, make building a deck a doable project for many novice carpenters, as long as they're willing to do a little research and get their hands dirty. But material choices greatly vary, from traditional pressure-treated lumber and exotic Brazilian woods to low-maintenance composites.
Many homeowners agree that for decks and other outdoor structures, wood is not just good—it's the best. Pressure-treated lumber is widely available, easy to work, relatively inexpensive and can be stained, refinished and repaired for years to come. Similarly, an exotic hardwood such as Cumaru can provide a beautiful appearance and is naturally impervious to rot, decay or termites. But, exotic wood tends to be very pricey. California Redwood is a beautiful, long-lasting solution for your deck, fence and landscaping projects. Redwood heartwood is naturally resistant to insects and decay. Western red cedar is another popular exterior wood. Cedar offers low density and shrinkage factors, and is easy to cut, form, glue and finish. Cedar contains natural preservatives that resist moisture, decay and insect damage. Cedar also makes a great all-weather material; it's naturally at home in the sun, rain, heat and cold. Still, wood is wood, and all wood will wear over time and require routine maintenance.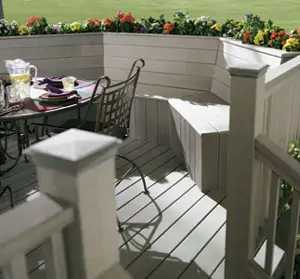 Composite deck boards hold the title of Next Big Thing in the decking industry. Once marketed as "maintenance free" alternatives to wood, such claims have been revised to "low maintenance" alternatives, because you still have to clean them. Composites install much like wood decking, and most high-quality composite products are virtually resistant to stains, insects, snow, moisture and mold, and can be cleaned with a garden hose. However, not all composites are created equal. One of the largest composite decking manufacturers is currently engaged in a lawsuit regarding mold issues in the material. Such problems can arise when low-quality core ingredients are used to produce the composite material. Although composite deck boards can look like real wood, they are made from a blend of plastics and wood pulp. The type and quality of the wood and plastic can vary among manufacturers. When choosing a composite, do plenty of research into the product you're considering. Ultimately, a quality composite material can make an excellent low-maintenance deck that resists fading, cracking, splitting and rotting. However, keep in mind that composite deck boards cannot be refinished, they can only be replaced. Some manufacturers offer a 30-year residential warranty on their products, but here's the rub: The composite deck boards still require treated lumber for the support framing, so if the framing materials don't last 30 years then neither will the deck.
If the look of wood is not a prerequisite for your deck, then consider this often overlooked alternative: Aluminum. Some aluminum systems install directly over PT joists to form a continuous locking seal for a gapless deck surface that is completely waterproof, which protects the wood framing. Aluminum decking installs with standard wood tools and is powder-coated with a non-slip surface that eliminates painting, staining and waterproofing. Aluminum stays naturally cool to the touch—cooler than wood or concrete—and some systems are available with a limited lifetime warranty.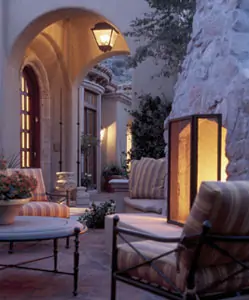 Patio Perspectives
A patio is another favorite for an outdoor lifestyle. Often built of concrete or brick pavers, these structures provide a flat, finished surface to host picnics, watch the kids play, or to rest with a good book. Much like a deck, a patio is usually adjacent to a rear or side door, but it can also be freestanding or connected to the home by a walkway.

In its simplest form, a patio is little more than a strategically placed concrete slab. But with a little imagination and the right materials and techniques, you can make creative artwork of your concrete surface. Say goodbye to the days of a dull, gray slab and make use of concrete stencils and stamping tools to give your slab the look of flagstone or tile, or create your own custom design with "found" objects. Use stains and colorants to give the patio surface a red, golden, brown, blue or black tone. Choose from a wide assortment of colors and textures to enhance a concrete patio, even when resurfacing an existing slab.
Stylish brick pavers can also create a handsome façade for a patio. "Pavers create patios and walkways of limitless design that are distinctive, functional and perennially beautiful," says Shelley Ross, director of marketing for Boral Bricks, the largest manufacturer and distributor of bricks in the U.S. "A homeowner can stretch their imagination to mix and match paver colors, or to create designs with pattern styles like herringbone, running bond or offset basketweave."
Made from fired natural clay, brick pavers are available in colors ranging from deep brown and burgundy to light tan and gray, and the color never fades. Brick pavers also come in three distinct styles. The beveled or straight-edge styles complement formal or contemporary designs, while Boral's Antique Pavers have an aged look with soft, worn edges.
A brick patio can be built with two methods of constructing the sub-base. A patio with a rigid base has pavers that are mortared in place. A patio with a flexible base is built with sub-layers of compacted gravel and sand. For a step-by-step guide to building a paver patio with a flexible base, visit check out EHT's online article, "Build Your Own Patio."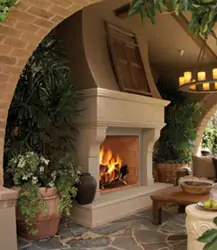 Enhancing the Outdoor Room
With the floor of your outdoor room in place, you can treat it as a canvas to build your backyard retreat. Pergolas and arbors often top the list of requests. These traditional shade-providing structures can now be built from low-maintenance vinyl kits, or built from a wood like cedar to tie in the structure with the natural outdoor environment. Gazebos are also sold in kits for the DIY'er or for professional installation.
Decks can feature benches built into the woodwork, planter boxes to house flowers and shrubs, or add to the décor with an elaborate handrail system. Don't be afraid to tastefully mix materials. For example, consider a natural wood handrail to surround your paver patio. Or install a PVC handrail on your deck, which can be solidly anchored in place by filling the PVC posts with concrete. An ornamental metal fence can also add a distinctive touch, or add a cedar privacy fence to keep the backyard party personal.
Water gardens and fountains present another opportunity to marry your living space with the natural world. Consider a large pond as a home for fish and water plants. Or perhaps you prefer a pondless fountain, because the sound of a bubbling brook makes a great lullaby when it's time for an outdoor siesta.
To enhance the natural décor, consider using stone veneer as a decorative element and really add a distinguished appeal to the area. The leader in stone veneer is the Cultured Stone product line from Owens Corning. These veneers feature exact replicas of natural stones used for building, cast in flexible molds and hand colored with iron oxide pigments. Made of lightweight aggregate materials, the veneers are roughly one-quarter the weight of full-thickness stone and can be adhered to most wall surfaces.  Select from styles such as Ledgestone, Castlestone, Fieldstone, Limestone and more. These veneers are available in more than 21 textures and more than 100 colors.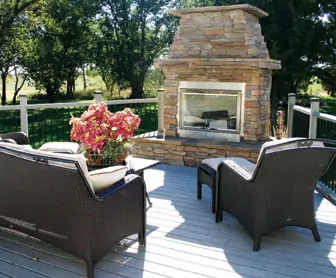 Use these earthy stones for walls, capstones, planters or hearthstones for outdoor fireplaces. Combine these veneers with a natural stone or concrete countertop, and you have a classy setting for outdoor kitchen appliances.
Modern Amenities
For many homeowners, the backyard space has evolved from a wooden red picnic table and an old charcoal grill to a more comfortable, luxurious oasis. Chill out in a cozy deep-seated chair made with durable outdoor fabric in a variety of chic colors and styles. Modern technology provides conveniences such as wine coolers, professional-grade gas grills and overhead heaters. More than just a spot for after-dinner drinks, the outdoor environment can now be outfitted to entertain guests with gourmet cooking and elegant dining.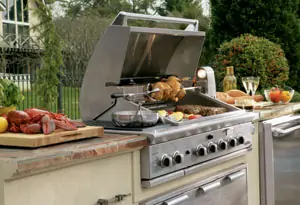 New outdoor kitchen options mean you can grill, smoke or cook your next meal without the many trips indoors. While portable freestanding grills are commonplace, several manufacturers offer upscale gas grills that can be built into the outdoor hardscape, offering multiple stainless steel burners and even a warming drawer. Some units include a rotisserie that can turn a 50-pound roast. If you prefer the taste of charcoal cooking rather than gas, consider a ceramic smoker like the Big Green Egg, which keeps the meat moist throughout the cooking process (this writer swears by it!).
You can also say goodbye to standard wooden lawn furniture by replacing it with stylish, low-maintenance alternatives. The choices in outdoor table-and-chair sets seem endless, Choose a conversion table and spring-assist chairs featuring fully welded cast aluminum frames with a beautiful bronze finish. Or, go with a comfortable dining collection that features soft cushions, so your guests will settle in and stay a while.
Plus, you can make your outdoor area inviting year-round by adding a little heat. Opt for a fire pit or a chiminea, or go with a high-end design and install a built-in, wood-burning hearth. Gas-fired hearths are also available for exterior use, provided they are appropriately installed (in outdoor areas protected from direct water impingement, plus required mantel and combustibles clearances, a rain-protection overhang, etc.) Also available are freestanding patio heaters that can be easily relocated to put the heat where it's needed, or they can be stored out of the way during the warm summer months.
The options are endless when it comes to outdoor living, but the trend is to make the outside just as comfortable and inviting as the inside of the home. And by expanding your living space, you're expanding your life.
SIDE NOTE
Hot Products for Outdoor Living
Build it Better

The durability of your outdoor retreat relies on strong, quality materials. This idea extends beyond the "big stuff," like pavers or lumber. Weather will pummel your exterior via rain and moisture, UV rays and freeze/thaw cycles. These elements can brutalize outdoor structures. While a stone veneer or a ganite countertop can add greatly to the décor, the right products and installation procedures will determine its longevity. We're talking mortars and adhesives here. From fire pits and benches to swimming pools and outdoor hearths, EHT recommends looking into the top-of-the-line products from MAPEI, a world leader in technologically advanced systems for tile and stone installation, floor-covering installation and concrete restoration. Shown is a diagram of an outdoor kitchen that depicts how you can use MAPEI products to solidly construct the outdoor getaway of your dreams. To learn more, visit www.mapei.com or call 1-800-42-MAPEI.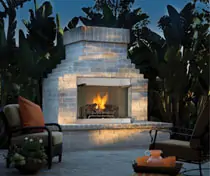 Stylish Outdoor Fireplace
Alpine vent-free outdoor fireplaces will transform just about any outdoor living area into a private oasis. The fireplace features clean, brushed stainless steel faces and stainless mesh spark screens with hidden screen pockets. Integrated gas log sets feature a glowing ember-bed burner with remote control and push-button ignition. The controls and gas connections are hidden under the hearth to eliminate clutter and maximize the real wood-burning feel. They're available in 36- and 42-inch sizes with colored and textured refractory brick liner in either natural white or warm red. To learn more, visit www.fmifireplace.com or call 1-866-328-4537.
 

All-Weather Grill Islands

The new grill island line from Outdoor Lifestyle Products is made with the company's very own All Element Polymer board with UV Inhibitors, a solid ¾-inch material (not molded) with the color all the way through. According to the manufacturer, the polymer board will not split, swell, rot, get brittle or crack, and withstands the elements of the outdoors, sun, rain, snow and saltwater. The grill islands work with all built-in grills and are flat-packed for easy shipping and handling. The grill islands simply snap together with an assembly time of about 2-1/2 hours. Along with the grill islands the company offers tables, chairs, servers and carts.