Tub Surround Upgrades Made Easier
The process of waterproofing a tub surround before tile installation has just been made easier with the Schluter-KERDI-TUBKIT.  The main component of the kit is a roll of Schluter-KERDI, a sheet-applied waterproofing membrane made of pliable polyethylene that is covered on both sides with fleece webbing. Before the tiles are installed, the sheet membrane is applied to the walls, using thin-set mortar. A totally watertight system is created by simply overlapping the KERDI by at least 2 inches at all seams, or covering the seams with the strip of 5in. Kerdi-Band included in the kit. Tiles are then set directly onto the KERDI with thin-set mortar. This system is not only waterproof, but vapor tight, so ceramic tile tub surrounds can be constructed using standard drywall. Installers and do-it-yourselfers no longer need to use cement board or other specialized tile backers, even in the most demanding situations. Visit www.schluter.com.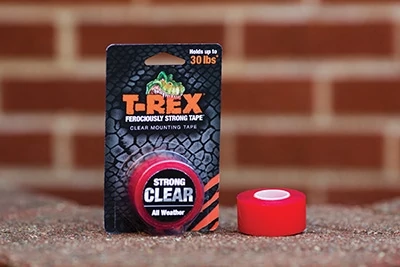 T-Rex Mounting Tape
While you may be aware of T-Rex Tape, the "ferociously strong" all-weather tape, the brand now offers a new addition to their product line: T-Rex Mounting Tapes. Perfect for a variety of around-the-house fixes on the honey-do list, T-Rex permanent mounting tapes offer an alternative to nails, screws, staples and glue, while still achieving strong holding power. For both indoor and outdoor use, T-Rex Mounting Tapes work on a variety of surfaces. Whether organizing your tools for winter storage, installing house numbers, mailboxes or name plaques, or hanging a thermostat to track the temps, T-Rex Mounting Tapes provide intense holding power, both around-the-house and outdoors. The double-thick, super-aggressive adhesive offers superior hold on more surfaces than other tapes, including rough and dirty surfaces in a wide range of temperatures and humidity levels. T-Rex Tape is specifically designed with UV-resistant materials in its skin which give the tape its famed holding power—inside or outside. Visit www.trextape.com.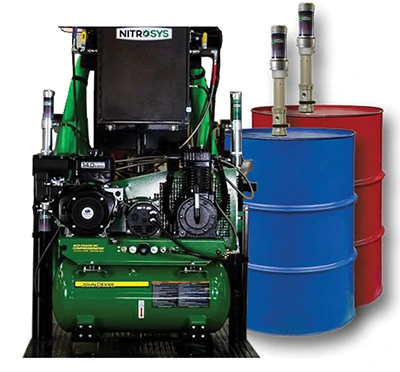 High Pressure Foam + Low Pressure System = Success
Imagine a spray foam rig that combines the simplicity of a disposable low-pressure gun with the low cost of high pressure foam formulations—all with a startup cost well below a high-pressure rig. The NitrosysPlus System eliminates high-pressure gun maintenance, training and downtime with the use of a low-cost plastic gun. Its simplicity enables entire crews to spray foam insulation rather than an elite set of highly skilled technicians. This system also increases foam yields by volumetrically metering the amount of chemical flowing from both the A-side and the B-side barrels. This ensures proper chemical ratios every time foam is made regardless of any potential partial blockages along the chemical path. Pre-heaters and heated hoses also increase yields and keep consistent foam by maintaining chemicals at constant temperatures throughout the spray process. Visit energyefficientsolutions.com.

Brick and Stone Faux Masonry Panels from Nu-Wood
Nu-Wood offers polyurethane faux brick and stone masonry panels in eight different styles and 15 different hand glazed and finished colors. A variety of profile molds are used for each panel design to eliminate repeat patterns, making the installation of multiple panels more realistic. The lightweight panels have interlocking joints for side-to-side installation ease, along with overlapping top and bottom ledges. The durable faux masonry panels can be used for both interior and exterior applications on homes and commercial projects. Durable and maintenance-free, Nu-Wood faux panels enhance the look and value of any project from accent walls to exterior skirting. The panels are impact-resistant and molded from a resilient closed-cell structural polyurethane. The panels are fade-resistant and will never rot, crack or attract insects. Visit www.nu-wood.com.

Zircon Leak Alert WiFi
The Leak Alert WiFi from Zircon utilizes Wi-Fi connectivity to provide email, audio, and visual alerts to homeowners, renters, business owners and property managers as soon as a water leak is detected. At home or away, owners of the Leak Alert WiFi can now be assured their home is protected and potentially save thousands of dollars in water damage and repairs. With no hub required, the self-contained, battery-powered unit can send notifications to up to 5 email addresses as soon as the device is triggered. Owners are alerted when a leak is detected, without having to be physically present at the detector's location. The Leak Alert WiFi can be placed in multiple locations throughout the home or property. Place the detector near sinks, refrigerators, washing machines, sump pumps, aquariums, and in basements. When a leak is detected, the detector will send alert(s) via Wi-Fi to notify all configured email addresses, emit a 105 dB alarm, and flash two bright red LED lights. Visit zircon.com.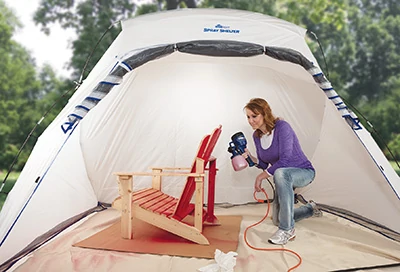 This new HVLP sprayer from HomeRight will make painting and staining furniture easier from application to cleanup. The Finish Max will spray most solvent (except lacquer) or water-based products—latex paint, milk paint, chalk paint, furniture paint, stains and finishes. Use it to finish, update or repurpose furniture, give kitchen cabinets a fresh coat of paint, and give all your projects a professional look. Vertical, horizontal and 45-deg. angle settings and an easy-to-select spray pattern (1-6 in. wide) give the user precision control during application. The Finish Max comes with a viscosity cup, cleaning brush, instructions and a 2-Year Warranty. To help reduce overspray and paint drift, use the Finish Max with one of the HomeRight Spray Shelters that provide an enclosed spraying area.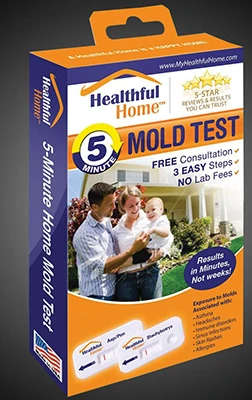 5-minute Test Detects Household Mold
Exposure to household mold can cause serious health problems including allergies, asthma and chronic sinus infections. Until recently, do-it-yourself mold test kits needed to be sent to a lab (which often required an additional processing fee), and the results could take weeks. A new mold test called 5-Minute Mold Test Kit from Healthful Home is much more convenient because it displays the results in minutes. Using a small sample of household dust from the floor, a cabinet or another surface, this test kit can detect the presence of over 32 different types of harmful mold spores including black molds (while ignoring harmless molds like mildew). The 5-Minute Mold Test Kit is the only fast-acting DIY mold test kit on the market, and it has been licensed by the CDC. The kit lists for $44.99 and is available exclusively at Ace Hardware. Visit myhealthfulhome.com.