By Matt Weber
Gear up for summer with new equipment for your outdoor improvements.
Black & Decker 36V Tiller
For the 2012 spring season, our staff tested the first of Black & Decker's new tiller line, a cordless 36-volt model with front-end tines. Also available in a corded 8.3-amp model, the new tillers offer users high torque and low speed to dig deep when tearing up the ground.
We weren't sure how much power to expect from a battery-powered digging machine but found ourselves impressed with the amount of torque transferred to the tines, even when sinking it into compacted earth with high clay content. The tiller features a worm-drive transmission with triple-stage gear reduction that helps in control and pace during tilling. The unit is easy to assemble and features three-position height adjustment. What you get is a tilling machine capable of turning soil for backyard or light-duty applications, and you don't have to hassle with gasoline or oil. The battery pack provides weight at the tiller head for a solid bite into the ground, and while it seems like the stability of the tiller would benefit from a wider wheel-base, it is easier to transport than some competing gas models that have no wheels at all. The tiller features a metal drive-train, handle and tines with plastic housing. Long-term performance remains to be seen, as this spring is the product's introduction, but the tiller does come with a full 2-year manufacturer's warranty. (www.blackandecker.com)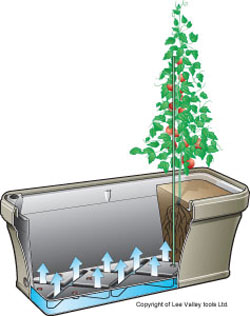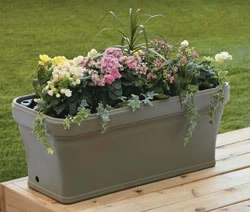 Self-Watering Planter
Lee Valley Tools distributes all sorts of innovative lawn and garden equipment, including the Self-Watering Planter (PL604). For use indoors or out, the planter has a built-in reservoir to automatically provide plants with an optimal amount of water for maximum growth. The reservoir holds two U.S. gallons while a pattern of X-shaped slots in the floor of the liner lets the water wick into the soil. Great for tomatoes, salad greens or herbs, the container holds about 2.13 cu.ft. of soil in just over 3-1/2 sq.ft. of space. At 13-1/2-in. deep, it provides enough growing room for carrots or other deep-rooted crops. Plus, the double-wall construction provides insulation to help protect the soil against light frosts. An upper fill-port lets you top off the water as needed, and a second port near the base allows excess water to drain. Eight holes in the liner securely hold 7/16-in. diameter stakes for supporting taller plants. (www.leevalley.com)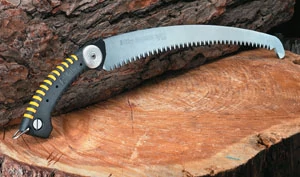 Silky Sugoi 360 Pruning Saw
Aggressive but smooth-cutting, the 14-in. long Silky Sugoi 360 Pruning Saw features a 5.5-tpi precision-ground blade with a Japanese tooth pattern for clean, efficient cuts on the pull stroke. To reduce binding in the cut, the blade is taper-ground from tooth to back. It is also curved to keep the teeth in the cut and to allow over- and under-cutting of a limb. The special hooked end of the blade is sharpened for quickly cutting through small-diameter brush. Hard-chrome plating on the steel blade deters rust, and makes it easier to remove resin. The soft rubberized handle helps reduce vibration and provides an excellent grip. Also included is high-visibility scabbard with a quick-release belt-attachment mechanism, and two removable hook-and-loop belts allow the scabbard to be secured to your leg. (www.leevalley.com)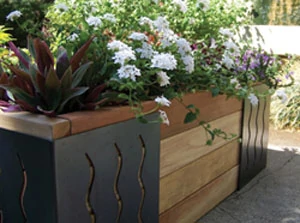 M-Brace for Wooden Raised Beds
Some raised garden beds are surrounded by wooden borders, and the M-Brace garden bed bracket from Outdoor Essentials takes those gardens to a new level. Simply insert dimensional lumber into the brackets to create an instant raised garden bed without tools. The M-Brace is made in the USA using recycled metal and available in a variety of styles with either unfinished steel or an antique bronze finish. The brace is portable and adjustable up to 12 feet per side. (www.ufpi.com)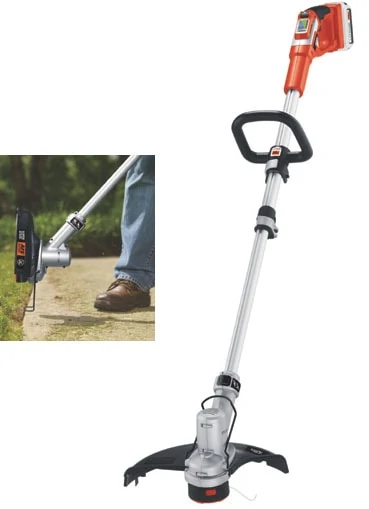 Black & Decker 36V Trimmer/Edger
Black & Decker's latest 36V lithium-ion product line includes a new trimmer/edger with the exclusive PowerCommand dial, which lets the user adjust the motor power up or down for specific cutting needs. Dial the power up for whacking down thick overgrowth, or dial the power down to conserve battery power in normal cutting conditions and extend runtime to trim up to a mile-long strip on a single battery charge. Additional settings provide combinations of power and runtime to tackle a variety of turf conditions. The new 36V Lithium-ion String Trimmer/Edger is lighter, quieter and generates considerably less vibration than its gas-powered competitors. It comes with a Fast Charger that enables users to get back to work quickly, as well as an edging guide that helps control the cutting action so the user isn't constantly burning through trimmer cord as it contacts the concrete of a patio or sidewalk. (www.blackanddecker.com)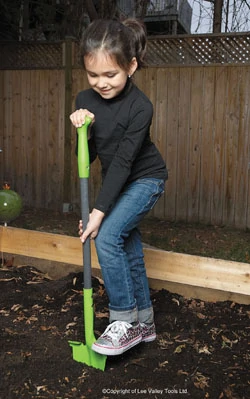 Radius Junior Spade & Rake
When we were kids, the EHT staff was charged with lots of weed pulling, grass mowing, stick gathering and any other yard work that our parents could conjure up. The makers of Radius Lawn Tools are encouraging this tradition with the Radius Junior line of tools. Compact in design (36-39 in.), these tools are a good size and weight for children, and are well suited for adults when working in a kneeling or sitting position or when tending raised beds. The spade comes to a sharp point, so less effort is required to penetrate hard-packed earth. Both wide and long, the steps are folded forward for a comfortable foothold (even with smaller feet). The rounded rake head has rigid tines, suitable for quickly moving soil or gathering debris. Each has a lightweight resin-encased fiberglass handle with a comfortable paddle-style grip. Heads are carbon steel with a powder-coat finish to resist rust. (www.leevalley.com)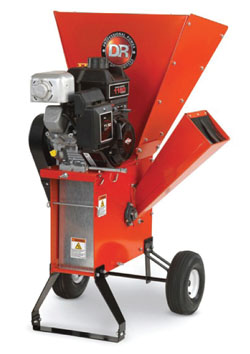 DR Power 11.50 Premier Chipper/Shredder
DR Power Equipment's new chipper/shredder models are designed for home and property owners looking for a single-machine solution for tough yard debris. The company's new 11.50 Premier Chipper/Shredders will not only shred prunings, leaves and garden leftovers into rich, organic mulch, but also chip larger branches into valuable landscaping woodchips for paths and ornamental flower beds. The 11.50 Premier is the smallest and lowest-cost chipper/shredder model available from DR Power Equipment. The machine is designed for consumers with occasional chipping and shredding tasks. Shredding organic materials with this machine before composting will dramatically speed up the natural composting process; nutrient-rich compost can be created in just 14 days. The 11.50 Premier rolls from garden to compost bin on a set of wheels like a hand cart and is equipped with a 250cc Briggs and Stratton 1150 Series OHV engine. The chipper will handle tree branches up to 2-in. thick. (www.drpower.com)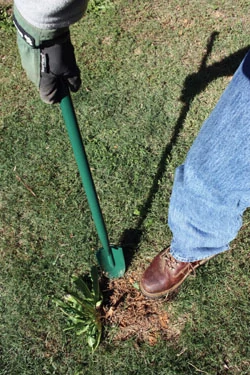 Micro-Spade
This 38-1/2-in. long trowel is a variety of gardener's cane for casual strolls through the garden, but with this "cane" you can stop and unearth unwanted weeds at will. The best technique is to step the trowel into the ground behind the offending plant, and use one hand to lever the handle backward to free the root. Then, withdraw the trowel (until the point is just below the crown of the plant) and give the back of the trowel a light toe kick to dislodge the plant completely while displacing little earth. This can all be done from a standing position, and later the dislodged plants can be collected with a rake. (www.leevalley.com)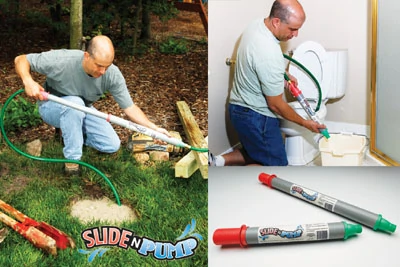 Slide-N-Pump
At one-third the price of electrical pumps, the manual Slide-N-Pump makes short work of pumping or siphoning water anywhere, all without the need for (or danger associated with) electricity near the water. Set-up is easy; just add standard garden hoses to each end of the Slide-N-Pump, insert the intake hose-end in the source water to be pumped, then slide the Slide-N-Pump apart and together again to start pumping. This hand-powered tool is the most economical pump and siphon initiator on the market, and once the siphon has been initiated, you can simply walk away and the water will continue to flow.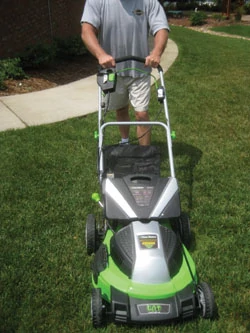 DualMOTOR 24V Self-Propelled Cordless Mower
The DualMOTOR 24V Self-Propelled Cordless Lawnmower is powered By DualMOTOR design, providing a unique feature in which the mower can be propelled without the blades running. The DualMOTOR design incorporates two DC motors—one for cutting and one for the self-propelled system. This design saves energy when the self-propelled motor is not needed, as when cutting downhill and trimming around trees. It also saves energy when the cutting blade is not energized. The 24 volt/20Ah battery provides almost an hour of mowing on a single charge (charging time from empty to full is 12 hours). The battery is removable for easy recharging and is equipped with an on-board battery power indicator. The DualMOTOR 24V mower has a 20-in. cutting width to mow on average 8,000- 10,000 square feet of lawn on one charge. The unit is an adjustable-height 3-in-1 mower, featuring rear bag, mulching mode and side discharge—all included. (www.cel-global.com)
SIDE NOTE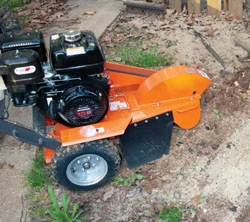 Stubborn Stumps
Each spring I always tell myself this is the year I'll finally get rid of the old stumps around the yard, and every year I think back to long days spent with an adze, axe and shovel, digging, whacking and more digging. And so the numbers of stumps have continued to grow with passing storms and trees dying from disease. Some of these trees were cut low enough so that tall grass camouflaged their stumps until the lawnmower blades or mower decks found their demise in the seasoned wood. Stumps that were left proud of the ground made for interesting lawn tractor driving.
Thanks to Husqvarna, the endless days of digging and cutting stumps and their exposed roots have given way to a few minutes maneuvering its SG 13 Stump Grinder over the offending stump. Setting up the SG13 is a simple process of positioning the cutting wheel next to the stump. Using the wheel brake, the user pivots on the left wheel as the cutting blade is arced across the width of the stump. Once you have made your initial sweep, you simply turn the machine off and reposition the cutting wheel to remove the remaining wood. Once the main stump is removed, cutting exposed roots only takes a second. The Honda GX 390 13-HP engine provides plenty of power to remove even seasoned hardwoods. At more than 300 lbs. the SG13 is no lightweight tool, but on ground that is not hilly we were able to move it around with little effort. And considering the alternative means of stump removal using adzes, axes and shovels, we would choose the SG13 again. It's a great tool for a landscape professional, and a high-production rental item for a do-it-yourselfer. (www.husqvarna.com)