Re-Grip
Re-Grip is the simple, affordable way to add a new grip to any handle, lever or tool within seconds and with no mess. This non-slip grip increases safety while also providing maximum comfort and reducing muscle fatigue. Re-Grip can fit nearly any cylindrical or semi-cylindrical handle and comes in three diameters to fit a range of needs. Using the product couldn't be easier; the elastic grip is held extended by an inner coil, forming a tube. Slide the Re-Grip onto the handle, ensuring the pull-tab is at the object's base. Hold the Re-Grip securely in position, where you would like your new grip located, and pull the tab to unwind the inner coil. The elastic grip will constrict and form snugly around the handle. It works with tools of all kinds, including lawn and garden, construction, garage, home, outdoors and more. Affordable and easy to install, Re-Grip is made with durable rubber that provides mechanical and environmental protection while enhancing comfort. The grips are UV-resistant, chemical- and dip-tested for long-term use. Visit www.re-grip.com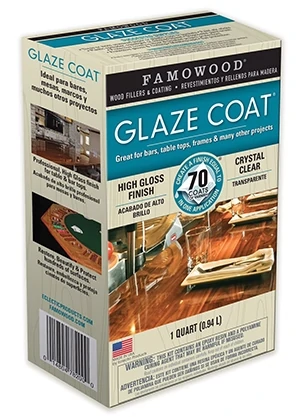 Glaze Coat from Famowood
According to Eclectic Products Inc., just one coat of Famowood Glaze Coat equals 70 coats of varnish. This ultra-clear, high-gloss finishing epoxy is ideal for home improvement and craft projects. Famowood Glaze Coat is a pour-on epoxy coating that can be used on most indoor surfaces—rough or smooth, stained or painted. It's great for coating tables or bar tops, preserving photographs or embedding decorative items. With an easy 1:1 mixing ratio, the product achieves a glass-like look with no brush lines. Glaze Coat is self-leveling so minimal spreading is required, and it's available in pint, quart and gallon kits. Visit eclecticproducts.com.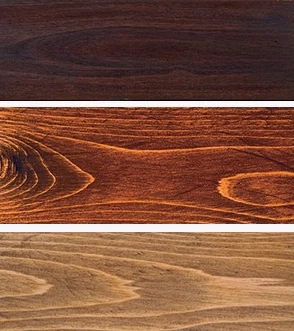 Three New Stain Colors from Armstrong-Clark
Armstrong-Clark Company adds three new colors using high quality trans-oxide pigments to its oil-base wood stain line. Black Walnut was formulated for the increased demand for a dark brown on exotic hardwoods such as ipe. Chestnut was developed as a dark reddish brown for owners of pine wood decks that want the look of ipe. Chestnut looks exceptionally beautiful on cedar, especially western red cedar. Lastly, Natural Oak was formulated for customers wanting either a transparent brown or a medium brown.  Although it is technically a semi-transparent color, the use of trans-oxide pigments gives it more transparency than many other semi-transparent stains. Armstrong-Clark Company offers long-lasting traditional oil stains that are easy to use and a breeze to maintain. All colors are intermixable to create custom colors and they can be applied in direct sunlight, no matter how hot it is outside, without getting tacky (in temperatures over 110 degrees). You can walk on the stain during application, and it can withstand rain an hour after the stain has absorbed into the wood. The stains do not peel or crack, and the finish does not need to be stripped or sanded before future maintenance coats. Sample cans are available for all of Armstrong-Clark's colors. Visit www.armclark.com.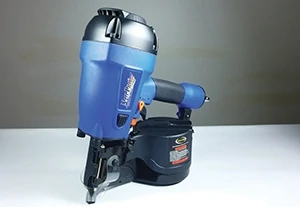 Nail Pro NPCN-7312 Coil Nailer
The Nail Pro NPCN-7312 wire coil pneumatic nailer by JAACO offers unique fastening flexibility for both professionals and DIY'ers. The tool fires standard 15-degree wire coil nails for wood projects. It also fires coil-collated hardened ballistic pins. The pins meet ICC-ES ESR2961/ESR3009 requirements for attaching plywood, fiber cement board, 2x plates and rigid foam insulation board (with the optional washer attachment and washers) to commercial steel studs, filled and unfilled concrete block, and aged concrete. When used with its power-boosting sleeve attachment and the ability to operate at 175 psi, the tool allows attachment of 2x wood plates and other materials to 5,000-psi aged concrete. The large-capacity coil magazine accepts a wide range of 15-deg. coil nails and hardened ballistic pins from 1-1/4- through 3-1/2-in. lengths in 0.098-to 0.145-in. diameters. Hardened stainless steel pins are also available, providing outstanding corrosion protection for projects exposed to salt water and other corrosive conditions. Whether framing, decking or attaching to concrete and steel studs, the capacity of the NPCN-7312 to fire such a wide range of fastener sizes and types makes this the single "go to" tool for most construction applications. Visit www.ManasquanFasteners.com.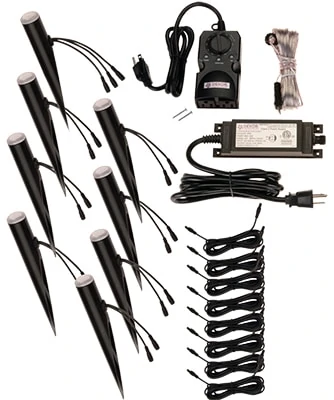 EZ Edge Lite
Dekor is a premier manufacturer of LED lights that designs and builds their LED lights right here in the USA. Having led the industry with the innovative PaverDot LED lights—which can be embedded into pavers, concrete or stone—the company has taken the same quality light and created an easy-to-install, ground effect lighting system that can outline or accent driveways, walkways, paths or patios. The all new EZ Edge Lite is available as a complete kit with eight lights, transformer, photocell timer and direct-bury cables or in a convenient four-pack, in case you want to add more lights to your project. Simply push the EZ Edge Lite into the ground next to your hardscape (you may need to use a rubber mallet in hard ground), run the cable, and plug in the waterproof plug-n-play connectors. No electrician is needed. And because the system is 12-Vdc, it's safe with no worry about getting shocked. Two options are available: the standard LED (20 lumens) or the NEXGen LED with 70+ lumens for brighter lights. EZ Edge lights also have a super-tough, waterproof polycarbonate lens and 10-year warranties. Visit www.dekorlighting.com or www.hardscapedepot.com.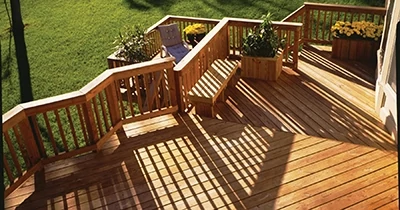 84 Lumber Introduces EcoLife Treated Wood
84 Lumber Co., one of the nation's leading lumber dealers, is now selling Ecolife Stabilized Weather-Resistant Wood for above-ground applications in decks, fencing and similar projects. Ecolife integrates a wood preservative with a built-in stabilizer that keep boards straighter and resists twisting, warping, cracking and checking. Ecolife is fully compliant with American Wood Protection Association (AWPA) standards and International Building Code (IBC) and International Residential Code (IRC) codes for most deck projects. Viance, the producer of Ecolife, offers a Lifetime Limited Warranty on above-ground preservative treatment, which includes wood framing members that are critical to the safety and performance of the structure, including joists and beams.
For common deck applications, Ecolife is a more cost-effective option when compared to products treated for ground contact use, and is still the best option for outdoor projects when used appropriately. Call your local 84 Lumber store for Ecolife availability and visit www.treatedwood.com to learn more.

Gorilla Sealant
Gorilla steps into the sealant jungle with a truly All-Purpose Sealant family that maintains the brand's superiority and proves its simplicity and versatility. Gorilla Glue introduces the long-awaited Sealant Cartridge family that includes formulations in clear, white and paintable. To advance what the brand is already known for, this product gives users the ability to buy one tube for any kitchen and bath, or window and door project. The simple, versatile product replaces the over-specialized sealants without sacrificing an ounce of efficacy. The Gorilla 100% Silicone Sealant Cartridges simplify the job for any resourceful handyman and big-project-DIY'ers. It's proven to be effective on siding, metal, porcelain, glass, granite, laminate, stone, vinyl, aluminum and more. Given the All-Weather seal, it can hold up against the freeze-thaw cycle for the cold environments and won't yellow from UV rays on sunny days. Visit gorillatough.com.