On January 9, more than 80,000 builders, remodelers, architects and other industry professionals from over 100 countries will congregate in Orlando, Florida, for the International Builders' Show. IBS is the largest annual light construction show in the world. The latest trends in homebuilding technology will be on display in hundreds of exhibition booths as well as the New American Home, a stunning model house that blends traditional and modern architecture to create a transitional design. The International Builders' Show will be the one place in North America where the entire building industry comes together in 2018.
Here's a preview of some of the many products that will be exhibited.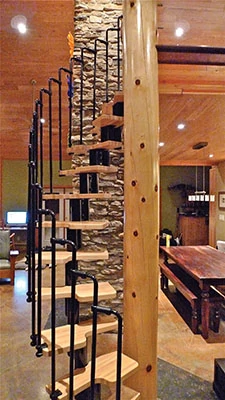 Fontanot Staircases
Made in Italy with over 50 years of history, Fontanot is a leader in the production of made-to-measure staircases. The company's LaFont Essential staircase offers an "industrial" product in terms of quality, fabrication accuracy and sales service. To complement the staircase, railing glass is available in two versions: Glass In, completely recessed into the flooring, and Glass On with an aluminum casing above the flooring level. Both models are available with clear or extra-clear glass and two different edge finishes. An anodized aluminum border can be applied to the upper edge of the glass to protect it from humidity, potential impacts and external agents.
For DIY enthusiasts, the Karina staircase is particularly suited for narrow spaces. Its clever supporting structure, made of steel interlocking elements, allows different configurations and is available in three colors: black, white or gray. The solid, premium, clear polished beechwood treads have a special shape to guarantee maximum utilization of space without compromising the stair functionality. The Karina has an adjustable height between 91 and 110 inches. By purchasing certain supplementary items, the staircase height can reach 128 inches. Visit arkestairs.com or booth S2240.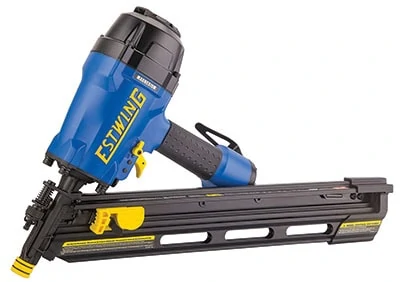 Estwing Pneumatic Nailers
Any builder or remodeler is familiar with Estwing hammers, hatchets, pry bars and specialty tools. Now, Estwing, in partnership with Prime Global Products, Inc., manufactures and distributes a line of professional pneumatic nailers. These top-grade Estwing air tools include a 34° Clipped Head Framing Nailer, 21° Full Head Framing Nailer, Mini Palm Nailer, 18-Gauge L-Cleat Flooring Nailer and 2-in-1 Flooring Nailer. All Estwing nailers are covered by a 5-year professional tool warranty and 90-day wearable parts warranty.
The Estwing 34° Clipped Head Framing Nailer is the tool of choice for wall framing, decking, subflooring and wood fencing projects. This user-friendly nailer weighs only 7.9 lbs. due to its rugged, magnesium body and anodized aluminum magazine and cylinder. It also features a one-piece drive blade and rubber O-rings. A select-fire trigger makes it easy to switch from bump fire to sequential fire. When only a few nails remain in the magazine, an anti-dry-firing mechanism prevents further operation to protect internal parts. And adjusting driving depth for each project is no problem with the Estwing nailer's tool-free depth adjustment. Visit www.estwing.com or booth S302.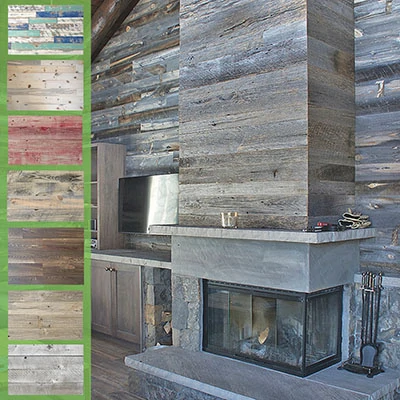 Centennial Woods
Create a stunning reclaimed wood feature wall or ceiling in your next residential or commercial project using 20 sq.ft. bundles of 1/4-in. thick planks of FSC 100-percent recycled, reclaimed wood. This wood comes from the mountains, valleys and plains of Wyoming, where it is naturally aged and weathered for up to 25 years. Centennial Woods has created the largest sustainable source of reclaimed wood in the world. Get the distressed, weathered wood look for your walls, ceilings and projects without the risk of contaminants. These reclaimed wood planks from the 12-ft. tall snow fences of Wyoming have no harmful VOCs, no chemical treatments of any kind, and are insect-free. This wood is carbon-negative, and without any kiln drying the moisture content is between 4 and 8 percent. These bundles come in varied lengths of 1, 2, 3, and 4 feet and are available in 4- or 5-in. faces. Choose the natural "Laramie" finish or one of a variety of custom finishes. Since Centennial Woods' reclaimed wood is naturally weathered, the coloring will vary from grays to browns. Knots, knot holes, saw marks, scrapes, nail holes, bullet holes, and other imperfections are part of the charm of this reclaimed wood. Visit www.centennialwoods.com or booth S2464.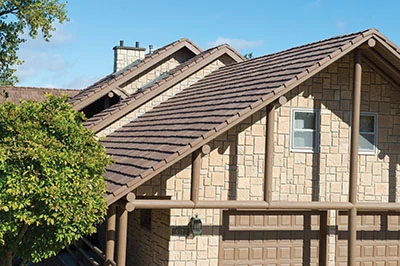 DaVinci Roofscapes
DaVinci Roofscapes will showcase a wide variety of composite polymer shake and slate roofing options at the 2018 International Builders' Show. The company's top lines of Multi-Width, Single-Width and Bellaforté shake and slate roofing tiles will all be on display at the show. Each product is impact- and fire-resistant, plus meets high-wind and accelerated weathering testing. Available in dozens of colors and color blends, the DaVinci roofing tiles are made in America and come with a lifetime limited warranty. Visitors to the DaVinci booth will be able to see the company's new Top Down Color Visualizer, an online tool that makes it easy for homeowners, builders, remodelers, contractors and architects to quickly see how the exterior of a home can be changed. Available at www.davinciroofscapes.com/color/designer the "roof to ground product and color selector" offers a quick way to visualize how different colors and products can enhance a home's curb appeal. Fast and simple to use, the Top Down Color visualizer starts by offering the option of uploading your own home exterior image or using one of 10 home styles supplied in the gallery of images. After selecting the desired home exterior there are five options for making changes to the home exterior — from the roof down to the front door. Visit www.davinciroofscapes.com or booth W6871.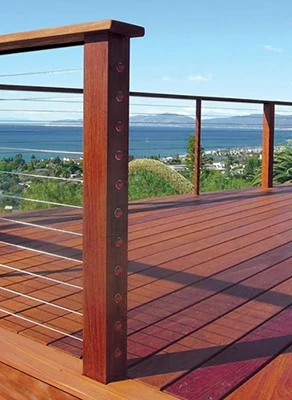 Feeney CableRail
If you want to take advantage of the spectacular view from your deck or balcony, look no further than CableRail by Feeney. Slender CableRail cables are the perfect railing infill alternative to pickets and glass panels. They're made from beautiful yet weather-tough, premium-grade 316 stainless steel with a wide variety of cable and attachment hardware options. The assemblies are strong, durable, simple to install, ultra-low maintenance, and virtually invisible. They complement any wood or metal railing design, indoors or out, and the 70-per-cent recycled material content makes them easy on the environment as well. The CableRail kits feature a threaded terminal fitting pre-attached to one end of each cable and a special field-installed quick-connect inset fitting for the other end. One-way jaws allow the cable to easily slide through the quick-connect fitting in one direction but automatically grab and lock-on when the cable is released. Just slip it on, pull the cable tight, and cut off any excess; installations are incredibly fast and easy. The kits are available in pre-cut lengths from 5 feet to 70 feet for easy ordering, and they help save time by eliminating the need to take precise railing measurements. Visit www.feeneyinc.com or booth W7543.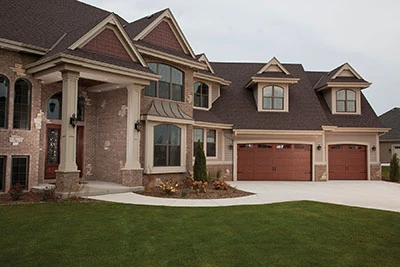 Haas Door 2000 Series Garage Doors
The energy-efficient 2000 Series garage doors from Haas Door are 2 inches thick and have an R-value of 17.66. The heavy-gauge galvanized steel doors include embossed wood grain and are filled with dense CFC-free polyurethane foam insulation to help give them superior energy efficiency. A full thermal break is used in the tongue-and-groove construction of the 2000 Series doors. This rigid vinyl extrusion seals the joints and eliminates metal-to-metal contact, which limits the transfer of temperature. Visit www.haasdoor.com or booth S1078.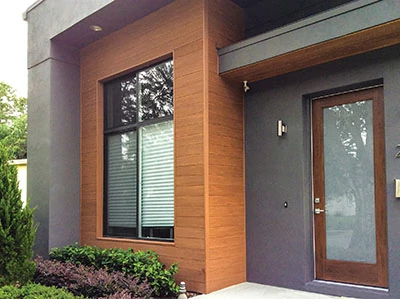 AZEK Cladding
AZEK Deck features a natural, wood-like aesthetic and is resistant to mold, mildew and moisture damage. AZEK also won't splinter, rot or warp. Plus, its resistance to stains, scratches and insects makes it a perfect, low-maintenance cladding alternative. AZEK Deck cladding is also a long-lasting alternative because it does not require painting or sealing for protection. AZEK is scientifically engineered to last beautifully because it is protected with Alloy Amour Technology, with an industry-best, 30-year Limited Fade & Stain Warranty. The durability of this advanced polymer technology will add brilliance to any home, and AZEK is the first leading alternative decking manufacturer to be issued a code-compliance research report for using its products in residential cladding applications. Visit www.azek.com or booth W6371.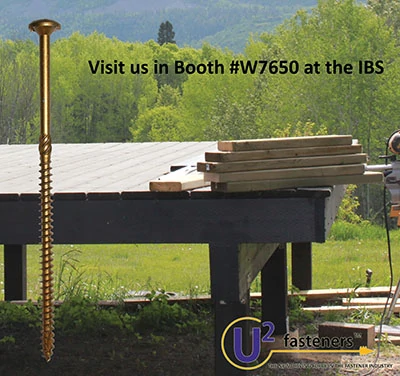 U2 Fasteners Construction Screw
The U2 Construction Screw, also known as CS Screw, is the next generation of construction screws that are replacing lag screws. Features include the Tight Star Recess system that grasps the U-Bit tightly, so the screw can be installed with one hand. U2 released its IAPMO (ER 454) evaluation to become one of few fastener companies that are evaluated and comply with the International Building Code and Residential Building Code for corrosion resistance (AC233) and structural strength (AC257). The U2 coating was one of the first, if not the only one, which has passed the 2015 requirements; with ground contact at 0.6pcf ACQ treated lumber (ER 454).
The U2 ground-contact code-compliant fasteners are over 75 percent more versatile in their applications. U2 is also the first to offer a "chrome 6 free" coating. This reduces the risk for end users developing skin cancer through constant handling of fasteners with surface coatings containing chromium 6. Visit u2fasteners.com or booth W7650.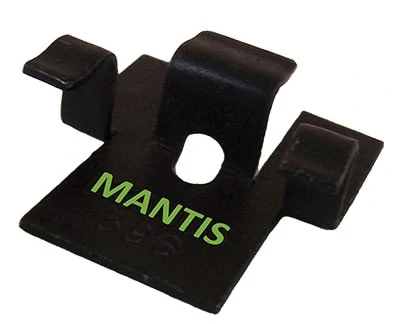 Mantis Clip Fastening System from Sure Drive USA
Sure Drive USA manufacturers a wide variety of deck fastening solutions. The company's hidden deck fastener line includes the Mantis Clip for grooved boards, voted as the easiest hidden deck fastener to install. For simple installation of the Mantis Clip, the Eliminator RCS with E-Z Slide attachment is now made by Senco. The system uses Ballistic NailScrews to fasten grooved decking up to 75-percent faster than conventional methods. The Senco JoistPro150 compact pneumatic nailer drives the Ballistic NailScrews used to install Mantis Clips with accurate fastener placement. The JoistPro150 is constructed with durable, high-quality materials while still being lightweight and ergonomically balanced. The tool is fitted with a newly modified EZ-Slide attachment to make installing Mantis Clips fast and easy. This tool also has an industry leading 5-year limited warranty. Sure Drive USA's Mantis Clip is recommended by top decking manufacturers like MoistureShield, Trex, Gossen, ChoiceDek and more, because it's built with a base that promotes airflow to protect the joist structure. Visit www.suredrive.com or booth W6090.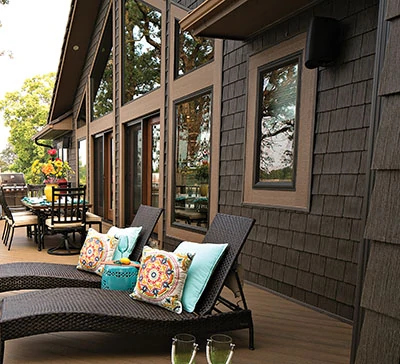 Signature Stain by Tando
Signature Stain exterior cladding created by Tando is the latest product introduction from Derby Building Products, featuring a proprietary manufacturing process that utilizes real semi-transparent wood stain to ensure the look is identical to actual stained wood shakes. Answering the market demand for mixed material exteriors, Signature Stain is impervious to moisture, so it's ideal for gables and dormers right up to the roof line. With an unmatched 50-year performance warranty, Signature Stain is available in three stain colors taken from nature: Fawn, Bark and Acorn. The product's lightweight design, resistance to high winds, and fast, one-person installation make it a win for DIY or pro projects. Signature Stain is available in 8 ft. lengths in single course profiles and is installed with the same tools as wood shake siding. Visit www.tandobp.com or booth S2254.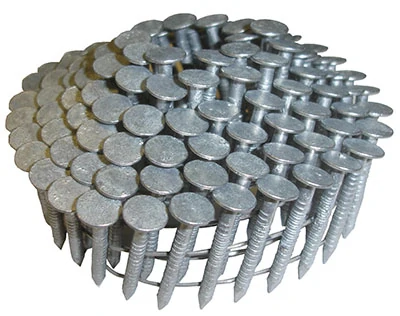 Maze Nails
Maze manufactures quality hot-dipped nails for fiber-cement siding, cedar and redwood siding, roofing, cedar shakes and shingles, PVC trim products, decking, fencing and post-frame building construction. The Maze Double Hot Dipped Galvanized Roofing Nails are Miami Dade County-approved. All Maze nails are 100-percent made in the USA from recycled, re-melted steel, making them eco-friendly for sustainable building practices. Visit www.mazenails.com or booth W6193.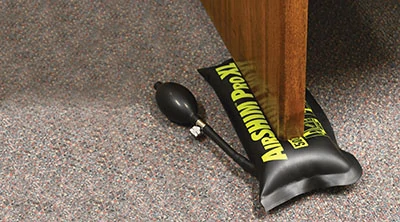 Calculated Industries Airshim Pro XL
Calculated Industries (CI) is one of the country's leading manufacturers of specialty calculators, apps, digital measuring tools, and precision hand tools for industry and personal use. New products Calculated Industries will feature at the 2018 IBS show include the AirShim Pro XL inflatable pry bar and leveling tool, Laser Dimension Master 165 with Bluetooth technology, AccuMASTER XT Moisture Meter, and the AccuMASTER Digital 7-in. Angle Finder Ruler.
Also on display, the industries most widely used construction math calculator is CI's Construction Master Pro, which is available as a hand held calculator, a desktop calculator, a mobile app, and for PCs. Also, part of the Construction Master family is trade specific calculators for Concrete, Excavation, Landscape, Electrical, Pipefitting, Estimating, Machining, Welding and more.  Each calculator features dedicated function keys that provide fast and accurate solutions that save time and money.
Calculated Industries also offers estimating and takeoff tools that help speed up takeoffs from out-of-scale blueprints, as well as digital measuring wheels to measure jobsites and interior projects. The laser measuring tools enable one person to measure jobs quickly and exactly, calculating distance, area and more. Lastly, the AccuMaster moisture meters can tell you when your wood's moisture content is "just right" for building, saving time and money. Visit www.calculated.com or booth W5693.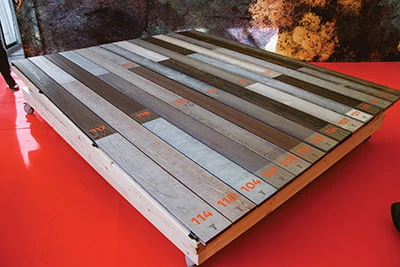 Drift Cladding and Decking from Thermory
Drift is the latest innovation from Thermory USA, manufacturer of thermally-modified exterior wood products for over fifteen years, with European roots spanning decades. Created from thermally-modified Spruce, Drift provides the increasingly popular look and texture of reclaimed barnwood but with consistent uniformity, performance and supply—ideal for those conscious of both design and functionality. Available in both cladding and decking products, Drift has a Class 1 durability rating, making it far more stable than any unmodified wood product alongside its overall captivating beauty and elegance. Visit www.ThermoryUSA.com or booth W8255.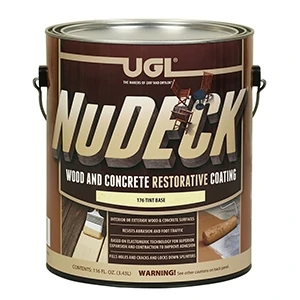 NuDECK FROM UGL
United Gilsonite Laboratories (UGL) offers proven, quality products in the categories of water-proofing, patching, interior stains and finishes and exterior deck and siding. Manufacturing leading brands such as Drylok and ZAR since 1932, UGL offers customers specialty coating products of the highest quality with the most personal service. UGL NuDECK Wood and Concrete Restorative Coating extends the life of a deck and patio with a paintable solution. From the can, it creates a new, slip-resistant surface for decks, walkways and patios. The tintable color palette coordinates with UGL ZAR Solid Color Deck and Siding Stain to complement the color of surrounding vertical surfaces such as siding, railings, posts and walls. The product is ten times thicker than paint or stain, so it locks down splinters and fills ¼-in. cracks and nail holes. NuDECK is easy to apply with a brush or roller and easy to clean up with soap and water. Visit www.ugl.com or booth S628.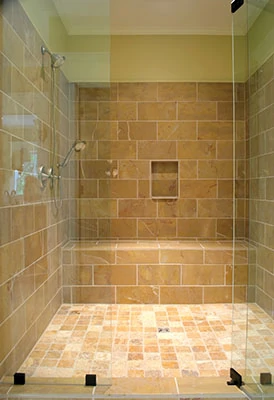 Goof Proof Showers
Mark E Industries has created eight products to simplify the art of shower and tile installation by focusing on some of the industry's more difficult and time-consuming tasks. These tools save the installer the valuable time required to complete such tasks, without the problems that can occur with traditional methods. Installing a shower pan is now easy, less time consuming, and less expensive with Goof Proof products that guide the slope of the floor.
The products not only assist the professional contractor but any do-it-yourselfer looking to create a tile shower installation of any size or shape with consistently perfect results every time. A shower pan can be water-proofed with many different membranes on the market today, and the Goof Proof products such as Pre-Pitch, Kirb-Perfect, Quick-Pitch or Handi-Kirb will work with all liners currently available. Visit markeindustries.com or booth S1037.