Versatex PVC Cornerboard for Lap siding
Once the cornerboards go on a building, contractors still face the job of hiding the nails or screws that hold them in place. But a new, one-piece Versatex PVC corner eliminates the labor-intensive patching, plugging and touch-up that a smooth, professional installation used to require. The hidden-fastener Stealth HF Corner saves time and improves appearance in lap siding construction, while providing the same zero-maintenance, weather-resistant properties that make all Versatex premium PVC trim the preferred material for residential construction. Visit www.versatex.com.

Cookina Cuisine Reusable Cooking Sheet
Cookina Cuisine Reusable Cooking Sheet is an innovative, multipurpose product that creates a non-stick, easy-to-clean, healthy cooking and baking experience. Ideal for using as an alternative to aluminum foil, parchment and wax paper, users can place the cooking sheet on a baking tray to bake recipes without having to use oil or needing to clean the tray afterwards. This sheet is 100-percent non-stick and PFOA-free, reusable, reversible, easy to clean and easily cuts to size.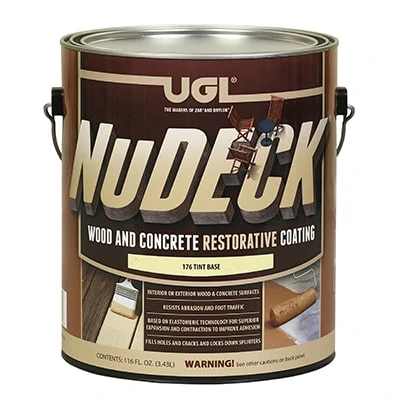 NuDECK from UGL
Too many times the structure of a deck and patio are in very sound condition, but the surface appearance makes homeowners want to give up and pay the substantial price to replace the substrate completely. Not only is this choice not economical, but it certainly isn't "Green".  United Gilsonite Laboratory has developed a new coating that is designed to give new life to those tired surfaces. UGL NuDECK Wood and Concrete Restorative Coating extends the life of a deck and patio with a paintable solution. From the can it creates a new, slip-resistant surface for decks, walkways and patios. The tintable color palette coordinates with UGL ZAR Solid Color Deck and Siding Stain to complement the color of surrounding vertical surfaces such as siding, railings, posts and walls. The product is ten times thicker than paint or stain and fills 1/4-in. cracks and nail holes. It locks down surface splinters and can be tinted in 30 different colors. Visit www.ugl.com.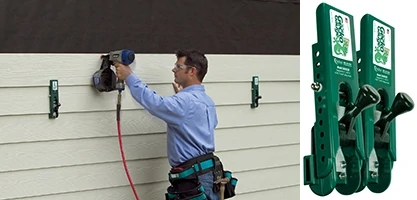 The Gecko Gauge Siding Tool
Recognized as one of the fastest and simplest siding tools available, the Gecko Gauge clamps to each siding course—acting as a second set of hands—to gauge and support your next course for easy nailing. This allows accurate installation with less fatigue and virtually no layout. Using a patented friction-cam mechanism, the Gecko gauge will fully support up to 16-ft. siding lengths. Available in several models, Gecko Gauge installs everything from various fiber-cement siding brands to James Hardie Artisan lap siding to LP Smartside. By using a ledger board across a pair of Gecko Gauges, you can even gauge and support shingle siding for faster and more accurate installation. The Gecko Gauge is designed and manufactured in America by PacTool International.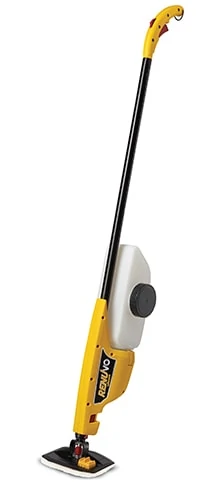 Wagner Renuvo
The Wagner Renuvo makes staining a deck fast and efficient. The 1/2-gal. tank eliminates the dunking of brushes and foam pads by feeding material directly to the new premium UltraFiber Pad and groove brushes. The flow-control dial and trigger provide on-demand control of thick and thin bodied materials so that you can manage the flow of stain to your project needs. The wide-mouth container allows easy filling, and the unit works with water- or oil-based stains, covering up to 200 sq. ft. on a single fill. Visit www.wagnerspraytech.com.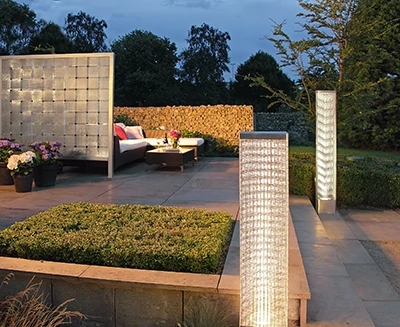 W.S. Tyler Woven Wire Mesh Screens and Furniture
W.S. Tyler brings elegant aesthetics to public spaces and private residences with its Raguhner woven wire mesh furniture, privacy screens and light columns. The distinctive, stylistic designs incorporate the mechanical durability, versatility and weather resistance of the stainless steel woven wire mesh that W.S. Tyler has been manufacturing since the late 1800s. Raguhner wire mesh privacy screens give users an out-of-the-ordinary way to create privacy, divide large spaces or block wind. The screens are available in Lucenta Square and Lucenta Wave mesh patterns, each providing different levels of transparency. As light hits the surface, it creates a metallic shimmer for a dynamic optical effect. The screen's sturdy frame can be anchored to the ground or custom designed to meet specific installation requirements. Visit www.weavingideas.net.