Installing a Ceiling Fan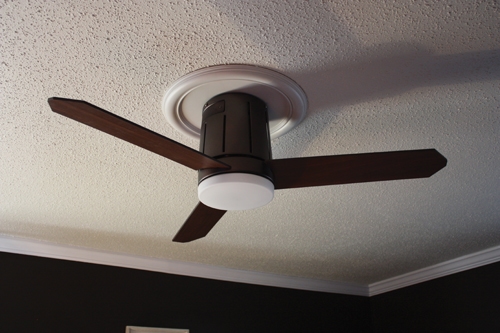 How to Install a Ceiling Fan
By Matt Weber
A ceiling fan can be a stylish and effective way to enhance airflow throughout a room. Unlike swapping one light fixture for another light fixture, however, a ceiling fan requires special mounting accommodations to support its weight and movement.
A ceiling fan requires a metal ETL-listed mounting box, and if there is not one already in place, then one must be installed before hanging the fan. The fan's outlet box must be secured directly to the building framing with the appropriate fasteners to provide sufficient reinforcement to support the moving weight of the fan (at least 50 lbs.).
Never mount a fan using a plastic outlet box. The fan could feasibly tear out of the plastic mounting and fall onto whoever or whatever happens to be beneath it.
In this article I show the steps to install the Kichler Décor Innes II ceiling fan. Although assembly will vary among different models of fans, the mounting procedure is basically the same for all ceiling-mounted units.
Installation
Begin by shutting off power to the ceiling fixture at the electrical service panel. After removing the old light fixture and disconnecting the wires, I had to deal with an old plastic ceiling box that was not rated for the fan.
To dislodge the plastic box, cut away any caulk or paint around the rim, try to remove the screws or nails and pry it out. This didn't work in my case, and I had to venture into the attic to pry some nails out of a ceiling joist to remove the old box.
The good news about the ceiling joist is that it provided a solid framing member on which to secure the new ETL-listed fan box. You'll find the appropriate metal boxes prominently listed as "fan-rated" on the packaging at your local home center. The one I used came with a 90-degree bracket for screwing into the side of the joist.
If the box is not situated beneath or adjacent to a ceiling joist, then you'll need to make other accommodations to mount it securely. If you have access to the ceiling joists, you can install 2x blocking between the joists and then screw the fan box into the blocking.
If the fixture is situated between two joists and you can't access the joists from above, then you can install a metal brace called a "ceiling fan brace" or "joist hanger bar". Available at most home centers, the brace can be inserted through the hole in the ceiling. Once positioned between the joists, the brace expands to contact the framing on each side. The fan box mounts onto the brace. Make sure the brace is centered in the hole and at the proper elevation so the fan box will be flush with the ceiling, then use a wrench or pliers to tighten the brace until secure.
Other DIY Articles
---
Recommended Articles