Enhance your outdoor living space with a durable hardscape.
By Tom Matthews
A hot trend among homeowners is to design an area of the yard as an outdoor living room that's perfect for relaxing, entertaining and barbecuing. Patios, walkways and even driveways are projects suited for savvy do-it-yourselfers, and they create a strong foundation for an outdoor retreat.
Clay Pavers
Clay paver patios provide a classic brick appearance and last about a hundred years. Pine Hall Brick Company, the largest manufacturer of clay pavers in the United States, advises that new clay pavers represent the best value for the money because they're manufactured with the intention to be pavers. Years ago, clay pavers were made at the end of a "batch" of face bricks—the bricks that are used to build the walls of homes and businesses.
As a result, they were fired in a kiln the same length of time as the face bricks. And while face bricks do a fine job of holding up a wall when they are expertly laid by an experienced bricklayer, they were not engineered to support vehicular traffic.
Clay pavers that are meant to be pavers are more durable than face bricks (they withstand up to 13,000 lbs. per sq. in. of pressure, which is greater than concrete). They're colorfast, they do well in extreme heat and freezing cold, and they are a consistent size, which makes installation easier.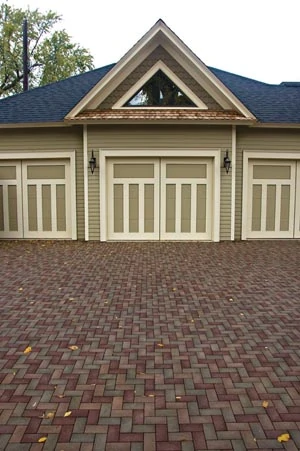 For a conventional paver patio with a flexible base, you'll need to dig out the space, apply a "crusher run" (gravel course) followed by an inch of sand. Then, install the edge restraints and pavers, and sweep sand into the joints.
If you want a permeable pavement installation (which is required in some places), you dig deeper, put in precise layers of different sizes of aggregate to allow drainage, and then install permeable pavers.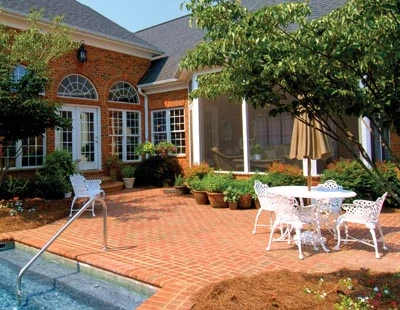 Pine Hall Brick offers two types of permeable pavers, RainPave (residential) and StormPave (commercial). Permeable pavers are designed to be installed just a bit farther apart than conventional pavers. The pavers are installed over layers of aggregates, so when it rains the rainwater seeps in between these pavers and is stored in the spaces between the aggregates, where it is gradually released into the ground.
In some cases, you might want to dress up an existing concrete patio or walkway with pavers. To do so, use a thinner paver specifically made for this purpose. Begin by laying a line of pavers perpendicular to the edge of the concrete to form a "sailor course", gluing them to the concrete with masonry cement. Then, lay standard roofing felt on the concrete, put in the pavers and sweep sand into the joints.
A DIY paver patio provides a reasonably priced place to relax, without the maintenance of a wooden deck. Smart Money magazine says that landscaping and hardscaping can increase home values by as much as 15 percent. And the National Association of Realtors estimates that outdoor rooms can deliver 77 percent return on investment at sale time—and they're less expensive per square foot than additions or kitchen or bath remodels. Learn more about clay pavers at www.pinehallbrick.com.
Composite Pavers
AZEK composite pavers are easy to fit together quickly and neatly on a grid. Available in permeable and non-permeable versions, the AZEK pavers are made from up to a 95-percent composite blend of post-consumer recycled automobile tires and plastic containers. The composite pavers are one-third the weight of concrete and use a patented grid system for installation that dramatically reduces installation time and makes it easier than manually setting and aligning heavy traditional pavers. The 16-by-16-in. grid ensures straight lines and assists with a level layout. Plus, the pavers can be cut using a regular miter saw or jigsaw.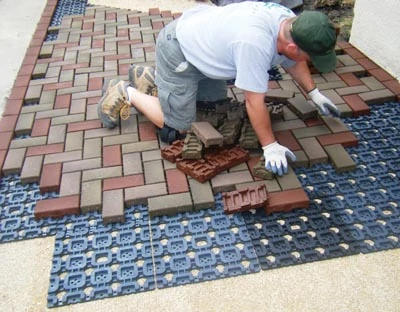 AZEK recently introduced several new paver products. The addition of a larger 8-by-8-in. paver size answers the demand for both larger paver aesthetics and multi-sized paver patterns. When used in conjunction with the 4-by-8- and 4-by-4-in. standard pavers, this new size creates the opportunity for additional design options.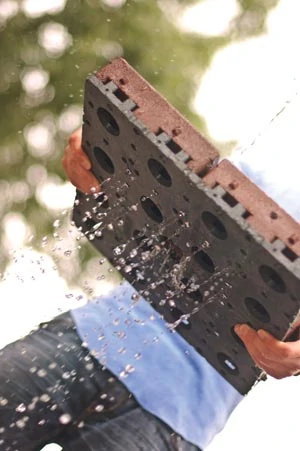 The Resurfacing Bullnose Paver provides an attractive, rounded finished perimeter edge to any paver area—such as a deck surface, flat roof application or any project that uses resurfacing pavers.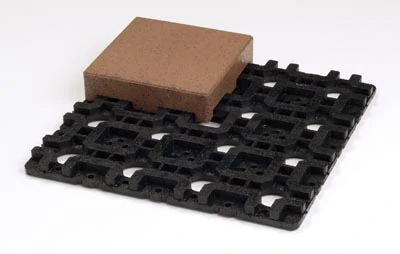 The new AZEK Resurfacing Transition Paver includes a slanted edge that acts as a mini ramp to transition from the paver height down to the level of the ground, substructure or walkway. Learn more at www.azek.com.
Tile a Deck
If you'd like to convert your exterior deck to a tiled surface, DexSystems Inc. manufactures an outdoor floor system called GratedeX. The system consists of modular subfloor components along with fasteners, connectors and adhesives that provide a durable method for placing thin gauged stone or tile in an exterior flooring application without the use of cement-based mortars, grouts or adhesives. This flooring technology creates a lightweight stone floor over traditional joist framing. In addition to thin-gauged stone or tile, the flooring system also supports the placement of modular pavers in a dry-laid installation without a mud set or sand bed. Use the GratedeX system on any traditional deck in all weather conditions and all temperatures.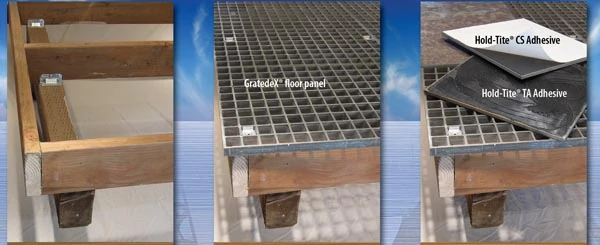 DexSystems also offers the PierdeX system for installation over waterproof rooftops. PierdeX is a rooftop pedestal system to create a level outdoor floor on a roof. Learn more about DexSystems at www.outdoorfloorsystem.com.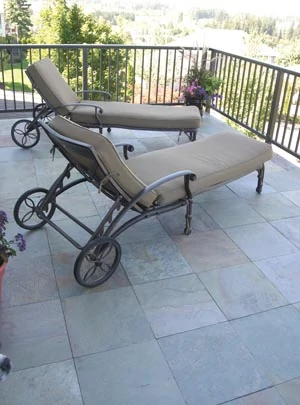 Elevated Outdoor Flooring
Created 27 years ago, the original Buzon pedestals create an elevated support system for the construction of roof terraces, pedestrian areas, walkways, roof gardens, pool decks and green roofs. The pedestals can be used with any type of decking material, such as natural stone, concrete slabs, wooden tiles or slates, or industrial gratings. To support all sorts of raised flooring applications the Buzon pedestals are adjustable in height from 3/4 to 42 in., depending on type, and can support 2,200 pounds. In addition, they're provided with a unique slope corrector that adjusts up to a 10-degree slope to create a level surface while the roof slopes below. The Buzon pedestal is made of high-strength recycled polypropylene to exact specifications that satisfy the precision requested by architects and contractors. Learn more at www.buzon-world.com.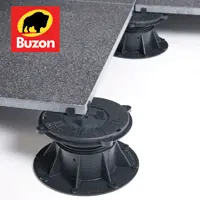 Side Note
Patio Design Tips from a Pro
Laura Schwind, a licensed landscape architect on the staff of Pine Hall Brick Company, says it's best to think about how you plan to use the space. In the case of a patio, for example, some simple experiments beforehand will help you figure out how much space you will need.
One way is to gather everything that you will regularly want on your patio—the grill, the children's toys, the patio furniture—and place everything where you will want it to go. Or if you regularly have dinner parties, put some chairs out in the back yard and then imagine how big the patio would have to be to accommodate everyone. You could then use a garden hose or spray paint on the grass to outline the size of the patio.
Beyond size, shape and patterns will also make a difference.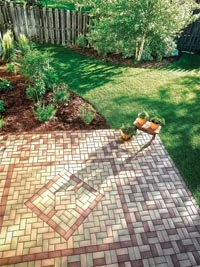 A curved patio is less formal than a rectangular or square one. Paver patterns can also help define or change the scale of the space. From a functional standpoint, the choice of a pattern can minimize cutting. A basketweave pattern is ideal because full pavers can be used throughout in a square or rectangular shaped installation. Using a running bond or 90-degree herringbone in rectangular areas will only require half-cuts, while a 45-degree herringbone requires cuts around the entire perimeter.
Sometimes, the design of the patio will depend on what's already there. Keep in mind where the utilities are located and remember that you will need a way to get materials in and out of the construction site. Visit www.pinehallbrick.com for more information.
Other Patio Articles