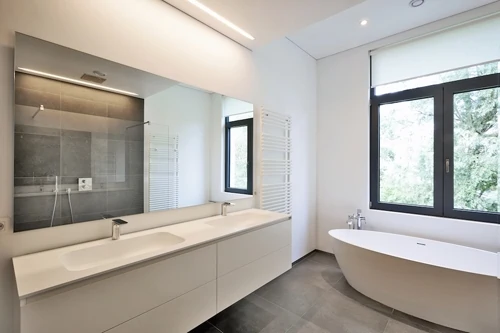 (guest post courtesy SolidSurface.com)
Working on any DIY project  can be rewarding, but using Corian® Solid Surfaces to create your vision is an especially exciting prospect. The materials offer a myriad of possibilities, enabling you to express yourself and your taste in a wide range of unique ways. From bathroom vanities to kitchen counters, this amazing line of materials may be used to breathe new life into virtually any room.
Once you have made the decision to use Corian® for your project, you will also need to learn how to care for this amazing design material. Fortunately, Corian® maintenance is not difficult. You can easily learn about repairing Corian® and how to clean Corian®, so you may extend its life to get the most from this material. Remember to consult the Corian® warranty, too – so you can be sure to adhere to its terms in case you need a replacement or repairs.
Corian® Warranty
The Corian® warranty is a relatively standard one. The warranty is valid if a Corian® certified fabricator does the work. It protects commercial customers from manufacturing defects for 10 years after the purchase date, and the same protection is extended to residential customers for 10 years after the initial installation. However, repair and replacement exclusions include damage caused by chemical, physical, or other kinds of abuse to the solid surface material. The exclusions also include damage from acts of nature, excessive heat, or the use of the material for some applications. Always consult the commercial or residential warranty to determine the exact details that are covered.
Corian® Maintenance
Knowing how to clean Corian® is an essential aspect of Corian® maintenance. You can generally use common household cleaning products to keep this material free from dirt, grime, and residue. An ammonia-based product or countertop cleaner should work well on your Corian® solid surface. You may even clean it with warm water and a mild liquid soap. Always wipe the material dry after you clean it.
Another important part of Corian® maintenance is repairing Corian®. If the surface begins to appear blotchy, you use a mildly abrasive, liquid cleanser and a soft cloth or sponge to remove the blotches. Fine scratches and minor cuts may be managed with sanding.
Taking care of your Corian® product makes sense. This invaluable material should last for many years. If you know how to clean Corian® and the basics of repairing Corian®, you will get much use from this solid surface. If you want to learn more about the possibilities Corian®, offers, you may contact SolidSurface.com for assistance.