By Mark and Theresa Clement
 Make a Splash
It may not seem so, but a great backsplash can be the difference between a kitchen and a KITCHEN!  Whether you're remodeling the heart of the home from the ground up or looking for an affordable upgrade, look to the backsplash as an important design element.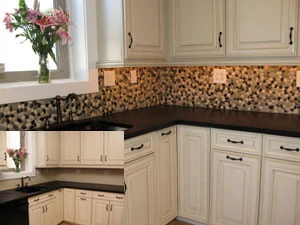 And as you look, it's important to think through all the things a backsplash is and does—from how it matches the color scheme to how it gets on the wall. The reason we point this out so specifically is that a backsplash, for some reason, is a deceptively simple looking project. Perhaps it's because there's just not that much ground to cover as compared to, say, tiling a bathroom.
But don't get faked out. While a backsplash is a very doable project, realize that this job takes your kitchen out of commission for the duration, and once you start, the clock is driven in large part by drying times. Also, you have to do about 75 percent of the work hunched over your counter with your arms out in front of you. It might not seem like a big deal at first, but talk to me after three hours of doing it…
Dry times—notably for thinset and grout—are big clock killers. Even if you use quick-dry thinset, you spend time mixing up (then cleaning up) small batches. We knew going in that having a little boy who rarely sleeps all night gave us a limited installation schedule and we would be crunched for time. To that end, we spent extra time in the planning stages to make sure we moved through the project as quickly as possible while still getting high-quality results.
Preparation
Make sure the substrate (the wall) is clean and in good repair. Wipe it down, especially behind the stove, with a grease-cutting detergent like Simple Green to break up any grease or oils that may be present. If the drywall or plaster is damaged, repair it.
Remove switch plates from electrical devices and store in a safe place where all the little screws won't get lost, ideally in another room. Apply tape over the devices to protect them. (Yes, you will probably have to plug in the radio in another room—sorry.)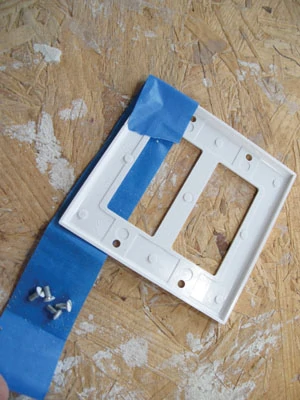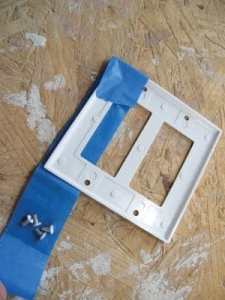 Install "box extensions" that are the same thickness as your tile. These extensions are rubber gaskets that screw into the box and enable you to safely let your plugs and switches out to the new level of the tile. And, because they create a positive stop around the device, they make grouting later a lot easier than not using them.
Apply the Adhesive
This is where we found our biggest saver of time, money and frustration. Instead of traditional thinset mortar we used a product called Bondera TileMatSet to adhere our tiles to the wall—truly making this a weekend project, where in the past a project of our size was more like a three-dayer. Vastly oversimplifying the science behind how Bondera works, it is a double-sided, waterproof tape. Adhere one side to the wall, then stick tile to the other. It's light, easy to use, and there's no mixing, mess or dry time as there is when tiling with traditional thinset mortar. This means you can grout the same day, and you're not scouring off mortar that squeezed through your tile joints.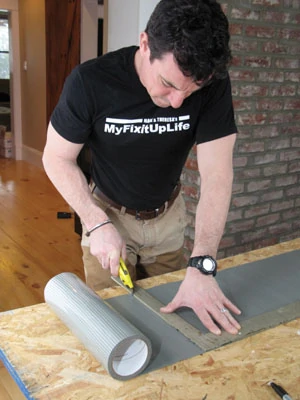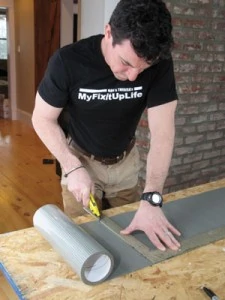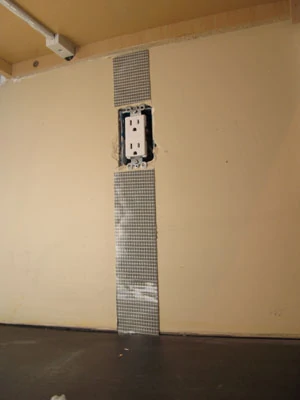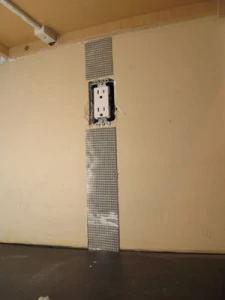 To apply the adhesive mat, strike a plumb line and apply strips of Bondera the same width as your electrical devices above and beneath. The adhesive mat can be cut with scissors, but we like cutting with a utility knife and using a framing square as a straight-edge.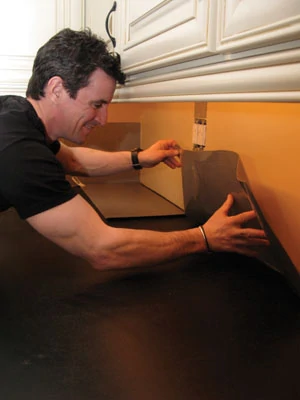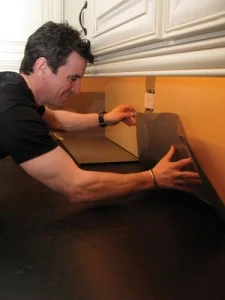 Next, fill in the wall surface (or "field") with strips of Bondera between the vertical strips.
Press the Bondera tightly to the wall using a 6-in. drywall knife. We call this process burnishing. This ensures a solid connection between the adhesive and the substrate.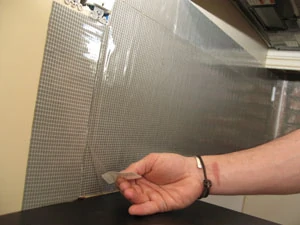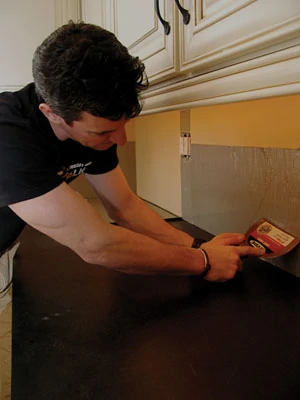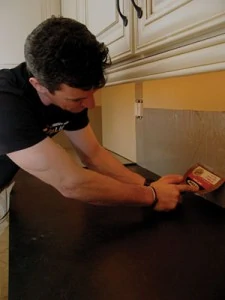 Peeling away the outer liner is simple. If you're worried about the hassle of getting it started (similar to losing the end on a roll of Scotch tape), Bondera provides a tab you can use to separate the film.
Tile and Grout
Assuming your countertop is level, lay out and install the tile according to your pattern. You can snap lines or use a straight-edge and a marker to strike your layout lines on the Bondera. Indeed, the Bondera is tacky enough to hold your level where you put it, too—ideal for working alone. Once laid out, press the tile into the Bondera just enough so it sticks. If you need to remove the tiles for some reason, you can.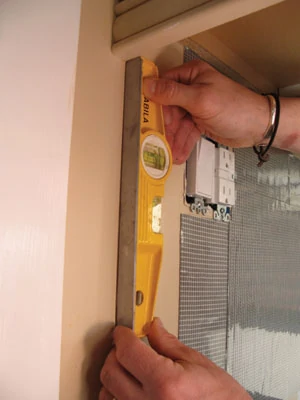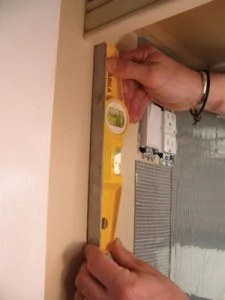 Once your tile is installed, and you're happy with the placement, use a sponge float (the kind you'll use for the grout) to firmly "wipe" the tile down. Pressing firmly makes a permanent connection between the tile and the Bondera.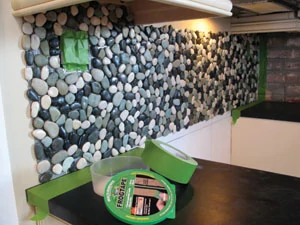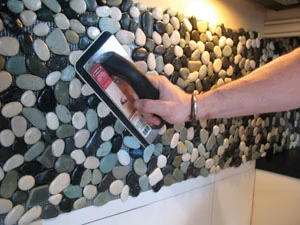 Now, instead of waiting for the thinset to dry, you can grout right away. Or, you can wait over-night and grout in the morning. Because the grout is messy, we tape off the edge of the counter using FrogTape. We then use kraft paper to cover the rest of the counter, which we leave until the grout dries.
Mixing grout is a kind of art.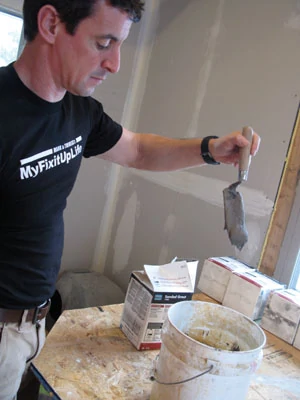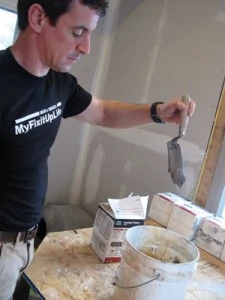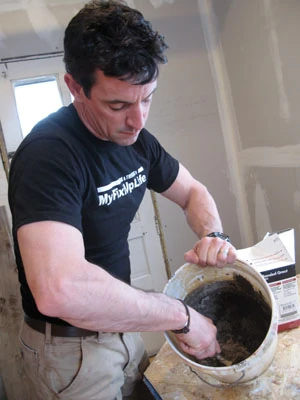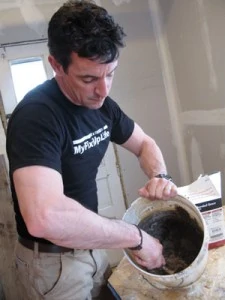 To get the right texture I usually end up adding water or grout as required getting it just right. And "just right" for me is a little soupier than peanut butter. To test it, I hang it off the margin trowel I use to mix it. If it sags a little before it slides off, it's in the zone.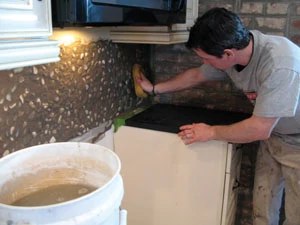 I apply the grout using a sponge float, wiping the grout firmly into the gaps. The key to removing excess grout effectively is to keep the sponge clean, which means I keep a water bucket nearby for frequent ringing out.
Once the grout is dry, apply sealer. Sealer—while tempting to skip—really adds luster to the tile and helps keep the grout lines clean (especially behind the stove). We highly recommend NOT skipping this step.
Cleanup
Cleaning tile tools is about as fun as washing dishes; I can safely say that I hate it. But, it is the key to making them work right. I wash them using an old grout sponge and cold water. I clean out the grout-bucket (a flat-bottomed two-gallon pail) after every batch to prevent dried grout from the previous batch getting into the new batch. And, I clean tools thoroughly when I'm done using them. Boring…
As for replacing the stove, try not to force it back into place. The best way I have found to move stoves is to get low to push or pull. As heavy as a stove is, I don't want to crimp the supply line as I slide it back into the slot. The way I test it (thank you, building inspector, for this trick) is to light the stove after I've put it back. If it operates properly, that's a good sign the flex line isn't crimped.
With the stove working and your kitchen now a KITCHEN, you've made a big splash and are really "cookin' with gas."
SIDE NOTE 1
Tile Tips, Contractor Quiz
For a professional looking job, think about some of the tips below. Or, if you are hiring a contractor to do this for you, these are good tips for "quizzing" said contractor to make sure he knows his sponge-float from his elbow. You can bet that if he doesn't have a plan for these situations—and they arise on almost every tile project—he's not your man.
Tile looks best when the both ends of a run have the same size tile. If one end is a full tile and the other a "sliver," that's not a pro-level install. One way to get same-sized tiles on each end is to measure and mark the center of the space and start tiling from there.
For turning corners—a location where you'll probably end up with a cut tile—don't start the new wall with a full tile. Instead "finish" the previous tile. In other words, if you cut 2 in. off a 6-in. tile to go into the corner, come out of the corner on the new wall with a tile cut to 2 inches. The idea is to make it look as if you folded a full tile into place to turn the corner.
Consider renting a wet saw for the weekend. Wet saws make cutting tile faster and more accurate.
Use kraft paper to cover your counters during grout time. Spills are inevitable.
Set up a sensible workplace—perhaps outside the kitchen—where you can keep your tools and materials stored and usable but out of the way. Sawhorses and a sheet of 3/4-in. OSB is a cheap and effective work station.
Terminating runs where there is no wall can be a design challenge. This is a critical location in a tile job. Generally, we like to strike a plumb line down from the upper cabinet to the edge of the counter to guide the layout. With an irregular tile like StrataStone, a straight line is used as a general reference point. –T.C.C., M.C.
SIDE NOTE 2
Inspiration
Being married to a designer is fun. I hasten to add, my wife Theresa is a true designer, not "decorator"—they are different. Many "designers" you see on TV are really decorators. Two major distinctions are that a designer knows how a building is assembled and how it functions as well as how color, texture and architecture work together.
Theresa explains her inspiration for our backsplash design:
"It was a gift from my mother-in-law that inspired me—fresh-cut flowers and a vase.
I put them on my kitchen window sill. The vase had a wonderful layer of river rocks in the bottom and while enjoying the way the colors and textures played off one another, it came to me—this look is perfect for our kitchen backsplash.
While subway tiles are great in some kitchens and 1×1 glass in others, I wanted a different look, and this was it.  The tile that fit the bill isn't tile at all, but stones. We used StrataStones "tiles" for this project. They are literally ocean-washed beach rocks from Bali glued onto a mesh-backing. They have the perfect interplay of color, texture and feel to make our backsplash make a big splash and really highlight the rest of the kitchen.
What's also cool about StrataStones is that they are ideal for other places in the house—think bathroom remodel." –T.C.C., M.C.