The holidays seem to arrive sooner every year, so there's no time like the present to organize your shopping list for friends and family. This year, consider the type of gifts that keep on giving; new tools! The EHT staff has compiled our annual list of workshop gadgets—some big, some small—to brighten the face of your favorite DIY'er. Make your list, check it twice, and have a wonderful holiday season.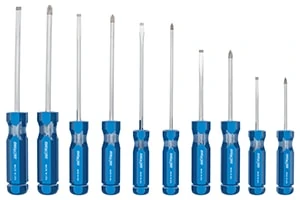 Channellock Professional Screwdrivers
Channellock Inc., a family-owned and -operated hand tool manu-facturer since 1886, has introduced the new Professional Screwdrivers, a line of slotted, Phillips, Torx and nut drivers designed and manufactured in the U.S. to meet the needs of the professional trades and serious DIY'ers. The new line will include 46 different tool offerings, including a six-in-one multi-bit driver designed with a four-sided, acetate handle that delivers greater torque than competing drivers with six- or eight-sided handles. Additionally, the new screwdriver handles are solvent-resistant, impact-resistant and superior in strength to molded designs.
The precision-machined shaft and chrome-coated alloy steel blades ensure full fastener engagement, and chrome plating protects against corrosion. Visit www.channellock.com.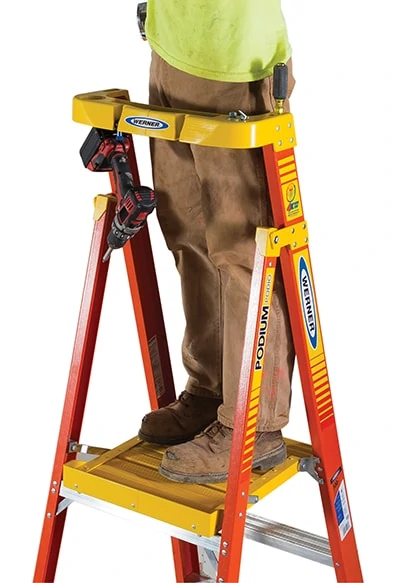 Werner Podium Ladder
The Werner Podium Ladder is designed to provide 4X greater work zone than a typical step-ladder, allowing you to face any direction. One of the most significant benefits of this design is how easily it allows the user to reach traditionally difficult areas by providing greater range of motion, which maximizes productivity. The extended guardrail and larger platform surface also delivers more comfort for the professional user who is often required to stand on a ladder for prolonged periods of time. The new Podium guardrail uses the HolsterTop Pro design that securely and conveniently organizes tools and accessories at the top of the ladder. The functional top serves as a wraparound guardrail for total freedom of movement. The Podium also features the newly designed Edge360 bracing system that increases the size of the ladder foot pad, braces the first step and provides protection at every angle. Visit us wernerco.com.

Veto Pro Pac MC Tool Bag
Veto Pro Pac, a leader in professional-grade tool bags, has launched the MC, the smallest and lightest tool bag in the Veto Pro Pac line. With 20 interior and exterior denier nylon pockets, the MC is 12-1/2 inches high, 10 inches long and 8 inches wide—perfect for troubleshooting, diagnostics and job-specific setups. The MC features a lighter webbed handle with Veto Pro Pac's classic over-molded grip. A front storage bay holds hand tools of many sizes. The back storage bay accommodates meters and compact cordless drills/drivers. Veto Pro Pac's signature heavy-duty 3mm thick polypropylene base keeps the bag dry, protected, and stable in four-season climates.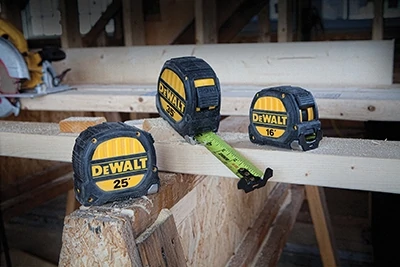 DeWalt Premium Tapes
DeWalt's new family of Premium Tapes, are "Guaranteed Tough" and built to take a beating on harsh jobsite conditions. The new 16-, 25- and 35-ft. tape measures are ideal for heavy-duty framing and other construction measuring tasks. The tapes feature reinforced housing and a cast-metal impact plate to absorb shocks when dropped to protect internal components and the end hook. Extensive rubber over-molding covers all contact points of the tapes for improved grip. Plus, a 13-ft. blade standout allows unaided measuring from a distance or overhead without the tapes bending or collapsing while extended. Visit www.dewalt.com.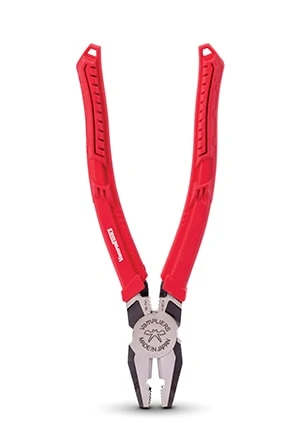 VamPLIERS
An extraordinary pair of pliers that incorporates patented and award-winning technology to solve screw-extraction problems, VamPLIERS Pro have uniquely designed and patented concave jaws. The ver-tical and horizontal serrations inside the jaws make it possible to grab onto a small stripped/rusted/corroded screw or rounded nut for extraction. VamPLIERS Pro will work on screws that have special, tamper-proof or unique heads, such as a Torx screw. Made of high-quality carbon steel, they have a smooth varnished finish and utilize an environmentally friendly elastomer for ergonomic grips. VamPLIERS are great for professionals and DIY'ers to achieve the perfect "bite" around the screw's head. Visit www.vampiretools.com.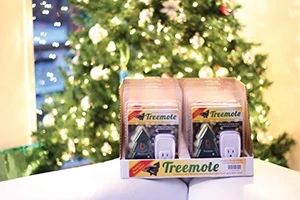 Treemote
This holiday season, use the new Treemote to avoid crawling under or behind your Christmas tree to turn the lights on and off, which can be a hassle—even dangerous. Now with Treemote's wireless remote technology, the task is easy, safe and convenient.
The device is simple to install and easy to use. Just plug the Treemote receiver into the outlet that you want to use. Plug your string of lights into the receiver, and that's it. Now with the Treemote's Christmas tree-shaped remote you can control your lights from any room in the house. After Christmas, store it with your decorations, or use it all year round on any hard-to-reach light or small appliance. Underwriters Laboratories-listed and FCC-compliant, the Treemote comes with battery included. Visit www.treemote.com.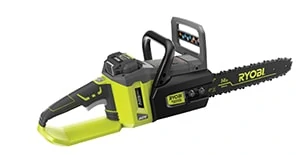 Ryobi 14″ RY40511 Cordless Chainsaw
The Ryobi 14-in. Cordless Chainsaw boasts the power of a gas-driven tool by using a brushless motor for higher torque and increased chain speed. With a 14-in. bar and chain and a 24-in. cutting capacity, its cutting speed rivals that of a gas chainsaw. Side-access chain tensioning and on-board tool storage offer user convenience. Other fea-tures include an automatic oiler and a variable-speed trigger. It starts quickly and easily, without the hassle of gas and oil. The Cordless Chainsaw is powered by a 40V lithium-ion battery that works with any Ryobi 40V tool. Visit www.ryobitools.com.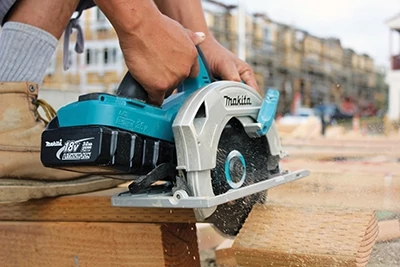 Makita XSH01Z 36V Circular Saw
Makita's new XSH01Z is the world's first 7-1/4-in. circular saw powered by two 18V lithium-ion batteries, which deliver the cutting performance of a corded saw. The Makita-built motor delivers 4,800 RPM for fast cutting and ripping, providing up to 250 cuts per charge. The 7-1/4-in. blade cuts 2-5/8 inches at 90 degrees, and the saw bevels 50 degrees. The L.E.D. battery and temperature indicators monitor charge stats and temperature, and a reinforced magnesium base ensures jobsite durability. Visit www.makitatools.com.

General Cordless Precision Engraver (505)
General's Cordless Precision Engraver features a 3/32-in. diamond-tipped engraving bit and a 20,000-rpm motor. It is powerful enough to engrave glass, metal, ceramic, plastic and wood. The engraver's improved gearing boosts torque to facilitate smoother, more consistent scribing. Additionally, the tool's aluminum body offers superior durability while the unique tri-lobe ergo-nomic grip provides the ultimate in comfort and ease of use. Visit www.generaltools.com.
General Lighted Precision Screwdriver (75108)
General's Lighted Precision Screwdriver is a must-have for every DIY toolbox. It contains a convenient storage compartment for the included reversible bits, making it easy to keep all of the bits together in the handle at all times, reducing the risk of lost or misplaced parts. The precision engineered Versa-Grip handle provides maximum comfort and performance, while integral LEDs shed light directly on the screw-head work area in a 360-degree pattern. Visit www.generaltools.com.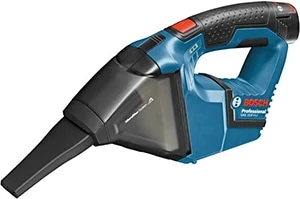 Bosch VAC120 Handheld Vacuum
The Bosch VAC120 is the com-pany's first handheld vacuum, combining compact design with best-in-class performance. Saw shavings, dirt and dust don't stand a chance with the 12V Max VAC120, which features an exclusive Micro Filter System, based on advanced automotive technology, to trap 98 percent of dust particles (as small as 1/2 micron in diameter). Weighing just 1.55 pounds and measuring 11 inches long, the VAC120's crevice nozzle attachment makes cleanup in tight or confined spaces, such as around electrical outlets or drains, a breeze. The flat filter design allows for a larger 11.8-ounce canister volume, which means less frequent clean-outs and more time working. Visit www.boschtools.com.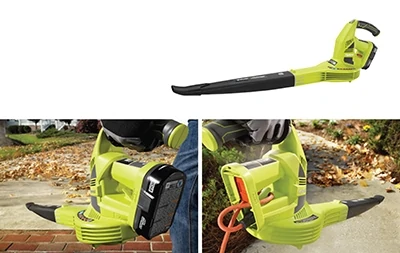 Ryobi P2170 Hybrid Blower
The Ryobi Hybrid Blower provides limitless power and mobility with two power sources—cordless and electric—for versatile lawn maintenance. Running at 150 mph and 200 cfm, the Hybrid Blower is ideal for blowing dry leaves and debris on hard surfaces. Part of the 18V One+ system, the Hybrid Blower is powered by an 18V lithium-ion battery that works with any Ryobi 18V tool. Visit www.ryobitools.com.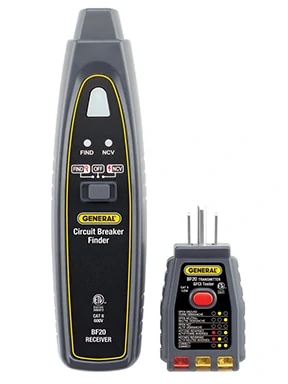 General Circuit Breaker Finder (BF20)
General's Circuit Breaker Finder includes a Non-Contact Volt Detector and GFCI Outlet Checker, providing a safe way to determine whether a line, cable or 110VAC outlet is "hot" (energized). The tool automatically locates the breaker or fuse associated with any 110-volt outlet without tripping the breaker or blowing the fuse. It has the ability to indicate five common outlet wiring faults in GFCI and non-GFCI outlets, and it can verify the operation of any GFCI circuits interrupting power. Visit www.generaltools.com.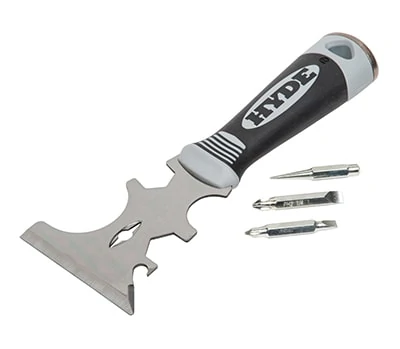 Hyde 17-in-1 Painter's Tool
Carrying tools around the house—or worse yet, struggling to find tools on a work site—can really slow things down. Eliminate the hassle with the new Hyde 17-in-1 Painter's Tool. Made from durable .075-in. thick carbon steel, Hyde's newest tool combines the company's trademark high-quality, lightweight design with with features that are especially helpful for painting, from the wrenches you need to connect an airless spray hose to regular and mini-roller cleaners. The 17 uses:
1. scrape paint, 2. spread compound, 3. open cracks, 4. pull nails, 5. set nails, 6. open cans, 7. open bottles, 8. clean regular rollers, and 9. clean mini rollers. The 10th and 11th use are the 3/4- and 11/16-in. wrenches you need to connect your whip hose to both your spray gun and your main airless hose. For the other six uses, just look to the handle and underneath the Hammer Head end. Numbers 11-14 consist of four different screwdriver bits that are securely stored within the handle and insert into the handle end for quick, easy use. Also hidden beneath the Hammer Head end is a tool that can be used as either a scribe or a nail set.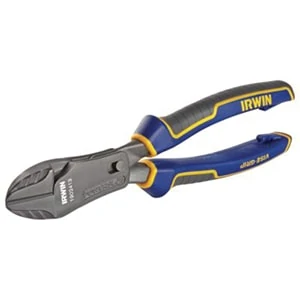 Irwin Vise-Grip Pliers with PowerSlot
Irwin Tools has expanded the Vise-Grip category with a variety of new cutting pliers that provide superior comfort, durability and cutting power. The new line features Max Leverage Diagonal Cutting Pliers and End Cutting Pliers, which are equipped with PowerSlot Technology for twice the cutting power and half the effort. The ErgoMulti Long Nose Pliers are designed with an angled head for reduced wrist strain. The complete range of new products also includes Lineman's Pliers, Long Nose Pliers, Bent Nose Pliers and a patented Performance Lanyard system. Visit irwin.com.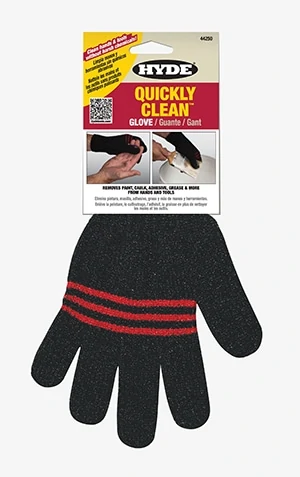 Hyde Quickly Clean Glove
Priced at a reasonable $5, a patented weave turns this "miracle glove" into an all-purpose scrubber that takes oil paint, dirt, grease and grime off just about anything in seconds – without using chemicals! Slip one on and dip it in mild soapy water to clean everything from your camper and ATV to your oven, shower, painting tools and more. Grease on your hands? Clean them fast with no harsh cleansers or chemicals required. Visit www. hydetools.com.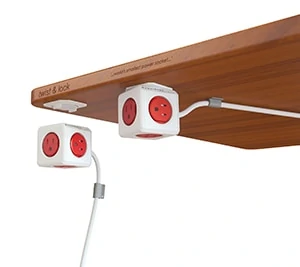 PowerCube
Often it's difficult to access a nearby available power outlet to charge your tool batteries, notebook or cell phone. The PowerCube allows you to mount multiple power sockets where it's most convenient. The number of outlets can be expanded according to your needs, creating a tailored power source within reach. The PowerCube is modular: you can create the setup you prefer by adding more PowerCubes to the PowerCube Extended mounted on your desktop. The Extended versions of the PowerCube come with a mounting dock, enabling you to mount it anywhere, includingupside-down underneath your desk, or on a wall. Plus, it's easy to relocate with removable tape. Each plug connects to a different side of the PowerCube so that plugs can't obstruct each other. The USB-versions of the PowerCube come with powered dual USB ports, each unit is tested up to 15A (the industry standard) and also contains a resettable fuse. Visit powercube-usa.com.