One of the Extreme How-To staff's favorite conventions kicks off May 5th, 2015, in Las Vegas, Nevada. The National Hardware Show is where tool makers from all over roll out the latest gadgets and gizmos for the home-improvement industry. For those who can't attend, we offer a sneak peek at many of the new products that will soon be on display at your local hardware store. And, if you can make the show, this preview should serve as a handy floor guide, directing you to the exhibition booths where you'll discover your next favorite tools.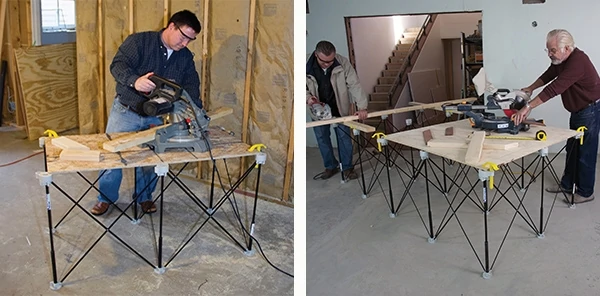 Centipede Work Support Systems
The new Centipede Sawhorse and Centipede Support XL are two innovative, portable work support systems. Each serve as a heavy-duty table or workbench base that sets up in seconds without assembly and folds down into a compact, lightweight unit for easy transport and convenient storage. Featuring a unique steel frame design, the Centipede Portable Work System is constructed of multiple struts that rest directly between the load and ground to support an incredible amount of weight while keeping the thinnest materials from sagging. Each strut is moved in tandem with steel cross bars flexible enough to absorb impacts and durable enough to ensure long-lasting operation. Polymer P-Tops atop each strut provide a work surface that avoids contact damage between cutting blades and steel struts. Each P-Top is replaceable and accommodates the use of included accessories.
The Centipede Sawhorse has an overall weight capacity of 1,500 lbs. and supports sheet lumber and table or bench tops over a 2-by-4-ft. area. The Centipede Support XL has an overall weight capacity of 3,000 lbs. and supports materials over a 4-by-8-ft. area. Each kit includes a carry bag, Quick Clamps to keep materials in place and X-Cups for quick setup of traditional sawhorse applications. Visit booth 31102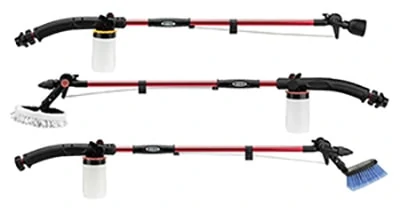 Hyde PivotPro Water Wand
PivotPro Water Wands are super-convenient for any kind of cleaning. Simply attach one to a garden hose, add a concentrated soap liquid to the mixing reservoir, then point, shoot and pivot the nozzle to direct the spray as you wash and rinse your truck, your boat, your deck or your home. The latest models feature interchangeable brush and buffing attachments. The attachment arm lets you keep them front and center or push them out of the way as you need. Also included is a much bigger and more functional soap reservoir with a water-to-cleaner ratio adjustment. And, measuring 46 inches in length, the new wands offer more reach than ever. Hyde's PivotPro Water Wands are available with a single attachment or can be purchased in kits with multiple attachments. Varieties include Outdoor Cleaning, Boat & Auto and Lawn & Garden. These tools will be available online and in stores shortly. Visit the company at www.hyde.com, booth 6907 at the National Hardware Show, as well as booth 37121 in the lawn and garden section.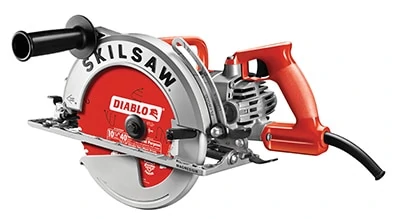 Skilsaw 10-1/4″ Worm-drive Saw
The new Skilsaw 10-1/4-in. worm-drive saw (SPT70WM-22 ) offers the same powerful performance and hardworking character that has made Skil worm-drives a jobsite standard. Dubbed "Sawsquatch", this is the only 10-1/4-in. worm drive saw designed to cut 4-by material smoothly and cleanly in one pass. From fence posts to framing to ripping or cross-cutting, the new 10-1/4-in. version will get the job done with fewer and faster cuts. The new model has the largest Dual-Field motor, which uses a unique copper winding pattern resulting in increased surface area that keeps the motor cooler.
A cooler motor increases the durability of the saw. The magnesium components keep the saw lightweight and durable, and the well-balanced design makes it easy to handle. The saw includes a Freud Diablo 40T carbide blade and the Stay True Guarantee in which users have 180 days to test out the saw and receive a full refund if not satisfied. Visit www.skiltools.com or booth N216.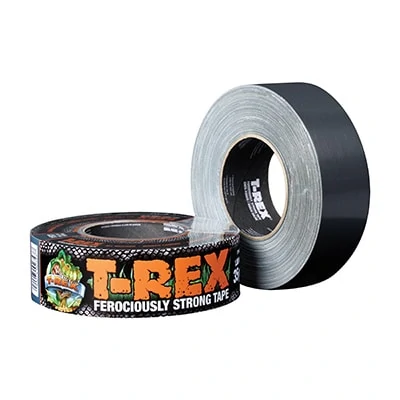 T-Rex Tape
ShurTech Brands, LLC will launch the new ferociously strong T-Rex Tape at this year's National Hardware Show. This super-durable tape has double the thickness of ordinary tapes, which means that its strong adhesive can stick to even the most rough and dirty surfaces, allowing you to get the job done right the first time. T-Rex Tape also has a UV resistant layer that blocks the sun's harsh UV rays from weakening the adhesive, which ensures it lasts through all types of weather and temperatures. T-Rex Tape promises discerning users four times the staying power, three times the holding power and two times the bite over regular tapes. Visit booth 6915 or www.trextape.com.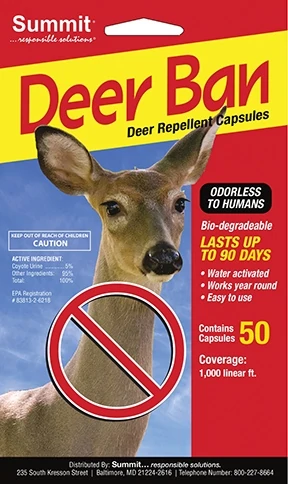 Deer Ban
Summit Deer Ban repels deer to protect gardens and landscape plants. Deer Ban repellent capsules keep deer from eating flowers and other landscape plants. Deer Ban uses a unique gel-tablet application to provide 100-percent effective, year-round protection from wildlife damage. Each Deer Ban capsule contains predator urine that triggers a deer's animal flight response. Just set out the capsules on the ground every 10 to 20 feet around the plants you want to protect. Then water the capsules to release the active ingredient for up to 90 days of protection. When activated by water, the polymer gel releases the scent of predator urine, which keeps deer away. The product is odorless to humans, however, and your hands never touch the active ingredient. There's no messy spraying, and no mixing or measuring. Visit Summit Responsible Solutions at booth 26054 or at www.SummitResponsibleSolutions.com.

NailBoss
Celebrating more than 150 years of quality manufacturing, Mayhew Tools will exhibit the NailBoss deconstruction tool for all restoration and recycling projects.  It makes quick, safe work of removing nails, screws or staples up to 1/4 inch in diameter while minimizing damage to the wood. Lightweight, powerful and easy to use, the NailBoss is ideal for professional and DIY'ers alike, and is available in pneumatic and handheld versions. Visit booth 34050 or www.mayhew.com.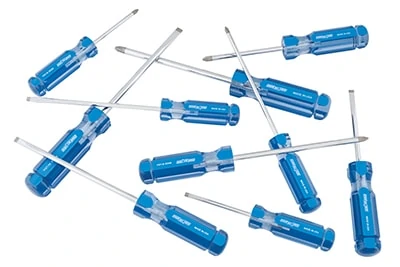 Channellock Professional Screwdrivers
Channellock Inc. is a family-owned and -operated hand tool manufacturer dedicated to American-made craftsmanship since 1886. Known for its iconic Channellock Blue tongue-and-groove pliers, the company recently introduced its Professional Screwdrivers. The new product line of slotted, Phillips, Torx, multi-bit, specialty and nut drivers were designed and are manufactured in the U.S. to meet the needs of the professional trades and serious DIY'ers. The new American-made professional screwdrivers deliver a better-designed, higher quality tool to customers, while reshoring screwdriver manufacturing back to the United States. The Professional Screwdrivers line includes 46 different tool offerings, including a six-in-one multi-bit driver, all made in the U.S. and assembled in Meadville, Pennsylvania. Each is designed with a four-sided, acetate handle that delivers greater torque than competing drivers with six- or eight-sided handles. Visit booth 32038 or www.channellock.com.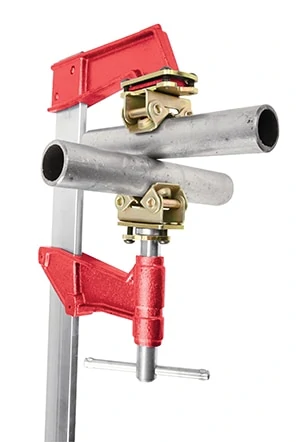 SureForce Clamps
Mayhew Tools' SureForce clamps are a new line of mech-anical and hydraulic clamps that incorporate patented innovations to provide the highest clamping force available for their size.
The popular screw-type clamps employ ball bearings that reduce friction. This allows the clamping force to be up to 40 percent greater than other screw clamps, given the same amount of torque. The clamps also have enclosed threads, which prevent debris and welding spatter from reaching the threads. The cast iron jaws and magnetic jaw-set provide a secure grip for round, square or flat metal surfaces. The range includes; Compact, Lever, Ultralight and Hydraulic Clamps, covering a range from 5- to 48-in. openings, and 900 to 4,800 lbs. of clamping force. In addition, Jack Bars with up to 400 lbs. of spreading force with a range of 26 to 126 inches complete the product line. Visit booth 34050 or www.mayhew.com.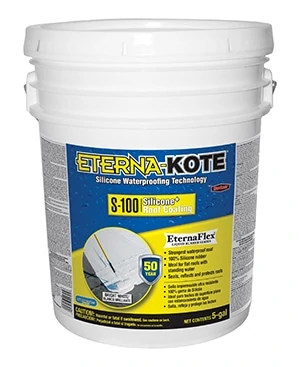 Eterna-Kote Silicone+ Roof Coating
Eterna-Kote Silicone+ Roof Coating from Gardner-Gibson provides the ultimate in waterproofing protection, delivering a seamless barrier that even stands up to ponding water challenges associated with flat roofs. In addition to waterproofing, Eterna-Kote also boasts eco-friendly features and application advantages, saving time, energy and money.
The product provides excellent chemical, heat and weather resistance with long-term watertight security. The coating is also flexible, stretching to prevent cracks. Eterna-Kote meets Energy Star and CRRC (Cool Roof Coatings Council) standards and is low in VOCs, meeting all national air-quality standards. Eterna-Kote's bright white finish also keeps roofs cooler, resulting in potential energy savings and reduction of peak energy demands. Visit booth 6707 or www.gardner-gibson.com.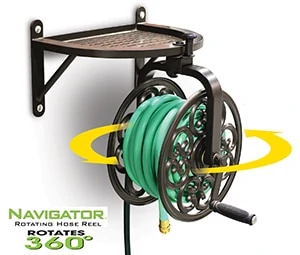 Navigator Rotating Hose Reel
The Navigator Rotating Hose Reel is the first wall-mounted hose reel to rotate 360 degrees. It features four locking positions to help wind and direct the hose to your desired location. This decorative, all-steel hose reel can hold up to 125 feet of 5/8-in. garden hose. Features include a 90-deg. solid brass swivel, 18-gauge steel construction, durable powder-coat finish, storage tray and attachable crank handle.
At this year's Hardware Show, Liberty Garden Products will hold a special giveaway that includes the Navigator Hose Reel. The company will also introduce the 234 Liberty Star Hose Butler and 301 Decorative Hose Reel Cart. Visit booth 21088 or www.libertygardenproducts.com.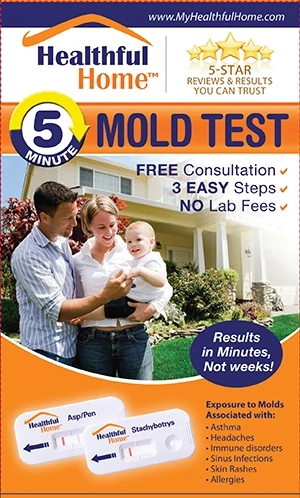 Healthful Home Mold Abatement Products
Alexeter Technologies develops and manufactures rapid DIY testing and remediation products for better indoor air-quality. The company's Healthful Home 5-Minute Mold Test is the most accurate and sensitive rapid mold test available. This do-it-yourself kit for households is the only mold kit on the market that gives full immediate results to the consumer. Results reveal both indoor air-quality issues and unhealthy mold problems due to water damage where applicable, while avoiding the high cost of hiring mold inspectors and laboratory testing. The Healthful Home Mold & Bacteria disinfectant and cleaner is a safe and effective way to eliminate unhealthy mold and bacteria contamination without the use of harsh chemicals. A specially formulated state-of-the-art combination of natural ingredients is designed to provide a superior treatment alternative to chemicals and provides a long-lasting residual disinfection. Visit booth 6428 or www.fiveminutemoldtest.com.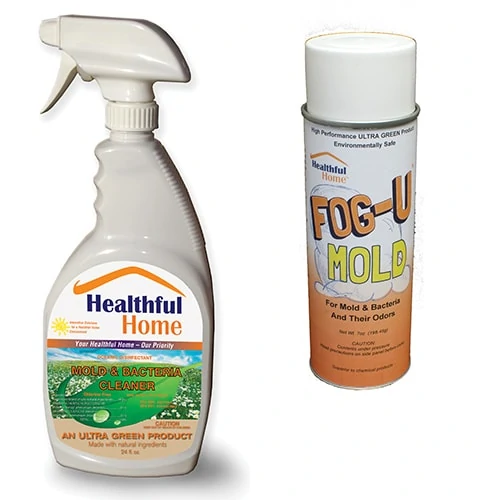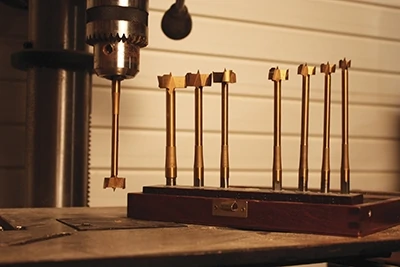 TG Tools Kik Forstner Bits
Forstner bits are the best choice for drilling precise, flat-bottomed holes in wood. The radial cutting edges shear wood fibers at the edge and bottom of the hole, creating a smooth bore with an exact diameter. The Kik Forstner bits from TG Tools actually have nine cutting edges, which permit cutting curved paths, channels, routing and milling in wood and plastics. They can cut on the edge of a block of wood to create channels, and can also be used to create overlapping holes. The Kik bits also come in a nice, dovetailed wooden box to protect the cutting edges. Visit booth 39087.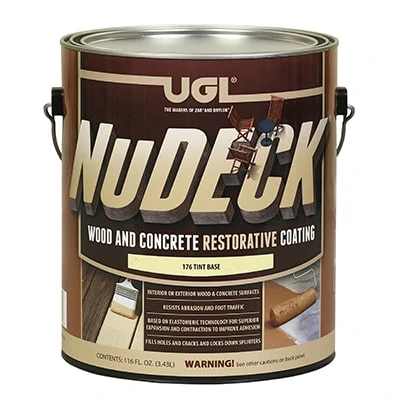 NuDECK
Too many times the structure of a deck and patio are in very sound condition, but the surface appearance makes homeowners want to give up and pay the substantial price to replace the boards completely. Not only is this choice not economical, but it certainly isn't "Green". United Gilsonite Laboratory has developed a new coating that is designed to give new life to those tired surfaces. UGL NuDECK Wood and Concrete Restorative Coating extends the life of a deck and patio with a paintable solution. From the can it creates a new, slip-resistant surface for decks, walkways and patios. The tintable color palette coordinates with UGL ZAR Solid Color Deck and Siding Stain to complement the color of surrounding vertical surfaces such as siding, railings, posts and walls. The product is ten times thicker than paint or stain and fills 1/4-in. cracks and nails holes. It locks down surface splinters and can be tinted in 30 different colors. Visit www.ugl.com or booth 7114.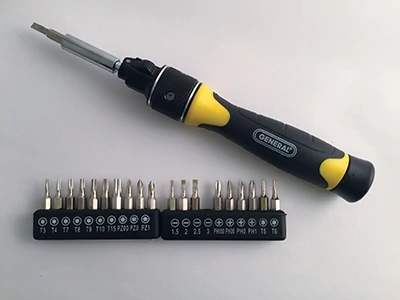 General Tools Express Ratchet Driver (70210)
General's NEW Express Ratchet Driver (70210) doubles efficiency with a dual drive that screws twice as fast as a regular screwdriver. When engaged by holding the driver collar, a patented ratcheting mechanism enables the tip to rotate in the same direction regardless of which way the handle is turned. A convenient slider switch makes it easy to reverse the gear drive direction. In addition, an ergonomically designed handle provides greater overall control and comfort.
The Express Ratchet Driver includes 20 hex shank bits:
4 Slotted: 1/16 in., 5/64 in., 3/32 in., 1/8 in.
4 Phillips: #000, #00, #0, #1
9 Torx: T3, T4, T5, T6, T7, T8, T9, T10, T15
3 Pozidrive: PZ00, PZ0, PZ1
Visit booth 36007 or www.generaltools.com.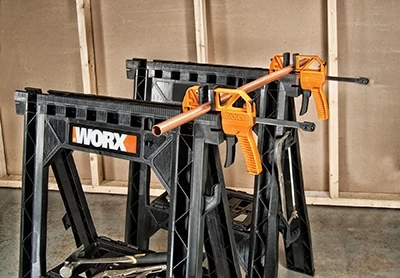 Worx Clamping Sawhorses
The new Worx Clamping Sawhorses give a new twist to work-support stations with their integration of two 18-in. bar clamps. These sawhorses are constructed with channels to support and secure the clamps.  The squeeze clamps hold work materials horizontally or vertically to help ensure safe cutting operations. The basic design of a beam with four legs has been used for years, but the new Worx work supports are not limited to cutting wood. The bar clamps can secure copper or PVC pipe, 2x materials, 4x4s, sheet goods and other materials for cutting. The Clamping Sawhorses support loads up to 1,000 lbs. The clamps can be used with or without the sawhorses. Two fixed notched areas at the top of each sawhorse are designed to hold 2x4s to provide a protective layer during ripping operations so the sawhorses don't come in contact with the blade. The lightweight and portable 15.6 lb. sawhorses (clamps included) are constructed of high-impact polypropylene. When fully opened, they stand at a comfortable working height of 32 inches with a 27-in. width. When folded or closed, the sawhorses measure 2-1/2 inches deep for easy and compact storage. Visit booth 34031 or www.worx.com.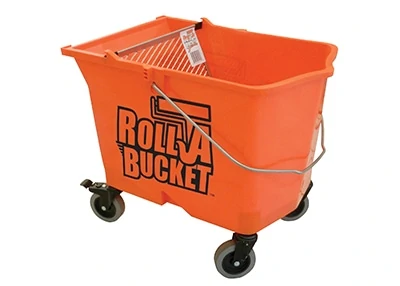 Roll A Bucket
With the award-winning new Roll A Bucket, you won't have to lift and move any more paint buckets. Designed by a painter, the Roll A Bucket is maneuvered with a paint roller for steering, the same way that you would use a mop to steer a mop bucket. The caster wheels allow for easy maneuvering over tarps. There is also a brake on one of the wheels. Each Roll A Bucket comes with a custom-designed grid, and is sloped on the bottom so your roller can reach every last bit of paint. Work smarter, not harder, with the Roll A Bucket, available now in 4,000 stores. Visit Rollabucket.com or booth 7824.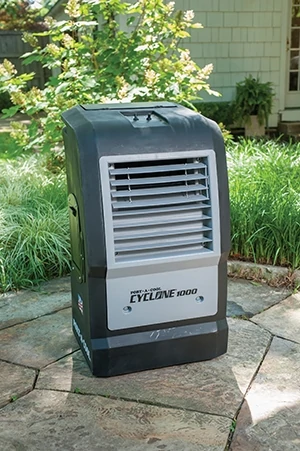 Portacool Cyclone 1000
The new go-anywhere, sleek Portacool Cyclone 1000 can lower temperatures by as much a 30°F via the natural process of evaporation. Simply roll the portable Cyclone where it is needed, plug into a standard 110V outlet and experience a cooler space outdoors and beyond. There's no drenching mist or harsh chemicals involved. It cools better than just a fan that has no cooling element, and is cost-effective, operating for just pennies an hour. Visit booth 5524 or www.port-a-cool.com.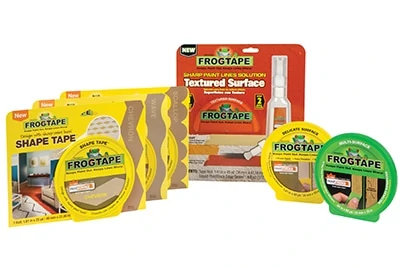 FrogTape Products
Be sure to check out the entire FrogTape family of products, including the brand's newest innovation, FrogTape Textured Surface solution kit. Textured Surface enables homeowners and professionals to obtain sharp paint lines on surfaces that vary in depth, including orange-peel and knockdown interior wall surfaces. FrogTape is treated with patented PaintBlock Technology, a super-absorbent polymer that reacts with the water in latex paint and instantly gels to form a micro-barrier that seals the edges of the tape, which helps prevent paint bleed. Visit booth 6915 or www.frogtape.com.
SASHCO
Founded in 1936, Sashco, Inc., manufactures high-performance caulking and log home products in Brighton, Colorado.  Sashco is known for innovative products, like Lexel® and Slab®. Lexel, "The Tough Elastic Sealant
For Every Job" is a synthetic rubber elastomeric sealant that is known as the "duct tape" of caulks. It comes in Clear or White; it's paintable; it won't grow mildew when cured; it's formulated for interior/exterior use, and you can use it in any weather, in standing water, and even in freezing temperatures.  Lexel sticks to almost anything—even wet surfaces.  Lexel has been around for over 20 years thanks to its unique ability to work in extreme conditions.

Slab is a pro-grade repair product for cracked concrete. It sticks, stretches and stays for permanent repairs, comes in gray, and is great for sealing concrete cracks in driveways, sidewalks, patios, steps, and horizontal expansion joints. Slab is easy to clean up with water and easy on the environment. Visit www.sashco.com or booth 39087.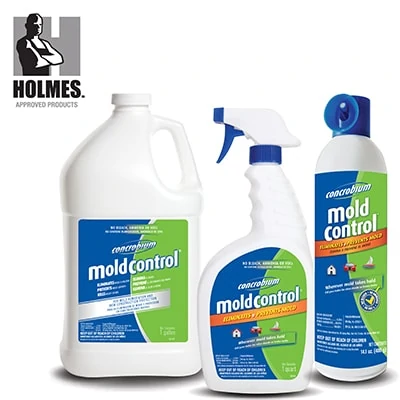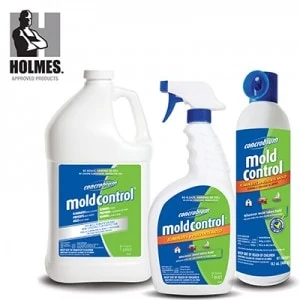 CONCROBIUM Mold Control
Concrobium Mold Control is a patented antimicrobial solution that eliminates and prevents mold without the use of harmful chemicals. The innovative EPA-registered product has been used by homeowners, building professionals and mold remediators for more than a decade to eradicate tough mold problems. Concrobium Mold Control is now a "Holmes Approved" product. The "Holmes Approved" Products program was designed to help homeowners choose products that support the health and safety of their home, including improved indoor air quality. "My crew and I have been using Concrobium Mold Control for years. It's the product I trust to get the job done right," says Mike Holmes, Canadian residential home improvement contractor and television show host. Visit booth 6527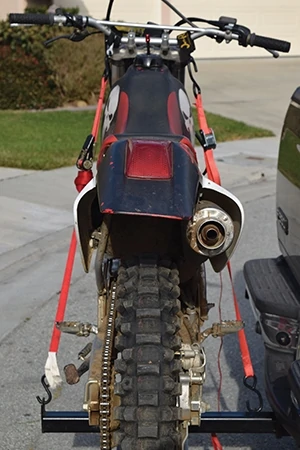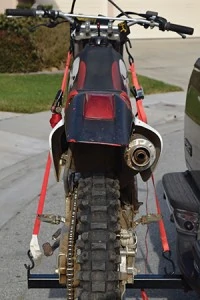 Jeri-Rigg
There are plenty of things to help tie down gear—bungee cords, ropes, lanyards, carabineers and chains—but sometimes there just isn't a solid attachment point.
Jeri-Rigg is your solution. It's an innovative tie-down/anchor point/strap to use in conjunction with securing mechanisms. No more wrapping bungee cords around equipment and attaching the hook to itself. No more poor connections, scratching and slipping. Jeri-Rigg provides a safe connection with a non-scratch, non-slip surface.
It's an easy and simple solution for hanging, holding and hauling gear and equipment. It's fast, too; within seconds you can fasten it to just about anything, and it can be reused over and over again. With hooks in three sizes and eyes in six sizes, Jeri-Rigg offers campers, boaters, home organizers and construction workers safety, durability and strength.
Jeri-Rigg is tested to hold up to 1,500 lbs., depending on the version and size. The polyester strap and corrosion-resistant metal head can handle the toughest elements. See the product at booth 2949 or visit www.Jeri-Rigg.com.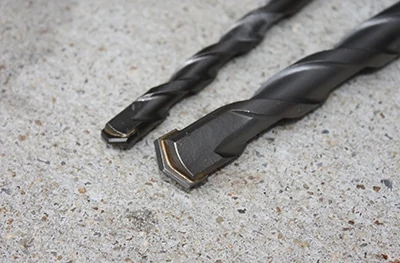 TG Tools Concrete BIT
The carbide tip of TG Tools' concrete bits have the "Euro-Form' profile that helps ensure skid-free traction. It bites into the concrete with more positive material removal than conventional bits, and stays sharper longer without burning. Combine this tip with TG Tools' flute design that removes chips quickly and cleanly, even in wet concrete. This is not just a steel shaft with a hip of carbide cemented to the tip. The shaft is made of Chrome Vanadium steel for toughness and long life. The carbide tip is made of heavier stock than common masonry drills and silver soldered in place. The shoulders of the Chrome Vanadium drill shaft are then precision ground to expose the carbide properly to the material. Visit www.mytgtools.com or booth 39087.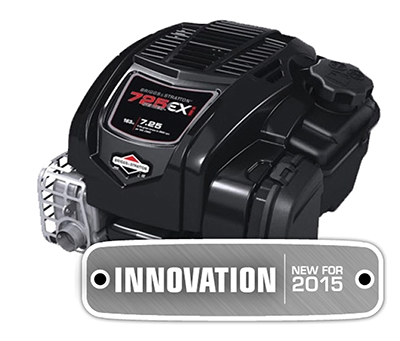 Briggs & Stratton EXi Engines
The Briggs & Stratton EXi Engine series means consumers may never again have to change the oil in their lawnmowers. Briggs & Stratton's research revealedthat even though most consumers understood the importance of lawnmower oil changes, they often neglected to do them. The new Briggs & Stratton EXi Engine Series runs at a cooler temperature and has improved air-cleaner seals, which mean that, with regularly scheduled maintenance, these mowers will be the first in the industry to never need oil changes. In order to continue working well, the lawnmowers will still require regular maintenance including air-filter and spark-plug changes. And although the mowers won't require oil changes, consumers will have to occasionally check the oil level and add more as needed.
The engine will become standard across all OEM partners and mower lines, and it replaces the company's 675ex and 725ex Series engines. Visit www.briggsandstratton.com or booth 40013.