By Clint Thomas
Equip a Work Belt with the Most Often Used Tools and Gadgets.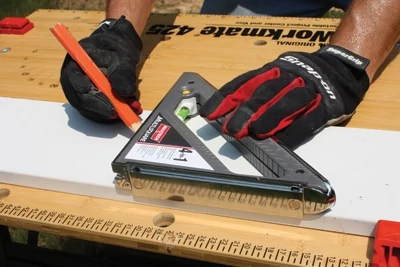 Some things can only be learned through experience. One area in which this is resoundingly true is the contents of the seasoned DIY guy's tool belt. After having spent the past 14 years working on several houses in some form or fashion, I have filled my tool belt with a collection of tools and gadgets that I consider to be, not only essential, but almost universal to any project.
Admittedly, some tools are specific to a particular job, such as a taping tool for applying joint compound or a paintbrush. However, I have found that I consistently use a small battery of tools in just about every job that I work on.  Whether I am hanging drywall, framing a wall, installing ceramic tile or changing electrical fixtures, I always seem to need the same basic set of tools. In fact, I am able to grab my well worn tool belt and not have to think about what tools that I might need, other than power tools or any specialty tool.
Must Haves
I suspect that my most used tool is my tape measure. The old adage of "measure twice, cut once" is very sound advice. I keep a 25-foot tape measure on my tool belt at all times, and I always make sure that I have at least one pencil for marking the measurements. In order to sharpen the pencil and also to cut a plethora of other items, I have a utility knife with a retractable blade. I make sure to keep a supply of new razor blades in the handle of the utility knife.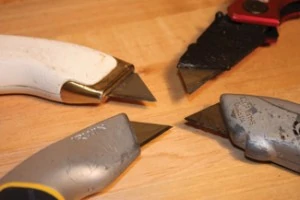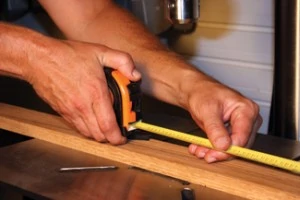 Another often used tool is my triangular Speed Square. This is a very handy tool for simple measuring, drawing straight lines and marking angles. Once a person becomes familiar with its use, it becomes almost as indispensable as the tape measure.
I complement this item with a bevel square and a compass. Having spent the past ten years renovating a Victorian "painted lady," I have had many occasions to use a compass to draw a circle or to transcribe a contour from one piece of molding onto a piece of new stock. You might not use a compass too often, but when you need it, you'll be very thankful that you have one on hand.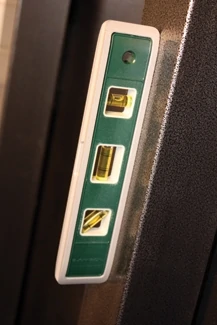 A torpedo level is another wonderful tool that every do-it-yourselfer should have within reach. It can never replace a standard length level, but it certainly comes close, and is much more user-friendly while standing on a ladder or hanging off scaffolding.
An unusual item that I like is a contour gauge. This is a wonderful gadget for fitting any type of flooring around molding and can even be used as a guide for copying all sorts of different molding types.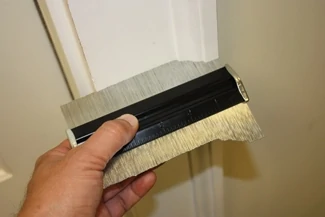 A chalk-line comes in as the final member of the marking and measuring family of tools. It is especially useful when working with drywall or any other unusually large piece of material. Chalk-lines are as old as time itself with good reason. They work, they are accurate and they are simple to use.
The most important thing to keep in a tool belt is a pair of safety goggles. These have the obvious use of keeping dangerous particles out of your eyes while cutting or performing demo work, but they can also be worn while painting to keep specs of paint from spattering into your eyes. If you have ever painted anything above your head, you'll have a greater appreciation for wearing goggles to keep paint from falling into your eyes.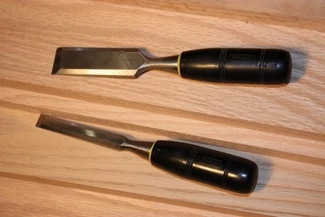 I have found that a 1/2-inch wood chisel is invaluable and can be used for many different applications from its original purpose. Much to the manufacturer's chagrin, I have used wood chisels for everything from a miniature pry bar to a paint scraper. I believe that a 1/2-inch chisel is the best size because it is large enough to make quick work of cutting into a piece of wood, but it is not so big as to be overkill.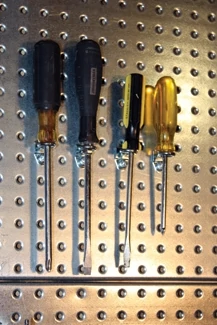 Old fashioned hand-operated screwdrivers are essential. Don't get me wrong—I love my cordless drill. I am rarely without it. However, some things require an actual screwdriver, and the precision that it provides. For example, a hand-operated screwdriver is the better choice for attaching electrical wiring to a new plug or switch. You might install a new junction box using a screw gun or even screw the switch into the box with it, but there are some things that just cannot be done with a screw gun because the work is too tedious. I keep a medium size flat blade and a Phillips head screwdriver on hand at all times. I also have a Phillips head extension bit in my tool belt for use with my cordless drill.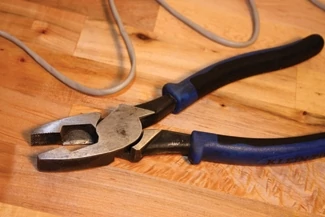 As the old saying goes, "necessity is the mother of invention," and I have found a dozen uses for roof flashing and sheet metal. I have discovered that I frequently have a need for a pair of Lineman's pliers and a pair of aviation cutters, which are nothing but a glorified pair of tin-snips albeit with a finer cutting surface. I don't use them too often, but when I do need them they are worth their weight in gold. One of the many uses for Lineman's pliers is to cut off old nails that are difficult to pull out, or to fix misdirected nails from a nail gun.
I love a nail gun, especially the cordless models manufactured by Paslode, but as with a cordless drill versus a screwdriver, there are some things that require a hammer. There-fore, I carry two different kinds. My favorite, by far, is a framing hammer. This is one of my most used tools. It's not only great for driving nails, but with an extra long, leverage-providing neck and claws that are almost perpendicular to the handle, it is the best demolition tool that I have found. I like to use it as a pry bar and then use a finish hammer to knock the claws of the framing hammer between whatever I am trying to separate. It works wonders for removing trim work of all sorts.
I must confess that I typically, if there is any justifiable way, use a nail gun and not a hammer for driving nails, but for the rare instances that I have to employ an old fashioned hammer, I keep a nail punch on my tool belt to countersink the nails.
The final tool that I have is a voltage tester. For most applications, I like the pen model that simply beeps and glows red when it is in contact with electricity. I find it easier to use than the model that has the red and black wires.
I can use the pen model with one hand. The other version requires one hand for the red wire and one hand for the black wire, and then a third hand to hold the box that shows the voltage scale.
In addition to this collection of tools, I have a small supply of drywall screws and assorted nails. Most of these are the result of throwing extra ones into one of the pouches on the tool belt when I don't want to put them back in their proper container. I found that I often will need one or two of these, and it's much easier to dig in the bottom of a pocket than to climb down off a ladder to get just one nail.
After reading all of this one may think that I have a tool belt the size of a steamer trunk. However, I have used the same inexpensive tool belt that is designed in a carpenter's apron style for the past fourteen years. Some people prefer the new, nylon tool bags that are similar to a toolbox but that are open on the top for easy access. I've been told, and it seems to make sense, that a hard-sided tool bag of this type is the best choice because it won't be constantly closing while you're using it. The soft-sided models collapse on themselves, hindering the retrieval of the tools.
Regardless of how you carry your gear, having the right tools often makes the difference between doing a mediocre job and doing a professional job.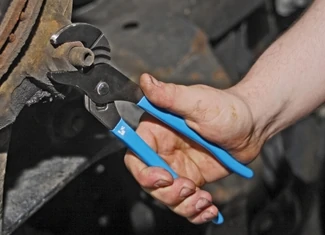 Side Note

Editor's Tool Belt
"Author Clint Thomas does a fine job of discussing a broad assortment of crucial hand tools for the handy DIY'er. I thought I'd also chime in with a couple of "must have" tools that I recommend for the home-improvement enthusiast:
Tongue-and-groove Pliers: Pioneered by Channellock, a simple pair of slip-joint pliers can be easily adjusted to turn a wide range of nut and bolt sizes using just one single tool.
Laser Range Finder: With the click of a button my Bosch laser range finder can instantly give me an accurate distance reading up to 165 feet by bouncing the laser off whatever object to which I point. It works like a tape measure, only it's more accurate and eliminates the need for a helper to hold the tape. There's no bending or kinking of a tape or need for retrieval. For a serious DIY'er, it's just short of a miracle tool thanks to modern laser technology.
Nail-pulling Pliers: These purpose-built hand tools do a better job of digging out buried nails than hammer claws, pry bars or other pliers. On any major jobsite they make pulling nails much faster, resulting in a safer work environment. You'll find such tools branded under names such as Nail Jack, the Nail Extractor and the Forrester Nailpuller.
Clamps and Vises: Most people were born with only two hands. Many home projects require three or more, and a pair of vise grips and/or a variety of clamps are the indispensable tools that hold the work where you need it, when you need it."
— Matt Weber, Extreme How-To editor in chief