Equip your garage, basement or workshop with the tools and supplies you need to tackle home projects, both big and small.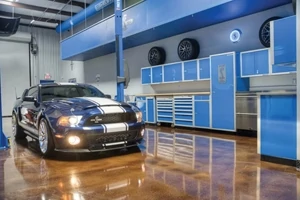 Moduline
Since the company's inception, Moduline has manufactured the best aluminum cabinets available on the market. Made in the USA from the highest quality materials, the precise workmanship is reflected in cabinets and accompanying accessories that are built to last a lifetime. Moduline also offers exceptional customer support to help you make the right decisions about your cabinet system. The informative website and catalogs, combined with trained cabinet experts, serve as your guide and answer any questions you might have about the various products. Whether for a commercial or residential application, you can count on customer support before, during, and after your purchase to cover all layout and design ideas for your space. Moduline will also create CAD drawings, so you can see what your cabinet system will look like and make sure the designs are congruent with what you had in mind. Visit www.modulinecabinets.com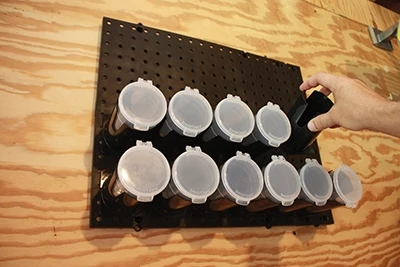 Smart Jars
In three simple steps, small items in need of storage go from distributed clutter to organized and ready for action. Here's how it works: First, put your stuff in a SmartJar. Snap the SmartJar Dock onto a pegboard. Place the SmartJar into the Dock. That's it. The system is an excellent way to organize and label small items such as screws, nails, nuts, bolts, fishing tackle, craft items—you name it. When stowed, the SmartJar gives you an easy view of whatever you decide to store in it. The docks are easy to insert and remove in standard pegboard. You lay them out and arrange them for the look and aesthetic you want. SmartJars are transparent, air-tight, durable and food-safe (BPA free). You can also place a label on the lid for quick reference. Visit Smartjars.com.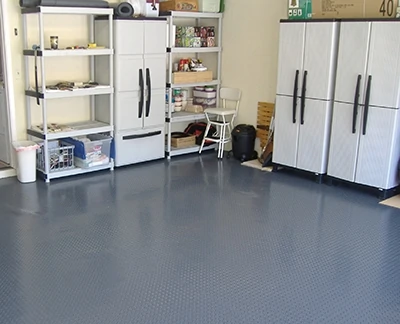 G-Floor Solid Color Series
Better Life Technologies, LLC, offers the G-Floor Floor Cover/Protector, a vinyl garage flooring that rolls out for easy installation. The rolls come in a variety of sizes to fit almost any garage. The EHT staff recently installed this in a residential two-car garage. G-Floor is available in seven sharp colors, from Midnight Black to Brick Red, and comes in four widths, from 7-1/2 feet to 10 feet. Custom sizes and grades are available. G-Floor provides a moisture barrier, reduces noise, hides pre-existing cracks and stains and lasts for years. The ribbed or channeled surface of the floor cover also channels away liquids to reduce the amount of dirt tracked into a home. Visit www.bltllc.com.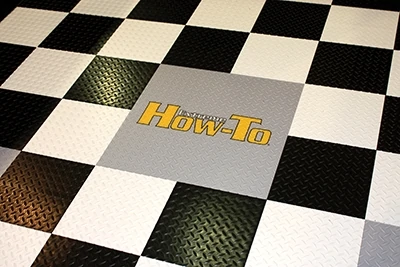 G-Floor RaceDay Peel-and-Stick Tiles
There's nothing beautiful about a dull concrete slab. G-Floor RaceDay Peel-and-Stick Floor Tiles provide a cool, professional look and handle harsh work environments like water, oil, gas and gravel. RaceDay Tiles are made from 100-percent polyvinyl vinyl for a tough, glossy finished surface that withstands the most demanding conditions from tires, heavy jacks and casters that are constantly being rolled across the flooring. RaceDay Floor Tiles use a special adhesive that is as tough as the tiles it binds. Additionally, custom logo printing is optional. Visit www.bltllc.com.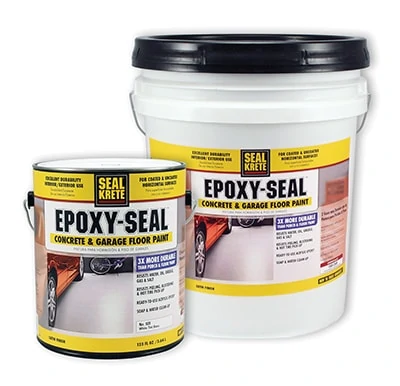 Epoxy-Seal Concrete & Garage Floor Paint
Epoxy-Seal Concrete & Garage Floor Paint is 3X more durable than porch and floor paint. It is a ready-to-use acrylic/epoxy blend formulated to resist hot tire pick-up, water, oil, grease and gasoline stains. It dries to a durable, UV-resistant satin finish that resists scuffing, peeling, blistering and fading. Epoxy-Seal is easy to maintain, making it ideal for both interior and exterior high-traffic areas including garage floors, driveways, shop floors, basements, pool decks, walkways, patios, porches and more. It is available in two premixed colors—slate gray and armor gray—or can be tinted to match any color. For more information about Epoxy-Seal, including where to buy it, visit seal-krete.com.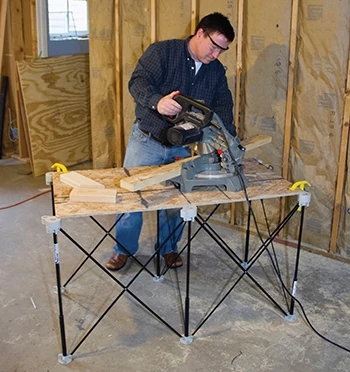 Centipede Work Support Systems
The new Centipede Sawhorse and Centipede Support XL are two innovative, portable work support systems. Each serve as a heavy-duty table or workbench base that sets up in seconds without assembly and folds down into a compact, lightweight unit for easy transport and convenient storage. Featuring a unique steel frame design, the Centipede Portable Work System is constructed of multiple struts that rest directly between the load and ground to support an incredible amount of weight while keeping the thinnest materials from sagging. Each strut is moved in tandem with steel cross bars flexible enough to absorb impacts and durable enough to ensure long-lasting operation. Polymer P-Tops atop each strut provide a work surface that avoids contact damage between cutting blades and steel struts. Each P-Top is replaceable and accommodates the use of included accessories.
The Centipede Sawhorse has an overall weight capacity of 1,500 lbs. and supports sheet lumber and table or bench tops over a 2-by-4-ft. area. The Centipede Support XL has an overall weight capacity of 3,000 lbs. and supports materials over a 4-by-8-ft. area. Each kit includes a carry bag, Quick Clamps to keep materials in place and X-Cups for quick setup of traditional sawhorse applications. Visit www.centipedetool.com.

Red Devil Hand Tools
Red Devil's legacy in hand tools and putty knives began 143 years ago when tools were hand-forged by blacksmiths. Today, Red Devil's wide range of hand tools for DIY'ers and professionals have been built on quality products crafted for convenience and comfort. For example, the EZ Grip tool line relieves pressure on the hand and wrist when spackling and scraping. Other lines of flexible and stiff hand tools include the 4100 Series with polished wood handles, 4200 Pro Series, with nylon solvent resistant handles and the 4800 Economy Series with heavy-duty plastic handles—all featuring carbon steel blades that extend through the handle for added strength. Red Devil also has your back and saves your knees with favorites like the Slamscraper Impact Tool, which quickly removes tile, carpet, linoleum and even ice on steps and driveways. And, time-saving multi-use tools, such as the EZ Grip 11-in-1 tool, perform a multitude of different tasks as a scraper, spreader, gouger, hammer, rake, opener and more. Red Devil has a tool for just about any wall repair job around the house. Beyond putty knives and scrapers, Red Devil also offers wallcovering, masonry, tiling and drywall tools. Visit www.reddevil.com.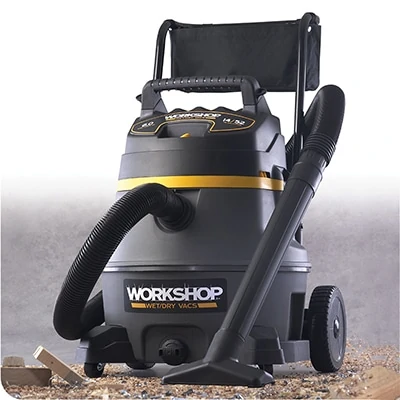 Workshop Wet/Dry Vac WS1400C14
Rough terrain is no obstacle for the Workshop Wet/Dry Vac WS1400C14, which features high performance and mobility, noise-reducing technology and a rugged two-piece drum. One of the quietest models in the Workshop line, this 6-peak horsepower, 14-gallon shop vac features an ergonomic handle and large rear wheels. The 2-1/2-in. hose offers 180-degree flexibility at both ends for better maneuverability. The Roll Tight Locking Sleeve keeps accessories securely connected, and the hose conveniently stores on-board when not in use. Accessories include Vac, Hose, Utility Nozzle, Car Nozzle, Wet Nozzle, Two Extension Wands, Locking Sleeve, Fine Dust Filter and Dust Bag. Visit workshopvacs.emerson.com.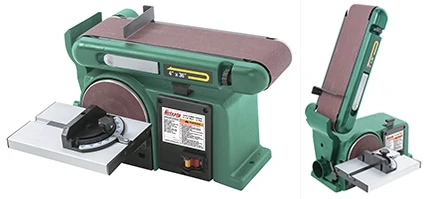 Grizzly Benchtop Sander Model G0787
The new 4-by-36-in. Horizontal/Vertical Belt Sander from Grizzly also has a 6-in. disc.
Powered by a 1⁄2-horsepower, 120V, single-phase motor, the belt sander turns at 1900 FPM. The disc sander rotates at 3600 RPM. Plus, the belt sander platen tilts from 0–90°, and disc sander table adjusts from 0–45°. Additional features include a built-in dust port, fast-tracking adjustment knob, and quick-release belt tension lever. Visit www.grizzly.com.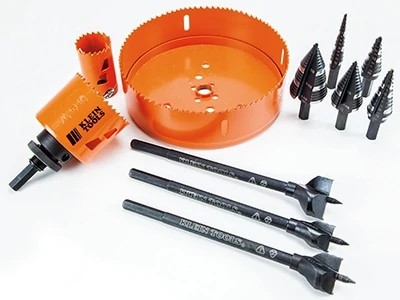 Klein Tools Holemaking Products
The new Klein holemaking products include Bi-Metal Hole Saws, Double-Fluted Step Drill Bits and Wood Boring Bits. These new tools,  along with existing products such as Carbide Hole Cutters, Ship-Auger Bits, Knockout Punches and Flex Drill Bits,  provide a complete, high performance line of holemaking equipment for steel, wood, drywall, plastic, tile and other materials. The updated Klein products are made from heavy-duty steel for fast, superior cutting, while engineered for longer-lasting performance and higher durability then previous models. They cut holes quicker, cleaner and easier, making them more productive on the job. Visit www.kleintools.com.
MAPEI Ultralite S2 Mortar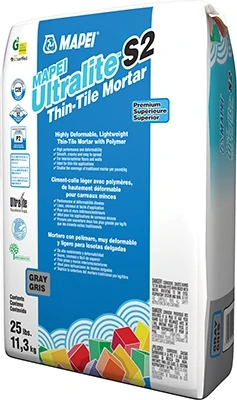 At the request of American tile associations, the MAPEI Research and Development labs extensively tested methods for successfully installing large thin tiles and compiled a set of reference guides for installing 1/8- to 1/4-in. tiles and 3/16- to-1/4-in. tiles. As a result of continued work in this field, MAPEI has developed a mortar that addresses the major issues involved in getting a perfect fit between large, thin tile and its substrate. With Ultralite S2, MAPEI offers a solution for lighter setting materials that make the handling large, thin tiles more controllable. The new mortar has more open time to accommodate the needs of the installation environment associated with back-buttering tile and applying it to the substrate. The product is also easier to trowel and has better wet-transfer properties to provide full coverage with improved bond. Visit www.mapei.com.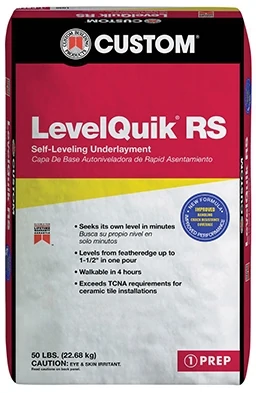 LevelQuik Self-Leveling Underlayment
Planning to install flooring in your garage, basement or workshop? LevelQuik Self-Leveling Underlayments includes both LevelQuik RS, for rapid setting applications and LevelQuik ES, with extended setting properties. Both products seek their own levels in minutes after pouring. The new LevelQuik formula provides superior crack resistance, better handling and even greater coverage. Its Controlled Cure Technology regulates the rate at which water evaporates during the curing process, prompting fast and consistent hydration. LevelQuik also helps eliminate installation problems including bond failure, crumbling and staining of resilient flooring caused by free moisture found in traditional underlayments. LevelQuik products help level floors prior to the installation of ceramic tile and natural stone, resilient flooring, carpet, wood and other floor coverings. Visit www.custombuildingproducts.com.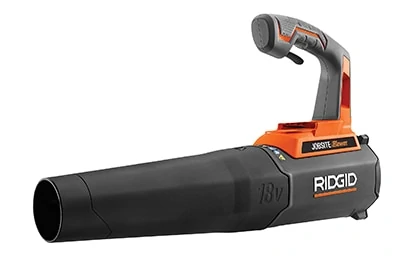 Ridgid GEN5X 18V Jobsite Blower
The Ridgid 18V Jobsite Blower (R860430B) is making jobsite cleanup easier than ever. With over 280 CFM and 100 MPH this blower has best-in-class airflow. Combine the air flow with over 20 mins of run-time on a 4.0Ah battery and you cannot go wrong. With its compact Size, you can reach tight spaces without giving up power. The variable-speed trigger matches the airflow to the application, and a Micro Texture Hex Grip enhances user comfort.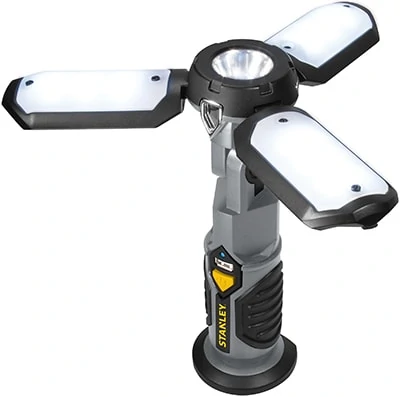 Stanley Satellite Rechargeable LED Work Light
Stanley together with Baccus Global offers the Stanley Satellight, an innovative work light. Designed for closed flashlight use, as well as an open Ultra-Bright LED wide range viewing, the Satellight has 3 folding Light Panels and a Pivoting head. It also offers portable power, giving you the ability to recharge electronic devices and more on the go, while having a runtime of up to 6 hours. The 1-amp USB charging/Power Supply Port is conveniently located and readily available on the base of the light for all of your portable power needs. The Satellight has a multi-function power button: High / Low / Area / All / Flash and a rechargeable lithium-ion battery, so you never have to worry about replacement batteries, just simply plug in. The flashlight features a magnetic base to easily attach to most metal surfaces, and the Stow-away hanging hook is easily accessible for light lantern use. Visit www.baccusglobal.com.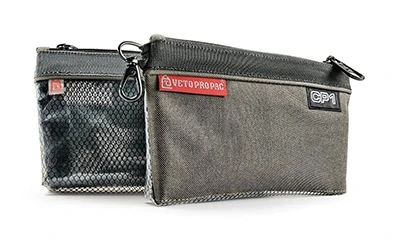 Veto Pro Pac PB4 Parts Bags
Veto Pro Pac's new PB4 Parts Bags is a set of four parts bags designed to help tradesmen organize and store small tools and assorted items. The PB4 parts bags are color-coded; contain a reinforced see-through side panels allowing for clear visibility of contents; and, they're made of 600 denier nylon body fabric to reduce wear and tear. In addition, the PB4s have a metal swivel hook that attaches to any Veto Pro Pac tool bags' outside D-rings or they can be stored inside the tool bags. Ultimately, the PB4 is a 4-pac solution to the clutter dilemma, and they are versatile for everyday use in the field, at the office, or even at home. Visit www.vetopropac.com.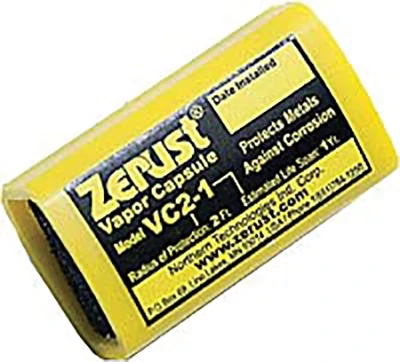 Zerust
All Zerust products operate on the same basic principle, to create an invisible barrier of corrosion-blocking molecules around your valuable metal items. Exposed metal surfaces protected with Zerust benefit from a long-lasting shield against rust, tarnish and corrosion. The patented technology is odorless, non-toxic, eco-friendly, and lasts up to five years. The company's Drawer Liners, which combine the corrosion-inhibiting formula with a heavy-duty non-slip PVC rubber, save you time and money by sparing you from having to apply costly oils and WD-40 on the contents of your toolbox. And the Zerust Table Saw Covers are uniquely designed to guard your most expensive investment from rust, electrochemical reactions, dust and moisture. If you're looking for effective, affordable, guaranteed-to-last rust protection products, visit zerustproducts.com.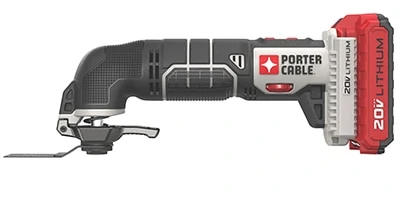 Porter-Cable 20V MAX Oscillating Tool
The 20V MAX Oscillating Tool (PCC710B) offers a patent-pend-ing Tool-Free System that allows users to perform quick and easy accessory changes or adjustments, resulting in minimal down-time on the jobsite. The Oscillating Tool is ideal for cutting, sanding, scraping, and grinding applications that require precise control and cut quality. It features variable speeds between 10,000-18,000 oscillations-per-minute (OPM) for optimizing the tool's performance depending on the application. |The Oscillating Tool has a three-position over-mold grip and LED work light for illuminating dark work areas. Twenty accessories are available for cutting, sanding, scraping and grinding applications. The Oscillating Tool is also compatible with DeWalt's Universal Fitment System. Visit www.portercable.com.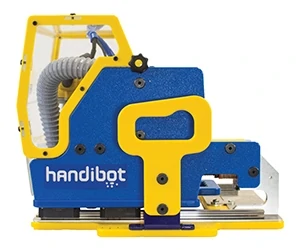 Handibot Smart Power Tool
ShopBot Tools, Inc., announces the production version of the Handibot Smart Power Tool, available later this year and sold exclusively on handibot.com.
The Handibot is a portable, digitally-driven fabrication tool. Cut, carve, mill and machine wood, MDF, plastics, plexiglas, styrofoams and aluminum.
Handibot is a professional production mill, priced like a hobbyist tool. It enables anyone with an interest in making-whether a weekend hobbyist, a solo entrepreneur in his or her garage, or a small-to-midsize company-to prototype and produce real products from real materials. ShopBot CEO Ted Hall says, "This is the first of a new breed of power tools; power tools with smarts. Conceived as an 'open innovation' platform, Handibot has been evolving with crowd-sourced ideas, developer-version testing, and accessory invention-all in a supportive ecosystem of collaborators and enthusiasts."
Handibot's new controls, called FabMo, are a new way to run digital fabrication tools. "It's our new motion control system that allows users to run the Handibot from any device wirelessly." Visit www.handibot.com.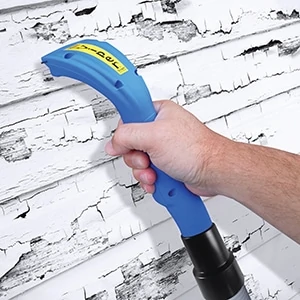 Oneida Air Viper Scraper
Oneida Air Systems introduces their patent-pending Viper Scraper. Attach this comfortable-grip scraper to your shop vacuum by either a 1-1/4- or 1-1/2-in. hose and clean while you scrape. The Viper has reversible tungsten carbide blades for long lasting durability and is ideal for lead abatement, hardwood floor installation, boat refinishing and repair, as well as paint, stucco and textured ceiling removal. Learn more at 1-800-732-4065.