Man has used stone and ceramic to cover walls and floors since ancient times. Tile is a waterproof, durable and stylish option for any space. With all the new looks and sizes to choose from, it's easy to see why people want it for their homes. Methods for installation evolve over time, however, and this article highlights some innovative new methods for various tile applications.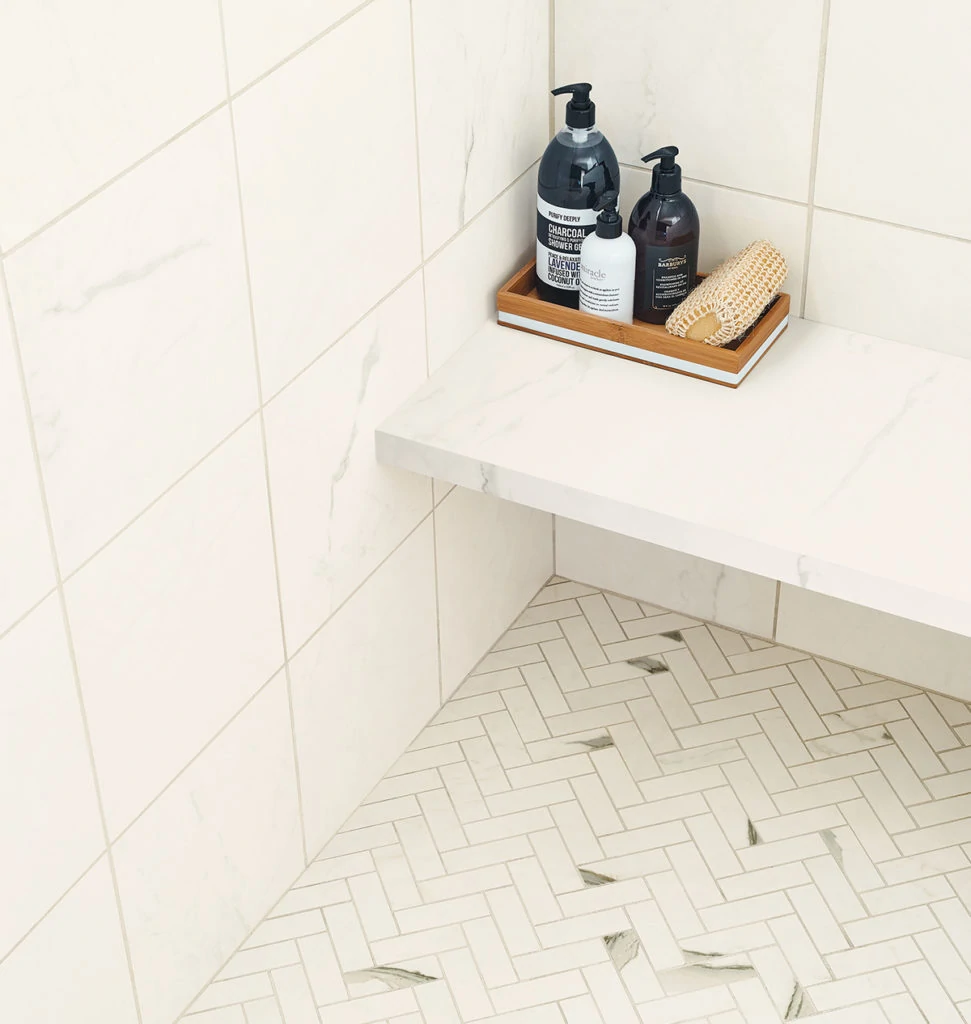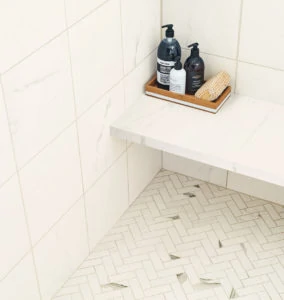 Cover Old Tile with New
Remodeling a previously tiled living space usually involves a lot of messy demolition to remove the old tile, grout and mortar bed. Tile demolition can require the use of hammers, scrapers, chisels, even electric rotary hammers, and the work leaves a huge pile of debris to clean up. What if you could skip the demolition and go right to installation of new tile over the old stuff?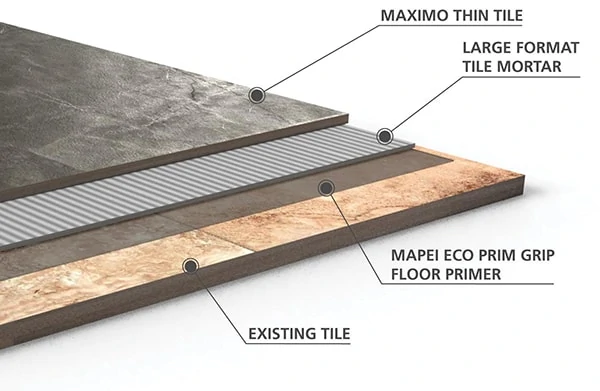 Exclusive to Floor & Decor, Maximo Durable Thin Tile is an ideal flooring solution if you're looking to save time and mess. Using floor primer and large-format tile mortar, Maximo thin tile can be installed over existing floor and wall tile as well as  subfloors, which eliminates  the need for demolition. Like traditional tile, Maximo is  durable, waterproof, and scratch- and stain-resistant. Plus, it can be installed in any room in your home. Learn more at www.flooranddecor.com.
Easier Exterior Installations
Exterior tile installations have always held many challenges for installers. Managing proper drainage and preventing damaged tiles are particularly difficult in harsh climates or areas with wide temperature swings or a lot of moisture. The proliferation of 2-cm thick porcelain tiles has created an opportunity for exterior installations to be done much more easily and with greater success. Schluter Systems now offers the Schluter-Troba-Level paver support system designed specifically for use with thick porcelain tiles rated for exterior use.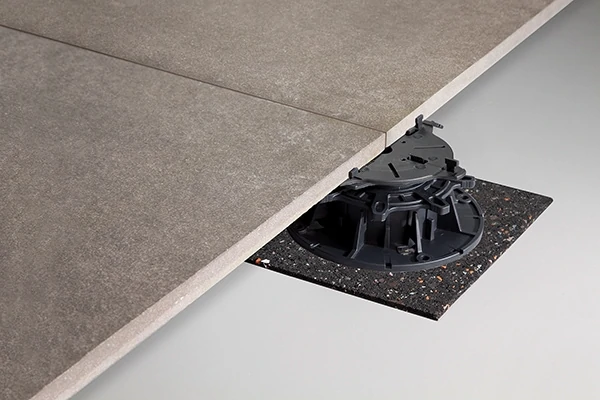 The Troba-Level paver support system, or pedestals, supports the tiles above the substrate with no bonding system required. This elevated system has a number of advantages over traditional bonded tile methods, including simple installation, natural drainage and ventilation.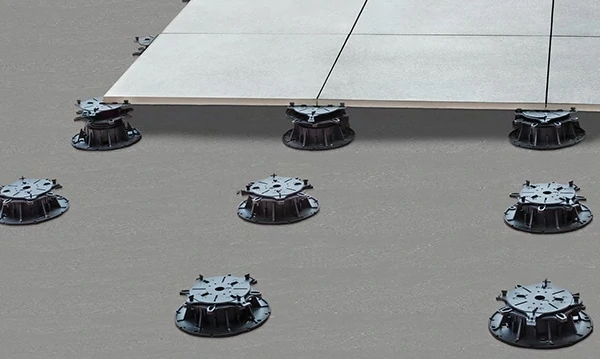 The system is available with several accessories designed to manage sloped substrates and  different thicknesses of tile so that a level terrace or patio can  be installed over an uneven substrate. By using different supports, shims and spacers, the installer can create a level patio with precise transitions and flush seams and corners.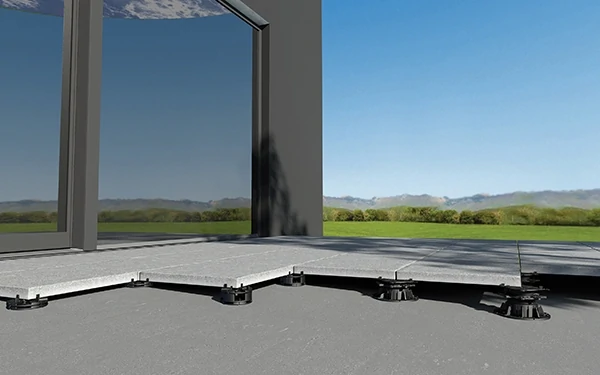 Because tiles are not bonded in place, the system allows for quick and easy access to waterproofing, drainage systems, or utilities beneath the finished patio floor.  (The installed paver support system needs to be properly contained and restrained around the full perimeter for a long-lasting durable installation.) Learn more at www.schluter.com.
Make Sure Tiles Are Level
The Delta Tile Leveling System from RUBI is a system of wedges and strips recommended for 12×12-in. formats or larger with varying thicknesses of up to 1/2, 9/16 or 3/4 in., depending on the model of strip used. The basic principle of the Delta Leveling System is to press down on the highest piece, until it is evenly positioned with the adjacent tiles, achieving a substantial improvement to the surface planimetry. The Delta System also prevents the tiles from moving while the adhesive sets and, during installation, reduces the number of corrections to the position  of the tile itself.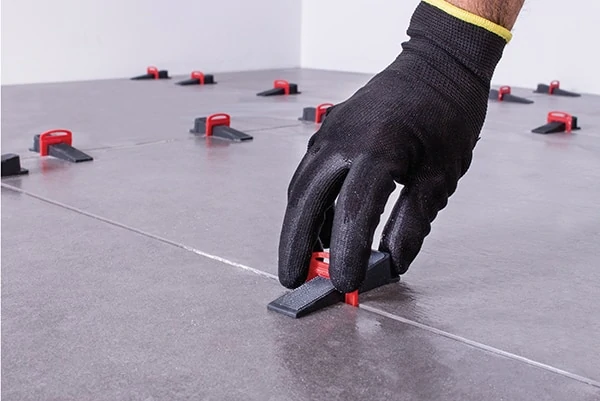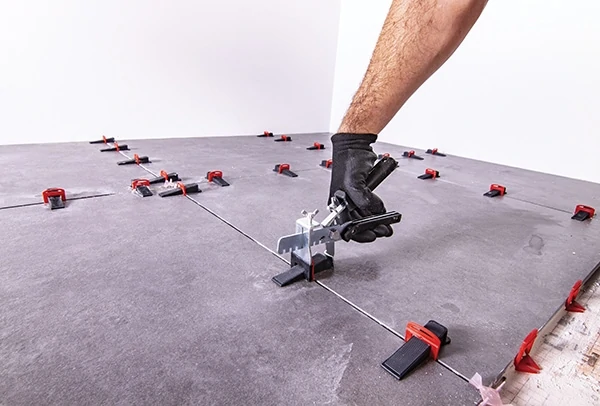 The Delta System nippers are designed to be used in both horizontal (floor) and vertical (wall) tile installation work. The main function of the nippers is to apply the necessary pressure to the wedge to allow the leveling of the tile to obtain a homogeneous flatness throughout the floor. Learn more at www.rubi.com.
Peel-and-Stick Mosaic Tile
Inoxia is the original designer and distributor of premium  ultra-thin metal, stone and glass self-adhesive mosaics.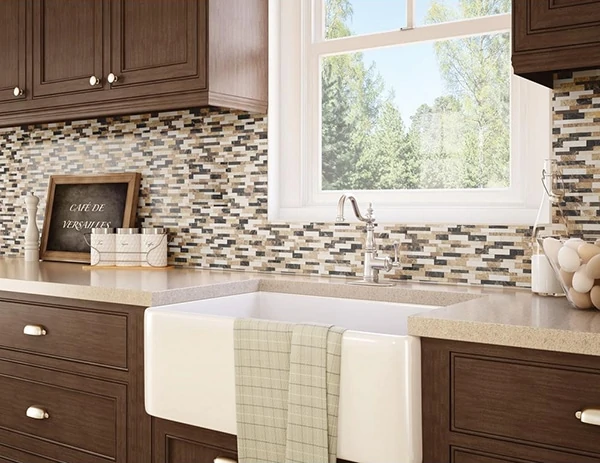 Inoxia self-adhesive tiles require no thinset mortar or grout, eliminating mess and saving time and labor. Backed by the company's "EverStik" 10-year limited warranty, the Inoxia tiles enable DIY installers to complete a backsplash or accent wall in a matter of hours instead of days. The proprietary adhesive requires that the installer simply peel off the backer and spray the backing with a mixture of regular dish soap and water (this delays the bond so that you can place and then slide the tile into its precise location). Place the tile, and you're done.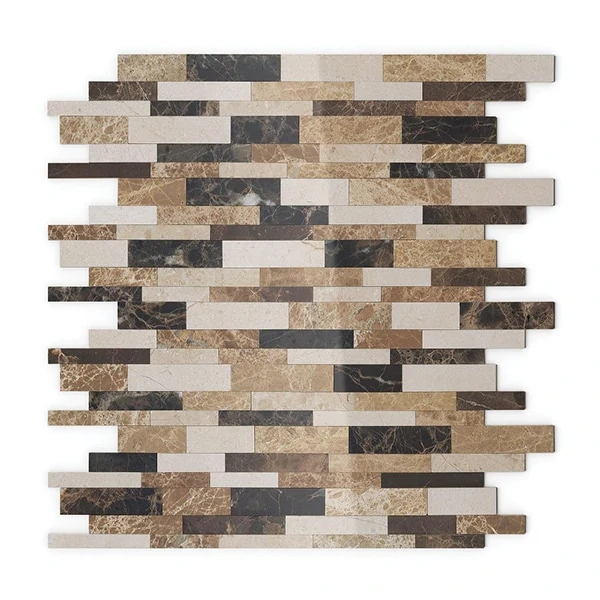 The manufacturing process eliminates the need for grout. Tile sizing and positioning is precise within the mosaic, and as a result no grout is needed vs. typical mosaic tile that requires grout to hide their associated manufacturing and installation imperfections. For both DIY and professional tile jobs, Inoxia self-adhesive mosaics can speed up installation time 400 percent faster than traditional methods.
Adhesive Tile Setting Mat
Custom Building Products' SimpleMat Contractor Roll is one of the quickest, easiest and cleanest ways to install tile on countertops, backsplashes and shower walls. SimpleMat replaces traditional thinset mortar or mastic adhesive. The adhesive retains its bonding strength for extended periods of time, which means users have the flexibility to tile onto the mat an hour at a time or over several days. SimpleMat bonds instantly so you can start grouting immediately after tile installation. Because it requires no mortar or mixing, there is minimal mess.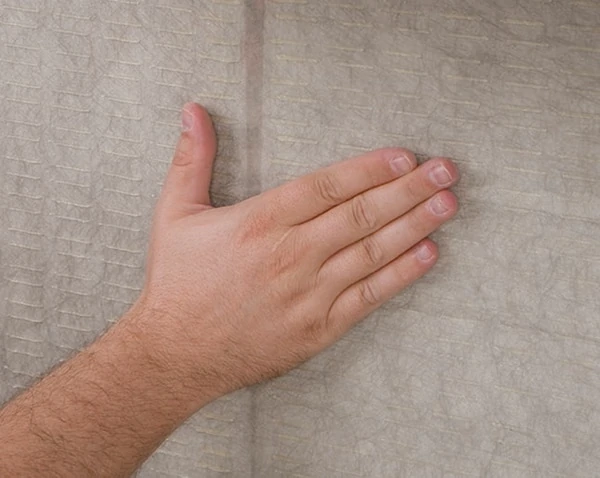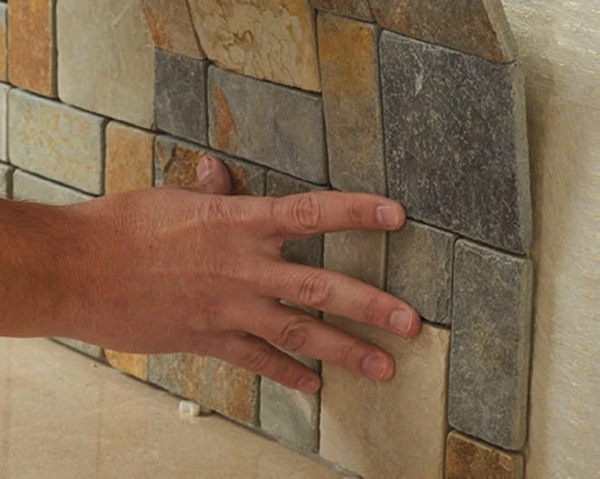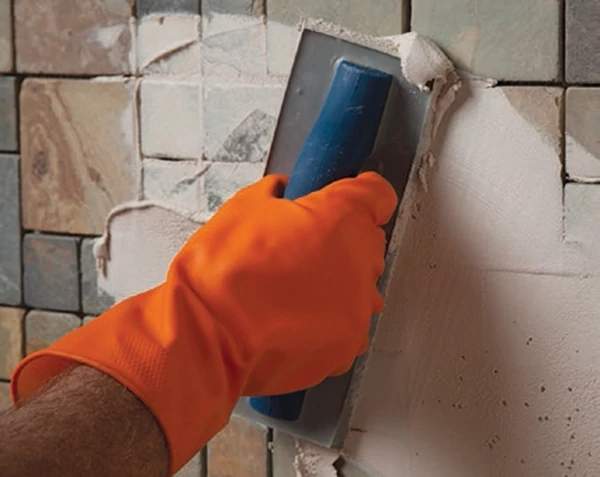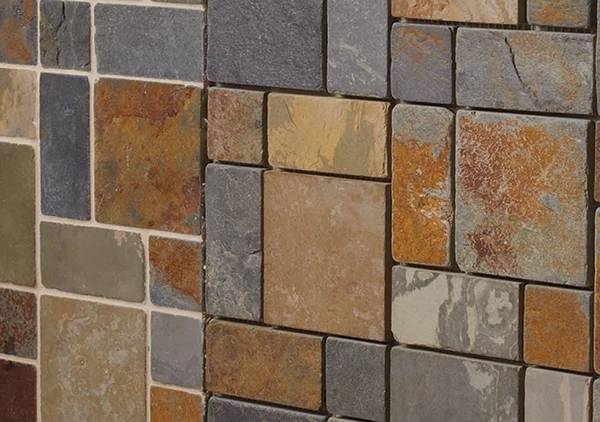 Note that SimpleMat is suitable for interior projects, but is not suitable for use on floors, on ceilings, shower floors or in areas constantly exposed to water. Learn more at www.custombuildingproducts.com.
Spray-Lock Wall Tile Adhesive

Spray-Lock Wall Tile Adhesive is an innovative application that cuts installation time by more than 50 percent. Tile can be installed over porous or non-porous substrates without sagging. Spray-Lock WTA will work on tiles up to 6-by-6 in. and all mosaic tiles on a backing, and it is approved for use in shower applications by the Tile Council of North America. When installed with the product, tile can be grouted in one hour. There is no need for a ledger board, and the adhesive installs over many surfaces. Complete the full installation in a single day.
Waterproof Tile Walls for Showers and Baths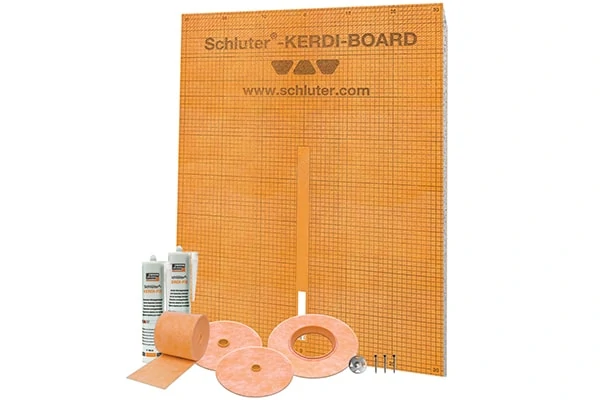 Whether a tub surround or a standalone shower, the walls must be waterproof before the tiles are installed. Schluter Systems' Schluter-Kerdi-Board Kit includes everything needed to build waterproof walls for a standard tub surround or an acrylic shower base, all in a package that can easily fit into most vehicles. The kit eliminates the possibility of damaging leaks and mold growth due to moisture penetration. It includes eight pieces of 1/2-in. thick Kerdi-Board waterproof building panels that can be screwed directly onto wall studs to build a tub surround or shower area. The panels are 48×38 inches and can easily be cut with a utility knife to fit any wall space up to 101 sq. ft.
The Kerdi-Board panels are lightweight, don't generate dust when cut, and completely eliminate the need for gypsum or cement board on the shower walls. The panels are installed with screws and washers that are included in the kit. Once the panels are up, only the seams between panels and the screw penetrations need to be waterproofed to complete the walls. The kit includes a 5-in. wide strip of
Kerdi-Band waterproof membrane that can be cut and then installed using thin-set mortar to seal these areas. Tiles are then set directly onto the Kerdi-Board with thin-set mortar. This system is not only waterproof but vapor-tight, so it won't leak or promote mold growth.
The kit also includes two tubes of Kerdi-Fix sealing and bonding compound to create a waterproof seal around the flange of the tub or shower base. Other components include a 4-1/2-in. mixing valve seal, a 3/4-in. pipe seal, and a 1/2-in. pipe seal to ensure no moisture can enter the wall cavity where the plumbing fixtures protrude into the shower area. Learn more at www.schluter.com.
Slope Systems for Shower Floors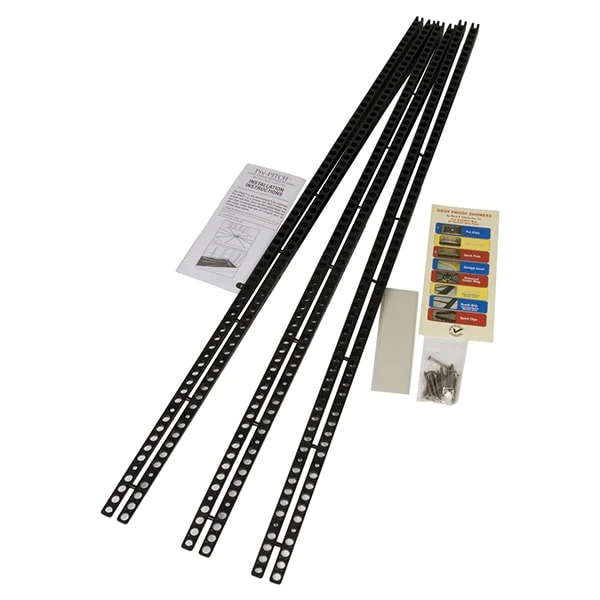 The Goof Proof Pre-Pitch Shower Kit from Mark E. Industries is a stay-in-place spreading tool used beneath shower pan liners. It creates the code-required subfloor slope needed beneath the pan liner to manipulate the water towards the weep holes that are integral to shower floor drains. By having a pitch under the pan liner, water that passes through the mud bed of a tiled shower floor is directed to the weep holes instead of being trapped between the mud bed and the liner. This ponding or collection of water is where many mold- and mildew-related issues originate. Made of economical, lightweight plastic, Pre-Pitch can be cut to fit with a hacksaw.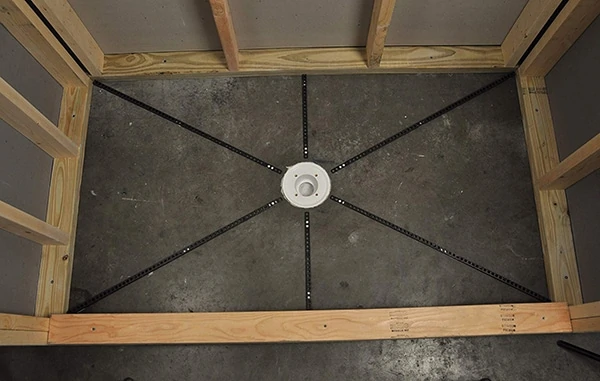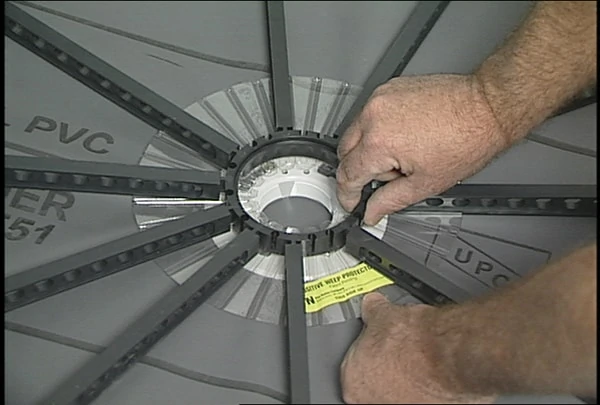 After the liner is in place, Goof Proof Quick-Pitch Float Stick System permits easy construction of shower floors with the proper minimum water drainage slope of 1/4-in. per 12-in. run. With this time-saving system, there is little chance for error in measurement (or the need for a level), to achieve a properly sloped shower floor. The Quick Pitch system uses a Center Ring and tapered Float Sticks to ensure the correct slope in standard or custom shower areas with walls up to 6 feet in any direction from the floor drain. Visit goofproofshowers.com.
Custom Shower Pans
The Redi Your Way custom shower fabrication system from Tile Redi was named a "Best of IBS" award finalist at the 2019 International Builders' Show.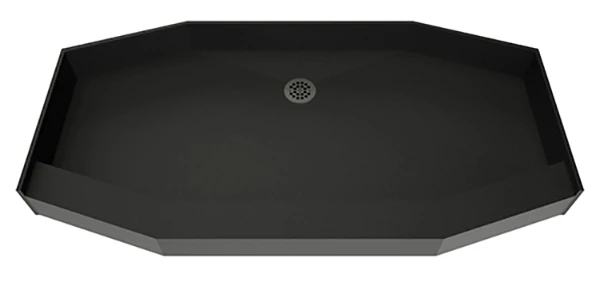 When standard sizes and configurations don't quite fit your shower project, Redi Your Way provides true custom shower pans that can be built to any customer-provided specifications. Beyond dimensions, customers can select drain styles and location, cutouts, and the height, number and placement of curbs and entrances. No waterproofing is needed on the one-piece, leak-proof shower pans. Their light weight enables easier handling by installers. They can typically be installed by one person in less than 30 minutes. Tile can be directly set onto the surface, simplifying installation and saving valuable time. Plus, installations only require an inspection of the drain connection to the wastewater plumbing.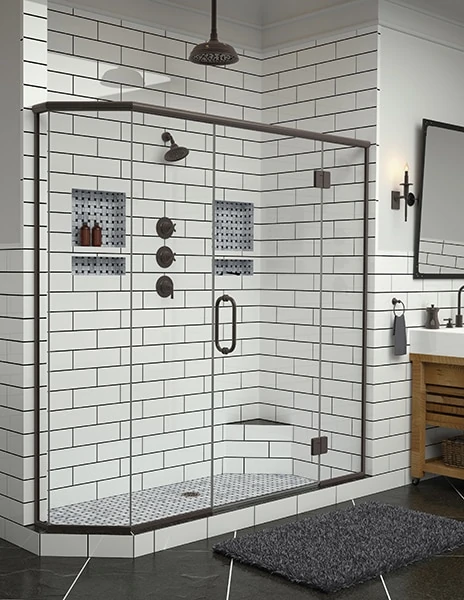 Tile Redi also offers the Redi Shower Kit, which takes the guesswork and stress out of the design process. Everything needed for an installation is included—the shower base, wall panels and glass door enclosure. Numerous colors are offered that can be mixed and matched to create the ideal combination for each shower. The Redi Shower Kit is available in four series designed to meet a variety of design aesthetics. Learn more at www.tileredi.com.
Vinyl Tile Alternative
Luxury Vinyl Tile, often called LVT, is a flooring product that usually installs with tongue-and-groove joints and looks like stone or ceramic tile, complete with natural colors and surface texture that feels like the real thing. Similarly, LVP is luxury vinyl flooring that looks like wood planks that often include textures of scraping or embossing that heighten the realism.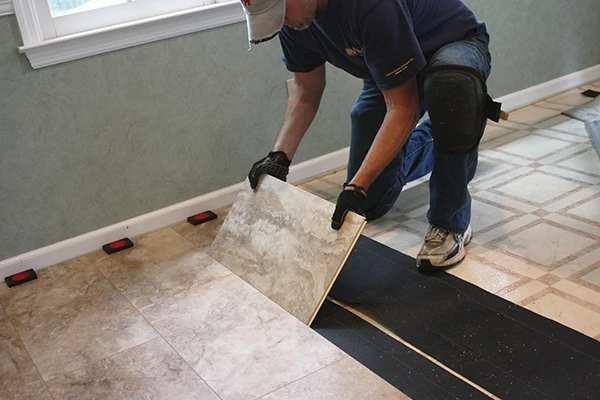 Waterproof and easy-to-install, vinyl tiles or planks eliminate the messiness of mortar or adhesives often used with tile. Many of these vinyl interlocking planks simply snap into place, and while some products are made to be grouted, others form a faux "grout line" at the joint, eliminating the mess and labor of applying traditional grout. Some vinyl planks are installed directly over bare concrete, with no need for a subfloor. This cuts down on labor, in addition to making it much easier to replace a plank later if needed.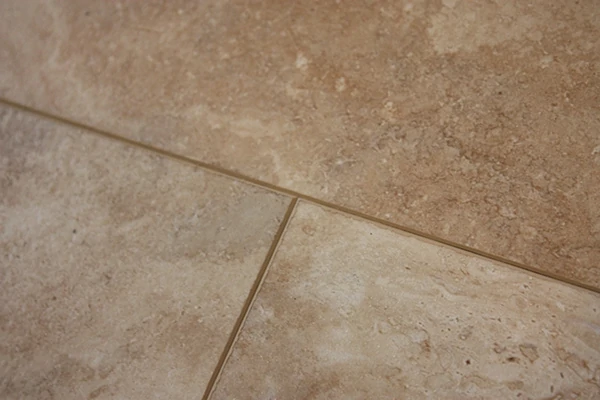 Vinyl is waterproof so it will resist moisture in basements and kitchens. And messes are easy to clean up. The thick vinyl tiles are durable enough to handle heavy traffic and they come in dozens of designs and colors, from textured stone to hardwood, all in multiple shades—plenty to suit any décor choice.
Note that although minimal floor prep is needed, the subsurface must be flat and even for successful installation of vinyl tiles because the tongue-and-groove edges must align to join properly.
Side Note One
Certified Porcelain Tile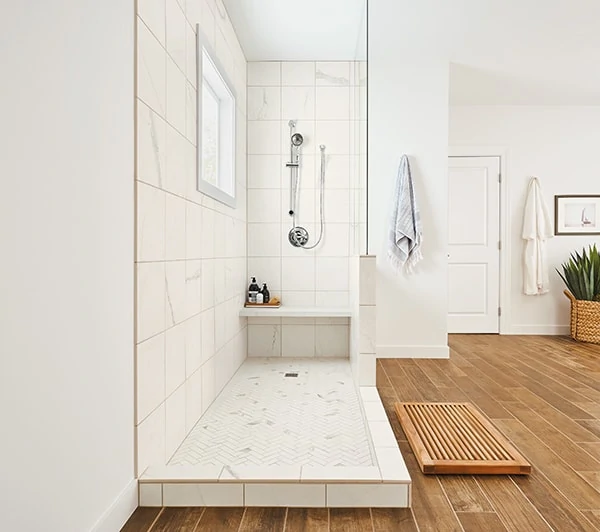 Not all ceramic tile is porcelain tile. Porcelain tile offers specific wear characteristics. Many ceramic tile installations don't require porcelain, but in some cases, porcelain tile's dense, impervious body is necessary to meet the environmental and wear demands of the installation. According to the Tile Council of North America, porcelain tile is defined as an impervious tile with a water absorption of 0.5% or less. Because of its low water-absorption characteristics, porcelain tile is considered "frost-proof" and can be used in outdoor applications in cold environments. Unfortunately, a lot of tile is mislabeled "porcelain" when, in fact, it doesn't meet the definition. If a tile described as "porcelain" but not meeting the qualifications of porcelain is used in a cold exterior application, it may absorb water, freeze and then crack, placing the entire installation at risk.
Under the Porcelain Tile Certification Agency (PTCA) program, manufacturers can prove their tile is porcelain — meeting the 0.5% water absorption criteria – and denote this with a PTCA certification mark on their product packaging as confirmation of compliance. So, if you're looking for genuine porcelain tile for your next home-improvement project, keep an eye out for the PTCA seal of approval.
Side Note Two
Goldblatt Floor Line Laser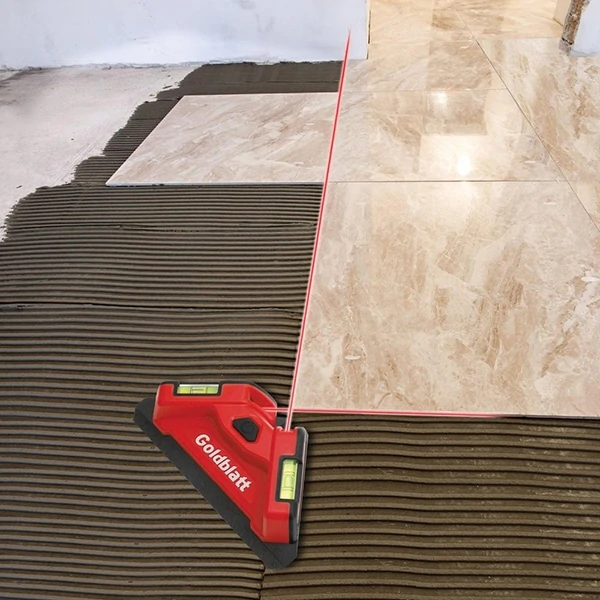 Designed for accuracy and versatility, this easy-to-use laser level features a leveling plate and silicone pads that allow for precise leveling in a 33-ft. range across a floor. Ideal for tile layout, the laser features simple one-button operation and projects two beams with accuracy of ±3/8-in. over 30 feet.
Side Note Three
Tile with Style
A quick look at some cool collections in the wide world of tile.
Reformation Porcelain Tile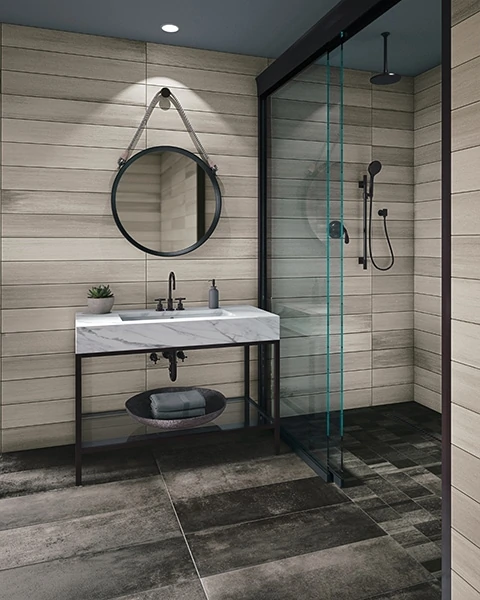 Crossville Inc. recently launched its Reformation porcelain tile collection. This unique, concrete-look product offers visual depth with movement, pitting, aggregate and sheen variations interpreted in stylish, large format plank tiles, as well as mosaic options and trims. The collection's four hues answer the demand of current color trends while providing lasting appeal. The quartet of colors includes New Day, a light, cool gray; Rally Cry, a strong, nuanced gray; Ideology, a light neutral; and March On, a darker hue reminiscent of industrial steel. Reformation comes in three rectified plank tile sizes—24"x36", 12"x36", and 6"x36"—that are ideal for mixing and matching in a variety of patterns. Visit crossvilleinc.com.
Palazzo Collection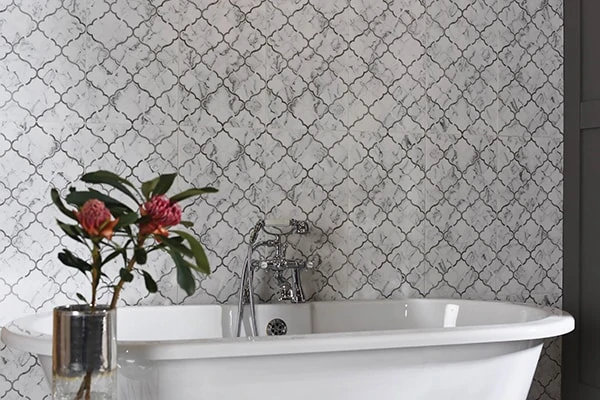 Palazzo, Original Style's new large format tile range, features decorative patterns designed and printed in the heart of Devon, England. The six designs are all inspired by the grand palatial buildings of Italy. The patterns in this collection look as if they have been inlaid on classical Carrara marble. Palazzo provides a practical alternative to wallpaper, appealing to those who are looking for stylish, decorative wall designs for a bathroom or kitchen. Designed in pale grey and crisp white, the tile in this collection have a neutral color palette that coordinates with most color schemes. Visit www.originalstyle.com.
Festival Bright White Ice Beveled Wall Tile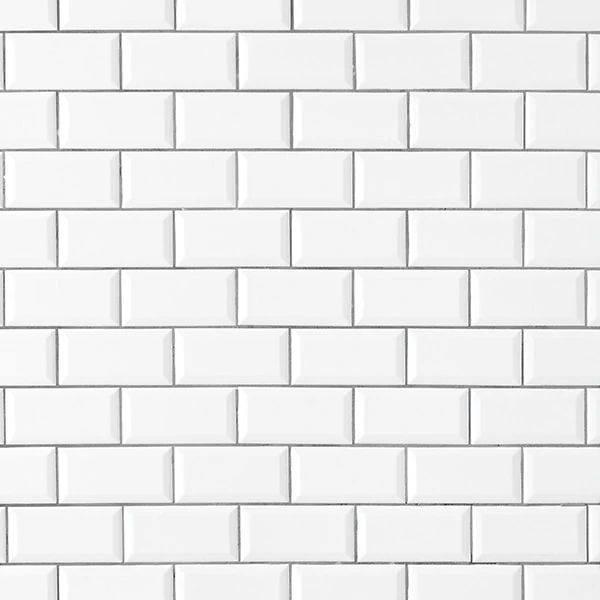 This Bright White Ice Beveled Ceramic Wall Tile is 3×6 with a polished or high-gloss finish. It is suitable for use as a wall tile but should not be used on floors. Wall tiles will add an attractive touch throughout your home. Whether you're looking for simple, clean designs or large format, these tiles offer long-lasting beauty that is versatile, affordable and easy to maintain. Visit www.flooranddecor.com.
Fragmenta Terrazzo and Marble Luxe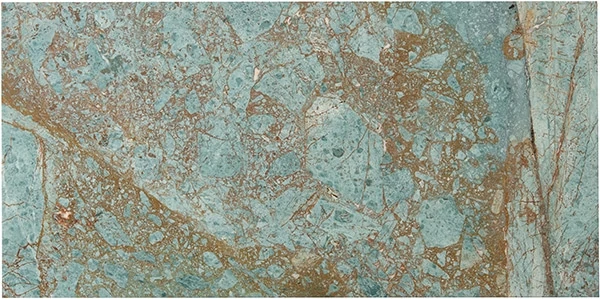 Walker Zanger's two new natural stone collections—Fragmenta Terrazzo and Marble Luxe—are available in large-format tiles classically inspired and skillfully crafted in a versatile selection of modern styles and neutral colors. Visit walkerzanger.com.