EcoBlend Roofing Tiles
The EcoBlend polymer shake and slate roofs from DaVinci Roofscapes reflect sunlight and heat away from the home. By reflecting the sun's energy back into the atmosphere instead of into the structure, the EcoBlend tiles help reduce the cooling load, and as a result, increase the energy efficiency of the building. The EcoBlend tiles are available in six new color blends that all meet Title 24 energy-efficiency requirements for California. All DaVinci high-performing roofing products are made in America, backed by a limited lifetime warranty, and are 100-percent recyclable. Visit www.davinciroofscapes.com.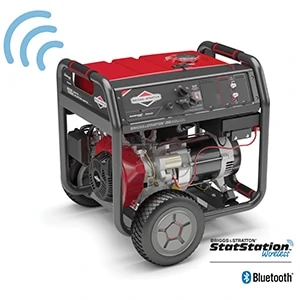 Briggs & Stratton Bluetooth Portable Generator
Briggs & Stratton offers the first Bluetooth-enabled portable generator, the 8,000-watt Elite Series Portable Generator with StatStation Wireless. Bluetooth connectivity makes it easy and convenient for operators to monitor the generator from the comfort of their home or office. By connecting with the 8,000-watt generator, the StatStation Wireless app provides operators visibility to the fuel gauge, available wattage, maintenance reminders (spark plug, oil, air filter), total run hours, dealer locator for servicing, and even reference materials (operator's manual, etc.). Visit www.briggsandstratton.com.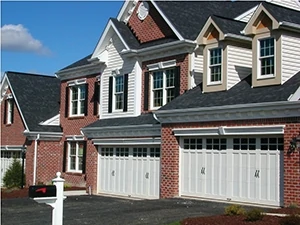 Haas Door American Tradition Series
Haas Door's American Tradition Series garage doors are now available in 13 solid color options plus two woodgrain base options. Each of the made-in-America doors feature handcrafted quality and rich, traditional carriage house style without the maintenance hassles of wood. The 2-in. thick steel garage doors feature CFC-free polyurethane insulation with a calculated R value of 13.45. Overlay boards add distinction and the traditional carriage house look. Available as single or double doors, with solid top section designs or several window options. Visit haasdoor.com.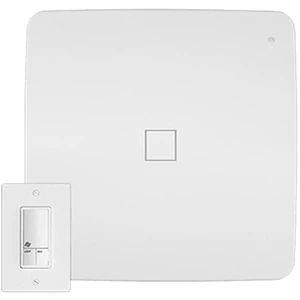 Veent Learning Ventilation Fan
Veent's smart technology takes over the task of protecting your room from harmful repeated moisture by tracking and sensing elevated humidity levels before clearing and drying the room. The fan is built to increase airflow, reduce sound, control moisture and help eliminate the risk of airborne illness. The installation process is simple and the Veent app, available for iOS and Android, allows users to control Veent's six-color night light, fan speed, sound level and timer. Veent fans are ideal for every bathroom and can easily replace existing fans without the hassle of re-wiring. Veent fans and switches communicate wirelessly and can be controlled through the Veent fan switch or the mobile app. The Veent fan removes air at 145 cubic feet-per-minute (CFM) when you need to clear and dry rooms fast. At its lowest setting Veent produces 0.1 sones and removes air at 40 CFM—the quietest fan on the market. Visit Veent.com.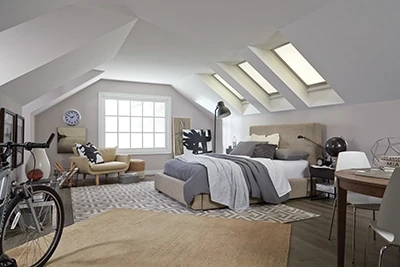 Velux Energy Performance Skylight
Homeowners can maximize energy efficiency and take advantage of a 30 percent Federal tax credit with the new Velux Energy Performance Model skylight featuring automated energy performance. Launched at the 2017 International Builders' Show in Orlando, the Energy Performance Model combines an Energy Star-certified Velux fixed skylight with a factory-installed, double-pleated, solar-powered, blackout blind and a preprogrammed Intelligent Touch Remote Control in one box. When closed, the double pleated blind boosts the overall energy performance of the skylight by 40 percent. The blinds are fully automated when the room is not in use, closing during warm summer days and cold winter nights to block light and insulate. And with a 30 percent federal tax credit, homeowners will receive an average of $730 in Federal tax credit eligibility. Visit www.veluxusa.com or www.whyskylights.com.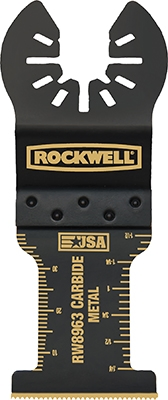 Rockwell Sonicrafter Extended Life Blade
The new Rockwell Sonicrafter Extended Life 1-3/8 in. carbide-tipped cutting blade cuts the toughest materials, including ferrous and non-ferrous metals, hardwoods, tile, hardened fillers and more. This affordable and versatile new blade is handy for making long or intricate end cuts, as well as plunge cuts up to 1-5/8 in. deep. Its carbide teeth zip through any number of home-improvement tasks, such as cutting galvanized pipe, cement board, sheet metal, slate, rebar, stainless steel bolts, hardened screws and plastic, to name a few. It has a stepped profile for efficient flush-cutting, in contrast to flat blades that come at an angle to the work. This design is ideal for trimming door casings and jams, cutting copper or PVC pipe flush to a surface, or installing wood or tile flooring. The new blade features Universal Fit, which enables it to fit all other competitive oscillating tools, so you can use it on any model you own. Visit www.rockwelltools.com.