By Charlie Self
Everyone Wants a Table Saw: Exploring Hybrid and Job Site Saws for the DIY Homeowner.
Today homeowners have a raft of choices in a major shop tool, the table saw. The decision-making process has become harder with more choices, most of which are at least able to serve the average user well. Most homeowners have no need of the big guns—cabinet saws—but DIY woodworkers may need more reliability, capacity and functionality than they can get from the smallest lightweight saws on the market.
The hybrid table saw, also referred to as a light-duty cabinet saw, sprouted about 15 years ago as a mid-size between cabinet saws and the small, inexpensive models. The first hybrid was a DeWalt, with a composite top and the tell-tale motor on the inside of the half cabinet. It had a few novel features, but appears to be no longer available. The competition has since spread, and numerous saw makers now offer hybrid saws, as well job-site saws that offer ample size combined with portability.
Table saws continually evolve with better fences, different tops, new safety features—or improved safety features, such as the new blade guards. Also available are different power options, or in some cases, just different paint jobs to grab the attention of more buyers.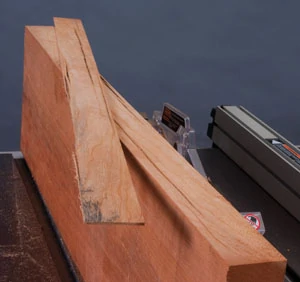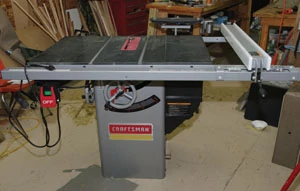 Size & Design
A basic feature for hybrid saws is the 1-3/4 horsepower motor instead of the 1-1/2 HP usually found in contractor's saws. However, some of the newer models are moving back to the smaller motor. A big plus for hybrids is the fact that most come factory-wired for 110 volts AC, while cabinet saws are wired for 220 volts.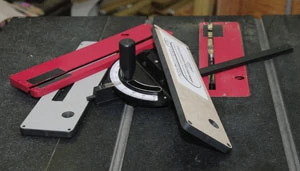 Choosing a new table saw isn't the hardest thing a homeowner will ever do, but it does help to know a few simple facts, including the availability of different models. A couple dozen years ago, the choice was a cabinet saw from Delta, Powermatic or General, or a contractor's saw from a wide variety of makers.
In addition, the casual searcher could find a bunch of lightweight saws of lesser accuracy.
Those choices remain today, with Jet, Grizzly and SawStop added as suppliers. Less accurate small, super-low-cost saws remain, but hybrids and job site saws create a wider selection for many. Other things change, too: The current Delta Unisaw offers many new features, but a price of $2,800 for a unit with a 30-in. fence. That's getting into the stratosphere for a homeowner or hobbyist who is on any kind of a budget.
The traditional contractor's saw has always been a space hog, with the motor hanging out the rear. However, it provides fairly easy assembly and a chance to select a wide variety of fences. Dust collection with a contractor's saw always has been a problem. The contractor's saw remains a choice today, although the hybrid table saw has replaced it in many seller's lines.
To fully fit today's classification, a hybrid saw has easy dust extraction hooked to a dust collector. Generally, such a saw has a full or half length cabinet, with the dust collection at the bottom with effectiveness on par with cabinet saws.
For a single job, or a couple of jobs, really inexpensive table saws are helpful, if slow working and limited in cut depth and accurate repetition of precise cuts. A few years ago, a local contractor told me he'd never pay more than 100 bucks for a table saw, which gave him the option of a saw that could be easily lifted into a pick-up bed. The saw failed any standard woodworking test for power, precision—and repeatability and reliability. The fences were atrocious, needing a lot of work to get them parallel with the blade, popping out of adjustment almost every time they were tossed into the pick-up bed. Many went out of adjustment between one cut and the next without the saw being moved. These were disposable saws.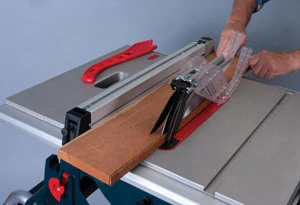 A step—a very large step—brought us portable job site saws. Job site saws offer good power from universal motors, with features that extend cut widths to 24 in. (the center of a 4-ft. side of plywood, an essential for much work) or sometimes as much as 30 in. The user can readily slice down the long width of a standard plywood panel. Although hybrid saws win in cut width with their independent fence system, they lose the portability battle to job site saws in a big way.
Another consideration is tool weight. While more tool weight means less portability, more weight also has its advantages. Ridgid's entry into the hybrid race is the lightest at something like 283 pounds. Most others are heavier than 300 pounds, and those with granite tops are now in the 450 pound range. What does extra weight do for the user? Simply put, with all else being equal, a heavier table saw vibrates less. All that mass absorbs the vibes. (All else being equal means that saws must have an accurately machined arbor that runs as close to true as possible, with a blade that is as flat as possible, and fits the arbor well.)
To the user, this means silky cutting performance with less of the jitter and bounce that lighter saws have. Less jitter and bounce means cuts are more accurate and—of great importance when building such things as cabinet fronts for same-size cabinets—more accurately repeatable. Combined with a good fence, a smooth running saw can offer almost laser-accurate cuts.
Portability on the top models of today's job site saws comes in the form of easy-to-use stands that elevate the saw to its correct working height by a simple lift on the handle, while a foot pushes in the detent. The three job site models I've used recently (Ridgid, Craftsman, Bosch) all have slightly different methods of handling the rise, but do well with it.
Living with a Table Saw
I lived with several hybrid table saws for some time. I first had a Craftsman 22124 with a cast iron top. It was a very satisfactory saw. The granite-topped version now has a T-square fence, with slick plastic facings. I weighed the extensions for a cast iron table and found them running right around 48 to 50 pounds per pair, while the granite wings weigh 55 pounds each. Translate that weight to the larger center section of the table saw: It's likely that the center section weighs as much as 45 pounds more than the cast iron version. There is an outfeed table that can be lifted and left, or dropped out of the way when not in use. The current saw is the 22116, with granite top, slick fence and new guard, plus 1-3/4 horsepower fed through a 110 volt circuit.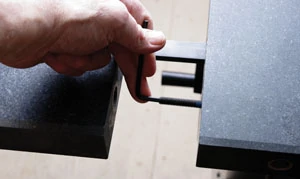 The Craftsman features cabinet-mount cast iron trunnions that support the arbor. Mounting them on the cabinet makes them easy to reach when blade-to-table parallelism needs adjusting. For the cabinet-mounted trunnions, you can easily adjust with four visible bolts. For adjustments with internal cabinet mounting, the blade has to be run all the way up, then a hand has to reach down with the appropriate wrench, loosen four bolts, move the distance. The bolts are then retightened, and the whole setup must be checked. The cabinet-mounted types let you keep your parallel gauge setup as the change is made and the tightening done—a welcome feature when you live with a saw for a long time.
For any fast adjustments, the cabinet-mounted trunnions are superior. If these adjustments are made correctly at the factory, and most are, there may never be a need to change them for the heavier table saws. The lighter the saw, the more chance there is of vibration loosening things so an eventual adjustment is needed.
During my use of two Craftsman hybrid table saws, one with a cast iron top and one with a granite top, there was never an occasion to make the above adjustments in over six years of combined light to moderate use. The Ridgid I used also never needed adjustment (that was Ridgid's granite-topped model).
On the Market
Grizzly's G0715P is an excellent hybrid saw at a reasonable price. It offers a 16-amp/110-volt operation—these saws come without plugs so the user can choose either the 16-amp/110 or the 8-amp/220-volt working without having to cut off a plug. A shipping weight of 404 pounds means a working weight of over 300 pounds. The top is cast iron, the T-type fence has HDPE sides, and is as good as the Grizzly models I used a few years ago. At just under $900 shipped, this is one good deal. Check prices before you get wildly excited, but at the time this was written, the Grizz has the best price/features combination I've seen. (This is an introductory price, though.)
The Grizzly fence allows 30-in. cuts to the right of the saw, with a fairly standard 12-in. to the left. The saw is a left-tilt model, with everything needed. The adjustment wheels are large and metal, the fence is a Grizzly pattern similar in some ways to other excellent T-square fences. Powder coating is used for a superior finish. This one is a 2HP model, prewired to 220 volts, although it can easily be rewired for 110.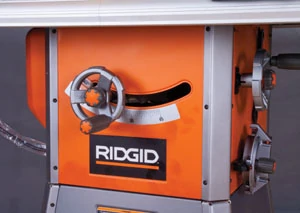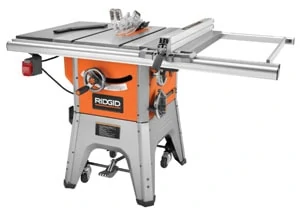 Right now, I'm using Ridgid's R4512 to build some small projects. I like it a great deal.
It is smooth, cuts cleanly and is accurate. I'd prefer a T-bar fence compared to the unit installed, but so far I've had no problem with the current fence. Adjustments are easily made, and it appears to be well enough supported to be useful for a long time. It is also the lowest priced of any saw that can come close to claiming the title of hybrid at about $500.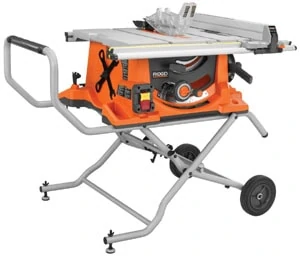 The R4510 is Ridgid's job site saw. It costs the same as the R4512, but offers much easier transportability, and the ability to easily fit it into the back of a full-sized station wagon or similar vehicle. I'd hate to try that with any of the larger, heavier saws. Over the years, I've put a lot of time on the R4510, and find it to be one of the best job site saws around.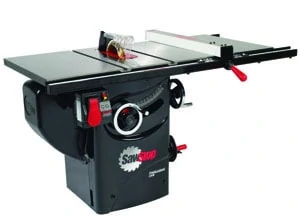 SawStop offers a 1-3/4HP table saw that they don't wish to call a hybrid. It is a beautifully made tool that outpaces others in several ways, including the size and feel of the controls, plus, of course, the SawStop safety system. It weighs about 380 pounds with its 30-in. fence (more with longer fences). Specs are similar to other saws, although the saw is designed for a shop that has only 110 volt access.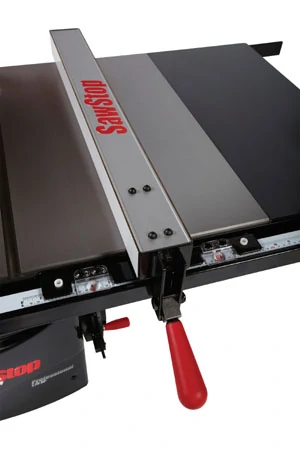 The SawStop name is solidly associated with its first development, a cartridge that can detect a blade touching skin and stop rotation the instant it is touched. It is an impressive addition to safety in the wood cutting field, though if you get false firing—I'm told this is possible with wet lumber—the costs could mount up. Check out sawstop.com for more information on this safety feature. No pricing on the saw was readily available, but after reading all the indications, it is apt to be the most costly of all.
We're not looking at all hybrids. That might well take an entire issue of EHT. Add Delta (new model due out in 2012), General, Jet, Powermatic, Laguna, Woodtek, and the choices mount. If you have a preference for a certain brand of machinery, by all means go for it. For most of us who are moderately involved with woodworking, a hybrid table saw is an answer that doesn't cost a ton of money, but does give a ton of utility, with more enjoyment than expected. The price range is wide but still lower than most cabinet saws. With few exceptions, hybrids work off 110-volt circuitry, use induction motors for good down and dirty torque when it's time to cut hardwoods, have good to excellent fences and a reasonable amount of power. Probably the least powerful is the Ridgid version, with a 13 ampere motor, but I've found it sufficient forcutting 8/4 hardwood, when a little patience is added to the mix. It is also the lowest priced of the group. Part of that saving is in the fence, an option that can be changed in the future, if desired.
Only a user can decide which saw is best. For a once-a-year project that doesn't demand great precision, almost any decent saw does well, but once heavier woods and repeatability become important, it's time to check for job site or hybrid saws. Having a fence that sets up parallel to the blade every time is essential. One of the biggest time wasters in cheap and old table saws is a fence that constantly needs the user to measure both the front and back of the blade to the fence for distance to a particular saw tooth.
Whereas a full-size cabinet saw is nice for the professional woodworker, they're very large and very expensive. Most DIY homeowners are better served with a hybrid or job site table saw, at lower cost, with easier handling, and the ability to use standard household current.