Get in the Zone
By Matt Weber
Zone heating is an efficient method for optimizing the way you warm your home. The goal is to save money that's otherwise wasted by heating unoccupied areas that don't need conditioning.
Studies have shown that typical occupants spend 80 percent of the time in 20 percent of the house, so it makes sense to only heat or cool the areas being used. Zoning targets the specific temperature and airflow requirements of one area, without affecting other areas. Zone heating can potentially save you hundreds of dollars in energy costs each year.
A basic zoning technique for an existing forced-air heating system is to adjust the vents in the unoccupied rooms. Don't close the vents completely, however. Sealing the vents closed could reduce airflow through the air handler, causing pressure imbalances, putting stress on the duct connections, and affecting air quality if you're using your air handler for ventilation. Closing the vents by 75 percent can be effective.
Bear in mind that the vent nearest to the thermostat should remain open, or the thermostat will register a cold temperature, and the furnace will run more than necessary.
Supplemental Heating
Space heaters are a cost-effective way to supplement your central heating system. In fact, you can entirely shut off your primary system and simply warm one room or "zone" at a time.
Or, if your primary heater isn't adequate, a space heater can pick up the slack.
The most common are ceramic space heaters with fan-forced air. Available in a wide range of designs, they're safe, compact and ideal for heating spaces up to 150 square feet.
Oil-filled space heaters are ideal for warming a personal space or small room, and they're easy to maintain because the oil inside the unit never needs to be replaced. Most models feature handles and wheels for easy portability. Oil-filled heaters are also silent because they don't use a fan to distribute the heat.
Infrared heaters are probably the most energy efficient. These units are great for warming personal spaces, because the heat produced is similar to solar heat, so you feel the warmth immediately. With no need for a fan, an infrared heater operates very quietly and presents a great choice for smaller personal spaces.
The size of the space heater should depend on the coverage desired, and many units come with built-in thermostats and remote controls.
Other forms of room heating that might be considered for supplemental heating (or for additions) include electric radiant systems, ductless heat pumps, active solar space heating, sealed-combustion gas room heaters, and high-efficiency wood or pellet stoves.
System Zoning
System zoning involves multiple thermostats connected to a control panel that operates different dampers within the ductwork of your heating system. The thermostat sensors monitor the temperature of their specific zone, then open or close the dampers according to the thermostat's settings. Does your family battle over the thermostat? System zoning is ideal for heating or cooling individual bedrooms based on the desired temperature setting. According to the U.S. Department of Energy, system zoning can save homeowners up to 30 percent on a typical heating and cooling bill.
An integrated zone heating system is ideally installed when building a new house, but it is possible to professionally retrofit a system for an existing home. Zoning can be accomplished with central forced-air systems, using damper controls installed in the ducts by an HVAC technician, but the dampers may affect the system's efficiency and balance.
In large homes, zoning of central heating and forced-air systems is usually accomplished by installing multiple systems, with one unit per floor.
Hydronic heating systems can also be configured to provide zone heating, with valves and piping connected to a boiler.
Zone control works best in homes where the different zones can be isolated from each other with closable doors. Never shut off the heat entirely in an unused part of your home because condensation could form on cold inside wall surfaces leading to mold. And remember to keep all rooms at a minimum of 50°F in the winter to prevent water pipes from freezing.
(Source: U.S. Department of Energy)
Side Notes
Hot Products for a Warmer Home
STEP Warmfloor
The STEP Warmfloor radiant heating solution is designed to be the ultimate in comfort and versatility for warming your cold floors or heating your entire house. Safe and efficient, STEP Warmfloor is an extremely durable and thin (only 3/64-in.) heating element designed to operate on 24 volts AC or DC, and can be connected to alternative energy sources, such as wind or solar power. The heating elements are self-regulating, allowing them to heat with maximum power in cold environments, and use less and less electricity as they warm up. It is because of this self-regulating technology that the heating elements cannot overheat, and are one of the most efficient radiant heating elements available.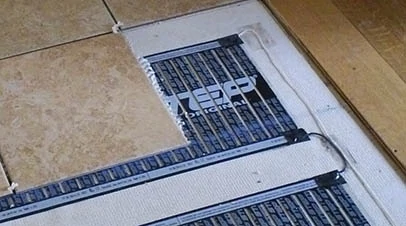 STEP Warmfloor is approved for use with almost any floor covering including natural stone, ceramic and porcelain tiles, hardwood and laminates, resilient and carpet. And, because the heating element can be placed directly below most floor covering, installation is a breeze.
The system is suited for remodeling, room additions, new construction projects, and retrofit applications if access to the subfloor is available. STEP Warmfloor is also available for snow melting and roof deicing applications. Learn more at www.warmfloor.com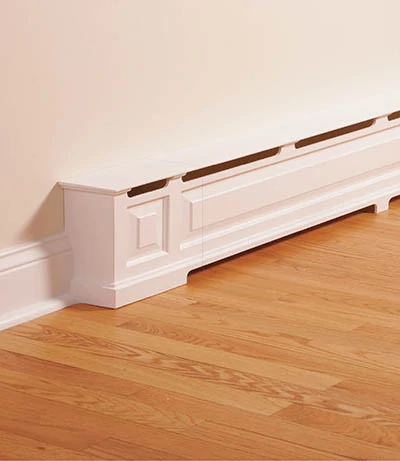 OverBoards: Classic Upgrades for Baseboard Heat
Overboards are made from 100-percent aluminum, which is a non-corrosive material. The main panel is extruded aluminum and the end caps are cast aluminum. They're a wonderful conductor of heat and will hold and radiate the heat long after steel covers have cooled and are calling for more heat, making Overboards much more energy efficient. These heavy-duty aluminum covers will not rust and become unsightly due to humidity and moisture. They will not dent in heavy traffic areas. OverBoards have a white powder-coat finish but can be painted to match any décor. OverBoards provide a high-end look and lasting value to your home, and they're custom-cut to your exact specifications. Learn more at www.go-overboard.com.
Mitsubishi Ductless Zoning Technology
Ductless heating and cooling systems are among the most energy-efficient options available to homeowners. Because no ductwork is required, a major benefit of ductless systems is that they can be installed in less than one day, in addition to their smaller size, flexibility and ability to provide individualized comfort.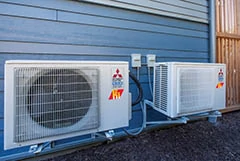 Mitsubishi Electric has now introduced the Hyper-Heating INVERTER (H2i) MSZ-FH ductless system available. At 30.5 SEER (Seasonal Energy Efficiency Ratio), the highest efficiency rating for heating and air-conditioning systems, the H2i MSZ-FH models can use up to 40 percent less energy per room than a conventional system. The patented technology allows them to operate at 100 percent heating capacity even when the outdoor temperature is as low as +5 degrees Fahrenheit, meaning the new models have the highest performance capabilities in cold climates on the market. The ductless technology also means homeowners have complete, personalized control over each zone (or room) in their home. Zones can be cooled or heated to a specific temperature request and turned off when unoccupied. Learn more at www.mehvac.com.