By Matt Weber
When the days grow longer and the grass turns green, most people are eager to welcome spring and its warmer, sunny weather. But with the green season comes all the responsibilities of maintaining your outdoor environment. To get you geared up for the months to come, here's a roundup of new yard and garden equipment.
Ryobi 14″ 40V Brushless Chainsaw
The new 14-in. 40-volt Brushless Chainsaw delivers Ryobi's trademark Gas-Like Power without the hassle of a gas engine. Equipped with a brushless motor, this saw produces higher torque and faster chain speed to provide better performance than previous models. The unit has a 14-in. bar and chain to help with larger cuts and yard cleanup. The lightweight design reduces user fatigue over extended use, and as an added convenience, the saw also features an automatic oiler and a comfortable wrap-around handle. The lithium-ion battery offers fade-free power and is compatible with more than fifteen Ryobi 40V outdoor products. The company's 40V tools range from trimmers to snow blowers to cultivators, and all the tools are covered by a 5-year limited warranty and a 90-day money back guarantee. Visit www.homedepot.com.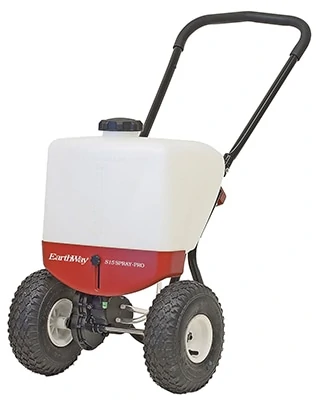 Earthway S15 Spray-PRO HOME
The S15 Spray-PRO HOME is a light-duty, homeowner-friendly version of the revolutionary S25 Mark III Commercial Sprayer. The S15 is a fully-assembled ground-driven push sprayer that will take the work out of spraying your lawn, sidewalk, driveways, paths and gardens in spring, summer, fall, and for winter ice control. It has a spray width of 2 to 5 feet/0.6-1.5 meters, and up to a 8,800 sq.ft. coverage. The S15 will make quick work when spraying herbicides, pesticides, fungicides, liquid ice control products, or fertilizers. The New adjustable height nozzle will reduce the spray width for narrow banding operations or to increase application rates. The standard two-mode valve allows for either Transport or Spray operation and is selected high on the handle. While in Transport mode, the S15 pump continues to operate agitating the material in the tank for a desired mixture. In addition, with the Optional Hand Sprayer, those spot treatments around your home are done in a snap. The S15 includes three different nozzle tips of fine, medium and coarse, for controlling your application rates within your spray coverage. Having a 5-gal/22-liter capacity self-agitating tank, the S15 will do the job of several tank sprayers and without the pain of carrying them in hand or on your back. Featuring a ground-driven pump with no battery to charge or maintain, the S15 operates at walking speed and pushes no harder than a small spreader. Visit www.earthway.com.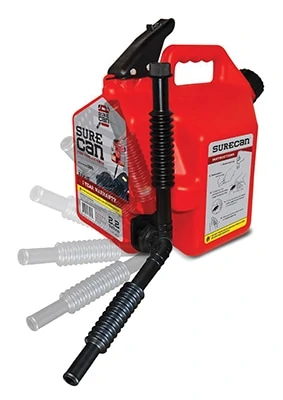 SureCan Gasoline Fuel Cans
SureCan offers the 2.2- and 5.0-gallon gasoline fuel cans, which are ideal for everyone who refuels their lawn and garden machines, ATV's, generators or any other machines that require gasoline to run. According to the EPA, each year 17,000,000 gallons of gasoline are spilled while using gas cans. The SureCans are designed with a patented rotating nozzle and thumb-release trigger to fix this problem. The design allows users to control the flow of fuel by depressing the trigger while at the same time being able to see into their machine's fuel tank, preventing overfill and spills. Other features of the Surecan fuel cans include a trigger safety lock, self-ventilating system, comfortable hand grip, durable design and two child-proof caps. In May 2014, the 2.2-gallon SureCan received multiple national awards from the National Hardware Show in Las Vegas, Nevada, proving that the industry is ready for the next generation of fuel can. Surecans have been awarded EPA and CARB certificates, which make them legal in 50 states and environment friendly. Visit www.surecanusa.com.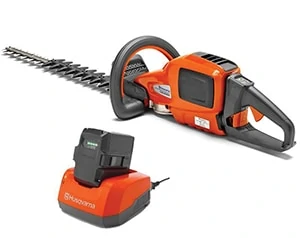 Husqvarna 536LiHD60X 36V Hedge Trimmer
The new 536LiHD60X is a quiet and battery-powered hedge trimmer designed for commercial use with a 24-in. long double-sided cutter bar, ensuring greater reach and more productivity on the job. The trimmer weighs only 10 pounds for easy transport and maneuverability. The pivoting rear handle makes it easier to cut both vertically and horizontally, and an intuitive control keypad ensures no-hassle startup. A new proprietary motor and new 36-volt battery provides equally high power, reliable operation and long life as a gas-powered product—without any direct emissions. Also, you get as much done on a single charge, as you would manage on one tank of gas. Visit www.husqvarna.com.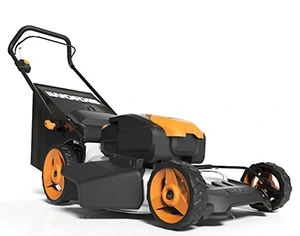 WORX 56V Cordless Mower The Worx WG772 19-in. 56V
Li-ion 3-in-1 Cordless Mower with IntelliCut is part of the new Worx Power Share 56V Platform. The Worx 56V lawnmower features a 19-in. steel deck with premium mulching capabilities. The mower provides gas-like power to mow 8,500 sq. ft. on a single battery charge. In perspective, a full-size regulation tennis court is 7,200 sq. ft. The 3-in-1 56V MaxLithium push mowers give homeowners the option to mulch, bag or side-discharge grass clippings. The all new NutriCut system features dual-edge mulching blades to help provide natural lawn fertilization. Also, the Intellicut feature is a torque-on-demand system that monitors the mower's need for torque. No more bogging down when mowing tall or thick grass. Homeowners simply set the dial to POWER when conditions call for more torque, or switch to ECO mode for everyday use. The durable steel mower decks feature 10-in. high rear wheels and 7-in. front wheels. The mower also has a quick connect washout port that makes is easy to keep the underside of your mower nice and clean. Includes a 3-year warranty and 90-day money-back guarantee. Visit www.worx.com.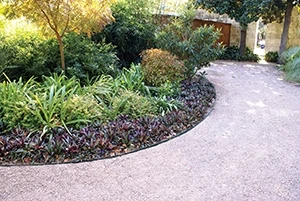 Col-Met Steel Landscape Edging
Col-Met Steel Landscape Edging helps create clean, crisp lines in various landscape designs. Col-Met's steel edging keeps grass from spreading and also retains mulch, rocks and stones in gardens and walkways. Col-Met edging is easy to shape and install and stays in place for years. Col-Met is the largest manufacturer of commercial-grade steel land-scape edging, which is available in green (standard), brown or black powder-coat finish. American-made for more than 50 years in the landscape business, Col-Met has served its customers with the utmost care, ensuring that quality isn't just a buzzword—it's a mission statement. Visit www.colmet.com.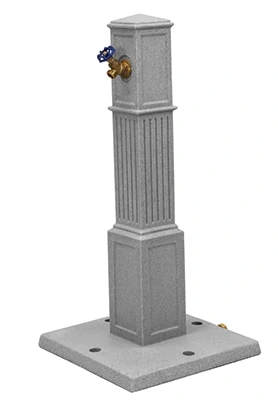 Oasis Garden Hose Tap
The new Oasis Garden Hose Tap creates an attractive, 3-ft. tall, stationary, fully-pressurized spigot anywhere you need it. Simply attach one end of a regular garden hose to the Oasis receptacle and the other directly to your house spigot. Turn on the house spigot and Oasis becomes a full-pressure water outlet. Placed in a convenient location, the Oasis Garden Hose Tap can eliminate trampling on flowerbeds and reaching around shrubs. Add an extra long "permanent" hose below the frost line, and the Oasis can be placed in remote locations near faraway gardens, plants or lawns. The Oasis Garden Hose Tap is available in light or dark granite, red brick or sandstone colors, made of BPA-free polyethylene making it impervious to weather and heavy impacts. Made in the USA, the all-weather Oasis comes with a 1-year manufacturer's warranty, and comes with a brass spigot with complete hose assembly and four impact stakes to anchor the unit deep into the soil.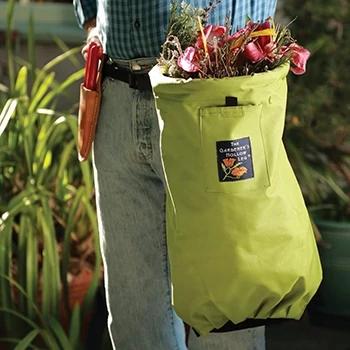 The Gardener's Hollow Leg
The Gardener's Hollow Leg is a handy harvesting and cleanup tool created from polyester fabric made of recycled water bottles. The patented GHL is a water-resistant fabric sack that is attached to an adjustable belt. The sack has a ring opening at the top for easy loading. It functions as a hands-free debris holder that is a "must have" for all pruning, weeding, harvesting and general cleanup tasks. In the fall and winter, it's perfect for clearing debris out of gutters and the landscape. Once spring and summer come, it helps take the hassle out of daily weeding, dead-heading, pruning and harvesting, saving time and energy throughout the peak season. Each large GHL is made from the equivalent of three and a half 16-ounce plastic bottles, keeping them out of landfills. The smaller GHL Junior puts two 16-ounce plastic bottles to good use and out of the trash.
The original GHL features a 23-in. deep bag that is compact and comfortable to wear. It features a 10-in. diameter opening and can hold more than five gallons. The GHL Junior is a 12-in. deep bag that holds one gallon and features a 6-in.opening. Both styles of the GHL can be worn on either the right or left side. A strap handle on the bottom of the sack makes it easy to empty. The bag even features a handy pocket that's great for storing your cell phone, iPod or other necessities.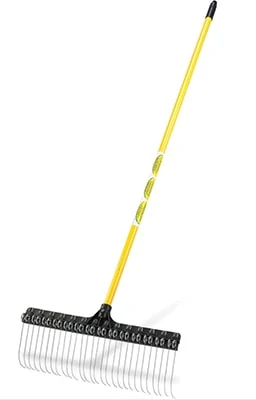 The Groundskeeper II
Raking up leaves is a traditional lawn-care activity for virtually every homeowner. When deciduous trees start losing leaves, the trusty rake gets a lot of use. But even though rakes see a lot of action during yard cleanup, the design of the basic rake has changed very little over the past 100 years. In response, the Groundskeeper II is designed to be the most effective rake a homeowner or landscape professional can have in their arsenal. The unique wire-like tines are adept at grabbing and gathering leaves with a single pass, and the head is a full 21 inches wide for quickly cleaning a large yard. Because of the aggressive angle of the tines, using the rake requires little or no downward pressure. You can stand straight up while using the rake, thereby reducing the pressure on your back and making the job easier. The rake weighs less than two pounds, and it is as durable as it is lightweight. The no-break co-polymer head and fiberglass handle make this rake almost impossible to destroy. Test results from the field with landscaping professionals show a reduction in raking labor time by as much as 33 percent. The Groundskeeper II Full-Size Rake sells for only $29.99 at www.best-rake-ever.com.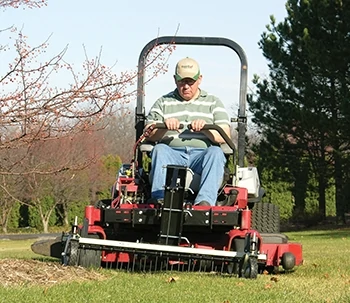 TurfEx Dethatcher Attachment
TurfEx offers the Thatch, Groom 'N' Sweep Package, an attachment system designed especially for zero-turn mowers. Providing unmatched versatility, the attachment can be converted from a sweeper to a dethatcher without having to purchase additional equipment. Available in both 48- and 60-in. widths (models MT480 and MT600, respectively), the Thatch, Groom 'N' Sweep Package uses a universal mount that easily fits the form of most major manufacturers' zero-turn mowers. The attachment includes two rows of brush sections, which can be replaced with spring-mounted tines to turn the sweeper into a dethatcher in just a matter of minutes. To switch between the two, the operator simply removes a containment plate, and then slides the brush or tine sections in and out of the housing. As a sweeper, the attachment is popular for grooming and debris cleanup applications. The durable, resilient polypropylene brushes work equally well in forward and reverse, helping to clean out tight spots that a zero-turn mower is capable of reaching. The dethatcher version contains special tines for keeping turf damage to a minimum, whether the mower is driving forward, backing up, or conducting a tight turn. It also includes support wheels with adjustable height in order to optimize control while dethatching.
To minimize turf damage and eliminate gouging, the attachment package features TurfEx's exclusive Flex Hitch design. This system allows the attachment to automatically pivot on the hitch as the ground elevation changes from one end of the unit to the other. Visit www.turfexproducts.com.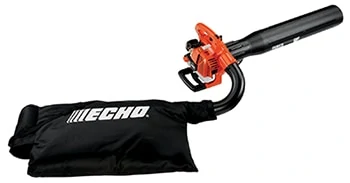 Echo Shred 'N' Vac
A power tool like the Echo Shred 'N' Vac does a great job of turning mountains of fall leaves into organic mulch. The powerful engine and patented shredding mechanism reduces a volume of yard debris by a ratio of up to 12 to 1. The bag has a large two-bushel capacity, so it won't have to be emptied as often. The versatility of the Echo Shred 'N' Vac (model ES-250) lets you convert it from a handheld shredder/vacuum to a handheld blower with the included blower pipes. This flexibility makes it an ideal tool for suburban yards and large homesteads—and even commercial properties. The Echo Shred 'N' Vac features a powerful professional-grade 25.4 cc engine, a 4-blade shredding mechanism, a fully adjustable throttle lock and a cruise control feature. The bayonet-style 35-in. long intake tube provides easy reach for shredding applications. When used as a blower, the unit's unique pipe shape reduces the effort required to keep the blower from rotating in towards your legs. Visit www.echo-usa.com.