Handy Tools for the DIY Woodworker
By Tom Matthews
SawStop Jobsite Saw
The new SawStop Jobsite Saw is the first portable jobsite saw with flesh-detecting safety technology. A small electrical signal in the saw blade changes when it contacts human skin, and the change activates an aluminum brake that stops the blade in five milliseconds, forcing it under the table and shutting the power off to ensure user safety. But the features don't end there. The Jobsite Saw requires just one turn to raise the blade, as opposed as many as 25 turns required by other saws. Also, the QuickTilt feature allows the user to easily tilt the blade to the desired angle in one-degree increments and then to fine-tune it using the infinitely adjustable Micro Adjust. Visit www.sawstop.com.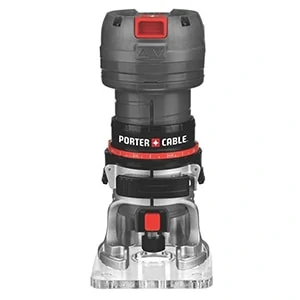 Porter-Cable PCE6430 Palm Router
The Porter-Cable PCE6430 1/.4-in. trim router is a champ in the comfort department. Its narrow, lightweight housing lets you easily wield it with one hand, while the widened profile at the top prevents it from slipping downwards, encouraging a relaxed grip and less fatigue. The single-speed 31,000 RPM, 4.5-amp motor provides plenty of rugged power. Add to that a raft of convenient features such as the large, front-mounted spindle lock button, easy-to-operate depth adjustment ring, large cam-style locking clips, transparent base and an onboard LED light, and you have a trim router that you'll reach for over larger routers again and again. Visit www.portercable.com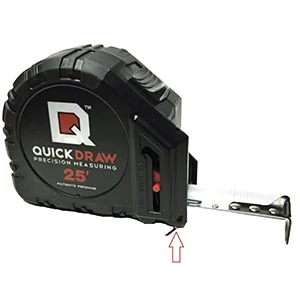 QuickDraw Tape Measure
The QuickDraw Tape Measure is marketed as the fastest, most accurate tape measure in the world. The contractor-grade QuickDraw features a three-rivet tape hook with steel backer. The tape has a 9-ft. stand out and includes a tru-view indicator, which allows you to make the most accurate marks because it eliminates the parallax effect. The main feature is the steel wheel that transfers a .9MM 4D graphite to mark your measurement, eliminating the need for a pencil. Each graphite reload will make 1000 plus marks.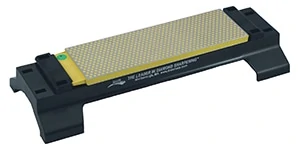 DuoSharp Diamond Bench Stone
Sixteen years ago, DMT Diamond Machining Technology introduced a sharpening stone that has become invaluable and essential to tool maintenance. The DuoSharp Diamond Bench Stone turns a typically messy, costly and time-consuming chore into an effortless, satisfying routine. With its precision flatness, the DuoSharp is guaranteed to provide fast, clean and consistent results every time. Its iconic, polka-dot patterned surface self-cleans during sharpening to ensure continuous edge contact. This allows for long, even sharpening strokes to accommodate a variety of edges—from gouges and carving tools to utility knives, plane blades and beyond. And, because it is double-sided, the DuoSharp makes sharpening even more convenient. Each side offers a different diamond grit and provides a large 10-by-4-in. surface. Four different grit combinations are available: Coarse/Extra-Coarse, Fine/Coarse, Extra-Fine/Fine and Extra-Fine/Coarse. Visit www.dmtsharp.com.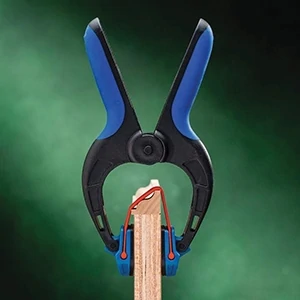 Bandy Clamp
You'll find it easier than ever to clamp edge moldings of almost any contour with clever new Bandy Clamp edge clamps. The Bandy Clamp combines the easy one-handed operation of a spring clamp with the even pressure and no-mar qualities of a super-tough rubber band. Just open the clamp and stretch the band over your edging material—the deeper you set it, the tighter the pressure. Once the Bandy Clamp is in place, its jumbo ultra-grippy clamp pads simply will not slip, allowing all the clamping force to be transferred into the material. Since every contact point is a no-mar surface, the clamp is ideal for delicate moldings, even from soft materials like white pine. What's more, the clamp works great for keeping power cables, extension cords and pneumatic lines out of your way as you work. Visit www.rockler.com.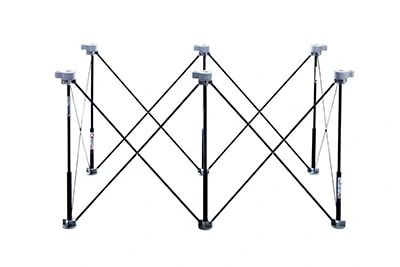 Centipede Sawhorse K100 Kit
The Centipede Sawhorse K100 Kit is an expandable lattice framework that functions as the support structure for a steady work table. The lightweight lattice framework instantly expands and contracts much like collapsible camping chairs, with the legs converging to the center in the collapsed position for easy storage and portability. Once the Centipede Sawhorse K100 is expanded, users simply lay a piece of plywood or other material across the top to create an instant work surface. The ease of portability and setup make the Centipede Sawhorse K100 simple to use and stable enough to support up to 1,500 lbs. It's ideal for work stations that need to be set up and torn down frequently or moved from place to place. Visit www.centipedetool.com.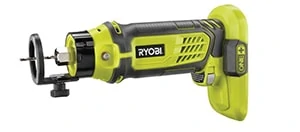 Ryobi 18V One+ Speed Saw Rotary Cutter
The new and improved 18V Speed Saw P531 rotary cutter (also called a spiral saw) is an excellent choice for a variety of cutting applications. The Speed Saw accepts 1/4 in. and 1/8 in. bits and features a depth setting that can be adjusted for making cuts in different types of materials. The spindle lock helps make one-wrench bit changes easy, and the ergonomic, compact design of the tool helps the user finish their project comfortably.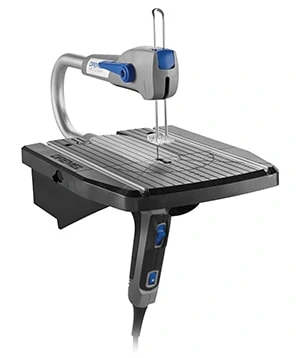 Dremel Moto-Saw
The Dremel Moto-Saw offers a compact and easy solution for making detailed cuts in a variety of materials including wood, plastic, laminates and metal. This portable, precision-sawing tool is easy to store, set-up, and operate and features a tool-free mechanism for quick blade changes. An auto-tensioning feature keeps the blade taut and ready to cut so you don't have to make blade adjustments, and its slim, ergonomic handle with comfort grip provides control in any cutting position.
The Moto-Saw functions as a stationary scroll saw, yet it can be removed from its base to be used as a portable motorized coping saw.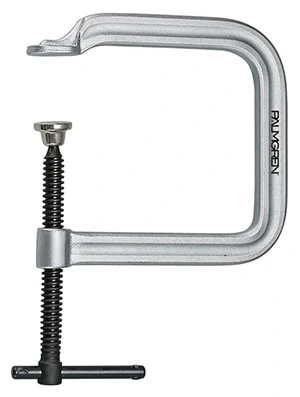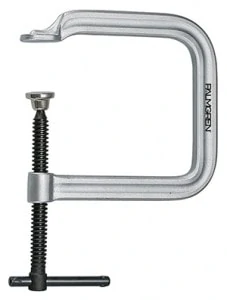 Palmgren C-Clamps
Palmgren's "high tech" line of C-Clamps has the right model and size for every job. They are built from state-of-the-art research and computer-aided design to provide maximum performance and versatility. The all-steel tempered frames are produced using an advanced heat-treating process to ensure clamps deliver secure, accurate holds. The hardened spindles mean greater loading capabilities and longer service life. All the clamp bodies have a nickel/chrome-plated finish and come with either black-oxide or anti-splatter copper plated spindles that resist wear and tear while impeding rust. The extensive line includes more than 50 models from standard, square throat, extra deep throat, L-clamps, cantilever and automatic clamps, and all have a lifetime guarantee against breakage. Visit www.palmgren.com.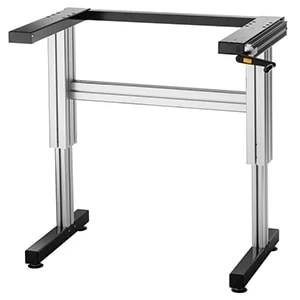 Rockler Adjustable Height Work Station
This work station base (model 55666) features a hydraulic-assisted lift that makes adjusting the height as easy as winding a crank. Lower it down to 26-1/2 inches so you can sit down while you work, or raise it as high as 42 inches to bring detail work up to eye level. The 500-lb. capacity makes it great for heavy items, and for heavy work like chopping mortises and dovetails. Easy height adjustments mean you get multiple uses from the same amount of floor space. The work table can be used as a desk, a drafting table or a workbench. Attach casters and roll it around as a handy infeed or outfeed table for nearly any power tool. Anyone can use it regardless of their height or if they use a wheel-chair. Even one inch of height adjustment can make sanding, chiseling and pounding far more comfortable for your body, back and feet. Find out how comfortable woodworking can be with your work positioned at the perfect height. Visit www.rockler.com.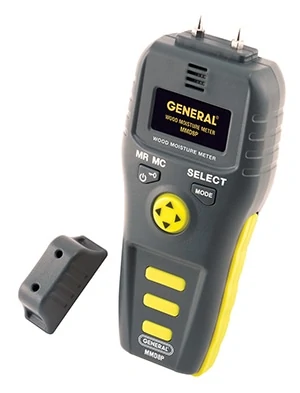 Multi-Species Wood Moisture Meter
The new Precision Multi-Species Wood Moisture Meter (MMD8P) from General Tools & Instruments offers advanced features to benefit professional and DIY carpenters, cabinet and furniture makers, remodelers and woodworkers. The MMD8P is ideal for measuring the moisture content of 48 species of wood and offers temperature compensation. It's designed for use in lumber selection and purchasing as well as in the shop before sealing, treating or joining, and before painting or wallpapering. Plus, it's the first moisture meter on the market with an OLED (Organic Light Emitting Diodes) display, which provides extraordinary contrast and clarity, especially in outdoor lighting conditions. Unlike other meters that can measure the moisture content of specific wood species, the MMD8P actually displays the species name of the wood being measured, making it far more convenient than models that display only a code number requiring reference to a manual. The MMD8P also enables users to compensate moisture measurements for the effect of ambient temperature (e.g., taking lumber from outdoors to indoors, from kiln to outdoors), which greatly improves the accuracy of readings. The MMD8P can measure and display ambient temperature and relative humidity (RH) alongside the moisture level measurement. What's more, it allows for storing and recalling up to 100 measurement records. Visit generaltools.com.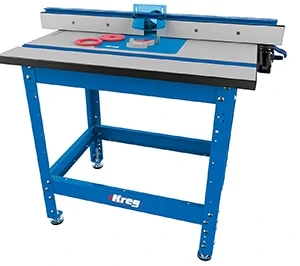 Kreg Precision Router Table System
The all-new Kreg Precision Router Table System (item #PRS1045) combines the popular features of its predecessor with an innovative batch of new features and improved capabilities. The new table features an all-new self-squaring fence system, an updated table, as well as an easy-to-use steel stand that offers even more customizability. At the heart of the table is Kreg's new Precision Router Table Fence (item #PRS1015). The fence features an innovative T-square style design that always stays parallel to the miter/T-slot and adjusts easily without deflection using just one hand. Dual locks keep the fence in position once set, while an included micro-adjust wheel simplifies making precise setups. The table top provides a spacious 24-by-32-in. work area. A durable Easy-Slide laminate surface allows work pieces to glide easily, and reinforcing struts ensure a flat table surface. An updated design makes fence removal easy for freehand routing. Visit www.kregtool.com.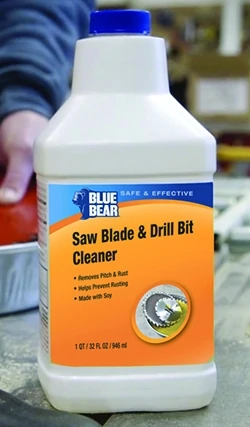 Blue Bear Blade and Bit Cleaner
Woodworkers know that maintaining their tools is an important part of their craft. Over time resins build up on saw blades and bits that hinder cutting performance. Blue Bear Blade and Bit cleaner offers a perfect cleaning solution made in the U.S.A from American soybeans and citrus oils. This non-toxic product works wonders on dirty blades and bits. Simply submerge the blade or drill bit into the cleaner and let it work. The longer you let the blade sit in the cleaner, the easier it will be to clean. Simply use a soft wire brush or rag to remove the pitch for a clean blade. Since there is no water in the formulation there is very little evaporation, and you can let you blades soak as long as you need without worrying about rust. Visit franmar.com.