From making your own picture frames to constructing your own furniture, woodwork is one area where many DIY'ers cut their teeth and where many skilled professionals make an honest living. Whether you're wet behind the ears or a seasoned expert at the craft, here's a roundup of handy new woodworking tools to consider for your next equipment purchase.
PocketJig200
The Milescraft PocketJig200 (#1323) allows you to connect your work pieces in a quick and timely manner. Whether you want to build storage projects, cabinets, shelves or bookcases, this pocket-screw kit does it all. Use it to create corner joints, T-joints, framing joints, miter joints, and make repairs. With built-in board thicknesses, there is no need to manually measure. Just set this jig to your desired setting, set the depth of your bit and start drilling. There are four common board thickness settings built into the jig: 1/2-, 3/4-, 1- and 1-1/2-in. (12, 19, 27, 38mm). The plastic carrying case contains everything you need to get started with your first pocket holes. Included are the following: double barrel pocket hole jig, drill bit, T20 drivers (3 and 6 in.), quick connect, stop collar with hex key, plugs and an assortment of different sized T20 pocket hole screws. With this type of T20 screw head, you can get maximum torque on the screw with little chance of the screw head stripping out. Visit www.milescraft.com.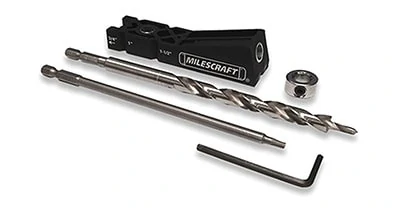 PocketJig100
Also from Milescraft, thePocketJig100 (#1321) gives you a quick and easy way to join workpieces with pocket screws and make small repairs around your house. The compact design allows you to do applications where a small jig is required. There are four common board thickness settings built into the jig: 1/2-, 3/4-, 1- and 1-1/2-in. (12, 19, 27, 38mm), virtually eliminating the need for manual measurements. The jig includes the following: single barrel pocket-hole jig, drill bit, 6" T20 driver, stop collar and hex key. This kit does not include the T20 screws that go with the driver, but they can be purchased separately.
Any screws and driver can be used with this jig. Visit www.milescraft.com.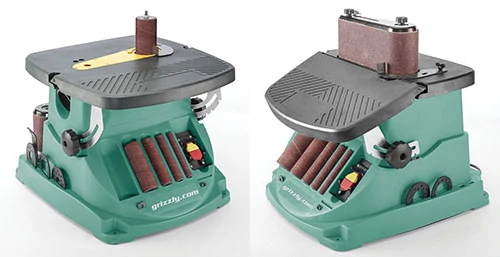 Grizzly T27417 Edge Belt and Spindle Sander
The Grizzly Model T27417 Oscillating Edge Belt and Spindle Sander has a 1⁄2-HP, 120V, single-phase motor that rotates at 11,500 RPM. It quickly converts from belt to spindle operation with the included spindle nut wrench. The T27417 features 1⁄2-in. spindle and 3⁄4-, 1-, 1-1⁄2-, and 2-in. diameter sanding drums with matching sleeves. Spindle speed is variable from 0–2000 RPM with 58 oscillations per minute. The sanding belt measures 4×24-in. and turns at a speed of 1,575 FPM. The table tilts 0–45 deg. with detents at 0, 15, 22.5, 30 and 45 deg. Visit www.grizzly.com.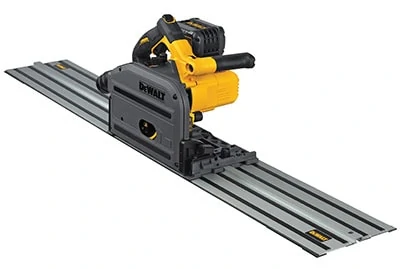 DeWalt FlexVolt Track Saw
The new FlexVolt 60V Max 6-1/2-in. Track Saw (DCS520) combines the convenience of cordless power with the precision, portability and versatility of a corded track saw. With an efficient brushless motor, specially designed transmission, and precision-ground woodworking blade to minimize deflection, the track saw delivers a finished edge just like a table saw.
The Track Saw is capable of an on-track cut depth of 2-1/8 in. (54mm) at 90 deg. and 1-5/8 in. (41mm) at 45 deg. Included is a depth scale to accurately indicate exact depth of cut. The scale accounts for the thickness of the track from the bottom of the track down to 1/16 in. With straight plunge and a parallel-link plunge mechanism, the saw can be used in a variety of orientations. A dual-edge track allows for fast setup and long anti-splinter guard length. In addition, a rail adjustment feature allows the saw to be accurately adjusted.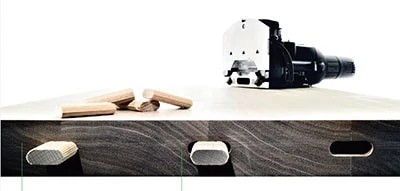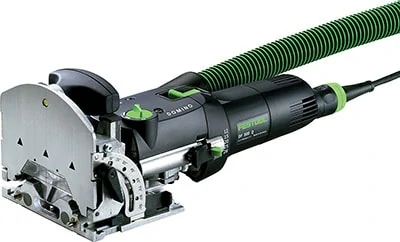 Festool Domino Cutter
The Domino connecting system unifies the benefits of all previously existing joinery systems: the stability of mortise and tenon, the flexibility of biscuits used in furniture making, and the precision of the round dowel used in shelving. The key is the Festool Domino Cutter's patented pendulum routing movement and the resulting mortises for accepting the specially formed dominos. This is a completely new wood connecting system, which ensures the highest possible stability, works simply and with considerably shorter setup time than traditional methods. It can be used for tasks that were previously only accomplished on stationary machines. These new connectors allow for rapid assembly of flat joints or corner joints utilizing Domino fasteners for knockdown design. This allows for rapid building, moving, and reassembling of large pieces. Visit festoolusa.com.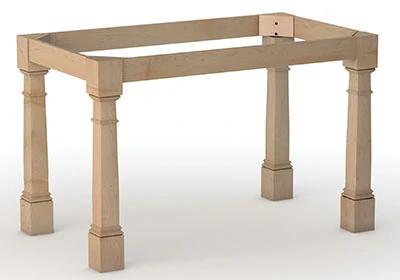 TableLegs.com
Building a quality wood table base or a complete wood table with aprons has never been quicker, using the patent-pending EasyBase system from TableLegs.com. With the online configurator at TableLegs.com, customers can design their exact table base or complete table needed for their project. Alternatively, customers can order a table base or a complete table designed by the company with EasyBase joinery. Either way, the components are shipped via FedEx and the customer builds/assembles the table base or complete table in less than 10 minutes using only an Allen (hex) wrench, which is included in every order. The EasyBase uses mortise and tenons for perfect alignment of the table legs and aprons, and a unique interlocking corner-block system creates a solid joinery connection—with no glue or clamps or previous woodworking experience required. And the legs are removable.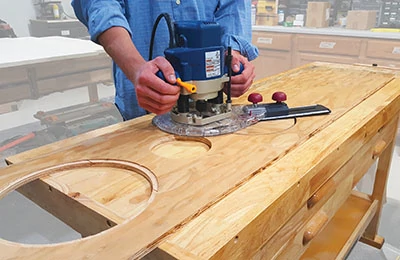 Milescraft CircleGuideKit
With the Milescraft CircleGuideKit you can cut circles from 1.5 inches in diameter to 52 inches in diameter. With the included TurnLock base plate, this product is compatible with most routers. There is no longer a need for that homemade circle cutting jig; the CircleGuideKit does it all for you and includes everything you need to cut your desired circle. It also includes a bonus Offset Base for finishing edges on your work piece. There is a small circle jig and large circle jig included in the kit that have imperial and metric scales and easy readout windows for precise measurements. The kit also includes a 1/4-in. router bit.
No more measuring, marking or making your own jigs, simply set the diameter of your circle and start cutting. Visit www.milescraft.com.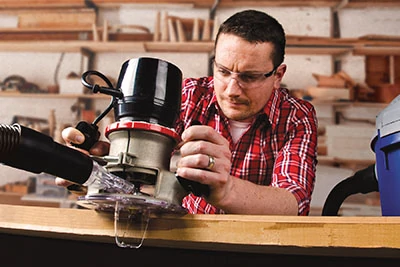 Oneida Air Systems' Universal Dust-Free Router Hood
The Universal Dust-Free Router Hood boasts a virtually dust-free routing experience for the woodworker, contractor, and DIY'er. This patent-pending router accessory captures nearly all of the dust, chips and shavings generated by portable routers, enabling a woodworker, contractor or DIY'er to have a virtually dust-free routing experience. Unlike other products on the market, the Universal Dust-Free Router Hood features both a universal base plate to fit nearly any make and model of portable router, as well as an upper dust dome and lower chip cover that combine to fully encapsulate the router bit.  This enables superior dust capture at two different collection points, simultaneously, and ultimately helps to extend the useful life of the router bit.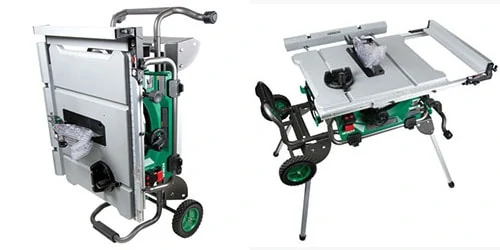 Hitachi 15 Amp 10 In. Jobsite Table Saw
The new Hitachi 10 in. jobsite table saw (C10RJ) with fold-and-roll stand features a 15 Amp motor with 4,500 RPMs to powerfully and easily rip through tough hardwoods. The stand is designed with sturdy legs for easy set up and break down, providing stability while in use. The C10RJ stand also incorporates durable wheels to ensure the user can maneuver through tough terrain with ease. Capable of a 3-1/8-in. cut at 90 degrees and 2-1/4-in. cut at 45 degrees, this table saw provides convenient on-board storage for the push stick, blade guard, anti-kickback pawls and other accessories. Visit hitachipowertools.com.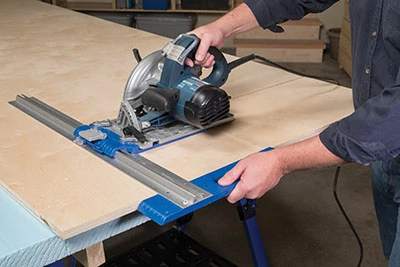 Kreg Rip-Cut
Kreg makes it easy to cut sheet goods with the new Rip-Cut, a tool that turns an ordinary circular saw into a precision edge-guided cutting tool. The Rip-Cut makes straight, accurate, repeatable cuts in plywood, MDF, and other large sheets. Whether you're making rip cuts or crosscuts, (up to 24-in. wide), the Rip-Cut does it with simple setup, precise accuracy and great saw control—and without having to mark and measure each cut. It utilizes a long edge guide that follows the straight edge of the sheet you are cutting. The extra-long guide supports the saw at the beginning, during, and at the end of the cut. A large hand-hold in the guide makes it easy to grip and adds great control. That edge guide is connected to an aluminum rail that holds your saw on a universal saw sled. The rail has a built-in measuring scale, so all you have to do is lock the saw in at the measurement you want—up to 24 inches— and then make your cut by holding the edge guide against the edge of the sheet as you push your saw along. Visit kregtool.com.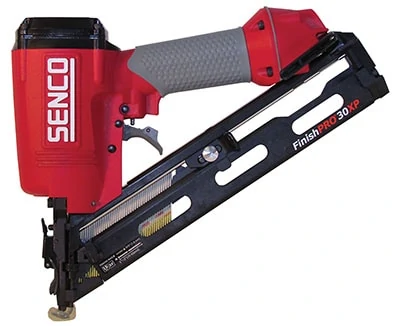 Senco FinishPro 30XP
Senco introduces its smallest and lightest 15-gauge tool for trim and fine woodworking. The new FinishPro 30XP, with a magnesium main body that weighs just 3.8 lbs., is one of the lightest 15-gauge tools available, maximizing ease-of-use. Measuring 12 inches in length and 9-5/8-in. high, it is also extremely maneuverable in tight spaces such as cabinets, while strong and durable enough to handle a range of finish and trim projects. The FinishPro 30XP accepts 1- to 2-in. 15-gauge 34-deg. angled strip finish nails. Its E-Z Clear latch virtually eliminates fastener jams and associated downtime, and its NeverLube design requires no oil and means no worries about oil staining a finish. The tool-free adjustable depth-of-drive provides consistent countersink depth. The 30XP has a 5-year warranty and comes with a carrying case. Visit www.senco.com.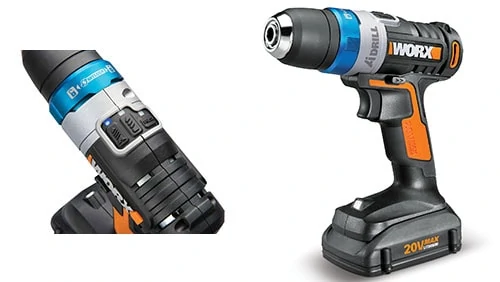 Worx Ai Drill
Advanced intelligence can be defined as the capability of a machine to imitate intelligent human behavior, and that's just what the Worx engineers had in mind when they developed the
Ai Drill. The new Ai Drill has three drive modes including Drill, SafeDrive and PulseAssist, which are activated by touch-sensitive keypads on the top of the drill. The Worx Ai Drill has no clutch settings; it relies entirely on the tool's internal electronics to safely drill holes, drive and remove screws, regardless of the work material. When SafeDrive is selected, it delivers just the right amount of torque necessary to drive the screw and then backs off once the screw head is flush with the surface. With PulseAssist, the Ai Drill applies enough bit rotation to drive the screw snug to the surface without overtightening or stripping the screw head. This feature also works in reverse to back out stubborn screws without damaging the screw head. The drill moves at a slow, optimal speed so it doesn't strip screws. BitLock is also a key feature: Load a drill or driver bit into the tool's chuck, and its motorized jaws not only tighten but self-center the bit, and does it with 30 percent more torque than hand tightening. Visit worx.com.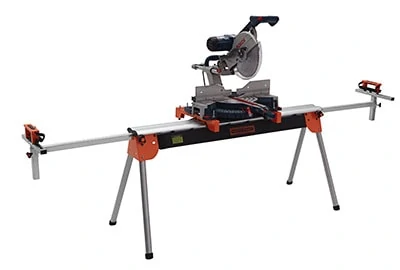 Portamate Miter Saw Stand
The newest miter saw stand (PM-6500) from Portamate features heavy-duty construction and folds quickly for easy transport and storage. With a 500-lb. weight capacity and up to 16 ft. of material support, this stand will get maximum efficiency out of your miter saw or other tabletop tool. The stand includes two material-support stops as well as universal quick mounts for miter saws, band saws, scroll saws, planers and more. Visit www.portamate.com.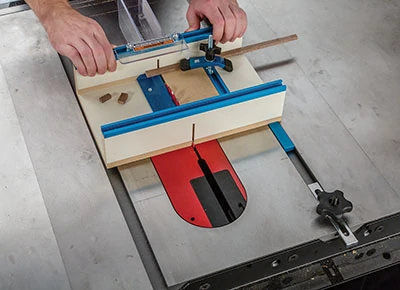 Rockler Table Saw Small Parts Sled
Rockler Woodworking and Hardware offers a new jig for the table saw that makes it easier to achieve clean, controlled cuts on small parts. The Rockler Table Saw Small Parts Sled provides zero-clearance support for small workpieces, and it incorporates an innovative drop-off ramp that allows cut pieces to gently fall away from the blade onto the sled platform. This feature solves the perennial problem of small pieces being nicked and flung across the shop by the spinning blade. The Small Parts Sled is guided by an integral miter bar that slides in standard 3/4×3/8-in. miter slots. It features a low-friction melamine-coated MDF platform with front and rear fences. Universal T-tracks run the length of the fences for attaching stops and the clear blade guard, which helps keep the user's hands away from the cutting area. Another T-track runs perpendicular to the fences for securing hold-downs. A safety stop with expandable miter bar is included; when positioned at the front of the saw, it prevents the sled from being pushed so far that the blade extends out the back beyond the blade guard. Visit www.rockler.com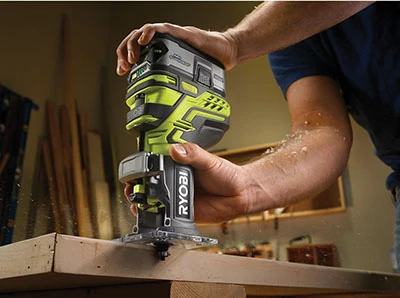 Ryobi 18V ONE+ Palm Router P601
The new 18V Palm Router's convenient, portable size makes this tool a great addition to your collection of ONE+ lithium-ion tools. This palm router has micro-adjustment for precise depth control and cuts over 600 linear ft. per charge. With 29,000 RPM users receive fast, powerful trimming to get the job done. The quick release lever for easy depth adjustment makes this router one of the easiest to use on the market. LEDs also illuminate work surfaces for increased cutting visibility so your cuts are always precise. Visit ryobitools.com.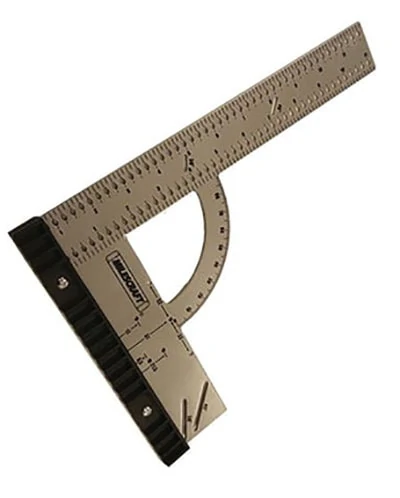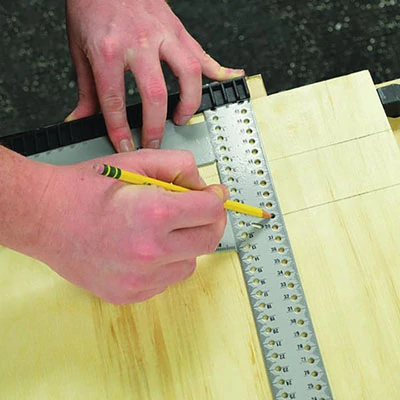 Milescraft FramingSquare300
This imperial FramingSquare300 is used to lay out a "square" or right angles, and can also be used to measure angles with the built-in easy measurement readout. The tool includes a built-in retractable edge guide and euro-style hinge mounting holes. Use this multipurpose square to mark saw cuts, lay out shelf-pins and more. It has three quick angle finders for 30-, 45- and 60-deg. angles. Visit milescraft.com.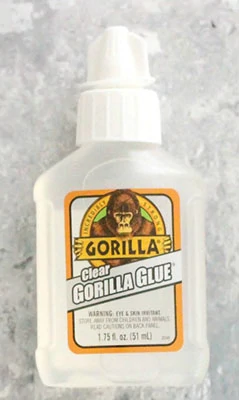 Gorilla Glue Clear
The new Clear Gorilla Glue offers users the same recognizable versatility and strength for which Gorilla is known in a crystal clear, no-foam formula. This extension to the Gorilla legacy is born from users' need for translucent glue without sacrificing its water resistance, thick consistency or versatility. Clear Gorilla Glue can be trusted both on indoor and outdoor projects that affix glass, foam, wood, metal, ceramic and more. Available in 1.75-fl. oz. and 3.75-fl. oz. bottles. Clear Gorilla glue offers an extended working time, which allows you reposition your project. It is also gap filling which allows you to glue uneven surfaces. Visit gorillatough.com.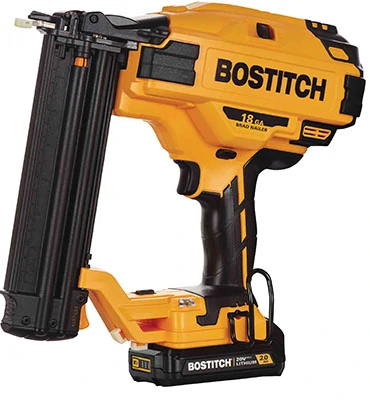 Bostitch Cordless 18GA Brad Nailer
The new Bostitch Cordless 18-gauge Brad Nailer drives brads from 5/8 to 2-1/8 inches. It features a narrow nose designed for clear line of sight and accuracy of nail placement, tool-free depth adjustment, and a tool-free selector switch for sequential or contact-actuation (bump fire) modes. The tool-free jam release quickly and easily clears nail jams, and multi-functional LED lights help to provide both workspace illumination and tool diagnostics. A brushless motor offers optimal runtime and durability, and a low-nail lockout prevents dry firing and unwanted marks on the work material. Visit www.bostitch.com.