From basic home repairs to fine furniture making, a number of wood tools can be a great helpmate on the job site or in the shop. The following are some of the latest tools you may want to add to your own woodworking collection.
Reliable Chisels
Featuring a very comfortable squared handle with slightly rounded corners, the Irwin Maples Blue Chip Bench Chisels (lead photo) are perfect for fine woodworking, such as cleaning out mortises and smoothing up tenons, cutting dovetails and mortising hinges. They have a fairly long blade, 3-1/2 to 4 inches, made of high carbon, solid-forged steel for maximum edge retention. The indestructible polypropylene will easily handle heavy mallet blows. Available in sizes from 1/4 to 1-1/4 inches, they are also available in a 4- and 6-piece boxed set from Woodcraft. –MB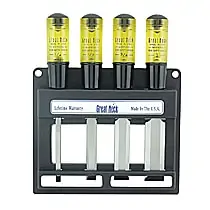 Great Neck also offers a new four-piece professional chisel set with blades ranging from 1/4 to 1 inch. The chisels feature 3-inch, drop-forged high carbon steel precision-ground and polished blades. The high-impact plastic handles with steel cap feature a lifetime warranty. The set comes in a handy, mountable rack that you can fasten to a wall or workbench for easy storage. –MW
New Concept in Sharpening
The new Work Sharp Wood Tool Sharpener is an air-cooled dry sharpening system for a wide range of cutting tools. The system allows you to sharpen chisels, planes, carving tools, lathe tools and spoke shaves—more quickly, easily and cleanly than ever before.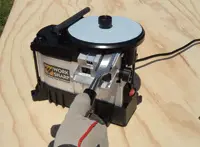 Powered by 1/5-horsepower motor, the Work Sharp uses a tempered glass grinding wheel that can be fitted with a variety of abrasive grits on both the top and underside of the wheel. Wide tools like plane blades can be sharpened on the top side of the wheel using the adjustable tool rest. Narrow tools, such as chisels, can be sharpened from the underside of the wheel, using the adjustable sharpening port. This port sharpens angles of 20, 25, 30 and 35 degrees to match the bevel of chisels and plane irons up to 2 inches wide. The port also features an abrasive surface that removes burrs from the tool during sharpening. The system's routed airflow and heat sink keeps tools cool without the mess of water.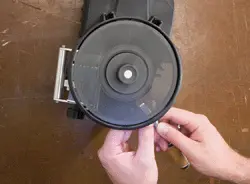 Plus, a special slotted see-through wheel allows you to see the cutting edge of carving and lathe tools while you sharpen them. This is easily the best wood-tool sharpening system I've seen. –MW
Compact Palm Router
Sometimes bigger isn't always better, as I discovered testing the Bosch 5.7-amp Colt Palm Router.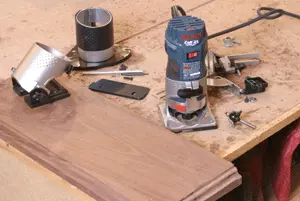 Primarily created for countertop and cabinet installers, the small router also easily handled edge routing of a walnut plaque and beat getting out a bigger router for the small chore. This lightweight, 1.0-horsepower router easily handles any number of pro and serious do-it-yourself chores. The PR20EVS router has a speed range of 16,000 to 35,000 to handle a variety of tasks and materials. The soft-start feature reduces start-up torque, and Constant Response electronics maintain speed under load. During testing, the walnut of the plaque had some fairly gnarly figure, but the cut was smooth and even. A later test on a plastic laminate countertop proved the balance and comfortable palm fit. And the Bosch-exclusive finger support pockets made it easy to keep the router from rocking on the countertop edge. The Colt Palm Router also features the Bosch-invented quick-clamp system. The router now comes in a new Colt Palm Router Installer's Kit with the router motor, fixed base, edge guide, roller guide, offset base, tilt base, underscribe attachment and carrying case. –MB
Versatile Moulding Machine
You may have read about the Woodmaster Moulder/Planer in a previous issue of EHT, but this is one tool that's worth revisiting for those interested in serious woodworking.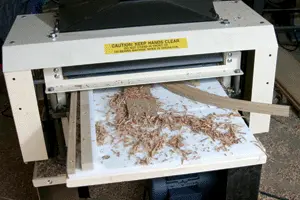 This power-feed machine features infinite variable speed that quickly converts low-cost rough lumber into finished, profiled stock. Use it to create perfect picture frame moulding, quarter-round, casing, tongue-and-groove, and more. Woodmaster offers more than 500 standard cutting patterns. Plus, the company can create knives to match your custom design. Woodmaster's high-production moulding feature boasts a 1-1/8-inch cutting depth, a powerful planer with a quick-change morse-taper cutterhead, a "gang rip saw attachment" that turns the Woodmaster into a single or multi-blade ripsaw, as well as a labor-saving drum sander attachment. –MW
New Power Plane
A power hand plane can be invaluable for trim carpenters or those installing or rehanging interior and exterior doors. And, I've found them just as handy in the shop for smoothing the edges of stock to be edge-joined and for other chores.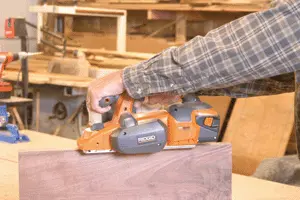 A cordless model such as the Ridgid Max Select Dual-Voltage, 3-1/4-inch Hand Planer Model R888 is even more handy without the trailing electrical cord. The planer features patented spiral-cut planing blades running at 13,000 rpm. This provided an extremely smooth cut on edge stock in my test, even on some highly figured maple and cherry. The blade set is replaceable and easily changed with the included wrench. The planer is belt-driven, making it quieter and easier to maintain. It has a very finite zero to 1/16-inch depth adjustment. The micro-settings allow for extremely good depth control, important when planing to width. You can make rabbet cuts up to 1/2-inch in depth, handy for rabbeting the rear edges of cabinets for installing a back. The planer comes with an edge guide to aid in making these cuts, and also to provide stability when making edge cuts. One of the features I really liked was the automatic rear stand that flips down when the planer is lifted off the surface. You don't have to worry about accidental blade contact when you shut down the planer and set it down. A standard vacuum port with a large chip-collection bag helps to keep the work area clean.
The Ridgid Max Select system of dual-voltage tools is the first line of cordless power tools that can run on two different voltages and two different battery chemistries. The tools are purchased separately without battery or charger. You can choose an 18-volt Ni-Cad battery and 30-minute diagnostic charger, or the recently introduced Ridgid Xli 24-volt lithium-ion battery and one-hour diagnostic charger. –MB
Handy Clamps
Black and Decker has introduced a number of unique battery-powered hand tools, including the company's new Auto Clamp.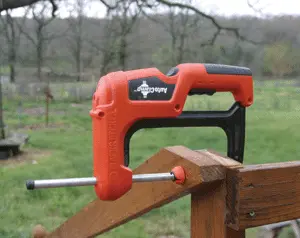 At first I was skeptical, but quickly found the clamp mighty handy in my furniture shop. Simply place the Auto Clamp over the project pieces and push a button. The Auto Clamp automatically turns and tightens down, holding your project solidly together. When you're done, push the rocker switch to the reverse position and the Auto Clamp releases. A 6-inch opening in the clamp provides for a variety of clamping chores. The 6-volt Auto Clamp runs on four AA batteries and provides approximately 75 clamps on one set of batteries. A quick-slide feature moves the clamping jaw in or out for adjusting to the work piece. –MB
Here's another smart clamp design: Stackable bar clamps from R&R Clamp. Many woodworking chores, such as constructing cabinet doors or edge-gluing stock, require a lot of table space. The new R&R Panel Clamping System is designed to maximize the use of work space by allowing the user to stack the work.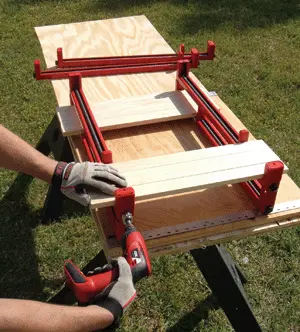 The system I tested included six specially designed 24-inch bar clamps, top and bottom alignment bars, rubber jaw pads and a socket driver. The jaws of the clamp travel on a threaded rod, which allows you to pop the socket on a power drill for fast, simple clamp adjustment. Use the bottom two clamps to secure your work, then stack two more clamps on top to clamp another project in the same footprint of space. You can stack as many as three sets of clamps, and then add the top alignment bar to stabilize the work. The clamps are available in 1-, 2-, 3- and 4-foot lengths. –MW
Clamping furniture, cabinetry and other construction projects often makes you feel like you need three hands. The Irwin Quick-Grip, XP one-handed Bar Clamp & Spreader gives you that "extra hand."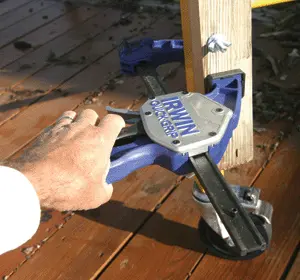 The Quick-Grip XP's patented Power Locks provide a lot of pressure. With just a squeeze of your hand you can apply up to 550 pounds of pressure (900 pounds of two-handed pressure). The unique I-Beam makes the clamp extremely strong and resists twisting and bowing under pressure. The Quick-Release trigger releases easily without the explosive pressure of some clamps. The 3-inch deep throat provides for larger work pieces, and the non-marring pads on the jaws protect the work piece. The Quick-Change jaw can be converted easily from clamping to spreading. The Quick-Grip is available in lengths of 6, 12, 18, 24, 36 and 50 inches. –MB
Biscuit Joiner
Wood biscuits are a great way of joining wood pieces, especially edge-joining narrower strips to create wider boards for furniture sides, doors and tops. Biscuit joinery can also be used to join panels to legs and other joinery chores.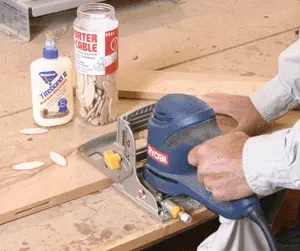 For this task you need a biscuit cutter, and one I've especially liked in my tests is the Ryobi JM82K. The tool is extremely well made and sturdy. The 8-tooth carbide blade cuts smoothly and quickly, even in extremely hard woods. The support plate is wide and extremely stable, and the overmolded handle provides for comfortable use and a firm grip. In addition to straight cuts it has an easily adjusted angle fence that cuts angles from zero to 135 degrees with stops at 0, 45, 90 and 135 degrees. Cutter depth adjustment is also quick and easy with positive stops. The cutter can cut for Number 0, 10 and 20 size biscuits. –MB
Polarized Glasses
The old joke about your arms getting shorter as you get older isn't funny when you're on a ladder or scaffolding in bright sunlight, wearing sunglasses and unable to see close up.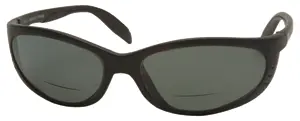 Last year I discovered Ono's Trading Company's Patented Polarized Reading Glasses. Developed by a fly fisherman who became tired of taking off his sunglasses and putting on his reading glasses to tie on a fly, they also make it much easier to do construction work in bright sunlight. They aren't, however, safety glasses and shouldn't be substituted for that. I wish someone would make reader/safety/sunglasses.
Resources
Black & Decker
800-54-HOW-TO
www.blackanddecker.com
Bosch
877-BOSCH-99
www.boschtools.com
Great Neck
800-457-0600
www.greatnecksaw.com
Irwin
800-866-5740
www.irwin.com
Ono's Trading Company
866-865-4695
www.onostradingcompany.com
R&R Clamp
www.rrclamp.com
Ridgid
800-4-RIDGID
www.ridgid.com
Ryobi
800-525-2579
www.ryobitools.com
Woodcraft
800-225-1153
www.woodcraft.com
Woodmaster Tools
800-821-6651
www.woodmastertools.com
Work Sharp
800-597-6170
www.worksharptools.com