By Matt Weber
From trim carpentry and furniture building to deck construction and house framing, if you work with wood, you'll enjoy this issue's overview of some of the latest and greatest tools of the trade.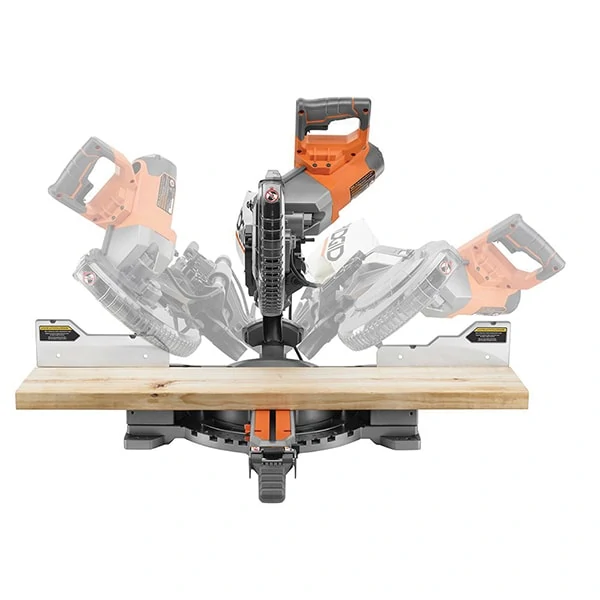 RIDGID R4210 DUAL BEVEL SLIDING MITER SAW
The Ridgid R4210 10-in. Dual Bevel Sliding Miter Saw can handle anything from rough construction to fine woodwork. Loaded with features, the R4210 features an industry-leading 0-70° miter range with a cutting head that tilts 70 degrees to the left and to the right. The dual-bevel design enables you to move the saw head instead of the material for added convenience. The saw has positive bevel crown molding stops at the most common angles: 0, 15, 22.5, 33.9 and 45° left and right. Included is a work light to improve cutting accuracy, and the 15-amp motor easily handles the toughest materials. The R4210 offers 2×8-in. crosscut capacity at 45°, and 2×12- or 4×4-in. crosscut capacity at 90°. The saw features adjustable miter and bevel detents (with bypass), a built-in dust collection port, and at only 47 lbs. it's easily portable. Visit www.ridgid.com.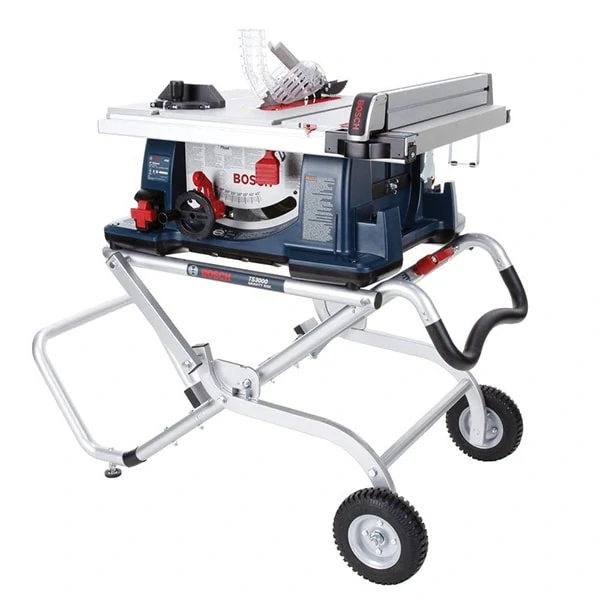 BOSCH 4100 WORKSITE TABLE SAW
For woodworkers, a reliable table saw is a crucial counterpart to the miter saw, and for many years the EHT By Matt Weber staff has trusted the Bosch 10-in. Worksite Table Saw. We love this model because it gives us the best of both worlds: precision performance for detailed woodworking, plus portability and versatility for jobs outside the workshop. The gravity-rise, collapsible saw stand allows you to adjust the height while the 8-in. pneumatic wheels provide mobility from site to site. We've hauled these saws all over the place, and they've proven their durability. The latest version, the 4100, comes with a SquareLock rip fence and the modular Bosch Smart Guard System, which features anti-kickback pawls and a riving knife system that ensures maximum protection while affording optimal line of sight to the cutline. Visit www.boschtools.com.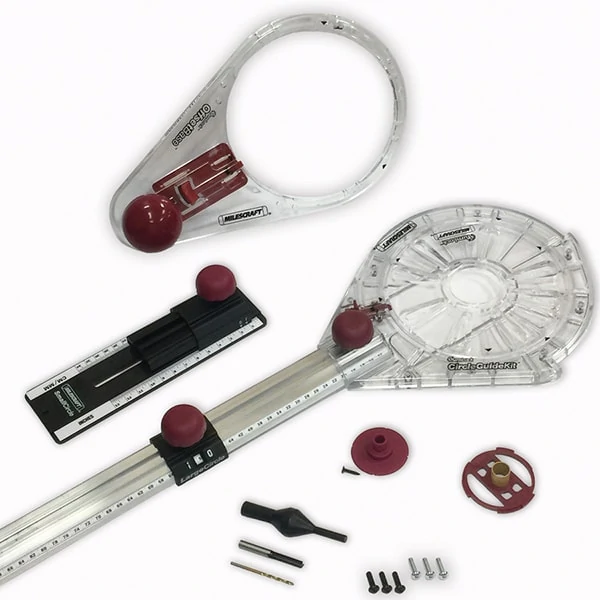 MILESCRAFT CIRCLEGUIDEKIT
Cut small and large circles from 1-1/2 to 52 inches in diameter with the CircleGuideKit. With the included TurnLock base plate, the CircleGuideKit does it all for you and includes everything you need to cut your desired circle.  The Small Circle Jig cuts circles from 1-1/2 to 12 inches in diameter. Large Circle Jig cuts circles from 10 to 52 inches. Both jigs have built-in imperial and metric scales, with an easy readout window for setting the diameter of both your inside and outside cuts. They quickly and easily attach to the included TurnLock circle guide head. The kit also includes a bonus Offset Base for finishing edges on your workpiece. Visit www.milescraft.com.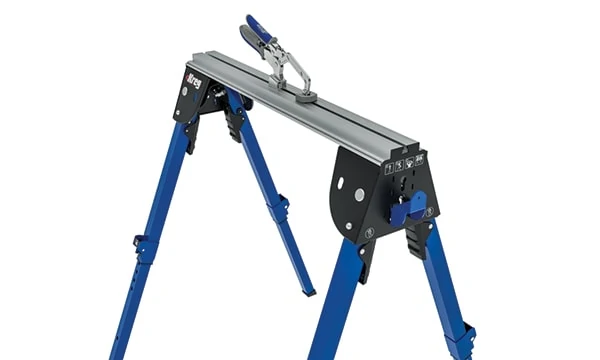 KREG TRACK HORSE
The Kreg Track Horse is a versatile, sturdy, expandable and portable work support. The steel and aluminum Track Horse goes beyond the capabilities of an ordinary sawhorse, thanks to dual-mode clamping (with an included Kreg Bench Clamp), adjustable legs, the ability to accept a sacrificial cutting surface, and the capability to be used in conjunction with a second Track Horse or a Kreg Mobile Project Center to create a large work surface or cutting platform. Visit kregtool.com.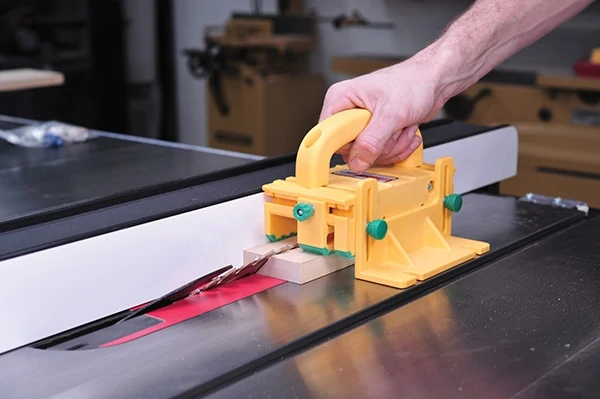 GRR-RIPPER
The Grr-Ripper acts as a moving blade-guard for total hand protection when using table saws. The adjustable center leg grips the off-cut piece and prevents wood burn. The 1/4-in. leg controls the keeper piece. The Balance Support along the side of the jig body stabilizes small and narrow workpieces. The Grr-Ripper is fully adjustable to allow for a limitless amount of uses. Use two Grr-Rippers with the hand-over-hand technique to cut long stock on your table saw. The Grr-Ripper Advanced Model is packaged with a Stabilizing Plate and Adjustable Spacer (also sold separately as the GR-100 Upgrade Kit). The Stabilizing Plate provides 250 percent more surface area. Like a featherboard, it keeps wood locked against the fence for a smooth cut, virtually eliminating binding. Visit www.microjig.com.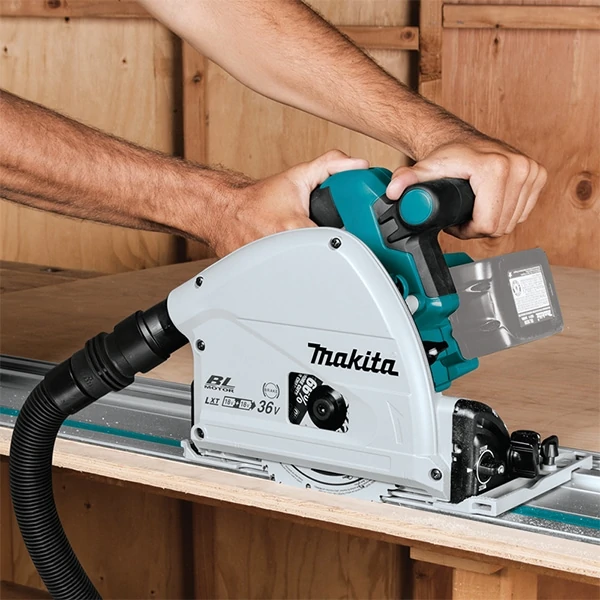 MAKITA 18V X2 PLUNGE SAW AND GUIDE RAIL
The new Makita 18V X2 (36V) LXT Brushless 6-1/2-in. Plunge Circular Saw combines a powerful Makita-built brushless motor powered by two 18V LXT batteries with Automatic Speed Change Technology, which adjusts cutting speed and torque during the cut for optimum performance. When combined with an optional guide rail system (sold separately), the saw and rail work together to produce accurate cuts with minimal tear-out. The XPS02ZU is also equipped with the Auto-Start Wireless System (AWS), which uses Bluetooth technology for wireless power-on/off communication with the AWS-equipped dust extractor. AWS is intelligent communication that eliminates cords and reduces noise. Visit makitatools.com.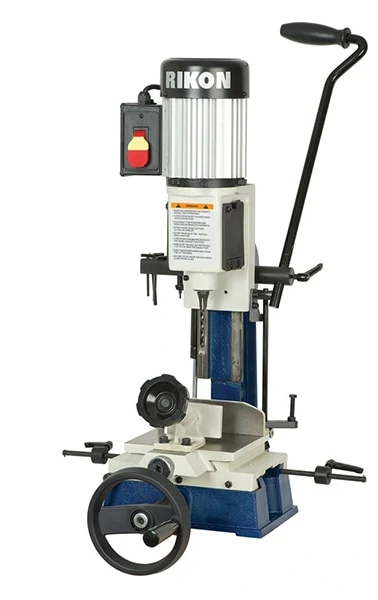 RIKON SLIDING-TABLE BENCHTOP MORTISER
If you do much mortise and tenon work, a dedicated mortiser greatly improves efficiency. This Rikon model has a sliding table for quick positioning. The table has a handwheel-controlled rack-and-pinion mechanism for precise movement and side stops to limit its travel. This means there is no need to manually move the workpiece and hold it in place for every cut, and multiple mortises of the same size can be made with a single setup. A fine-adjustment mechanism controls the front-to-back position of the table, making it easy to accurately locate the fence relative to the bit. The mortiser has a depth stop, as well as a gas piston that assists when retracting the bit. Visit www.rikontools.com.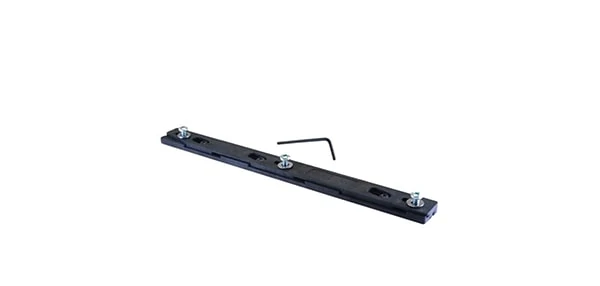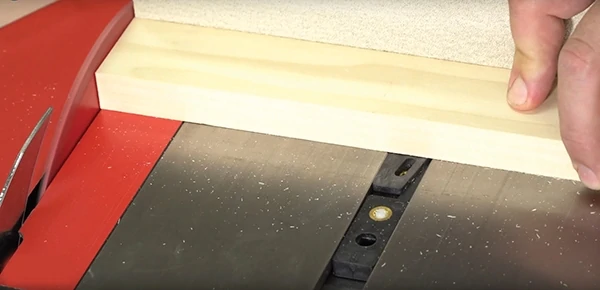 ZERO PLAY GUIDE BAR SYSTEM
Designed to fit or replace wood runners on user-made jigs, the ZeroPlay Guide Bar System is fully adjustable to fit both the standard miter-slots in most tablesaws (even ShopSmith) and extrusions used in the router table. The miter bars match the exact width of the slots with "zero play" effect along its entire length (9 inches), achieved with a single push against opposing wedges on the two sections of the bar—one-touch calibration. Made of durable glass reinforced polymer, the ZeroPlay Guide Bar offers many advantages over wood or metal runners, including: simplicity of calibration; shorter length for smaller jigs (can be installed in pairs for larger jigs); installs and precisely aligns from the top of the jig; no galling problems associated with metal runners; and no binding or slop caused by environmental changes or long-term use. With the Guide Bar System, the ZeroPlay Stops can be utilized in conjunction with the ZeroPlay Guide Bar within the miter-slot (including the General 350 TS), or it can be used alone as a hold-down anchor when fitted with a standard carriage bolt. These products are available in a single bar package, or as a system packaged with two (2) bars and two (2) stops. Visit microjig.com.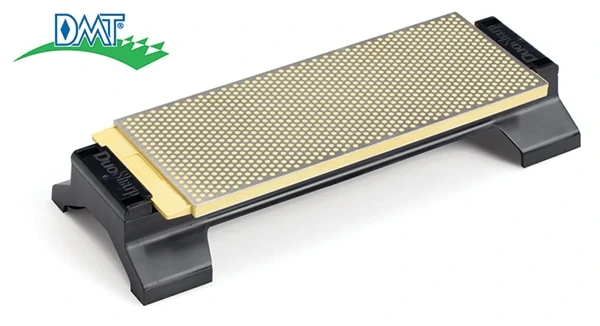 DMT 10" DUOSHARP DIAMOND BENCHSTONE
The 10-in. DuoSharp is the ultimate diamond benchstone. It has all the advantages of an 8-in. model, but with 87 percent more of DMT's trademark interrupted polka-dot diamond sharpening surface. These double-sided benchstones offer over 4 carats of micronized, monocrystalline diamond—perfect for the longest knives or widest woodworking tools. Sharpen your Spoke Shave, Chisel, Plane Iron, Plane Sole, Chef Knife, Carving Knife, Fillet Knife, Paring Knife or Cleaver. Visit www.dmtsharp.com.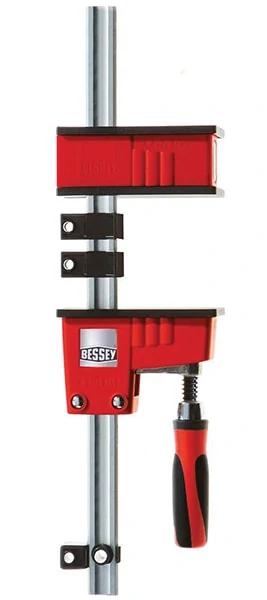 BESSY VARIO K BODY REVO CLAMPS
With up to 8,000 N of clamping force, the new REVO KRE body clamp has a powerful grip thanks to its metal-reinforced plastic housing and optimized sliding arm. The double slide protection holds the clamp reliably with the set clamping force and prevents any unintentional slipping of the sliding arm when in the unclamped position. The innovative body clamp design has an ergonomically shaped twin-component plastic grip with an internal hex. The large clamping surfaces, which sit at right angles to the rail, have three removable and glue-resistant protective caps. The KREV Vario version of the tool covers clamping widths of over 1 meter. The variable model is equipped with an infinitely adjustable top section that can be shifted at the touch of a button. When it is positioned in the center of the workpiece, the weight can be well distributed, especially when an object is clamped for an extended period.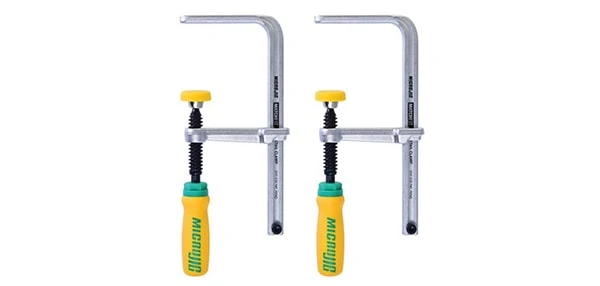 MATCHFIT DOVETAIL CLAMPS
This is the first clamping system that lets users groove their own dovetail clamp tracks to clamp almost anywhere. The MatchFit Dovetail Clamp is an innovative new woodworking tool that allows users to quickly and easily attach fences, outfeed tables, cutting guides, and more with just a dovetail groove and the Dovetail Clamps. Designed in the USA, the clamps are manufactured with a forged head compatible with a 1/2-in. wide, 14-degree dovetail groove. The unique shape of the MatchFit clamp head allows it to be securely inserted into a dovetail slot and slide along the groove to the desired clamping position. Because the clamp head is enclosed within the dovetail groove, it stays clear of work surfaces, blades and bits, allowing woodworkers to perform shop operations smarter and safer. Visit microjig.com.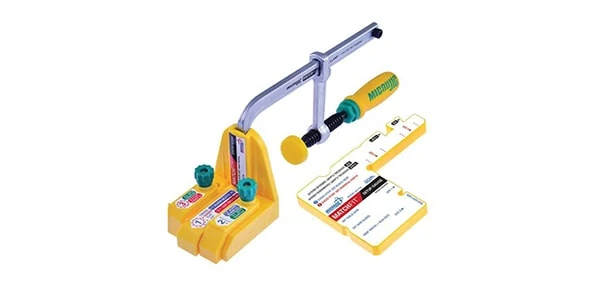 MATCHFIT DADO STOP PRO
The MatchFit Dado Stop Pro is an all-in-one, exact-width dado jig virtually designed to eliminate test cuts, marking and measuring for cutting dados. Simple, fast and easy to use, the Dado Stop Pro takes the guesswork out of creating precise dado cuts while preventing serious table saw injury and kickback. The Dado Stop Pro bundles the Dado Stop, Dovetail Clamp and Setup Gauge in one convenient package, bringing together everything makers need to create dados. The Dado Stop Pro makes precise, tight-fitting cross dados for half laps, inlays and other tricky joinery simple and easy. And because the fixed center leg on the Dado Stop is exactly three inches in length, the Dado Stop Pro can be used to calibrate the rip fence scale, allowing builders, woodworkers and other makers to use it with confidence. Visit microjig.com.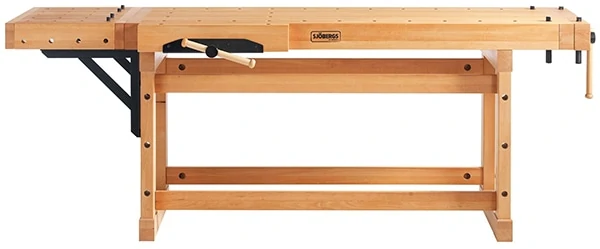 SJÖBERGS ELITE 2500C WORKBENCH COMBO
Sjöbergs' Elite 2500C Workbench Combo is designed by professionals for professionals to be the ultimate combination of workbench and clamping platform for optimal workspace. It provides up to 98-inches of workspace and is heavier than most other workbenches on the market, constructed entirely in European beech and thoroughly treated with top-quality oil. The versatility of the Elite workbench together with the clamping platform combines unbeatable strength, quality and versatility. The clamping platform can be detached from the workbench and placed on a wall to act as a separate workspace. In addition, a large variety of accessories can be added to the platform both on top and around the skirt, including jaw cushions, a steel anvil, the Sjöbergs ST-11 Holdfast and more. Visit www.affinitytool.com.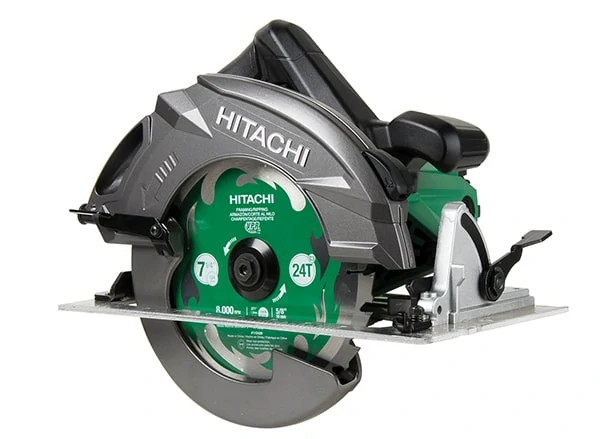 HITACHI C7UR RIPMAX 7-1/4" CIRCULAR SAW
Designed for speed and power, the C7UR 7-1/4-in. RipMax Circular Saw from Hitachi Power Tools cuts up to 40 percent faster than competitive models with its impressive 6,800 RPMs. It features a powerful 15-amp motor to quickly and powerfully rip through OSB, 2×4's, LVL, plywood and other framing materials (or fiber cement boards when equipped with a fiber cement blade). The RipMax is equipped with a dust blower feature to clear the cutting path, plus improved ergonomics for easier handling and comfort. Its depth and bevel levers, made of steel for durability, move smoothly during adjustments. The bevel capacity on this circular saw ranges from 0-55 degrees with positive stops at 0°, 45° and 55°. The extra cut capacity to 55° is ideal for stick framing and roof framing. The cut capacity at 90° is 2-3/8 in. and 1-27/32 in. at 45°. The heavy-duty stamped aluminum base offers "ribbing" which has never been done before, and adds significant durability. Visit www.hitachipowertools.com.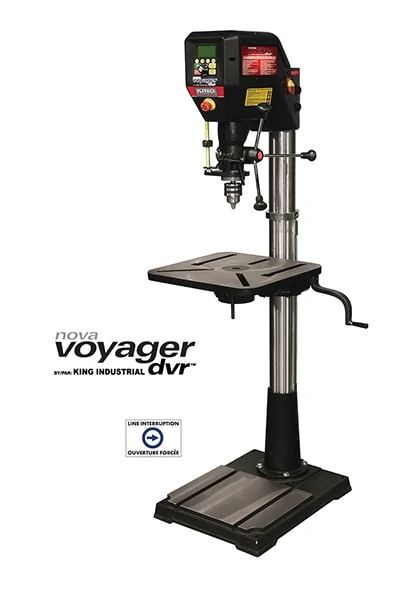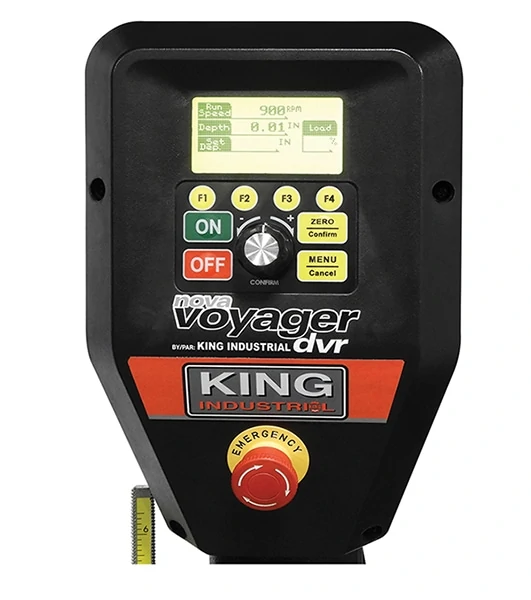 NOVA VOYAGER DVR DRILL PRESS
The drill press of the future is here. The NOVA Voyager DVR (#58000) is designed for the woodworker who wants precise, smooth, vibration-free drilling. That's due to its unique DVR (Digital Variable Reluctance) "smart" motor that delivers constant torque at any speed, from 50 to 5,500 RPM. Digital electronics automatically adjusts and maintains the speed and power of the Nova Voyager based on drilling resistance, and the user controls everything using a digital screen with push-button controls. The powerful direct drive 1.75-HP high-torque motor has no pulleys or belts to cause vibration. The DVR Direct Drive Technology with Adaptive Control Software works to produce optimum results in wood, metal, plastic and glass. Depth and vibration sensors ensure constant torque under load and emergency stopping. Visit www.kingcanada.com.
Side Note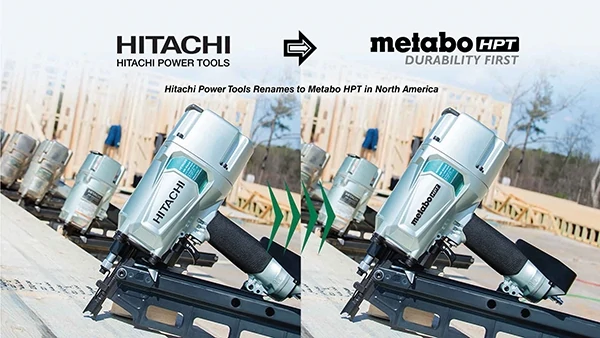 Hitachi Power Tools Renames To Metabo Hpt In North America
Power tool aficionados should keep an eye out for changes to a familiar brand name. Beginning in September of this year, Hitachi Power Tools is changing its name to Metabo HPT for its full line of power tools, fasteners, accessories and outdoor power equipment products for North America. According to the company, nothing else will change about the brand except the name. Products will retain the current brand identity: same color, same model numbers, same warranties and the same battery interchangeability. They will be made by the same people, in the same factories, with the same specifications. Hitachi Power Tools products will be interchangeable with Metabo HPT products, and Metabo HPT products will be interchangeable with Hitachi Power Tool products. During the transition, the Metabo HPT packaging and signage will feature both names and logos to clearly communicate the changeover from Hitachi Power Tools.