By Toby Bostwick
Over the past year, outdoor living spaces have become just as much a place to unplug as they have a designated zone for homework lessons, remote work meetings and intimate dinner gatherings. Given the uptick in time spent outdoors, it's no surprise Extreme-how-to'ers are taking their skillset to the deck and transforming these once boxy spaces into staycation-worthy escapes.
To bring their "bigger and better" decks to completion in today's volatile lumber market, more DIYers are turning to wood-alternative deck building products. Touted for their strength, durability and beauty, these carefully crafted offerings can support ever-expanding deck functions and aesthetic goals, all while keep maintenance down.
From top to bottom, here are wood-alternative deck building materials that make it easy for do-it-yourselfers to bring "bigger and better" decks to completion.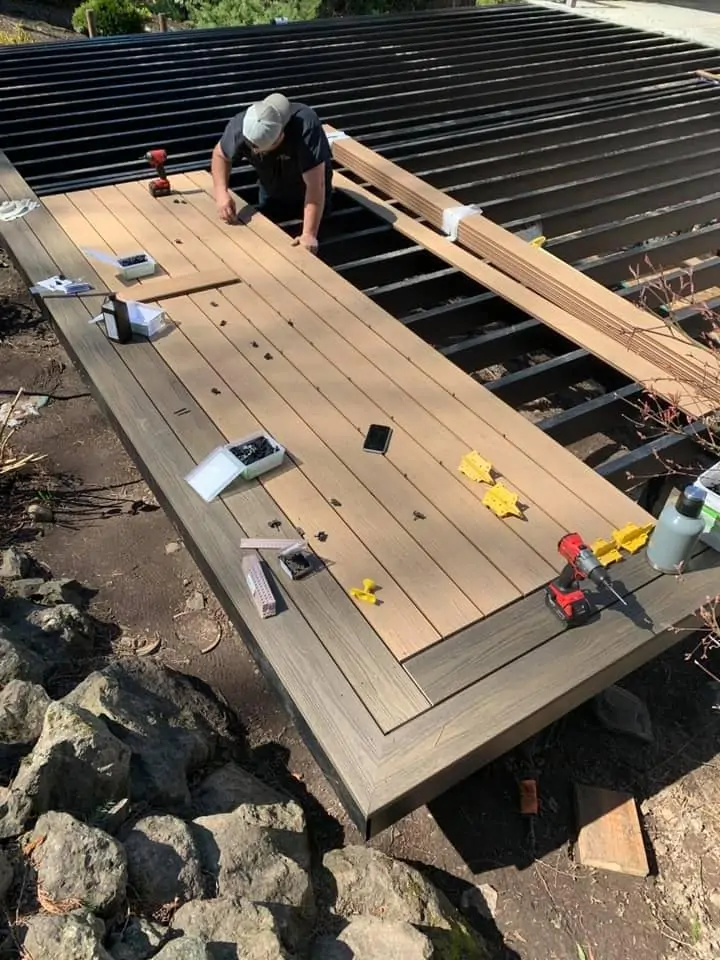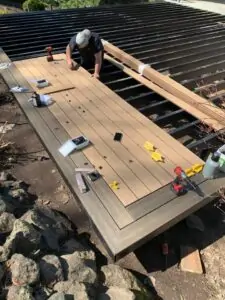 Composite and PVC Decking
Many of today's decks incorporate hot tubs and swimming pools, which can wreak havoc on traditional wood boards. Frequent exposure to moisture from splashing and treks into and out of the water can cause the boards to deteriorate, rot and splinter. Not to mention, their slippery surface can quickly become a hazard that limits summertime fun.
Engineered to defend against water infiltration, composite and PVC decking can sideline these all-too common challenges. Composite decking is now available with a protective cap for elevated durability and effective moisture-resistance. Likewise, PVC boards encapsulated in a high-grade acrylic polymer offer improved protection against moisture and provide a barrier to UV rays to resist against fading. Boards that use a resin cap with a slightly "grabby" surface also deliver high slip resistance. When tested on the Wet-Barefoot Inclining Platform Test—a ramp test that involves bare feet and soapy water—products are available that have achieved a score of 34-degree incline.  To put it in perspective, the national average roof slope is around 18.3 degrees, which is still only slightly over half the angle of incline this board achieved.
With this level of innovation, composite and PVC deck boards are well-suited for any sort of application where moisture is present. Not to mention, because the boards' protective cap provides enhanced levels of weatherability, they eliminate the need for staining, sanding or resealing–great news for Extreme-how-to'ers who want to spend more time enjoying their deck than maintaining it.
Another one of the many allures of today's composite and PVC decking is that they emulate the natural wood grain aesthetic and richness of standard wood deck boards. However, unlike wood, they lack the propensity to warp, crack or deteriorate over time. This affords Extreme How-to'ers the ability to focus on other deck amenities knowing the boards will reliably support even the most extravagant deck design.
Steel deck framing and stair systems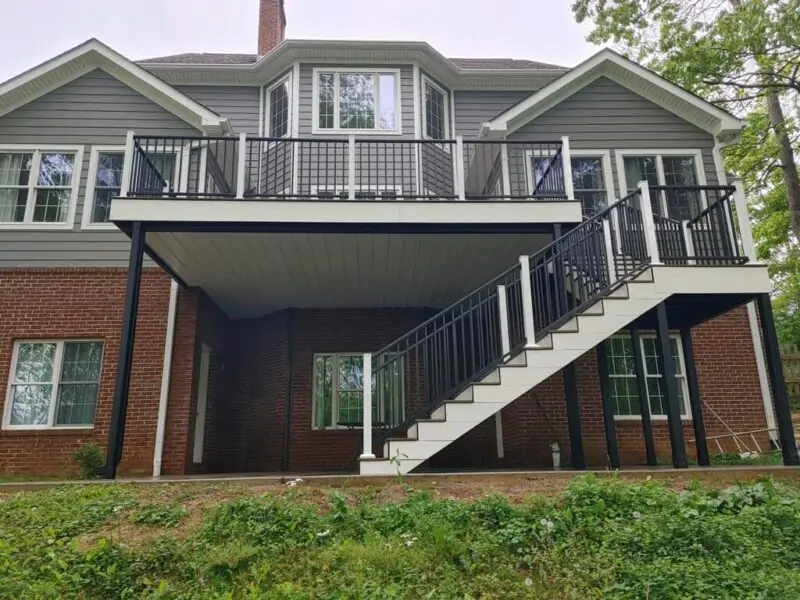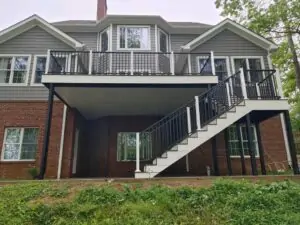 With many composites and PVC deck boards offering a lifespan of 25 years or more, there is a heightened need for deck framing that can match the longevity of these surface boards. Combining brawn with durability, light-gauge-steel is rising to the challenge. It provides homeowners with an ultimate yield strength that measures nearly 10 times greater than wood. In turn, the, framing can handle significantly greater loads than lumber, making it ideal for oversized decks or those with sought after amenities like kitchens, firepits and hot tubs. Plus, since steel framing is resistant to most tangible threats such as flammability, moisture absorption and pests, it eliminates issues associated with wood frame deck decomposition.
The benefits of purchasing a steel deck framing also makes a lot of sense when factoring in the ease of installation. Innovative manufacturers even offer steel deck framing with interlocking joists and ledgers. This allows DIYers to build safe and sturdy decks with less effort. To round out the full deck arrangement, DIYers can incorporate a steel deck stair system into the project. These solutions come ready to assemble, sidestepping miscalculations and the use of excessive stringers which further contributes to quicker and more efficient installs. With this, DIYers can rest easy knowing that even a complex deck can be installed hassle-free and built for safety from the ground up.
Customizable railing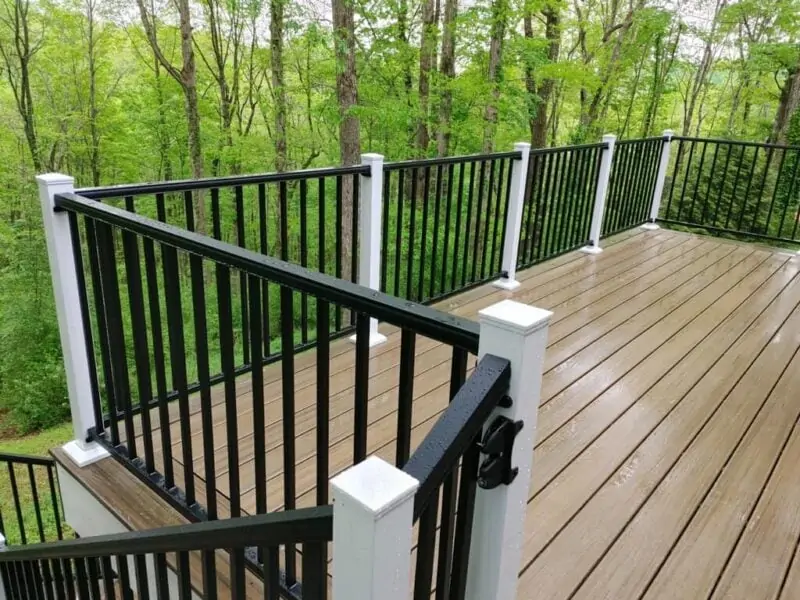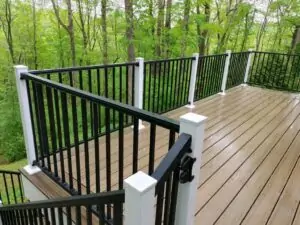 The bigger a deck is, the more railings can provide necessary safety precautions and improve accessibility. For this reason, finding the right railing system is essential for all DIYers who plan on building a larger-than-life deck. While traditional wood railings may be the familiar option, like all wood products, they have a tendency to break down faster in outdoor applications. This can be worrisome, especially when the safety of family and friends is on the line.
Incredibly sturdy, customizable aluminum and steel railing systems offer much-needed safety and the ability to enclose decks in personalized style. With aluminum systems offering plenty of high-end design options such as accent panels and infill options like cable and glass insets, DiYers can easily extend their home's aesthetic to the perimeter of their deck. Not to mention, these railing systems provide simple installs with pre-attached brackets. This is great for those who crave the ease of straightforward installation with the support of high-end strength.
On the other hand, premium steel deck railing brings a traditional, gravitas to any Colonial or Neoclassical house or yard. With the pre-welded makeup of a steel system not only do deck builders get a hassle-free install, but they also get a system with maximum strength— keeping occupants safe when enjoying time on deck.
High design solutions to provide decks that endure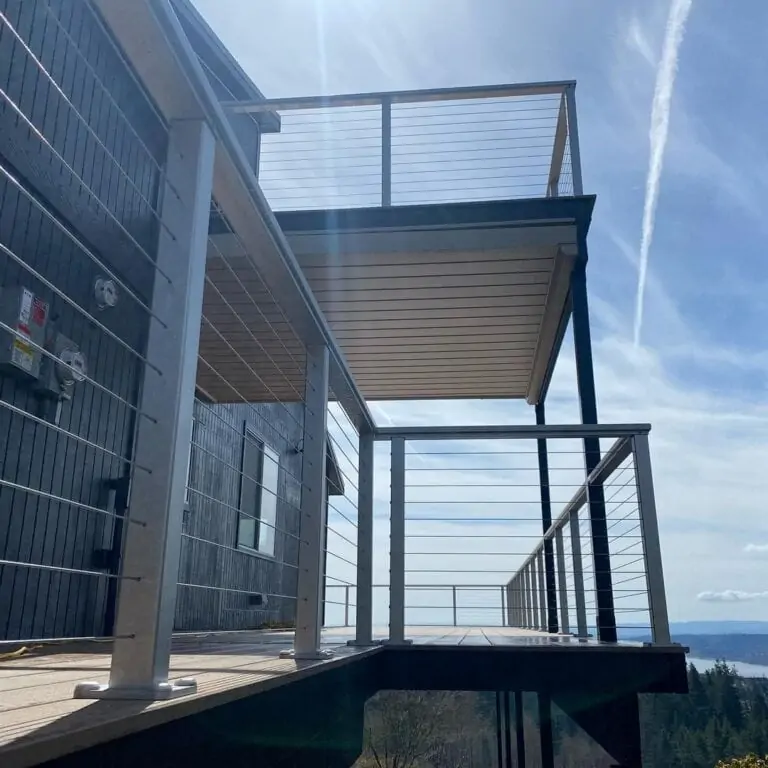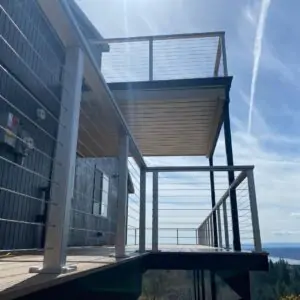 This year more than ever, folks are excited to spend time with their loved ones on deck. With a growing range of decking materials such as composite, PVC, steel and aluminum all within reach, Extreme-how-to'ers can go big on style and function, creating a dream deck that will last for years to come.
Bio
Toby Bostwick, vice president of product and brand, Fortress Building Products 
Bostwick has extensive experience in product management and development across the building materials industry. He currently leads new product development and introduction across the lineup of Fortress outdoor living solutions. Visit Fortressbp.com.