By Matt Weber
New Video Inspection System for Home, Auto and Trade.
The Seeker Video Inspection System goes places where you can't fit, providing an extra set of eyes for up-close visibility in the tight spaces of tricky jobsites. General Tools & Instruments Co. currently offers four models of the video camera scopes, which bend and curve for easy inspection of areas that are otherwise inaccessible to first-hand visual inspection.
The flexible scope of the Seeker is easily manipulated into whatever shape is needed to thread past obstacles to the target area—and retains its shape unless you adjust the shaft. The EHT staff tested the DCS400, and although it takes a little practice to maneuver and aim the probe, once you get the hang of things, you're able to see inside, around, behind, beneath, above and between walls, machinery and other obstructions that obscure the eye. Each model comes equipped with a high-strength, "obedient," 39.4-inch camera-tipped probe with built-in, adjustable LED lighting. Also included is a mirror, magnet and pick-up hook that can mount on the end of the probe, as well as batteries, a detailed instruction manual and hard plastic carrying case. Depending on the model, the probes start from 9.5 millimeters in diameter, and are water-, oil- and dust-proof. The various diameters and lengths of the camera-tipped probes are interchangeable between all four systems.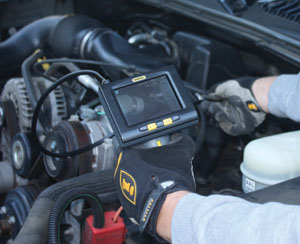 The applications seem limitless, such as building inspection for mold, leaks or pests; duct and pipeline inspection for corrosion or leaks; peering inside walls before breaking out the demolition bar. The automotive applications are also helpful, allowing technicians and DIY'ers to see around the cumbersome components of a confined engine bay.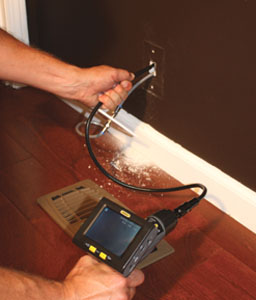 The baseline model is the The Seeker 200 Video Inspection System (MSRP $199.00), which features a 2.4-inch color LCD monitor for real-time viewing, with a slim, 0.47- inch flexible camera-tipped probe. The camera features a 60-degree field of view and a depth of field ranging from 1 to 11.8 inches. Optional 1-, 2- or 3-meter probe extensions can be added to extend the probe length up to 16.4 feet.
The Seeker 300 Video Inspection System ($229.00) has all the features of the Seeker 200 System in addition to a larger, 3.5-inch color LCD monitor.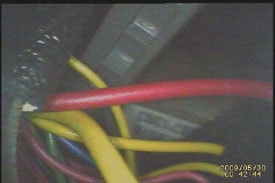 The Seeker 400 Wireless, Data Logging Video Inspection System includes two models: the DCS400 and the DCS495 ($299.00 and $399.00, respectively). Both models have similar specs but different probes. Each model is a fully-featured video scope that includes a detachable, 3.5-inch color LCD monitor designed for remote viewing as far as 32.8 feet away. The monitor includes a magnetic base for easy mounting on a metallic surface. Both models record either still images (jpeg) or up to three hours of video (avi) in either NTSC or PAL format, which are stored on a 1GB micro SD card and can be downloaded via the included video and USB cables. The DCS400 features a 0.67-inch diameter flexible, camera-tipped probe with built-in, adjustable, high-intensity LED lighting. Optional probe extensions are available to extend the unit's reach up to 18 feet. The DCS495 system comes with the slimmer 9.5mm diameter probe.
For more information on The Seeker video inspection systems, visit www.generaltools.com or call 1-800-697-8665.