Give your Next Deck Project More Artistic Appeal
By Matt Weber
A deck can be constructed as a simple wood platform, or it can be designed as an elaborate outdoor entertainment center with artistic styling, ample seating and modern amenities. As long as decks are in demand, builders will strive to build them better than ever and add an original spin to their projects. Here are a few different takes on traditional deck building for you to consider the next time you tackle the job.
Bending Deck Boards
The ability to bend deck boards allows for creative deck designs that would otherwise be impossible to build. This process involves heating boards made of cellular PVC or plastic composite until the material is soft enough to shape into a radius. After heating the boards, they can not only curve like a ribbon but also arch laterally like a rainbow.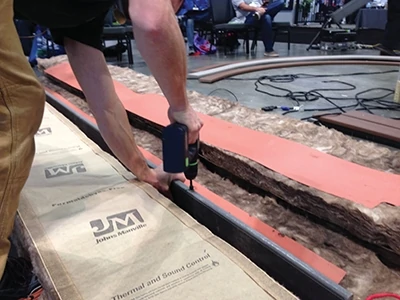 I recently saw this application demonstrated at the Remodeling Show/Deck Expo in Nashville, TN, by Jason Katwijk of Deck Builders Inc. (My apologies for the crummy phone photos from the show.) I'd only heard of this process and was fairly amazed when I saw him lift a heated board, and it drooped over his arm like a long stretch of taffy.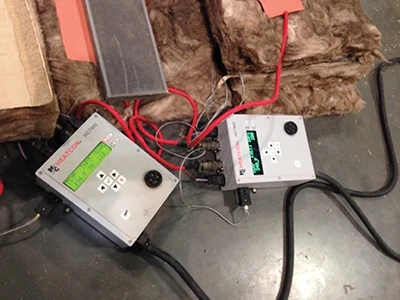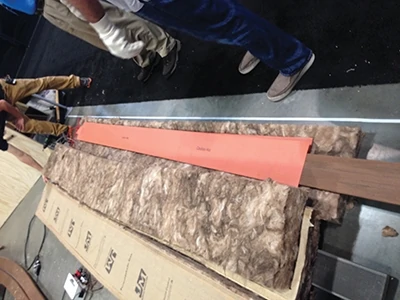 Katwijk used the Heatcon bending system, which utilizes 10-ft. heating blankets. He would sandwich a deck board between two 8-in. wide blankets that are wired to the Heatcon control unit. A small probe, which is also connected to the control unit, is inserted into the board's edge to monitor its internal temperature. The blankets and the board are then wrapped in a batt of fiberglass insulation. The heating elements gradually warm the board to the target temperature—220°F or higher—then an alarm beeps to signal it's ready to bend.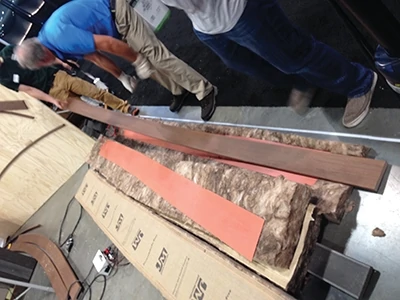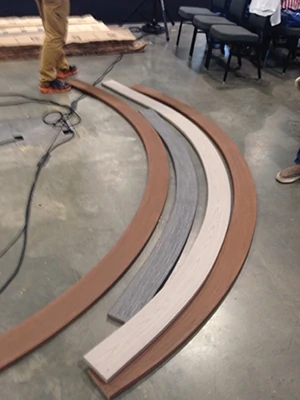 To shape the flexible boards, you'll need to construct a shaping jig prior to heating the board. Similar to a concrete form, this will be a temporary construction (usually made of wood) designed to hold the board in a particular radius until it cools and becomes rigid, retaining the new shape. The flexible board is basically pressed into the shaping jig and clamped as needed.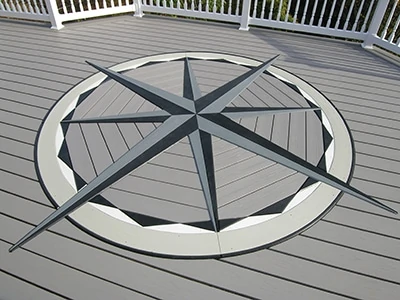 According to Katwijk, cellular PVC is the easiest deck material to bend, although some plastic composites can be bent to a lesser degree. Deck boards can be bent to create curved or wavy inlays for deck floors. Or, construct a ribbon-like fascia for the edge of a curved deck—and then build a curved bench to match. Bending the deck boards opens a whole new world of design possibilities.
Artistic Board Patterns

Treated wood is still the most widely used material for decks, and most deck floors consist of straight linear board patterns that square with the rectangular deck. It's easy to see why this layout is popular; the similar shape of the decking and framework make it a natural fit, so such a pattern is easy to design and install. However, deck designers with more ambition might opt for a different geometric design to give the walking surface a more distinctive look.
Much like tile or brick pavers, deck boards can be installed in different orientations to adopt various patterns. Angled boards with end-joints that meet in a stair-step design can achieve a basket-weave pattern. Or, cut 45-degree miters on the board ends so they butt in a continuous straight line and form a V-shaped pattern. Other popular deck board patterns include diagonal installations, parquet patterns, angle-cut herringbone, diamond, perimeter trimmed, and straight-row installations with deck boards of alternating widths.
Note that, depending on the pattern you select, additional framing support might need to be installed beneath the decking. In particular, it's important to have a solid nailing surface beneath all edges of the board ends.
Deck Boards as Cladding
Many homeowners choose wood alternatives for their home exteriors, as seen with the popularity of synthetic decking. Recently, that trend has extended to other aspects of the house.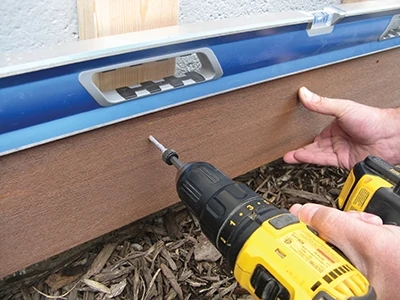 AZEK Building Products is the first deck-board manufacturer to announce their leading decking product can also be used for cladding, allowing for resistance to mold, mildew and moisture damage on the home's exterior.
AZEK Deck features a natural, wood-like aesthetic and also won't splinter, rot or warp. Plus, its stain, scratch and insect resistance make it an ideal, low-maintenance cladding alternative. The material requires no painting or sealing for protection. It's scientifically engineered to last because it's protected with Alloy Armour Polymer Technology, with a 30-year Limited Fade & Stain Warranty.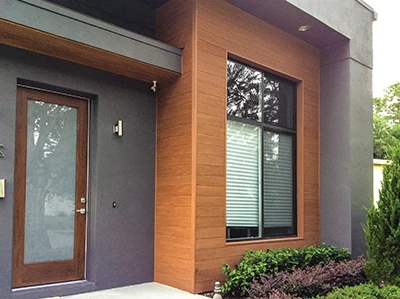 "There's a very strong exterior design trend of architects and homeowners incorporating wood planks as accent walls on homes to add a warm visual," says Patrick Barnds, General Manager of Decking at AZEK Building Products. "It's really a natural progression for us to make our premium decking available as cladding. It's the same beautiful look as exotic woods such as Ipe and Mahogany at a very attractive price. And, with our advanced technology, the product will stay beautiful for decades to come."
Tile for your Deck
For the stately look of tile, DekTek Tile is a concrete decking material that provides a new way to add class to outdoor living areas: porches, patios, balconies, outdoor kitchens and concrete steps. No expensive substrates or heavy-duty framing are needed. Standard framing is usually sufficient, with only minor modifications (the addition of lateral bracing and sister joists coupled to the existing floor joists).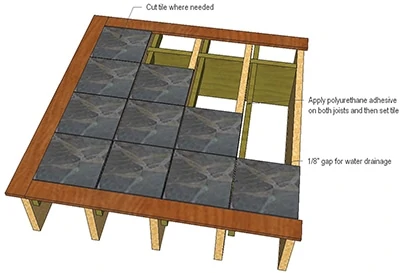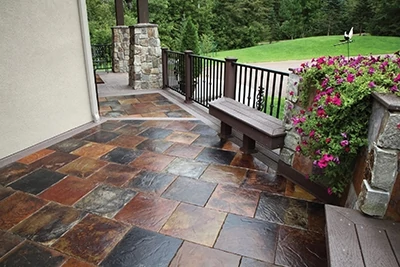 DekTek Tile is designed to be the same 1-in. thickness as traditional wood/composite decking to make beautiful accent decks, edge trims, or for mixing and matching. The material is building-code approved and structurally engineered to hold over 1,000 lbs. per tile. Plus, the concrete tile requires much less maintenance than wood decking, which means no more mold, rotting wood, chipping and peeling, or the upkeep of scrubbing and staining the deck.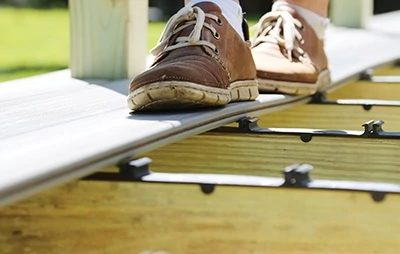 Snap-Down Decking
DuraLife Decking brings something new to the deck-installation game—a snap-down fastening system. The patent-pending Step-Clip system is easy and fast to install, cutting installation time in half. The system works by nailing down the Step-Clip strips to the tops of the joists. Then, simply step on the deck boards to snap them into place. The flexible clips integrated into the Step-Clip strips will grab and hold the DuraLife decking along its grooved edges. No special tools are required; the strips install easily with a roofing nail gun or hammer. This means less kneeling or bending up during installation, and there's no need for spacing or grabbing for fasteners. If a deck board should be damaged, the Step-Clip systems makes replacing damaged boards much easier than other decking methods.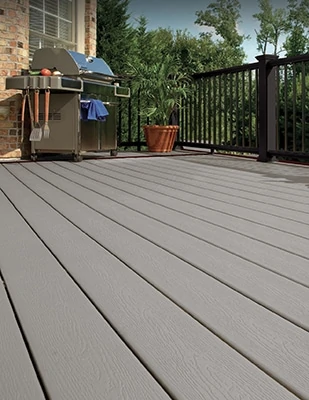 Permanent Deck Seal
It almost sounds too good to be true: a permanent deck seal? The company PermaSeal offers a "permanent" seal for wood and concrete, and frankly the EHT staff wouldn't have much faith in the claim if it weren't backed by a 25-year guarantee. This is not a do-it-yourself product; the service comes directly from the company and involves a thorough cleaning, a careful rinse, and then application of a silicone-based sealant. A non-toxic, biodegradable product, the PermaSeal process gets its permanence from the penetrating nature of the sealant, which penetrates 3 to 5 inches into the wood, according to a company spokesperson. This prevents rotting, decay and further damage to the wood from moisture. It also prevents mold, mildew and fungus growth, and restores wood to its original natural color. Find out more at www.permasealusa.com.
Side Note 1
Artistry in Decks
Special thanks to Kim and Jason Katwijk of Deck Builders Inc. for sharing their photography and insight on designing curved deck boards.

Kim Katwijk is an internationally known deck designer and builder, with 45 years of construction experience from heavy commercial building to log home construction. However, his true love is designing and building decks—which he has done for the past twenty years. Kim is known for his articles in Professional Deck Builder Magazine as a contributing editor for the past 11 years. Kim and his wife Linda have also had feature articles in The Journal of Light Construction and Fine Home Building. He teaches The Deck Clinic at Deck-Expo and JLC Live shows and has taught several "how to" classes in South Africa, Canada, Spain and other national trade shows. Kim established Deck Builders, Inc. in 1996. He lives in Olympia, Washington, has been happily married for 38 years, and is the father of 10.
Jason Katwijk is one of the top young professionals in the industry, quickly becoming a deck board bending master in his own right. With an astonishing eleven years experience in bending, his work is featured in the book, Stanley Decks by David Toht. Jason is an owner and production manager of Deck Builders, Inc., who enjoys motorcycle riding, playing soccer, competing in Frisbee Golf tournaments, and spending as much time as possible with his wife and two daughters.
Check more of the Katwijk's deck designs online at www.artistryindecks.com, where you'll find articles and videos on deck building.
Side Note 2
Treated Wood: Above Ground (AG) vs. Ground Contact (GC)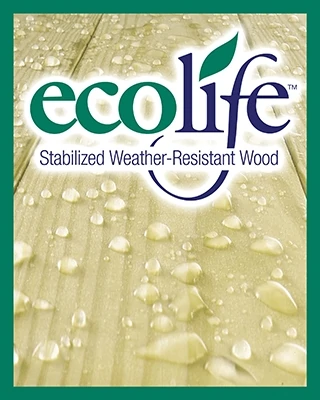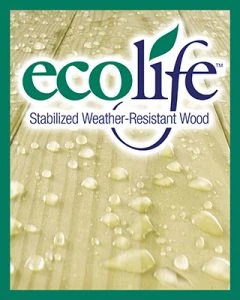 There are still misconceptions about the use of treated wood for AG versus GC applications.
Wood treated for AG is intended for above-the-soil applications that aren't subject to the aggressive decay conditions at ground level. Wood treated for GC, on the other hand, is intended for applications that are resting on or buried in the ground.
Ecolife® wood preservative for AG is formulated with a water-repelling stabilizer that helps wood stay straighter and reduces surface cracking, checking and splitting by up to 50 percent. Its advanced protection system utilizes a non-copper wood preservative for maximum protection. Ecolife products are less corrosive to fasteners, compatible with aluminum products, and warranted for use as above-ground joists/beams and above-water decking for docks.
Using wood treated with Ecolife for AG applications is more cost-effective than using only material treated for GC. It eliminates the unnecessary costs associated with the use of additional chemicals, with generally the same warranty. Ecolife is AWPA standardized and IBC and IRC compliant.
Have more questions on AG and GC and need more details? Check out www.treatedwood.com and get all the information on this and everything treated wood.