By Matt Weber
Power tools are nice, but once America's grid collapses in the wake of an electromagnetic pulse attack, how are you going add tasteful wainscoting to your doomsday shelter if you don't have quality hand tools? The EHT staff has rounded up some of our toolbox favorites that we'll use to fortify our homes after the apocalypse. These tools require no gas or electricity and can serve double-duty as bartering items when the food supply dwindles.
Irwin FK Series Utility Knives
The proprietary design of the Irwin FK Series utility knives addresses the most frequently cited user frustration—when blades accidentally pull out of the handle during use. The new BladeLock Technology improves safety by providing the user with the ability to change blades only when the release button is engaged and the blade holder is in the 45-deg. open position. Each of the new folding utility knives has a liner lock for safe, one-handed operation and a 16-deg. cutting angle for ultimate comfort and control. Designed with a rugged and robust feel, the Irwin FK100 features a compact, durable body design that is lightweight and compact. Comfortable in the hand, pocket or on the belt, the FK100 has a built-in wire stripper, cast finger grooves and trigger-grip handle for greater control. The new FK150 has built-in blade storage that holds up to two blades for quick, on-the-job blade changes. For the tradesman who needs a superior utility knife and quick access to his most commonly used screwdriver bits—without the bulk of a multi-tool— Irwin integrated a foldout screwdriver for 1-in. insert bits into the new FK250. For added convenience and customization, the FK250 includes built-in blade storage and an additional insert bit storage compartment. All the new FK Series handles are backed by Irwin's Lifetime Guarantee. Learn more at irwin.com.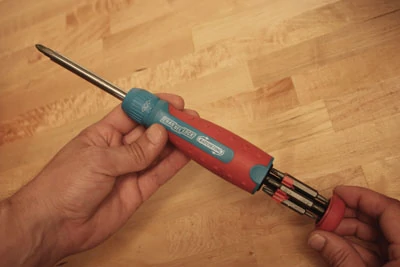 Channellock 13 N' 1 Screwdriver
Channellock is a name you can trust for high-quality hand tools and the company offers a new multipurpose screwdriver that strikes just the right balance of usability, versatility and durability. The 13 N' 1 Screwdriver is a solidly constructed ratcheting screwdriver with a smooth driving mechanism and slim profile, so there's no loss of function or ergonomics by incorporating the many design features, such as the 13 different tips that conveniently store inside the handle. The multi-bit driver features a 1/4-in. hex shaft, and the 28-tooth ratchet provides 225 inch/lbs. of torque with fast, two-way operation. The handle features a comfortable dual-composition grip and a slide-out storage compartment for easy bit retrieval. Learn more at channellock.com

Spring Tools Nail Set
This hammerless nail set utilizes a spring to generate kinetic energy to the driver tip with 3,500 PSI of striking force. Just pull back the end of the tool and let 'er rip. We tested the company's 2-piece Double Ended Trim Pak and decided that these tools are the most convenient nail sets we've ever used. Use the spring sets to finish any nail or brad using the #1, #2, #3 and #4 tips. Since no hammer is necessary, these sets are perfect for tight spaces and do not damage the wood or trim. Spring Tools offers nail sets and punches, as well as chisels and an ID stamping tool. All tools are made in the USA and backed with a lifetime guarantee. Learn more at www.springtools.com.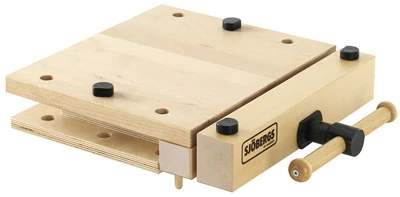 Sjoberg Smart Vise
Sjoberg's newest product is the Smart Vise. The Smart Vise provides a portable work surface that easily clamps to almost any table or other surface (clamps not included). It may be screwed down if needed. The smart vise provides a 14-by-14-in. work surface and has a maximum of 4-1/4-in. gripping capacity in the vise. The vise is opened and closed by turning the handle on the front. Four bench dogs are included along with a choice of eight holes to position them in. This gives many holding options for square, round or oddly shaped workpieces.
The top is made from 1-in. thick MDF for stability and with a melamine surface to keep glue from sticking to it. Learn more at www.packardwoodworks.com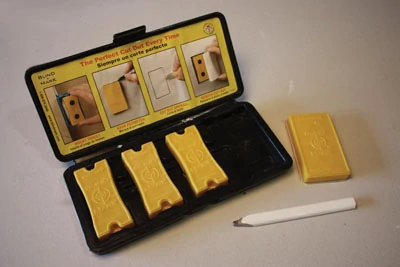 Blind Mark
Blind Mark from Crorey Builders, Inc., is an easy-to-use magnetic template for locating electrical boxes in drywall panels without having to take measurements. There are two components to the system: a target and a target locator. Install the rectangular target in the electrical box prior to covering it with drywall. Install the wallboard, and then pass the locator over the area of the panel covering the electrical box. The powerful magnets will attach the rectangular locator to the drywall right over the target. You can then use the locator as a template to mark and cut the hole for the electrical box. Then, pop out the target and move on to the next panel.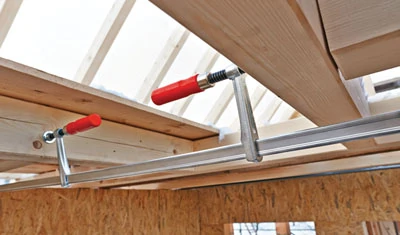 Bessey Double Force Clamps
The all-steel Double Force Clamp from Bessey is a modular clamp for a wide range of different applications. Both ends of the clamp can be loosened without tools, enabling rapid changeover of the sliding arms for spreading tasks. The interchangeable sliding arms are made from forged tempered steel for a high level of holding power. To suit a variety of applications just replace with other sliding arm variants. Three sizes are available with clamping capacities from 39-1/2 to 79 inches. The Bessey MorPad on the clamp is designed to reduce friction at the point of contact, which can lower applied clamping force and extend tool life.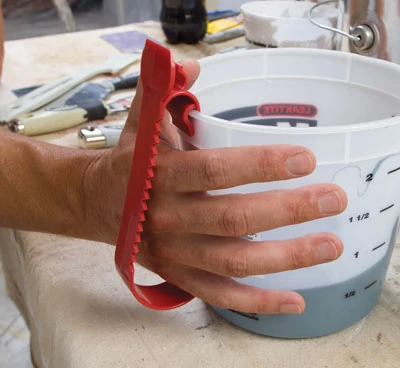 Hyde Painter's Assistant
Hyde's new Painter's Assistant is a simple multi-tool that saves time and hassle on painting projects. For both professionals and do-it-yourselfers, the Painter's Assistant works as a carrying handle for 1- and 2-quart containers, turning even simple plastic buckets into a handy carrier when you're painting trim or windows with a brush. It also clips to your roller tray, providing a magnetic brush holder right where you need it. The Painter's Assistant's built-in features include a paint can opener, a brush and roller cleaner, belt hook, putty knife/scraper, a paint-can hook for when climbing ladders, plus a garage tool hanger. Learn more at www.hydetools.com.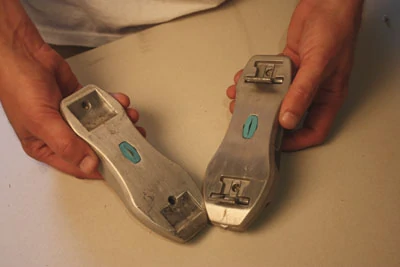 Goldblatt Blade Runner
One of EHT's favorite drywall tools is the Goldblatt Blade Runner. This drywall cutter sandwiches the drywall panel between two palm-sized handles that self-align using powerful rare earth magnets. This enables the tool to simultaneously score the paper backing on both sides of the panel, permitting the installer to easily snap the panel's gypsum core neatly along the scored line. The tool easily glides along a marked cutline by aligning the pointed tip. The Blade Runner not only easily scores straight lines, but by virtue of its very small wheel blades, it also cuts curves in drywall easily and accurately.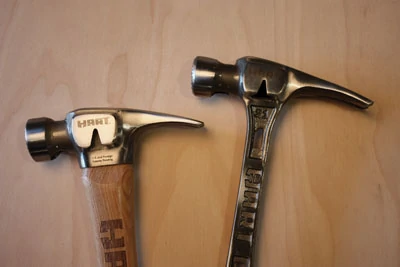 Hart Hammers
Hart hammers are built to last a lifetime. The company's steel-handled line is built with I-beam construction for exceptional strength and rigidity. The steel handles feature a SureGrip overmold to significantly reduce vibration. Hart's wood-handled hammers are made from Grade-A hickory for reliable strength and sturdiness. Choose from smooth or milled faces and from a variety of claw shapes. Hart hammers come with signature features including the 180-degree side nail pull, an angled face to drive nails straight, a side nail strike for tight spaces, as well as a magnetic nail set. Hart will repair or replace any hand tool that is defective in material or workmanship for the lifetime of the tool. Learn more at www.harttools.com.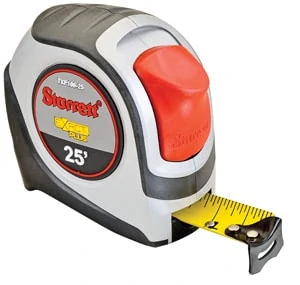 Starrett
What makes a great tape? Automatically recoiling measuring tapes should conform to international measuring tape standards of accuracy. While accuracy is the critical component of a tape, there are several other features extremely important for a well-designed self-winding measuring tape. The tape must be able to recoil into its housing properly every time. The tape must resist blade-coating deterioration and be tough enough to withstand rugged use in the field. These features are measured through repetitive pull-in, adhesion, abrasion and drop tests. The Starrett Tape Measure is a tough tape that will withstand rugged treatment and continue to provide a reliable measuring instrument on the job. Starrett also optimizes a feature known as "stand out."  Stand out is the ability of the blade to maintain a semi-rigid profile for long lengths. This is important during the measuring process to allow unassisted determination of lengths over extended distances. Learn more at www.starrett.com.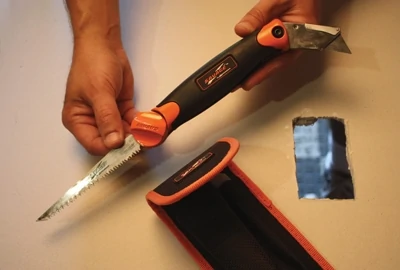 Savage Folding Jab Saw/Utility Knife 
The Savage Folding Jab Saw/Utility Knife simplifies life for drywall installers and construction pros by combining their most used tools. The jab saw works with any standard reciprocating saw blade, and blade changes are quick with a simple twist-open design. The jab saw locks into two cutting positions—straight and angled—and three blades are included for cutting wood, metal and more. The integrated utility knife comes with a lock-back feature and is design for easy blade swaps. The Savage Folding Jab Saw also comes with a convenient belt-mountable carrying case that holds the tool and extra blades.