New Additions for Your ToolBox
Some people's idea of shopping is a trip to the department store. Extreme How-To readers prefer the hardware store. Here's a roundup of some cool tools to add to your wish list.
Channellock Lineman's Pliers
Channellock's 369 High-Leverage Lineman's Plier has a new design that places the rivet closer to the head, which gives the jaws greater leverage for cutting the thickest gauge wiring. For tackling any kind of rewiring or electrical work around the house, the 369 has knife-and-anvil, laser-heat-treated cutting edges and the company's trademark Code Blue comfort grip handles.
Channellock also offers a version of the Lineman's Plier with a new fish-tape puller. When routing wires or cable through a wall, this specialty plier has an innovative channel that runs from the tip of the jaws out the rear of the tool, providing clearance and better grip for the tape hook. Visit www.channellock.com.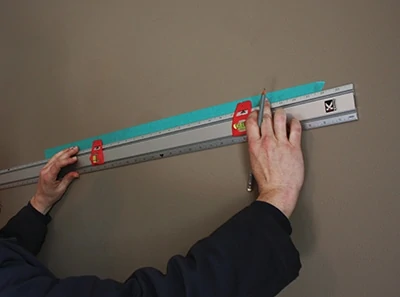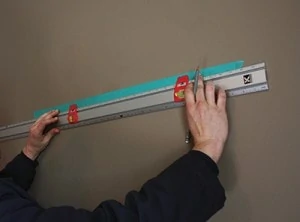 Kapro Set & Match
The Kapro Set & Match is a patented set-and-match ruler that features two easy-to-read leveling vials (both horizontal and vertical) that slide and lock in place. It's a great tool for DIY measuring and marking projects, such as setting and aligning shelves, cabinets, mirrors, stencils and wallpaper. Use it to mark/cut long lines on walls, wood, drywall and cardboard. The beveled edge of the ruler lies flush against the wall for exceptional visibility and accuracy when placing a pencil to mark the measurement, which is a huge help for precisely hanging framed photos and artwork. Choose from three lengths; 24, 32, 40 and 48 inches. Visit www.kapro.com.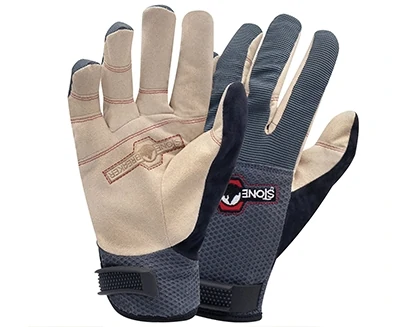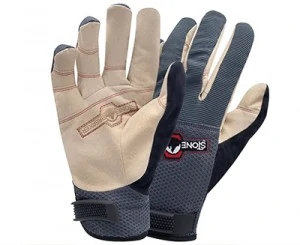 StoneBreaker Pro Glove Line
Safety on the job site is imperative, and the most prevalent injuries involve the hands. Many pros don't wear gloves because they don't properly fit, aren't designed for the multiple tasks presented each day, or fear they will get in the way of them performing their jobs. Every pair of StoneBreaker gloves is constructed of the highest-quality materials, from the leather to the thread, which provide better protection and longer life while providing a "second-skin" fit. The entire Fit To Work concept is about a pattern whereby the material is cut and sewn to better fit the hand, whether it be strategically placed reinforced material for high wear points or padded protection where it is needed most. The snug fit improves dexterity, holds its shape, and doesn't require a "break-in" period. High-quality leathers and breathable synthetics deliver real protection, all-day comfort and longer glove life. Double-stitched seams protect against rips and tears, and extended cuffs, superior Velcro closures, or both, give added coverage and seal. Visit www.stone-breaker.com.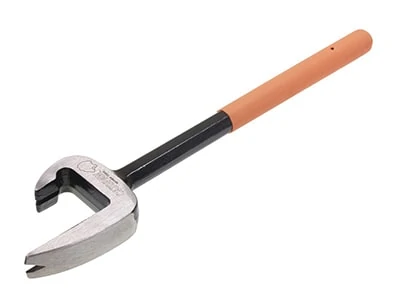 Tweaker
The Tweaker, from Mayhew Steel Products is a specialized two-pronged pry bar used to tweak or adjust bent or warped lumber, and adjust studs, joists or rafters. It features a powder-coated finish, a cushion-grip handle and a nail-puller, and can also be used in demolition for wedging, stripping and wrecking. Visit www.mayhew.com.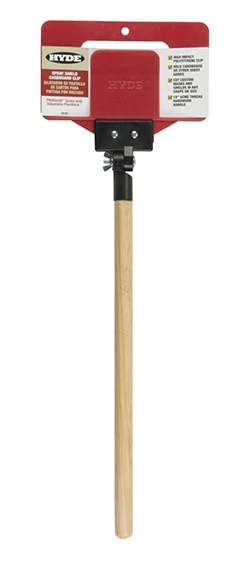 Hyde Spray Shield Cardboard Clip
This high-impact polystyrene clip holds cardboard or other sheet goods to shield surroundings from overspray while painting. The clip design enables the user to cut the cardboard into custom shapes and sizes, when the job involves angles, curves or irregular shapes that don't fit a standard paint shield. The Spray Shield Clip includes an 18-in. Acme threaded hardwood handle, and Hyde's patented PivotNeck system adjusts the shield to any angle. Visit www.hydetools.com.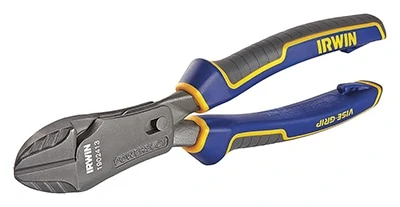 Irwin Vise-Grip Max Leverage Diagonal Cutting Pliers
Manufactured for electricians and general construction users, Irwin's 1902413 Max Leverage Diagonal Pliers feature PowerSlot Technology, providing up to twice the cutting power with half the effort. The induction-hardened cutting edges cut through ACSR, nails, screws and even piano wire. The three-zone comfort grips are contoured for optimal cushion and control, while the handles are equipped with integrated hooks designed to attach to a lanyard for safer elevated working conditions and easier retrieval. The Max Leverage Diagonal Cutting Pliers are available in 7- and 8-in. versions and come with a lifetime guarantee. Visit www.irwin.com.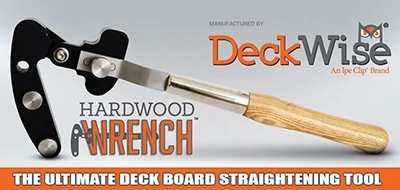 Hardwood Wrench
The Hardwood Wrench deck-board straightening tool easily cam locks into place to hold deck boards straight while fasteners are being installed for true "one-man installation." With a pushing force of around 1,100 lbs., the DeckWise Hardwood Wrench gives you up to 8x more bending power than other deck-board straightening tools. It works with single or double joists up to 3-1/2-in. wide and all types of decking, including pre-grooved or standard lumber, composites and PVC. The handle and joist pins have been redesigned, giving builders the ability to straighten deck boards from both left or right hand direction, which is useful when you need to straighten a board on the outside of your deck frame. The handle and pins can be flipped, reversed and expanded to work on any crooked board you come across. The new knurled knobs can even be used to grip and straighten house siding. Visit www.deckwise.com.

VamPLIERS Pro
VamPLIERS Pro have uniquely designed and patented concave jaws. The vertical and horizontal serrations inside the jaws make it possible to grab onto a small stripped/rusted/corroded screw or rounded nut for extraction. VamPLIERS Pro will work on screws that have special, tamper-proof or unique heads, such as a Torx screw. Made of high-quality carbon steel, they have a smooth varnished finish and utilize an environmentally friendly elastomer for ergonomic grips. VamPLIERS are great for professionals and DIY'ers to achieve the perfect "bite" around the screw's head. Visit www.vampiretools.com.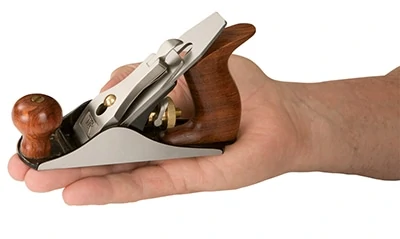 WoodRiver Hand Planes
Woodcraft has added three planes to its private label WoodRiver line; the No. 1 Bench Hand Plane V3, plus the No. 91 Small and No. 93 Large Shoulder Planes. The new No. 1 Bench Hand Plane, 5-3/4 in. long and 1-1/2 in. wide, is patterned after the smallest of the Stanley bench planes that was manufactured for 70 years prior to World War II. This rare and highly collectable plane was originally sold to handle small smoothing jobs, sometimes in tight places, but is now often used in the palm of the hand like a block plane. It features heavy stress-relieved, ductile iron casting, a fully machined adjustable frog, and a high-carbon steel blade.
The No. 91 Small and No. 93 Large Shoulder Planes join the No. 92 Medium Shoulder Plane to complete the set. Based on Edward Preston and Sons designs, these planes have a major new feature, an adjustable toe to control the throat opening and minimize tear-out of end grain. The plane bodies are Cr40 stress-relieved ductile steel, machined square and flat, and blades are high-carbon tool steel hardened to HRC60-64. Visit www.woodcraft.com.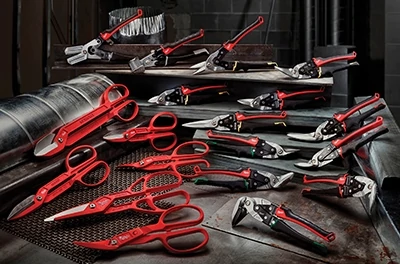 Milwaukee Metalworking Solutions
Milwaukee Tool introduces six new Tinner Snip models that include the industry's first Compound-Offset tinner snip, a 3-in. Speed Seamer, and a 5-Blade HVAC Crimper for HVAC ductwork. The six new Tinner Snips are divided into three types—the industry's first Compound-Offset Tinner, Classic Tinners and Lightweight Tinners—all of which come with 40-percent larger handle loops that are much easier to use with commonly worn gloves. The Compound-Offset Tinner Snips use a compound mechanism that amplifies the tool's force to cut tough metal material—such as metal lathe—with less effort.
The 3-in. Speed Seamer features a forged metal head and comfortable over-molded handles, and includes 3/8-in. and 1-in. markings on the head to quickly measure the most common folds in HVAC ductwork. The 5-Blade HVAC Crimper features reinforced crimper ribs, which provide greater blade stability for up to twice the tool life. Both tools are designed to be comfortable for overhand and underhand use. Visit www.milwaukeetool.com.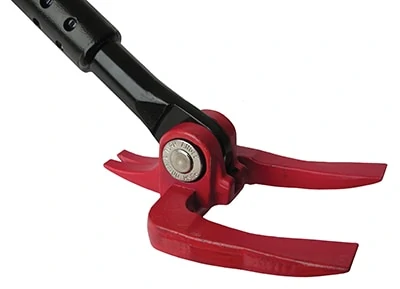 Indexing Deck Wrecker
The newest product in Mayhew's line of deconstruction tools is the indexing Deck Wrecker #41105. The geared head allows you to index the angle of the tool to get the right fit for the job at hand. Hot-forged from high-quality alloy steel, the indexing Deck Wrecker is designed with a nail puller on the back and a striking plate within the jaws, forcing the nail puller to catch the nail head and remove the nail. The inside jaw width of 2-1/16 in. and an outside jaw width of 3-5/16in. allows you to remove decking with minimal damage to the boards and joists. An overall length of 33 inches provides for extra leverage while keeping the tool lightweight and easy to use.
It is the perfect companion to Mayhew's full size Deck Wrecker #41104. Visit www.mayhew.com.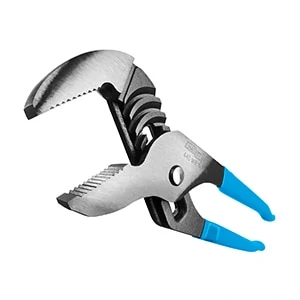 Channellock 440 12" Straight Jaw Tongue & Groove Plier
The Channellock 440 12-in. Straight Jaw Tongue & Groove Plier is the tool every home and garage needs. This plier is engineered down to the smallest detail and is built in Meadville, Pennsylvania, USA, to last with a PermaLock fastener to eliminate nut and bolt failure, patented reinforcing edge to minimize stress breakage and right angle, laser heat-treated teeth to provide a better, longer lasting grip. It's versatile, strong and durable enough to pass down to your kids. Visit www.channellock.com.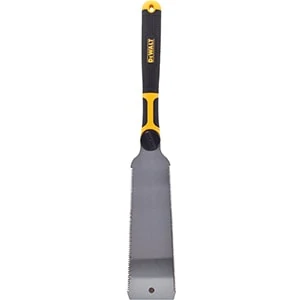 DeWalt Double Edge Pull Saw
DeWalt offers new specialty handsaws for general construction, including the DWHT20216 Double Edge Pull Saw. The new saw has a flexible blade for easy flush cuts and fine finish teeth on one side for precision cuts. The bi-material handle is ergonomically designed for user comfort, and the saw comes with a limited lifetime warranty. The DWHT20216 is ideal for cutting dowels, drywall, shims, trim, framing, folding and cross cuts. DeWalt also offers a new single-edge pull saw and a flush-cut reversing backsaw. Visit www.dewalt.com.