Anchoring items to concrete or masonry often requires boring a hole, inserting an anchor of some sort, then bolting or screwing the item in place. Good examples include porch piers, step railings and safety hand bars. The flashing around chimneys is another example. Three different types of tools can be used for boring these holes: a rotary drill, a rotary percussion hammer drill and a rotary hammer. The different tools have different uses. In the case of just a few holes, they can be bored with an ordinary rotary drill and a masonry bit. In this case the penetration is directly dependent on the amount of pressure applied and the RPM. As the hardness of the material and the size of the hole increases, more pressure is required. A variable speed drill is needed. The drill should be run fairly low, around 350 to 750 RPM. Frequently removing the bit from the hole to clear out the cuttings will help prevent the bit from overheating.
The drilling chore is done much quicker and easier with a rotary percussion hammer drill. This type of drill has the same basic three-jaw chuck as a rotary drill. The drill also has an electro-mechanical hammering system. This consists of a gear assembly providing an impact to the chuck and these impacts may range from 20,000 to over 50,000 blows per minute (BPM).
Penetration is determined by the rate of the rotary percussion hammer providing impact energy, as well as the pressure applied to the bit and the RPM. With these types of tools the harder you push, the harder the impact, but also the more wear-and-tear on the unit. This is the most common type of hammer drill in use by homeowners. Most of these drills are also available as combination, rotary drill/drivers and hammer drills with the modes selected by a switch. With the appropriate bit, they can also be used for drilling other materials, such as wood or metal. Hammer drills are primarily designed to be used for masonry work with some light concrete work and they are adequate for most homeowner chores. They're faster than rotary drills, but slower than the rotary hammers.
Rotary hammers are used for larger chores and are designed primarily for concrete work, although they can be used for softer masonry materials. They have an electro-hammer system with a free-floating percussion piston. The impact force is much greater than that of a rotary percussion hammer drill. The tool supplies the impact without additional pressure needed from the operator. In fact, applying pressure re-duces the impact. If you have a number of holes to bore in concrete, these "dedicated" models are the best choice. They are, however, a bit pricier and lack the versatility of hammer drills. If you don't wish to purchase a rotary hammer for one-time use, they can often be rented. The chucks in these units are designed to accept special bits for additional strength. Older models use a splined bit. The most common systems these days, used throughout the industry, were actually designed by Bosch and include: the SDS-Plus and SDX-Max Systems. The former is the most common system. Both hammer drills and rotary hammers are designed to bore at specific optimum drill hole ranges. Also available for demolition purposes are the combo-models that have both rotary hammer and demolition modes.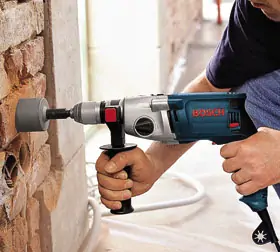 Hammer Drills
These days hammer drills are available in both the corded and the more convenient cordless models. Some are dedicated hammer drills; some are rotary drill/drivers with a selective hammer action. Following are the latest models available.
Cordless Models
The Skil 14.4-volt drill/driver with hammer action has two speeds, 7 torque settings and hammer, and drill actions.
The new 14.4- and 18-volt cordless Lok-Tor Series hammer drills from Milwaukee feature an all-metal, single-sleeve ratcheting chuck with extremely high grip torque and high-efficiency motors delivering up to 495 inch/pounds of torque on their 18-volt models. The 18-volt model produces 1,700 RPM, an extremely high speed for a two-speed gear case.
The Ridgid X2 18-volt, 1/2-inch, rear-handle hammer drill is equipped with a two-speed transmission (0-400/0-1600 RPM) and a high-speed gear box with hammering actions at ranges of 0-6,400 and 0-25,600 BPM. A 24-position clutch allows torque regulation up to 485 inch/pounds.
The 18-volt cordless Hammer Drill from Ryobi features 24-position clutch with a two-speed gear box (0-400/0-1400 RPM) to handle high-torque screw driving or high-speed drilling and two speeds in hammer-drill mode (0-5,200/0-18,200 BPM). Ryobi comes in a kit with two double-ended screwdriver bits, an 18-volt flashlight, two rechargeable battery packs and one-hour charger.
The Bosch 14.4- and 18-volt models feature a unibody powertrain that maintains alignment between clutch, gearbox and motor, and has a two-speed gearbox; the 14.4-volt model produces 450 inch/pounds of torque and high-speed mode generates 1,500 RPM/18,000 BPM. The 18-volt model produces 475 inch/pounds of torque and high-speed mode generates 0-1,500 RPM and 21,000 BPM.
Craftsman comes in with their 18-volt hammer drill with heavy-duty planetary gear box with dual speed ranges. It also has a 1/2-inch keyless chuck, mode selector dial, 360-degree auxiliary handle with adjustable stop rod, 0-400/0/1,400 RPM and 24 positions with 450 inch/pounds of torque.
The Black & Decker 24-volt, FireStorm cordless hammer drill offers two heavy-duty drills in one, with 24 volts of drilling power or hammer drill. A 1/2-inch steel chuck and metal clutch collar adds to the durability. The unit has 0-8,250 and 0-22,500 BPM, 300 inch/pounds of torque in drill mode and has a center-handle design.
Bosch 24-volt hammer drill has ratcheting, single-sleeve, 1/2-inch chuck with carbide teeth, built-in overload protection and two-speed gearbox. Torque mode produces 550 inch/pounds of torque and high-speed mode generates 0-1,500 RPM, 18,000 BPM. Bosch has also introduced a new in-line model. The in-line design allows the user to apply the maximum amount of pressure when drilling horizontally into harder materials. And, for professionals with the need to drill vertically, either in the floor or deck, the extra length makes jobs easier and safer with less reaching. The in-line model has a dual-mode selector with drill-only and hammer drill, and two-speed selector with high torque and high speed, 0-750 and 0-2,000 RPM respectively. The new hammer drill also offers 0-32,000 BPM. With more impact, jobs go quicker and smoother.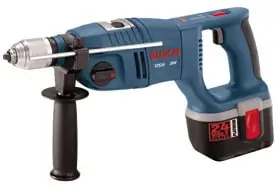 DeWalt's 18-volt one-half inch adjustable clutch model delivers 450 inch/pounds of torque and the new MAX 3rd speed is 38 percent faster with a range of 0-2,000 RPM. BPM speed settings range from 0-34,000. Features include carbide jaws in the chuck.
Corded Models
Although less convenient, corded models do offer the all-the-time running capacity as well as, for the most part, greater torque. The models are almost all 1/2-inch chuck size. Skil offers a 4.6-amp motor model with 360-degree side handle. Capacities include maximum hole size of 1/2-inch in concrete and mild steel; 1 1/4-inch in softwood; 0-43,000 BPM, 0-2,700 RPM.
The Ryobi dual-action hammer or rotary has a 5.5-amp motor with metal gears and ball-bearing construction. RPM is in two ranges, 0-1,000/0-3,000; BPM 0-16,000/0-48,000. It also has an adjustable auxiliary handle with depth rod.
Black & Decker 6-amp hammer drill has a two-way bubble for straight/accurate drilling and driving, two-speed gear box with 0-900/0-3,000 RPM and 36,000 BMP.
Porter-Cable 6-amp 1/2-inch hammer drill has a knob to select hammer-drilling or drilling mode. The unit has two speed ranges, 0-1,000 and 0-2,500 RPM, and two hammer ranges, 0-20,000 and 0-50,000 BPM. Capacity includes 3/4 inches in masonry.
The new Bosch 1/2-inch dual torque 8.5-amp hammer drill has a patented rotating brush plate that not only allows the tool to offer equal power in forward and reverse, for backing out bound-up bits, but also greatly extends the overall life of the brushes. It offers rotation-only and hammer drill settings, and a two-speed gearbox. The hammer drill performs at 0-1,100/0-3,000 RPM and 0-18,000 and 0-48,000 BPM and has a capacity of 3/4 inch in concrete.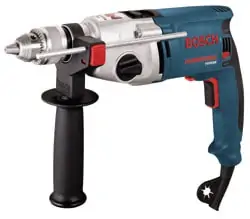 The Craftsman Professional 7.8-amp hammer drill has overload protection, high/low speed modes with 0-1,100/0-2,700 RPM and 0-19,000/0-46,000 BPM. A 360-degree side handle with depth rod provides control, versatility and depth accuracy.
The new Ridgid, 9-amp hammer/pulse 1/2-inch drill features state-of-the-art electronics with two dials that control the torque and speed of the drill. This allows the drill to monitor the needed torque and adjust accordingly. When it senses the need for slow, high-torque drilling, it switches into pulse mode. This feature enables you to start a bit on ceramic tile or drive 3-inch lag bolts similar to an impact drill. The pulse mode also allows the drill to drive screws with damaged heads. This model has two variable speeds, 0-1,000/0-3,000 RPM for screw driving and drilling, and 0-19,000 RPM for hammer drilling, or 0-57,000 BPM.
Hitachi's FDV 16VB2 Hammer Drill combines both rotation and impact to bore holes in concrete, marble, granite and tiles. Switch to rotation-only mode to drill in metal, wood or plastic. The drill offers chuck capacities of 1/2 inch for steel, 5/8 inch for concrete and 1 inch for wood. Features include a carrying case, side handle, speed-control dial and depth gauge.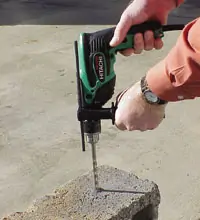 Rotary Hammers
The new 1 9/16-inch SDS-Max rotary hammer from Hitachi is a corded model with 12 different angles in which you can lock the bit for demolition work. It offers variable speed controls RPM from 240 to 480. Maximum core bit diameter is 4 1/8-inch and produces 7.39 foot/pounds.
The Bosch 24-volt, 3/4-inch SDS-Plus rotary hammer offers the convenience of a cordless model with the power of a rotary hammer. The SDS-Plus bit system provides tool-free bit changes, with automatic bit locking, dust protection and maximum energy. Its fully adjustable auxiliary handle has push-button depth gauge. The dual-mode selector quickly converts between rotation on rotary hammer mode and variable speed reversing trigger with up to 1,200 RPM and BPM.
With a simple change of the chuck, the UHE 28 Multi from Metabo quickly converts from a standard 1/2-inch wood-driller to a combination rotary/chipping hammer. It drills 1 1/8-inch holes in concrete, drills 1 9/16-inch holes in wood and handles up to a 2 1/2-inch chipping bit. Gears and operating modes (drilling, hammer-drilling and chiseling) are selected at a single control knob. Plus, an automatic safety clutch restricts power to the engine if the bit hooks or jams during operation. This means if you drill into a steel rod, the drill won't jerk out of control. Other features include 1,010 watts of power, keyless quick-change chucks, a sturdy carrying case and a 14-foot cord.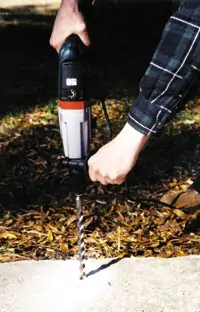 Bits
Carbide-tipped masonry bits are available for the various rotary drills, hammer drills and rotary hammers, and the proper bits must be used with the different tools. These bits are not designed to be used to drill metal, wood or other materials. It's important to choose the correct bit to fit the type of tool being used. Ordinary carbide-tipped masonry bits are fine for rotating drills. They are designed with fast spiral flutes for drilling in soft to medium masonry materials such as brick or block. Deep-fluted bits are best used in concrete where the deep flutes help clean out the concrete chips and dust. Straight shank rotary-hammer bits are designed to take the high-impact loads created by a rotary percussion hammer drill and should be used accordingly.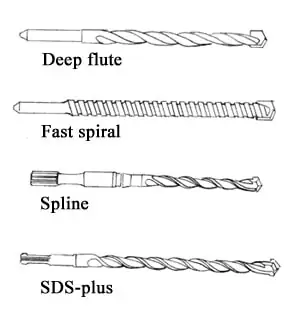 Do not use worn bits as they may drill holes larger than needed to match the different anchoring systems. Make sure the bit is seated properly in the chuck and the chuck is working properly. If drilling in soft or damp material, frequently remove the bit and clean out the flutes to prevent overheating of the bit. Do not submerse the bit in water to cool it off. Carbide-tipped bits may shatter the materials being drilled. Always wear proper eye protection and proper clothing.
Your selection of hammer/drill, rotary hammer depends on your needs, the frequency of use and the amount and types of materials being worked.