WITH DISTINCTIVE COLOR, THIS PREMIUM VERSATEX BEADBOARD
TURNS A PORCH CEILING INTO A LOW-MAINTENANCE FOCAL POINT
By Jason Stimis, Stimis Enterprises, LLC
One of my homebuilding clients was pursuing a vision. From foundation to roofline, he wanted low-to-zero maintenance, long-lasting materials and subdued but distinctive appearance.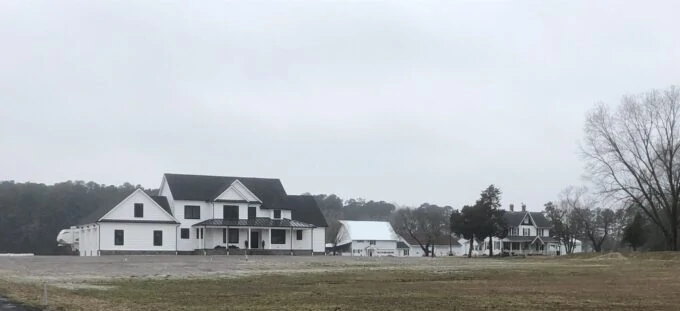 I'm a perfectionist, too. So, last year, I was ready to go the extra mile for him in sourcing the perfect solution for a relatively small detail: A special shade of tongue-and groove (T&G) planking for an eye-catching porch ceiling.
It's the details that make the job. And this ceiling was going to be a signature touch. Stretching a total of 80 feet, it would be highly visible from the front of the house, which stands slightly uphill from the road.
As the general contractor, I knew the home inside and out. It was designed as an all-white, modern version of a farmhouse, with black doors and window frames. During construction, the owner and I agreed that a dark ceiling for the porch would help soften the contrast between the bright white exterior and the black accents.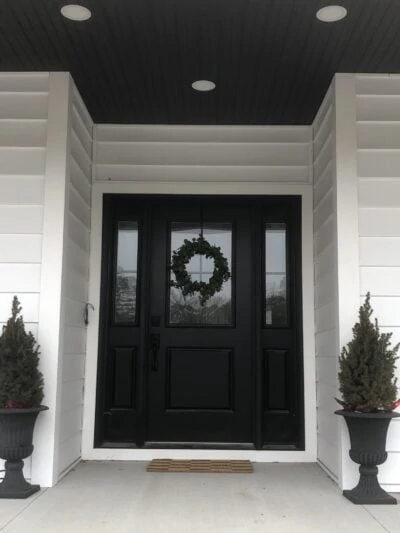 A Tall, Dark Order
All we needed to do was find easy-to-work-with, traditional-looking ceiling boards that wouldn't need painting or staining during construction. Or, preferably, ever. A few more conditions: The house stands on a fairly exposed site. It's a working farm on Maryland's eastern shore, between Chesapeake Bay and the Atlantic. So our ceiling would have to resist strong winds, humidity and fading due to reflected UV radiation.
Natural wood was out. Not long before, I had completed a similar project using stained pine T&G, and I was disappointed by its premature need for refinishing. Ordinary black vinyl soffit? I wasn't sure it would be tough enough.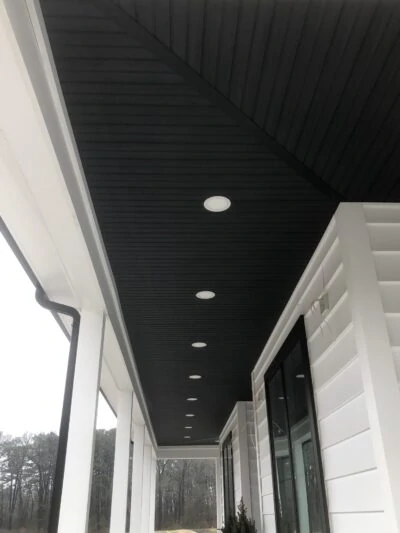 And I was reluctant to recommend coating or staining standard white PVC. While good-quality PVC will stand up structurally to environmental hazards, applying color adds one more step to the process, and the surface can suffer noticeable dings and scratches during shipping and installation.
However, I was familiar with a comparatively new material that checked most of the boxes: a T&G that Versatex Building Materials manufactures in a range of durable, realistic wood-look laminates, permanently bonded to a solid premium PVC substrate. Versatex calls it the Canvas Series. As in "artist's canvas," I suppose. I knew it was easy to install, and field-tested. But my client and I were looking for something darker and more neutral than the Canvas Series wood tones we'd seen.
Know Your Sources
Now, here's where my habit of showing up at trade shows and product demos paid off. I met a member of the Versatex team who told me about a dark Canvas shade, called Kitami, that was in the new-product pipeline.
Kitami is a nod to the recent revival of a centuries-old technique for preserving cedar boards by heat-treating their outer layers. The result is a weatherproof, charcoal-toned matte surface.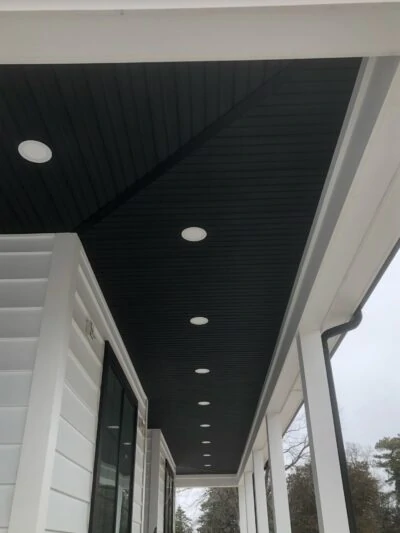 My Versatex friend supplied a sample, which my client agreed was just what the project called for. I ordered enough Kitami to complete his 8′ x 80′ ceiling, and it was a breeze to install. My two-person crew wrapped up the job in just one day, with ordinary carpenter's tools.
As it turned out, ours was the first-ever installation of the Kitami color on a real-life project, and it more than lived up to expectations. Like the other Versatex T&G products, Kitami comes in 18′ lengths, so there was practically no waste. FYI, it's available as a proprietary, easy-to-nail beadboard called Stealth, or as a 3/4"-thick WP4, both with 4" crown and bed mouldings to match.
Satisfaction for Perfectionists
The homeowner and his family are delighted with the finished project. And they know what they're looking at—he's a construction industry pro himself. One finishing touch that's already in the planning: They want me to come back and do another porch, over an outdoor-living kitchen. The ceiling, we agree, will be matching Kitami T&G.
What did I learn from all this? As a builder, my big lesson was that your customers and mine are getting more sophisticated, more demanding, every day. They look at the same home improvement videos and social media that you and I see. And a lot of them have a whole lot more screen time to spare.
One way you can stay ahead of their expectations is to get to know, personally, the people who distribute and manufacture the products and tools you use. There's still no homeowner-grade substitute for a good professional network.
About Stimis Enterprises
Based in the community of Allen on Maryland's eastern shore, Stimis Enterprises is a multigenerational home improvement and construction business established in 1983. Recent projects are posted at https://www.instagram.com/stimisenterprises/ .
About Versatex
Weather-resistant, long-lasting VERSATEX trim materials and systems are manufactured by Versatex Building Products, of Pittsburgh, a division of the Azek Company, where state-of-the-art facilities produce cellular PVC extrusion products such as VERSATEX trimboards, sheet, T&G, mouldings, prefabricated corners, and one-piece column wraps; the innovative VERSATEX soffit system; dimensionally compatible VERSATEX Max nominal 2-by boards; and the Canvas Series, which pairs the beauty of wood with the durability of PVC. Details are posted at www.versatex.com.