New, on-trend color offers the look of blackened cedar
Tando®, a brand of Derby Building Products, announces new Char color as the latest addition to its award-winning TandoShake® Cape Cod Perfection line of classic shakes, that feature clean lines and an authentic cedar texture. Char's unique color offers the beauty of charred, burnt or blackened wood – a look rooted in a centuries old Japanese wood preserving process known as Shou Sugi Ban, the practice of burning wood to protect it from the elements. Today, homeowner desire for the trendy charred look is being fueled by the Modern Farmhouse movement which merges rustic charm with clean, modern lines.
With all the beauty of burnt wood cladding and none of the mess, Tando's Cape Cod Perfection Char shake features an architecturally accurate, five-inch exposure with crisp edges and an authentic aesthetic. Driven by consumer demand for clean lines and rich colors, Cape Cod Perfection is available in five additional solid colors: Mariner Blue (an industry color of the year), Classic White, Ashwood Gray, Slate Gray, and Wheat – all complementing a variety of architectural styles and achieving the on-trend mixed material looks desired by homeowners.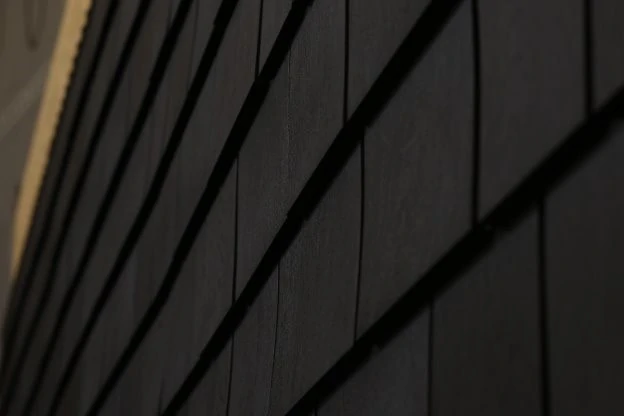 "We monitor color and product trends across many industries with the goal being to lead the market by designing products that meet new and emerging consumer demands. Our new color, Char, which is inspired by the distinctive look of charred cedar, offers homeowners a stunning shake that is on the cutting edge of style," said Amber Skymer, Senior Product Manager, Derby Building Products. "But this isn't a situation where you have to choose between beauty and function. With Tando products, in addition to style, we create products that provide durability, easy installation, and low upkeep."
Tando's Cape Cod Perfection is impervious to moisture and ideal for ground contact and roofline applications. Thanks to its lightweight design, the cladding is perfect for fast and easy one-person installation. Cape Cod Perfection has also received a notice of approval from Miami-Dade County for high wind and high impact resistance; meeting all severe weather rigorous testing criteria and qualified to perform well in High-Velocity Hurricane Zones.
For more information about Cape Cod Perfection's new Char color, visit www.tandobp.com.
About Tando
Tando's exterior building products leverage innovation and manufacturing technology to solve market challenges such as labor shortages, long lead times, and moisture concerns all while meeting consumer demand for mixed material exteriors and low maintenance. From launching the first polymer shake over 40 years ago to developing the #1 brand of Composite Stone, Tando has a proven history of creating new categories, including TandoStone®, Beach House Shake®, and TandoShake®. Tando is owned by Derby Building Products. For more information, visit www.tandobp.com or www.beachhouseshake.com.