Tando®, a brand of Derby Building Products, announces Beach House Shake has been selected by Coventry Log Homes for the exterior of their "hybrid" Adirondack Willow log home style. This concept allows homeowners to customize the exterior to fit their style and budget. Mark Elliott, VP of Coventry Log Homes, said demand is skyrocketing due to the pandemic, with a 50-50 split between permanent and second homes.
Coventry manufactures about 125 homes annually in five styles, shipping to all 50 states and internationally. The Adirondack Willow hybrid is a two-bedroom home with exposed beams and cathedral ceilings – all in 960 square feet. It features Beach House Shake's Pacifica, with the look of western red cedar, adding to the Adirondack feel.  "Although the product name implies coastal locations, it really emphasizes how it stands up to weather," said Elliott. "It works just as well in neighborhoods or the deep woods."
Elliott said his customers are surprised to find out Beach House Shake isn't wood, but a tough polymer material that never needs staining. "I have to explain that you'll never have to stain the product to maintain its beauty. I actually installed the panels myself and it's so much easier than individual shingles," said Elliott.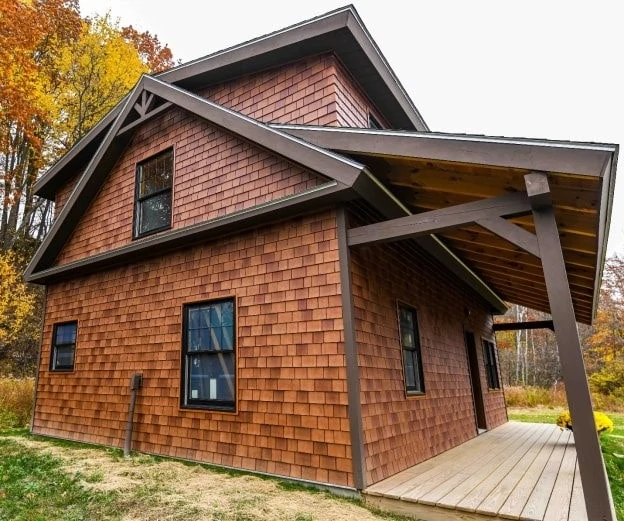 Unlike cedar shingles, Beach House Shake stays looking just like the day it was installed with little to no upkeep, according to Ralph Bruno, CEO of Derby Building Products. "Beach House Shake is impervious to moisture, insects, rot and decay. And it won't discolor like traditional cedar shingles regardless of exposure to sunlight or moisture," he said.
Beach House Shake has received a Notice of Acceptance (NOA) from Florida's Miami-Dade County for wind and impact resistance in High Velocity Hurricane Zones. Along with Pacifica, Beach House Shake colors include Sandcastle with the look of fresh white cedar, Atlantica, a soft, silvered coastal gray, and Hatteras, a deep, weathered gray.
As Coventry appeals to a wider audience with their own aesthetic preferences, Elliott predicts more interest in customization. "By giving homeowners design freedom with exterior products like Beach House Shake, we feel that the hybrid concept will expand even further," noted Elliott.
Learn more at www.coventryloghomes.com or learn more about Beach House Shake at www.beachhouseshake.com. 
About Tando
Tando's exterior building products leverage innovation and manufacturing technology to solve market challenges such as labor shortages, long lead times, and moisture concerns all while meeting consumer demand for mixed material exteriors and low maintenance. From launching the first polymer shake over 40 years ago to developing the #1 brand of Composite Stone, Tando has a proven history of creating new categories, including TandoStone®, Beach House Shake®, and TandoShake®. Tando is owned by Derby Building Products. For more information, visit www.tandobp.com or www.beachhouseshake.com. 
 About Coventry Log Homes
Established in 1993, Coventry Log Homes features cutting-edge factory pre-cuts, labeling every log according to building plans so homes are built faster with no additional cutting necessary on the jobsite. Milling only the best kiln-dried Northeastern White Pine logs taken directly from the surrounding forests, Coventry's lumber is verified and designed to meet the ICC-400 Standard on the Design and Construction of Log Structures. Visit www.coventryloghomes.com.